Bliss 2015 Itinerary Update:  Announced January 14, 2015 by Bliss Cruise for the November 29 sailing on the Celebrity Silhouette.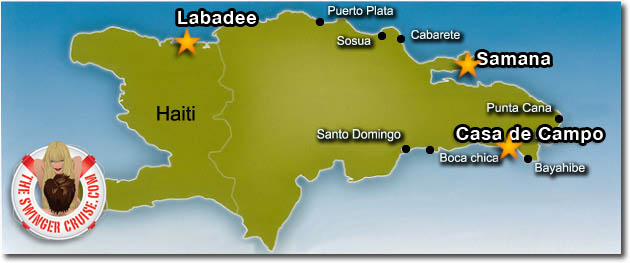 Bliss Management let us know that due to the Jamaican government's new policy toward nudity several planned excursions could be at risk of not happening.  They added the exciting new stop of Casa De Campo Dominican Republic.   Because this change put Cozumel too far away, they adjusted to add yet another new port, Samana Dominican Republic.
Bliss 2015 Itinerary Update
Sunday – November 29  Ft Lauderdale
Monday – November 30  Sexy day at Sea
Tuesday – December 1 Sexy day at Sea
Wednesday – December 2 – Casa de Campo, DR
Thursday – December 3 – Samana, DR
Friday – December 4 Labadee, Haiti
Saturday – December 5 Sexy day at Sea
Sunday – December 6 Ft Lauderdale
Inside Scoop on Bliss 2015 Itinerary Update
Three stops all on the same island? What fun will that be?
Experienced island travelers and Swinger Cruisers will quickly see the genius to this plan.
Cruising around the island practically guarantees calm seas.
We hope this means more deck parties!  Wind and waves can put a damper on the outdoor party.  Since Bliss Cruise won't be making a long haul to a new destination at night we expect calm seas for night time fun.
Something new!  We haven't visited Casa de Campo or Samana by ship before.
Three unique flavors.  Upscale Resort Casa de Campo, Barefoot Samana and the Cruisers Only Haven of Labadee.
Wondering what these new ports are like?  Where is the Dominican Republic? Samana & Casa De Campo?  Read the Bliss Cruise  Dominican Republic Mega Post 
For full details on this cruise visit our information page on Bliss Cruise 2015
[aio_button align="center" animation="pulse" color="red" size="small" icon="globe" text="Book Online: Bliss Cruise – Nov 2015″ target="_blank" relationship="dofollow" url="https://registration.blisscruise.com/Book/Reservation/Start?tripID=2978&travelAgentId=53717″]