Thank you for taking the survey!
Results Pending:
49.5% Hedonism with Wallbangers
51.1% Couples Cruise Yacht Club Takeover
The answer really comes down to your secret desires.  Here is what these two options offer.
 

Hedonism Resort Wallbangers Group
April 18-25, 2015
If you haven't been to Hedonism II Resort in a while this is the group to go with!   We just had a group return from Hedonism over New Years and they are raving with positive reviews!  The resort is looking great and all sorts of sexy fun is happening.   Plus they loved the updated theme parties & renovated rooms.
Ages range from 40-60
Fun professional couples who love to socialize and play
Join the fun pre-travel in our Secret Facebook Group
Be with THE group!  Meet & Greets, excursions and daytime fun
Spa – Playroom Nights for this special group!
[aio_button align="center" animation="pulse" color="red" size="small" icon="globe" text="Read More – Wallbangers @ Hedo!" target="_blank" relationship="dofollow" url="https://www.theswingercruise.com/events-sexually-adventurous-couples-swingers/wallbangers-hedo-april-2015/"]
Only 3 Rooms remaining for this group!  Don't delay
5 nights from $965 per person (garden view nude)
Garden View Nude $193 pp/n & Oceanview Nude $204 pp/n
Garden view & Ocean view – Sold Out
Call 215-268-3202
 Couples Cruise Yacht Club Takeover
April 22-26, 2015
During this event the Yacht Club will be your private oasis.
The Top Sail Lounge [Private] An elegant atmosphere with panoramic views.  Feel sexy as you share this private sanctuary with other yacht club guests.  Enjoy gourmet foods with complementary wines & spirits.
The One Pool & Bar [Private] Enjoy au natural sunbathing at the Private pool, two whirlpool spas, solarium and sun deck.  Of course there is also attentive food and beverage at no extra charge.
Le Muse Private Restaurant [Private] The finest restaurant on the ship is part of the Yacht Club experience  morning, noon and night. Enjoy open seating or ask your Butler or Concierge to make reservations.
Pre-Cruise Hotel on South Miami Beach – Nice option to extend your vacation.
Intimate setting for 120 very lucky guests
Sailing from Miami to Cozumel + 3 sexy nights at sea
Yacht Club Deluxe Suites $1399 + $410 port/taxes per person
Book Online Now or call 215-268-3202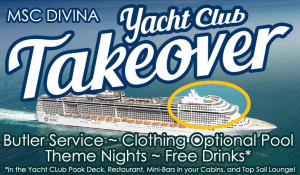 Read the Frequently Asked Questions
Are there theme parties?
What about play rooms, sex & nudity?
Is wine, beer & liquor included?
Dining on the Divina, what are my options?
I've never had a butler before!  What does he do?
So what does the Concierge team do?
Extraordinary Shore Excursions?
[find out more]
Discover the MSC Divina on Video
[aio_button align="center" animation="pulse" color="red" size="small" icon="globe" text="Book Online – Yacht Club Takeover!" target="_blank" relationship="dofollow" url="https://secureregistrationonline.com/divina_preview/decks.php?affiliateId=6″]