Looking for some fun in Tampa?  Eyz Wide Shut is the Tampa Swinger Club Brilliance Cruisers will want to visit.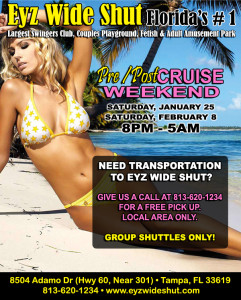 They have set up some pre and post cruise parties for sexy couples who are on the cruise.  They are making an offer to provide transportation to groups who want to attend the club.  Contact them directly to arrange a pick up 813-620-1234.  There is also a second offer of $10 off full access (note discounts cannot be combined)  again call Eyz Wide Shut for details on pricing etc.  More information on Eyz Wide Shut on their web site www.eyzwideshut.com
They have 2 separate things happening at Eyz Wide Shut.  There is a bar side and a lodging side.
The bar side has a cash bar DJ, dancing and food.   They are cash only and do not accept credit cards however there is an ATM in the lobby.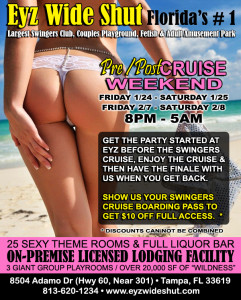 The other facility there is called a lodging.  It's where the private and group playrooms are located.    There are two separate entrances and fees for this club.   The bar side and the hotel side.   This was a little confusing to me at first, but really makes sense with local laws and zoning.
You can mix and meet on the bar side and then finish your drinks and head over to the hotel side.  They are taking steps to not mix alcohol in a bar and nudity so finish up your cocktails and thad over to the theme decorated playrooms on the hotel side.