Are you a young swinger? Have you heard the latest news about Desire? No? Then, let me give you the scoop.
During the entire month of August 2014, Desire Riviera Maya is hosting the Sexy, Young, and Wild crowd.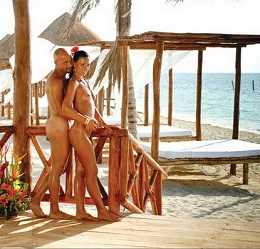 All month-long young swingers will converge at the luxurious Desire Resort south of Cancun. If you join us, you'll get to experience all night parties with new themes, hang with celebrities and famous DJs, and participate in the most exciting events you love at Desire: Pole Dance Lessons, Sin Circus Party, Foam Party, Beach Night Party, Live Oil Wrestling, the Skinny Dipping Jacuzzi Fest, and last but not least, their Desire Campus Party. Perfect for young swingers!
Now, that's all well and good you say, but can we bring a friend? You know, our special "unicorn" friend? (Hint: a "unicorn" refers to the elusive and mythical single, attractive female) And the answer, sexy, young, and wild friends is YES. During the month of August, Desire is allowing single females and threesomes (FMF) to book rooms. This means more skin, fewer inhibitions, and more fun! Which is exactly what us young, sexy, and wild folks like.
Now that I've got you all you young swingers hot and bothered…
I'm gonna make you wait just a few more weeks for the final schedule. Don't worry, a little self-restraint is good for you. So check back in mid-January for all the juicy details. You'll be glad you did.
Are you Sexy, Young, and Wild? Of course, you are. And now you know the only way to beat the August heat is to go to Desire Riviera Maya for the hottest event of the year!
Email Kevin@theswingercruise.com or call 603-384-3297 for more information and to book your stay.