Passion Suite River Cruise – Facts at a Glance
This Sailing Cancelled by Passion Suite Club on June 8, 2017.
August 4-11, 2018
70 Staterooms & Suites
Rhone River Cruise: Lyon, Chalon Sur Saone, Macon, Touron, Avignon, Arles
Couples Only, Full Ship Charter
This cruise is good fit for: Newbies, Open Minded Adventurous Couples, Swingers, Kinksters
Average age 35-65
To View Prices Click 'book now'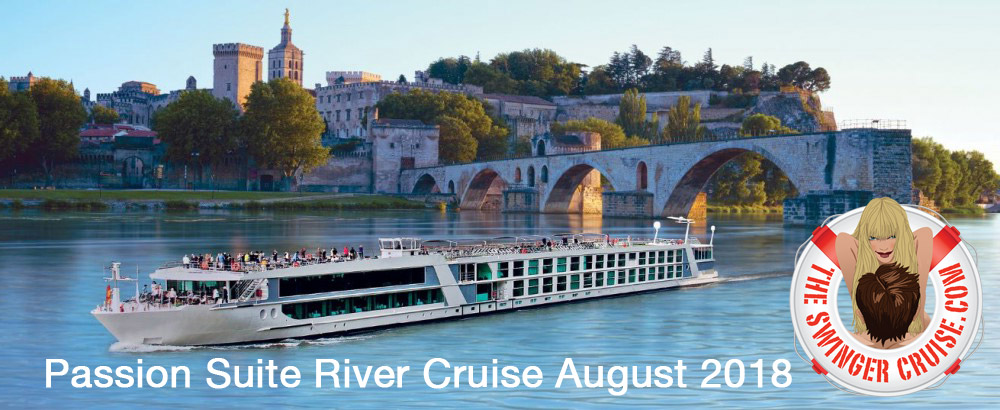 Passion Suite Club River Cruise in Southern France
Passion Suite Club provides super sexy trips in exotic destinations.  They stand above the rest based on the uniqueness and customer service they provide.
Their motto is to provide a way for couples to lose themselves in luxury while pursuing passion in a safe, open, and positive environment.
Cruise Southern France on a beautiful new ship in the peak season with sexy like minded couples.
Wine & Beer Included at Lunch & Dinner + All Drinks at the Lounge, Dinner & After Dinner.  There are some brand restrictions.
Clothing-optional areas by the pool and hospitality areas
Many Tours are Included: Daily land tours of the historic and beautiful treasures of Lyon, Chalon-Sur-Saone, Macon, Avignon, and Arles, including audio guides, and several active tours, such as bicycling
Private Transfers to the boat are included!  Fly into Lyons International airport (LYS) and fly out of Arles (FNI). We will provide private airport pick up from LYS on August 4 and drop off to FNI on August 11.
Swinger Cruise Itinerary
Swingers Cruise Theme Parties
The theme parties on this cruise are designed help you step into expressing your inner desires.  Let go, immerse yourself in the fantasy of it.  Guests who dress in theme report more social interaction and more fun.
You can go all out on a costume or simply echo the theme with an accessory.  Not in the mood? No problem it's all about doing your own thing with your partner and having a wonderful time.
Passion Suite River CruiseAccommodations & Dining
Dining on board Passion Suite River Cruise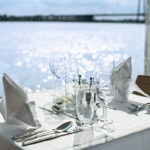 Reflections Restaurant
Reflections is the ship's main restaurant, offering an informal setting for you to enjoy our delightful cuisine. Every day, you can enjoy a buffet breakfast or for something a little more special, take advantage of our resident Egg Chef's fabulous selection of freshly prepared morning meals. At lunch, you can choose from a full hot and cold buffet or delicious à la carte menu. In the evenings, you'll enjoy a four-course dinner carefully prepared by our amazing chefs.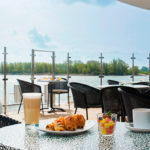 The Terrace
With a panoramic view, The Terrace at the ship's bow is a beautiful setting for fair-weather outdoor dining. Watch the sunrise with your morning tea or coffee and a light breakfast. In between excursions? Grab a café-style lunch from your choice of pastas, soups, sandwiches and salads. On select days, find us firing up the barbecue on the Sun Deck for a fantastic grilled feast.
Having an amazing vacation can be thirsty work, so remember that complimentary tea and coffee are available at all times throughout your cruise. To accompany lunch and dinner, we've carefully chosen a special selection of European red and white wines, local beers and soft drinks for you to enjoy with your meal – all of which are included in the price of your vacation.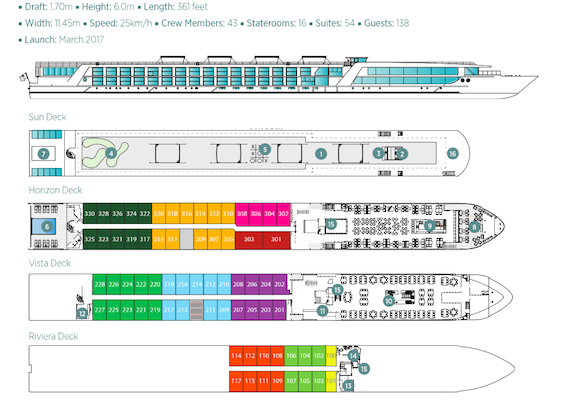 Owner's One Bedroom Suite – Sold Out
Category: SA
Size: 315 square feet

Private bedroom w/ luxurious walk-in closet and spacious bathroom
Balcony converts to a private sun lounge with the touch of a button should the weather turn
In suite Nespresso machine and daily stocked mini-bar
A complimentary iPad to use throughout the cruise with free Wifi
Order pre-dinner canapes and after-dinner sweets courtesy of your exclusive room service

Grand Balcony Suite – Sold Out
Category: S
Size: 210 square feet

Large, spacious balcony converts to a private sun lounge with the touch of a button
Order pre-dinner canapes and after-dinner sweets courtesy of your exclusive room service
A delicious complimentary continental breakfast to enjoy on your balcony
In-Suite Nespresso Machine

Panorama Balcony Suite
Category: C, B, A, R, P
Size: 180 square feet of living space.

Revolutionary indoor balcony design, complete with decking area, table and chairs – generating an entirely new space for you to enjoy the landscapes you pass
Easily converts to a private sun lounge with the touch of a button
In-room mini-fridge

Luxury Stateroom
Category: E, D
Size: 162 square feet

Small, fixed picture window
Flat-screen TV with infotainment system, safe, fridge, AC units and ensuite bathroom
Complimentary Wi-fi and bottled water daily
Passion Suite River Cruise: What's Included
| | |
| --- | --- |
| ° 8 days/7 nights in our brand new, luxurious river cruise vessel in the cabin category of your choice | ° Included shore excursions each day |
| ° Complimentary Wi-Fi onboard | ° Visits to UNESCO World Heritage sites |
| ° All meals and a collection of highlight dinners in the Reflections restaurant | ° First Class services of an all English-speaking crew |
| ° Private lifestyle entertainment, educational activities, and theme parties on the cruise, including two luxurious hospitality suites | ° Spectacular ship innovations such as the onboard pool and cinema, and our innovative open air system in cabins on the Vista & Horizon decks |
| ° Tea & Coffee available throughout the day; bottled water replenished daily | ° Complimentary wine, beer & soft drinks with lunch and dinner |
| ° All airport transfers to and from the ship on day of embarkation and disembarkation | ° All port charges, airport taxes and transfer costs |
This is an elegant & sexy way to travel. All your meals are included with beer, wine and soft drinks served during lunch and dinner. Tea and coffee are always available and you'll have bottled water restocked daily in your cabin. With capacity for only 138 guests on board the ship, the Passion Suite River Cruise offers a truly intimate cruising experience.
You will enjoy a continuous view of the incredible landscapes along the famous waterways and get to see a different side of Europe – one that can only be experienced on the rivers that have helped shape the history and cultures of the places they weave through.
Custom-built to provide the most exhilarating and authentic experiences. The standards of service, attention to food, and knowledge of wine you'd expect in France will be sewn into the very essence of your on-board experience, comparable with world class boutique hotels.
Completing the sensations of a Southern France itinerary, the ship exudes the same relaxed spirit as the lands which surround the rivers it sails upon. Travelling from Lyon to Avignon, your vacation will explore culturally-rich and enigmatic cities before dissecting the wine regions and charming Mediterranean settlements of France.
WHAT'S INCLUDED:
8 days/7 nights in our brand new, luxurious river cruise vessel in the cabin category of your choice
All meals onboard the cruise, including buffet breakfasts, buffet and served course lunches, four course dinners, and two sumptuous Captain's dinners, afternoon tea, late night snacks, 24 hour coffee and tea station, in-cabin mini bar and snacks
All non-alcoholic beverages 24/7, wine and beer during lunch service, and all non-alcoholic and alcoholic beverages during dinner and in our stylish lounge après dinner
All cruise taxes, gratuities, and port charges
Live Passion Suite Club entertainment, including world class musicians, dancers, and performers
Daily land tours of the historic and beautiful treasures of Lyon, Chalon-Sur-Saone, Macon, Avignon, and Arles, including audio guides, and several active tours, such as bicycling
Free Wifi Internet
Free 24-hour gym access and free 24-hour concierge
Daily turndown service
Private lifestyle entertainment, educational activities, and theme parties on the cruise, including two luxurious hospitality suites
Private transfer from Lyons international airport (LYS) on August 4, 2018 and private transfer to Arles closest international airport (FNI) on August 11, 2018
Optional activities and services include:
Optional activities include luxury shopping, bicycle rentals, museum and cultural tours, exquisite fine dining in the towns we are visiting, tours of local wineries, and additional onboard services such as laundry, hairdresser and massage therapy treatments.
Pricing, Policies and Insurance for the Swinger Cruise
Pricing at a Glance
| | |
| --- | --- |
| Category | Total for 2 |
| One Bedroom Suite: SA | $16,480 – Sold Out |
| Grand Balcony Suite: S | $14,920 – Sold Out |
| Panoramic Balcony Suite: P | $12,720 |
| Panoramic Balcony Suite: R | $12,520 |
| Panoramic Balcony Suite: A | $10,960 |
| Panoramic Balcony Suite: B | $10,760 |
| Panoramic Balcony Suite: C | $10,520 – Sold Out |
| Luxury Stateroom: D | $9,920 |
| Luxury Stateroom: E | $9,680 |
For up to date pricing please consult the online booking link.  
Passion Suite River Cruise  Policies
PAYMENT SCHEDULE:
Booking Deposit of $1,000 per person, non-refundable.
Additional payment dates (1/3 of balance) – July 1, 2017; November 1, 2017; and March 1, 2018.
CANCELLATION CLAUSE:
All payments are non-refundable, trip insurance is strongly advised and must be purchased within a window (usually 30 days or less) after paying a booking deposit. If you wish to cancel, we will consider your request and may refund some of your payments (trip insurance does not get refunded), minus a processing fee, at our sole discretion taking into account many factors including when you are canceling. We also may offer you, again at our sole discretion the ability to transfer your payment to one of our future trips, minus a transfer fee to be determined by us at that time.
Due to the large number of transactions that need to be processed on each due date your card may be charged up to 5 days before or 5 days after the noted date for each payment.
Prices above are land only and do not include air. All bookings are for the total amount noted; there is no credit for late arrivals or early departures.
We recommend travel insurance.
Travel Insurance
Yikes, travel insurance is not a fun topic but a lot of you have asked…
This is about what happens if you are paid, packed and ready to go… and there is a problem.
The biggest 2 reasons people take insurance are:
Trip Cancellation
Medical Expenses or Medical Evacuation
Full Ship charters are better than regular cruises in many ways, however the penalties and potential for a loss if you have to cancel is higher. Shortly after final payment most full ship charter cruises become non-refundable. That means if you have to cancel your trip not only do you have that disappointment of a cancelled vacation, but I have to tell you you don't get your money back.
Our most popular insurance is 'World Wide Trip Protector' and provides full coverage when purchased up to 21 days after your vacation purchase.
The best value just to make sure you have coverage is 'Trip Protector Lite Expanded.'
We recommend Travel Insured – Get a quote and buy insurance  
Note: this link opens a window for Travel Insured – if you have questions pleases phone our office for assistance.
Please consider purchasing Travel Insurance
Since everyone pretty much likes me right now and I'd like it to stay that way, please consider purchasing travel insurance. Or at least don't say I didn't warn you if there is a problem.
Other coverages that take the worry out of travel:
Trip Interruption – Return air only
Trip Delay & Missed Connection coverage
Baggage Loss or Delay
Cancel for Work Reasons Options available on select policies
We strongly recommend purchasing travel insurance for your upcoming cruise. There are hundreds of circumstances that could cause you to cancel your trip, return home early or force you to seek emergency medical treatment while traveling. Travel insurance offers coverage for unforeseen problems such as, an unexpected financial change or scheduling conflict, a cancelled flight or a serious illness. You even have the option where you can cancel for any reason. We recommend Travel Insured – Get a quote and buy insurance
Pre-Cruise Options
Why book Passion Suite River Cruise
By Night: While the fields and historic towns set the stage for our luxurious voyage by day, the show truly comes alive at night. French Cityscapes become the sexy back ground for the sensual live entertainment on board.
Live jazz music starting after dinner, pulsating rhythms from our world-class DJ, and erotic performances designed to heighten your senses
Nightly sensual theme parties and sexy surprises.
On nights where you are docked overnight, guests can explore the nightlife onshore
After parties in a penthouse hospitality suite each and every night
What Past Guests Have to Say…
The experience with Passion Suite Club was one of a kind. We went to Siem Reap with this group and it far exceeded our expectations.
We loved the sensuality, spirituality, and sexiness of everything.
The hosts made us feel comfortable and completely included (from the heart) no matter what our age or personal tastes.  They went all out in making the experiences so unique, fun, sexy, top-end and a learning experience in many ways.
We can't wait for the Passion Suite River Cruise!
The first time we booked we weren't sure if we would fit in.
Passion Suite Club went out of their way to make everyone feel involved & cared for.  The Passion Suite River Cruise will provide what will be interesting to everyone.
Why You Should book with TSC
TheSwingerCruise.com is the only agency with ALL the cruises.
TSC Expert Agents provide first hand experience.  We have sailed on over 23 Swinger Cruises and will help you find the one that perfectly fits your style.
Our Signature 'Get Ready' program provides all the information you need before you board the ship so you can get the most out of your vacation.
We create VIP Pre-Crusie authentic emersion events.  Board the ship with a whole group of new friends.
'Must Read' Swinger Cruise Articles
We have been on over 23 full ship charters.  Here are a few articles we have written to answer your questions, calm any worries, and get you excited for the 'Best Fu@%ing Vacation!'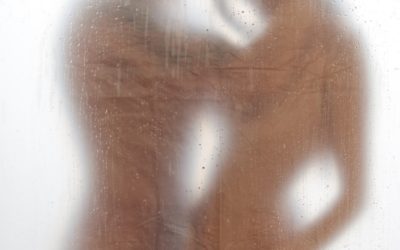 Wondering about the "ins and outs" on swinger cruise playroom etiquette?   We, at The Swinger Cruise, are happy to break down the basics of playroom etiquette. If you've been on a lifestyle cruise, resort based vacation or attended a club then you know what a playroom...
Passion Suite River Cruise
August 4-11, 2018
Explore the beauty of Southern France: Vineyards, Cuisine, Sensual Surroundings.
Join 69 beautiful couples from all over the world.
Imagine sailing in this sensual environment.
Explore the Provence country side by day.
Enjoy erotic theme parties every night.