SDC Venice Swingers Cruise – Facts at a Glance
This cruise is no longer available.
August 29 – September 5, 2020
343 Cabins
This Cruise is no longer available.
Venice, Italy – Rijeka, Croatia – Zadar – Inside Passage – Split – Dubrovnik – Kotor, Montenegro – Kotor Fjord – Hvar
Swinger Couples Only, Clothing Optional, Full Ship Charter
This cruise is good fit for: Swingers
Average age 30-55
SDC advises that passengers over age 65 might not find this cruise to be a good match.
To View Prices Click 'Book Now'
SDC Venice Swingers Cruise 2020 – Information
If you've been looking for a cruise that is 100% swingers only, then this is the cruise for you!
There is a requirement for the SDC Venice Swingers Cruise 2020 that all guests boarding the ship understand that this is a swinger-only cruise.
What does that mean? It means that you are not required to play, but just know that 100% of your new friends will have an interest in swinging in some way or another.
TheSwingerCruise.com is thrilled to be the only travel agency partnered with SDC on their super sexy cruises.
The on-deck sexy foam parties will have a little extra sizzle with a ship of 100% swingers. Expect fun, sexy and unique theme parties, and sensual playrooms built for action on the SDC Venice Swingers Cruise 2020. They also choreograph custom erotic live shows, tantric sessions and so much more!
This swingers cruise vacation has the promise of pleasure and offers crystal-clear waters, powder-soft sands plus world-class accommodations! They promise to bring the "erotic to the exotic", bringing sexy, swinging fun to the most luxurious and desired locations.
SDC Venice Swingers Cruise 2020 – Itinerary
 
SDC Venice Swingers Cruise 2020 – Theme Parties
If you're looking for a great way to step 'out of your shell', then the theme parties on the SDC Venice Swingers Cruise 2020 would be the way to go. These parties are designed to help you step into expressing your inner desire.  Immerse and let yourself go in the fantasy of it.  Many reported that when they dressed in the theme they had a greater time, and it was easier to meet new sexy friends as people came up to them and commented on their costumes.
You can choose to either go all-out on a costume or simply have an accent piece to your wardrobe that goes with the theme. Not in the mood? No worries! This trip is all about doing your own thing with your partner and having a great time.
The theme nights for this cruise are not available at this time. Check back here as the sailing date approaches.
SDC Venice Swingers Cruise 2020 – Accommodations & Dining Information
Our ship for this cruise completed a dry-dock renovation in April 2016.  We have included a few renderings for the new design.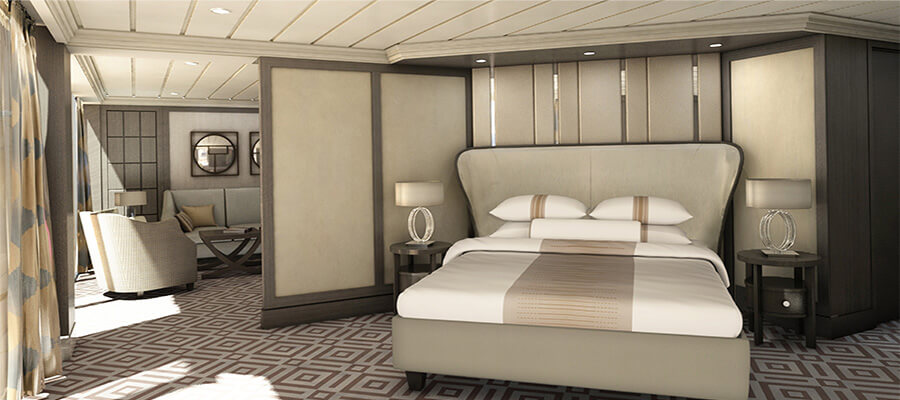 Club World Owners Suite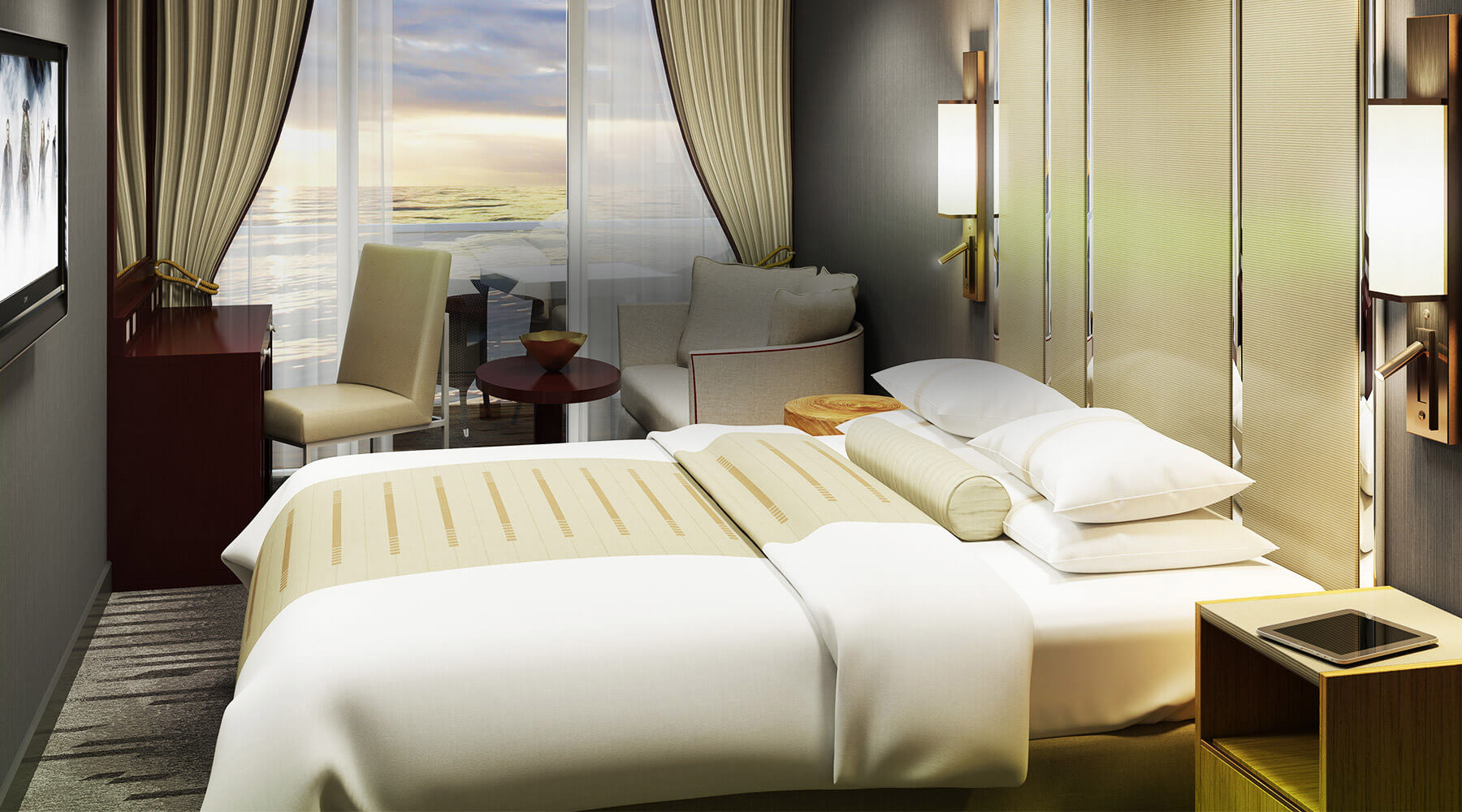 Deluxe Verandah Stateroom
Ship and Stateroom Details
All staterooms onboard come with:
Complimentary stateroom attendants
Daily fruit basket
Fresh cut flowers
24-hour room service
Sweet surprise on your pillow each evening
Afternoon canapés
Complimentary shoe-shine service
23″ plasma television
Personal Stationery
Elemis bathroom products
Two nights of complimentary specialty dining
One complimentary large bottle of water
New European bedding
Complimentary use of binoculars, umbrellas and plush robes
Destination-influenced entertainment and enrichment programs
Meals and room service
Selected house pouring wine with lunch and dinner is now included
Specialty Dining in Prime C and Aqualina available (complimentary for suite guests), with a minimal upcharge for guests in Club Veranda, Club Oceanview, and Club Interior staterooms
All suites come standard with all of the above, plus
English butler service
Priority check-in and departure
Priority luggage delivery at boarding
Three nights of complimentary specialty dining
Complimentary garment pressing (limit of two items per person upon embarkation
Opportunity to book in-suite spa services
Priority tender service
Welcome champagne
SDC Venice Swingers Cruise 2020 – Cuisine
Fabulous Cuisine for every Taste
Our cruise ship offers a choice of six distinctive dining options, including room service. Whether you're a fan of haute cuisine or down-home cooking, you'll love the quality reflected in the fresh ingredients, careful preparation, and variety of menu choices. Let's have a taste.
Specialty Dining & Fine Wines
The ship proudly features two specialty restaurants, Prime C and Aqualina. Specialty dining is complimentary for suite guests (Club World Owner's Suites, Club Ocean Suites, and Club Continent Suites). For others, there is an added charge approximately $25 per-person cover. Reservations are highly recommended.  Make reservations when you complete online check-in or see the maitre'd when you board.

Aqualina
You'll love the contemporary, inventive Italian cuisine at Aqualina, with two new rotating menus.  Enjoy a fresh experience of Italy's most famous dishes including plates of pasta, poultry, fish, and veal. Starters include beef tenderloin carpaccio with orange oil, lobster ravioli, and seared tuna wrapped in veal, followed by second courses such as sweet pea and fennel soup or delicious salads of watermelon and tomato or arugula and radicchio with prosciutto chips. Main courses include forest mushroom risotto, a perfectly grilled veal chop, a Venetian seafood platter or delicate dover sole. Save room for the famous desserts like marsala custard, lemon soufflé, tiramisu, and chocolate torte. Hours: 6PM–9:30PM Location: Aft-Port – Deck 10 Sample:Menu 1 Menu 2
Prime C
Settle in for a marvelous evening at the ship's classic wood-paneled steakhouse with stunning views and lush autumn décor. The menu includes steaks in a variety of cuts cooked to perfection, along with starters like crab cakes with remoulade, lobster bisque, wedge salad with bacon and blue cheese, and more. Other entrée choices may include lamb, pork, veal chops, game hens and seafood. Indulge in the famous mini cinnamon-sugar donuts with a trio of dipping sauces for dessert.
The Wine Cellar
From France to California, and Argentina to South Africa, the Wine Cellar will delight your palate with a vast collection of limited production, small label, and rare vintage wines. Our knowledgeable sommeliers will help you pick the perfect wines for your evening meal. And be sure to look to the daily onboard news for Wine Corner gatherings in the Mosaic Café, when you can discover and sip new wines with the sommelier's guidance. Something extra: Arrange a wine tasting here. Ask our sommelier or concierge for details. Hours: Specialty restaurant dining hours and by appointment Location: Prime C
Discoveries Restaurant
With a wide variety of nightly selections like filet mignon with black truffle sauce, Discoveries Restaurant is a hands-down favorite for an elegant yet lively dining scene. Reservations are not accepted, and you have the choice of being seated at a table for two or as part of a larger group of fellow guests (which is a great way to meet new people). Discoveries Bar is also a great gathering spot for drinks before or after dinner. Breakfast: 8 AM–9:30 AM Lunch: 12 PM–1:30 PM Dinner: 6 PM–9:30 PM Location: Aft-Deck 5
Pool Grill
Dine poolside on made-to-order fish-kabobs, burgers, fries and salads. There's more: Don't miss the famous pool deck parties, when servers may include a few friendly officers. These parties are legendary for great food, music and conviviality. Hours: 11 AM-6 PM Location: midship-Deck 9
Windows Cafe
Take in the fresh breeze at an outdoor table in Windows Café, our casual buffet offering made-to-order breakfasts and a large variety of lunch and dinner options. Choices change daily and include fresh sushi, stir-fry and pastas, salads, smoked lox and other cold fish, a carving station and sumptuous desserts. There's more: Don't miss the buffets! Indian, Mexican, Spanish, Italian, and other regional cuisine. Our international crew takes pride in their native cuisine and it shows. Hours: Early Riser: 6:30 AM–7 AM, Buffet Breakfast: 7 AM–10 AM, Late Risers' Lite Breakfast: 10 AM–11 AM, Lunch Buffet: 12 PM–2:30 PM, Afternoon Tea: 3:30–4:30 PM, Casual Dinner: 6 PM–9:30 PM Location: Aft-Deck 9
Mosaic Cafe
Sink into a comfortable chair at the Mosaic Café and enjoy an espresso or hot tea with fresh biscotti, tea sandwiches or scones—on the house, of course. Centrally located on deck five, the Mosaic's congenial service and atmosphere make it a favorite gathering spot for conversation, cards and trivia games. When: Most of the day, from early morning to late night Where: Amidship-Deck 5 Dining: What (and What Not) to Wear
In all of our dining rooms, we encourage guests to follow a "resort casual" dress code, following good taste and common sense.
Bare feet, tank tops, baseball caps, bathing suits, shorts, and jeans are not allowed in the main dining room or two specialty restaurants. (Khakis and other trousers are fine.)
When dining at Windows Café, guests must wear footwear and a cover-up or shirt.
In Prime C, Aqualina and Discoveries Restaurant, many guests enjoy dressing up. Formal evening wear (tuxedos and gowns) is not expected. We recommend that men bring a sports coat or suit; this attire comes in handy for evenings onshore as well. For women, dining attire includes dresses, skirts, blouses with pants and capris, and other appropriate attire.
Special Dietary Needs
With advance notice, the ship can accommodate most special dietary needs. Please submit your request in writing to us no later than 40 days before US sailings, and 80 days before all other sailings.
Standard kosher-style menus are available on all voyages. On the day of boarding, please confirm your special dietary arrangements with the restaurant manager.
Room Service
The best time for room service? Whenever you say it is, 24-hours a day. Order from the full breakfast menu between 6:30 AM and 10:00 AM, and they will deliver at your appointed time. Lunch and dinner room service features a menu of hearty soups, fresh salads, gourmet sandwiches, pizzas, and desserts.
SDC Venice Swingers Cruise 2020 – What's Included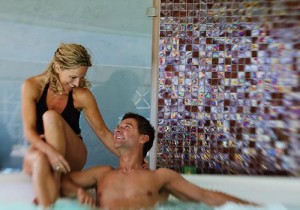 When you purchase your cabin you'll find that so much is included. Included with your price is all meals at all restaurants onboard and room service. (except for specialty restaurants which are a slight additional charge.)
All of your entertainment and theme party events are included.  Expect sexy pool parties during the day, plus sexy theme parties and sultry playrooms for exploring the more erotic aspects of this cruise.
Mixed Drinks are not included.  
A drink package may be something to consider if you want to be truly carefree and not have to worry about how much you are spending.
Tours off the ship and Spa treatments are the other things you will want to budget a bit of extra $ for.
Amenities Included:
Select house wine served during lunch or dinner only
Unlimited Bottled water, soft drinks, specialty coffees and teas
Concierge services for personal guidance and reservations
For Suite Guests:
All standard amenities plus:
English butler service
complimentary Internet minutes
One free bag of laundry service per suite, all seven days
Complimentary dining in the specialty restaurants
Afternoon tea service in suite
SDC Venice Swingers Cruise 2020 – Pricing
The best pricing strategy is to book early.
Prices are always released at the lowest rate and get higher closer to departure.
Check current pricing on our [booking link here]
SDC Venice Swinger Cruise 2020 – Policies
SDC Cruises are Couples Only.  Couples are allowed to bring a third female to share their cabin if the cabin is equipped.  Single men are not allowed.
Balance Payment Dates:
Your payment schedule will be posted at the bottom of your reservation confirmation.
Cancellation Policy
• Cancellation up to November 15, 2019 – Full refund less $500.00
• Cancellation on or after November 15, 2019 – No refund.
If your refund is less than $100.00 we refund to the credit card you used for the transaction. Any refunds over $100.00 will be issued by check.
We recommend travel insurance.
SDC Venice Swingers Cruise 2020 – Travel Insurance
Well, protecting yourself with travel insurance is not a fun topic but a lot of you have asked…
There are 2 main reasons people choose to take insurance:
Trip Cancellation
Medical Expenses or Medical Evacuation
Full Ship charters are better than regular cruises in many ways, however, the penalties and potential for a loss if you have to cancel is higher. Shortly after final payment, most full ship charter cruises become non-refundable. That means if you have to cancel your trip not only do you have that disappointment of a canceled vacation, but I have to tell you that you don't get your money back.
Our most popular insurance is 'World Wide Trip Protector' and provides full coverage when purchased up to 21 days after your vacation purchase.
The best value just to make sure you have coverage is 'Trip Protector Lite Expanded.'
We recommend Travel Insured – Get a quote and buy insurance  
Note: this link opens a window for Travel Insured – if you have questions pleases phone our office for assistance.
Please consider purchasing Travel Insurance
Since everyone pretty much likes me right now and I'd like it to stay that way, please consider purchasing travel insurance. Or at least don't say I didn't warn you if there is a problem.
Other coverages that take the worry out of travel:
Trip Interruption – Return air only
Trip Delay & Missed Connection coverage
Baggage Loss or Delay
Cancel for Work Reasons Options available on select policies
We strongly recommend purchasing travel insurance for your upcoming cruise. There are hundreds of circumstances that could cause you to cancel your trip, return home early or force you to seek emergency medical treatment while traveling. Travel insurance offers coverage for unforeseen problems such as an unexpected financial change or scheduling conflict, a canceled flight or a serious illness. You even have the option where you can cancel for any reason. We recommend Travel Insured – Get a quote and buy insurance
SDC Venice Swingers Cruise 2020 – Pre-Cruise Options
Every great cruise starts with a great pre-cruise. It pays to get to Europe (especially for the Venice Swingers Cruise 2020) a few days early.
At this time, information for a pre-cruise event is not available. Check back for information as the sail date gets closer.
Why book the SDC Venice Swinger Cruise 2020?
The famous SDC Foam Parties!
Since it's a swingers-only cruise, you know you will find more of the sort of people you desire.
With a recent dry-dock update, everything on this classical-style ship is now bright and airy.
This Italian/Croatian itinerary for the SDC Venice Swinger Cruise 2020 is AMAZING!
What Past Guests Have Said…
Onboard fine dining is out of this world! Our favorite night was at the Chef Table Dinner.
We took full advantage of all the local offerings and started a new tradition by turning the "afternoon tea" into a kick off for our afternoon party in our cabin! We stocked up on sweet and savory treats from the tea-trolly, got a few bottles of wine and hosted quite the event!
Those theme parties on the last SDC cruise were… whoa! We loved each and every one of them. It was awesome to see the variety of costumes.
One thing that made it fun was that everyone was dressed up and really went all out for their custome.  We felt really special to be included in such an amazing group. There were so many possibilities.  Mrs says she never felt sexier.
It was so exciting to be part of such a vibrant group of people all dancing sexy and having fun.
The first time we booked we weren't sure if we would fit in. We are in our mid 30's and Lynn assured us that our desire for the finer things in life would be the key to fitting in with this group. She was right!
We expected couples age 45-65 and we were surprised at how many young couples there were!  We loved every moment of that cruise and cannot wait to get on the SDC Venice Swingers Cruise in 2020!
Why You Should book with TSC
TheSwingerCruise.com is the only agency with ALL the cruises.
TSC Expert Agents provide first hand experience.  We have sailed on over 23 Swinger Cruises and will help you find the one that perfectly fits your style.
Our Signature 'Get Ready' program provides all the information you need before you board the ship so you can get the most out of your vacation.
We create VIP Pre-Crusie authentic emersion events.  Board the ship with a whole group of new friends.
'Must Read' Swinger Cruise Articles
We have been on over 30 full ship charters.  Here are a few articles we have written to answer your questions, calm any worries, and get you excited for the 'Best Fu@%ing Vacation!'
(Cross-posted from www.Alreadybooked.com – a great place to meet other lifestyle travelers on Couples Cruises. After honing your swinger elevator pitch and practicing accepting and declining swinger offers, book your cabin here to join us on Independence of the Seas...
SDC Venice Swingers Cruise 2020 on Azamara Quest 
August 29 – September 5, 2020
Explore the beauty of the Adriatic on the SDC Venice Swingers Cruise Venice, Italy.
Join 343 beautiful couples from all over the world.
Imagine sailing in this sensual environment.
Explore the sultry sea by day.
Enjoy erotic theme parties every night.