4 bedroom Presidential Suite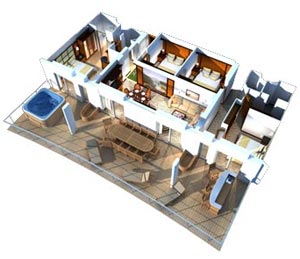 Two master bedrooms with baths. Two additional bedrooms. 
Two additional bathrooms with showers.  Spacious living area with a sofa bed and dining table. Private balcony with
dining area, lounge chairs, private jacuzzi and wet bar. (1215 sq. ft., balcony 810 sq. ft.). 

Accommodates up to 14 guests.
Also includes minibar, dining table in a separate area, entertainment center, including a 42″ flat screen TV, a stereo and DVD player, surround sound system.
Requires a minimum of 4 couples.
$2,300.00 per person + $410 pp fees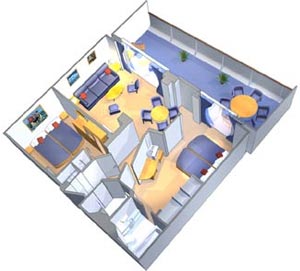 Two bedrooms with twin beds that convert to queen-size b
eds, a large private balcony, two bathrooms and living area with double sofa bed. (587.7 sq. ft., balcony 270.5 sq. ft.)
Accommodates up to 8 guests.
This suite requires a minimum of 2 couples
$2,200 per person + $410 pp fees