Rockstar Adventures – Mekong Vietnam Cambodia Facts at a Glance
7 night River Cruise + 2 Night Hotel in Siem Reap.
This is a journey of truly memorable experiences reflecting the cultural beauty of the Mekong through Vietnam and Cambodia.
Luxury Cuisine, Amazing new Friends.
Adults Only – Average age 45-65
34 Couples
Rockstar Adventures:

Boldly exploring beyond the boundaries of sexy travel! Read: 
To View Prices Click 'Book Now'
Rockstar Adventures – Mekong Vietnam Cambodia – Features
This cruise on the Mekong Jewel from Vietnam to Cambodia will be a truly romantic and intimate journey for couples wanting to experience luxurious adventures and connect deeply.
As the boat glides smoothly along the tranquil waters of the Mekong, surrounded by lush greenery and traditional villages, couples can escape the distractions of everyday life. The journey will take them through a diverse landscape of rice paddies, floating markets, and ancient temples, offering a unique glimpse into the culture and history of the region.
The luxurious amenities and personalized service of a Uniworld cruise will provide the perfect setting for couples to indulge. From private balconies to gourmet dining, you can spend your days and nights in complete comfort and luxury. Indulge in spa treatments, sip champagne and watch the sunset, creating cherished memories that will last a lifetime.
You will have the opportunity to discover new perspectives and gain a deeper understanding of ancient cultures and of each other.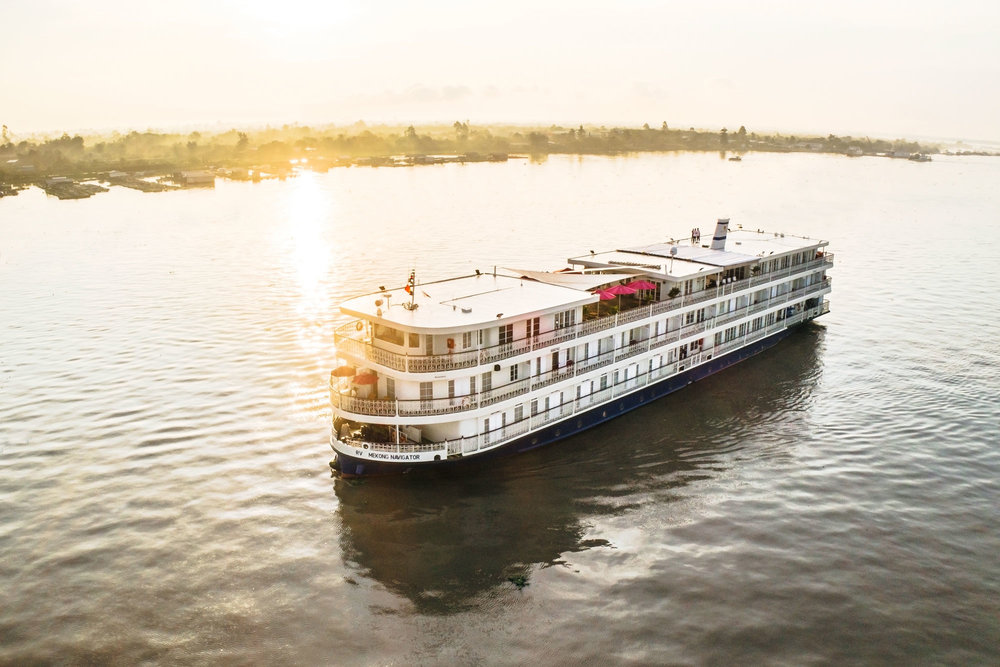 The Mekong Jewel cruise will be a truly romantic and intimate journey filled with moments of pure joy and connection, providing the perfect opportunity for couples to deepen their relationship in a luxurious and unforgettable way.
This trip features the 5-star Mekong Jewel and Luxury Hotel Accommodations.
Mekong Jewel
The Mekong Jewel is one of the newest Uniworld vessels. This will be the luxurious home for 34 couples as we cruise from Vietnam to Cambodia. This all-suite ship has breathtaking views of the river through 180 degrees of floor-to-ceiling windows. The top deck features beautiful indoor and outdoor lounge areas, a sundeck with a plunge pool, a spa and gym, and of course, the bar.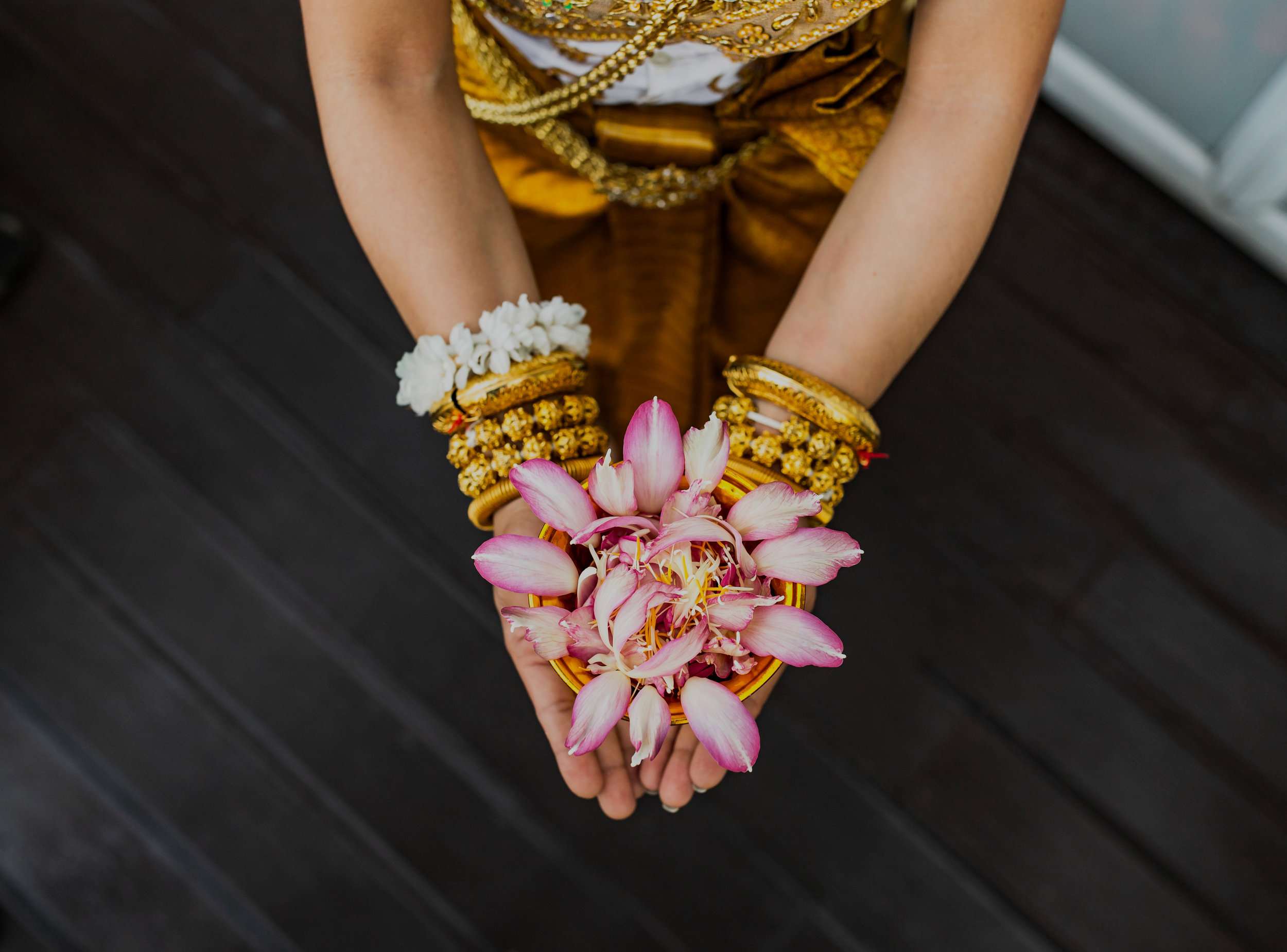 Luxurious All Suite Ship for Rockstar Adventures Mekong Vietnam Cambodia 
The Mekong Jewel redefines elegance and luxury for the sophisticated traveler with 34 indulgent suites and onboard facilities that set new standards in all aspects of elite river voyages combined with the 360-degree experience of panoramic views.
Debuting in January 2020, the Mekong Jewel is the newest and most luxurious ship on the Mekong river. This all-suite Super Ship includes two dining venues: one main restaurant and an al fresco eatery on the upper deck. The Mekong Jewel replaces the Mekong Navigator and was constructed with sustainable, eco-friendly materials, and features a swimming pool, spa, sauna and steam room, gym, hair salon, nail bar, two lounges and a library.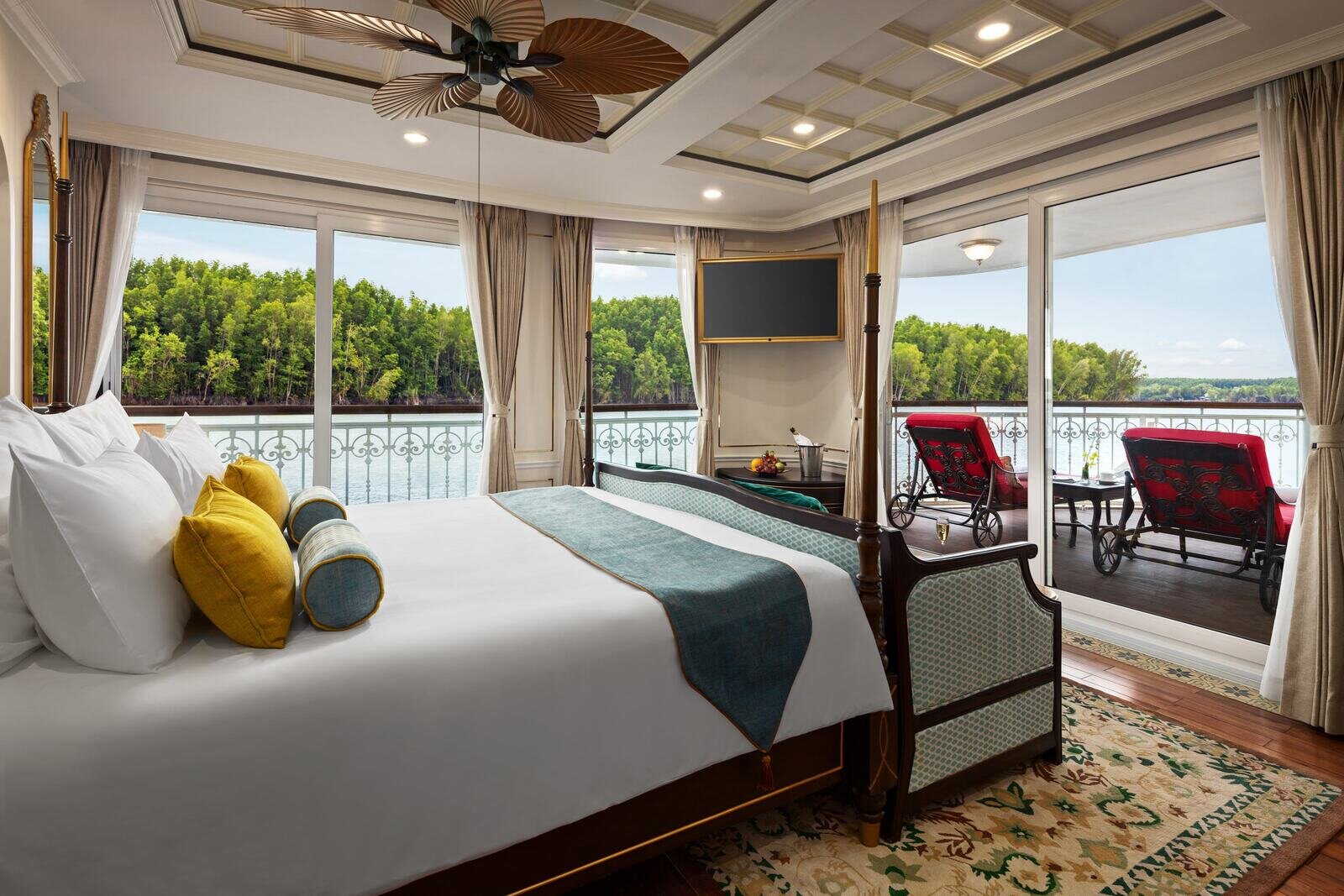 Rockstar Adventures – Mekong Vietnam Cambodia – Itinerary
This itinerary includes your entire adventure will begin in Vietnam and end in Cambodia. This is a 7 night river cruise + 2 nights luxury hotel in Siem Reap.  There is an optional 'Opening Act' 2-nights & 'Encore' 4-nights
Day 1: My Tho, Viet Nam – Sunday March 2, 2025
Transfer from the two night pre in Ho Chi Minh or from the airport and board the Mekong Jewel.
L, D
Day 2: Tien Loi (Ben Tre) Vinh Long, Sa Dec – Monday, March 3, 2025
Today, you'll witness the hustle and bustle of delta river life as the local traders take their produce to market. After breakfast, you'll board a traditional sampan and explore the narrow canals and backwaters of this famed region. The untouched island of Tien Loi awaits on a unique excursion created exclusively for Rockstar guests, where you can see how local farmers make rooster cages, decorate bonsais in their yards and more. Upon arrival to Vinh Long, your sampans will bring you to a traditional rice factory. Back onboard, savor an authentic Vietnamese meal this evening.
Included excursion: Village life on the Mekong
B, L, D
Day 3: Sa Dec, Gieng Island, Hong Ngu, Cruising the Mekong – Tuesday, March 4, 2025
Following breakfast, continue your journey via sampan, where you'll observe the daily routines of the villagers in Sa Dec. Visit a colorful temple, the home of Mr. Huynh Thuy Le and then venture to Gieng Island, where you'll experience how a local family makes incense sticks and the conical hat.
Included excursion: Sampans and romance
B, L, D
 Day 4: Hong Ngu (Long Khan A) Cruising the Mekong, Phnom Penh – Wednesday, March 5, 2025
Visit the local island village of Hong Ngu, a major producer of the traditional Khmer scarves located not far from the Vietnam-Cambodia border. Since they're woven in many homes around the village, you'll have the opportunity to see the process first-hand. You'll also stop at a local temple dedicated to a unique religion founded in this area of Vietnam, Hoa Hoa. Your last and most interesting visit of the day? A visit to the local home of a retired VC General.
Included excursion: Daily life on the great delta
B, L, D
Day 5: Phnom Penh, Cambodia – Thursday, March 6, 2025 
Today, you'll discover the thriving capital of the Kingdom of Cambodia, Phnom Penh. It stands at the juncture of three captivating rivers and represents a dizzying blend of architectural styles—French colonial, Khmer, modern and everything in between. Here, you'll find an alluring riverside esplanade amid numerous bewitching Buddhist temples, palaces and artifacts.
Included excursion: Cambodia's capital—Phnom Penh
B, L, D
Day 6: Phnom Penh, Cruising the Mekong, Angkor Ban – Friday, March 7, 2025
Today's featured excursion may be the most profound and memorable experience of your entire journey. You'll learn about the infamous Killing Fields of the Khmer Rouge and visit a former school-turned-prison that is now a genocide museum.
Included excursion: The Killing Fields—tragedy and reconciliation in Cambodia
B, L, D
 Day 7: Angkor Ban, Wat Hanchey, Kampong Cham – Saturday, March 8, 2025
If yesterday was an exploration of Cambodia's dark past, today is a celebration of the country's bright future. You'll meet young children at a local school and friendly villagers in their homes, and have a rare opportunity to receive an unforgettable water blessing from local Buddhist monks.
Included excursion: Cambodia's vibrant cultural life
B, L, D
 Day 8:  Kampong Cham, Cambodia, Siem Reap – Sunday, March 9, 2025
Disembark the Mekong Jewel.
Today is a bucket list kind of day as you explore the ancient temples of Angkor Wat, a gigantic religious complex that is now a UNESCO World Heritage Site.
Every aspect of Angkor Wat had religious meaning to its builders 900 years ago: the great rectangular moat, the main gate facing the west, the towers topped with stone lotuses, the huge smiling stone heads, the layout of the lanes and buildings.
The largest religious monument in the world, magnificent Angkor Wat is the single most recognizable landmark in Cambodia. It is simply breathtaking in both size and scope and boasts the longest continuous bas-relief in the world. Although Angkor Wat is a UNESCO World Heritage Site, its importance is so immeasurable that several other conservation organizations have been enlisted to help ensure its protection.
And yet, Angkor Wat is just one piece of this enormous complex at the heart of the ancient Khmer Empire (which ruled this region between the ninth and 12th centuries). It was part of a roughly 250-square-mile (64,749-hectare) city that has largely disappeared into the jungle, though excavation efforts are ongoing (recent laser imaging has revealed another, even larger nearby city under the jungle floor that was linked to the temple city).
Enjoy lunch at Malis restaurant before having the evening at your leisure.
Two nights at Sofitel Angkor Resort in Supreme Room.
B, L
Day 9: Siem Reap, Cambodia – Monday, March 10, 2025
Early flight to Lima and then on to Cusco with transfer to Sacred Valley. A farm lunch will be served at Sarapampa Hacienda where we will enjoy a Marinera and Peruvian Paso horse dance. You will have a chance to immerse yourself in the workings of this traditional farm and get a real taste of the Sacred Valley of the Incas.
Overnight at the Belmond Rio Sagrado (or similar)
(B & L)
Day 10: Sacred Valley – Sunday October 20, 2024
Today is all about magnificent views.
You can choose the optional sunrise tour where your morning begins at Bakheng Hill, where a steep path will take you to Phnom Bakheng, the highest temple in Angkor. Enjoy a once-in-a-lifetime sunrise overlooking the gates of Angkor Wat and the temples of Angkor—a truly breathtaking sight. Float along the baray, a typical ancient Khmer reservoir, on a gondola surrounded by ancient ruins. Finally, end your excursion at the ruins of Prasat Chrung, the Shrine of the Angle, whose wall makes for the perfect vantage point to take in the amazing landscapes. Please note: As the dirt path to the temple can be steep and is not handicap accessible, this tour is recommended for more active travelers.
Your included tour begins by entering the spectacular remnants of Angkor Thom, the royal city. Built during the heyday of the Khmer dynasty in the 12th century, this extraordinary complex of Hindu and Buddhist monuments was once lost to the world for many years, hidden under dense jungle vines.
After an exciting day of sightseeing, you'll indulge in a lavish dinner with an Apsara dance show. Apsara is the traditional Khmer dance form that tells stories and conveys messages using ornate costumes, graceful movements, codified facial expressions, and distinctive hand and foot positions. The many Apsara figures that adorn Angkor and pre-Angkor temples you've just visited testify to the dance form's long and esteemed history.
B, D
 Day 11: Siem Reap, Cambodia – Tuesday March 11, 2025
Check out of your luxury hotel and head to Siem Reap-Angkor International Airport for your flight home or to continue on with the group to Hanoi and Ha Long Bay, Vietnam.
Tuesday- Saturday March 11 – 15, 2025
4-Night Encore to Hanoi & Ha Long Bay, Vietnam. (Add On Package)
Your 4-Night Encore in Hanoi and Ha Long Bay, Vietnam includes:
Transfer from hotel in Siem Reap to the airport
International  economy class air from Siem Reap to Hanoi
Transfers from airport to hotel
2-nights stay in a premium room at Sofitel Metropole Hanoi Hotel including porterage and taxes
Daily breakfast
Private tour of Hanoi City
Electric Cart to Old Quarter with front row tickets to Water Puppet Show
Kayak excursion at Ao Ech
Dinner at LY Club in Hanoi with wine
2-nights on board the Paradise Elegance Grand cruise on Ha Long Bay
Viet Hai Village Visit
Dark and Bright Cave Excursion
Discover Natural Lagoons in Lan Ha Bay
Farewell Dinner
Gratuities to hotel porterage, cruise staff, local guides and restaurant staff
Taxes and fees
Friday-Sunday February 28 – March 2, 2025
2-Night Opening Act – Ho Chi Minh City, Vietnam
Our 2-night Opening Act in Ho Chi Minh City includes:
Transfer from airport to hotel upon arrival
2 nights at the Park Hyatt Saigon Hotel including porterage and taxes
Breakfast daily
Private coach touring Ho Chi Minh City
Cu Chi Tour
All entry fees of included tours
Transfers to ship in My Tho Port
Dinner at XU restaurant with wine
Lunch at Hoa Tuc restaurant with wine
Gratuities for local guides, drivers, and service staff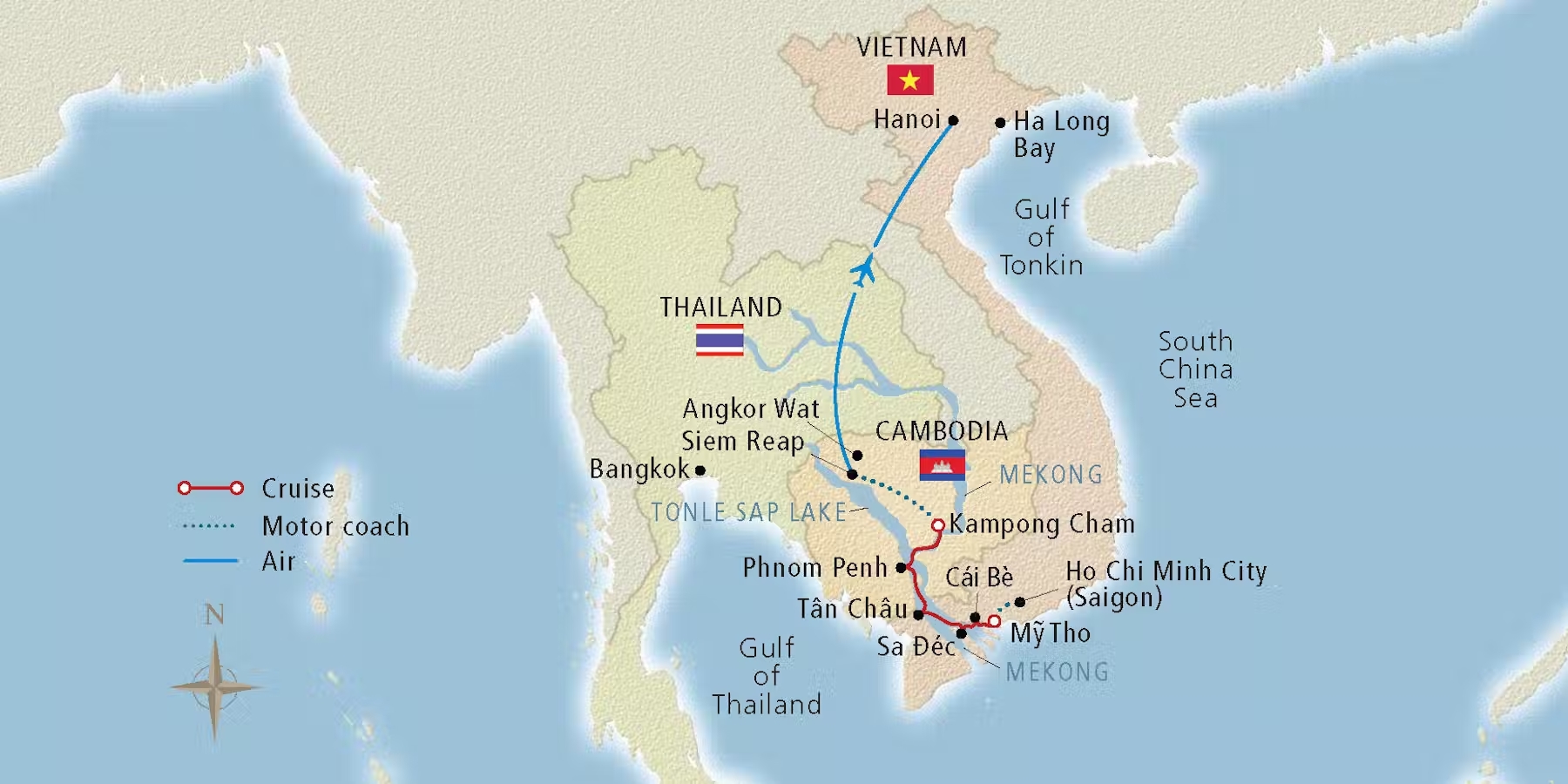 Rockstar Adventures – Mekong Vietnam Cambodia
will sail on Uniworld Mekong Jewel
Top Deck Plunge Pool & Lounge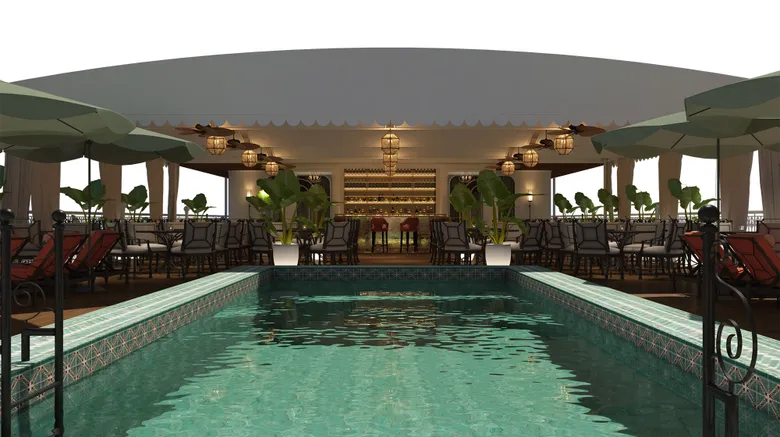 ROOM CATEGORIES
All Rates are total for 2 passengers after taxes.
Royal Panorama Suite $31,798 total for 2
Grand Suite $27,798 total for 2
Deluxe Suite A $16,998 total for 2
Deluxe Suite B $13,398 total for 2
Deluxe Suite C $11,998 total for 2
Royal Panorama Suite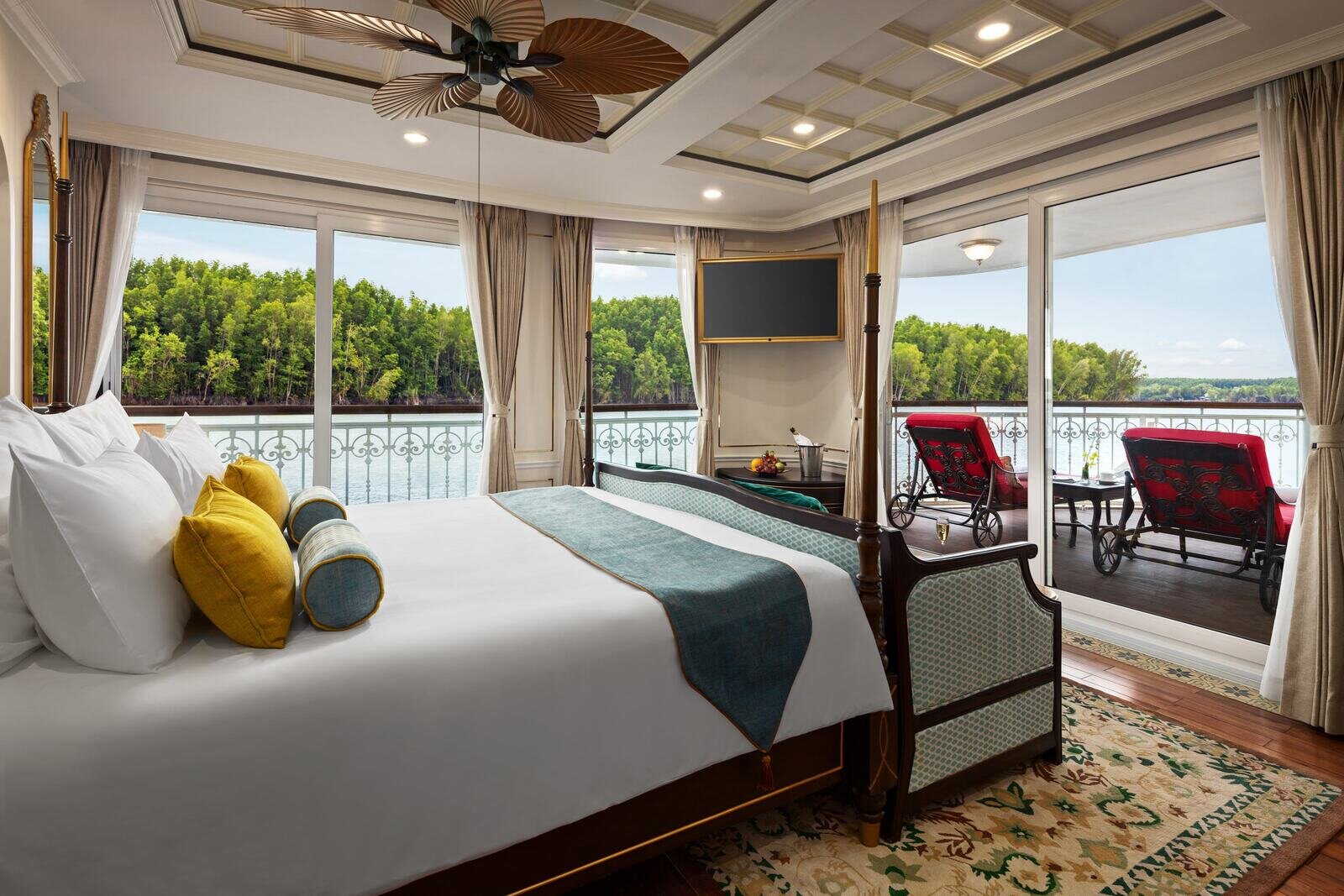 Grand Suite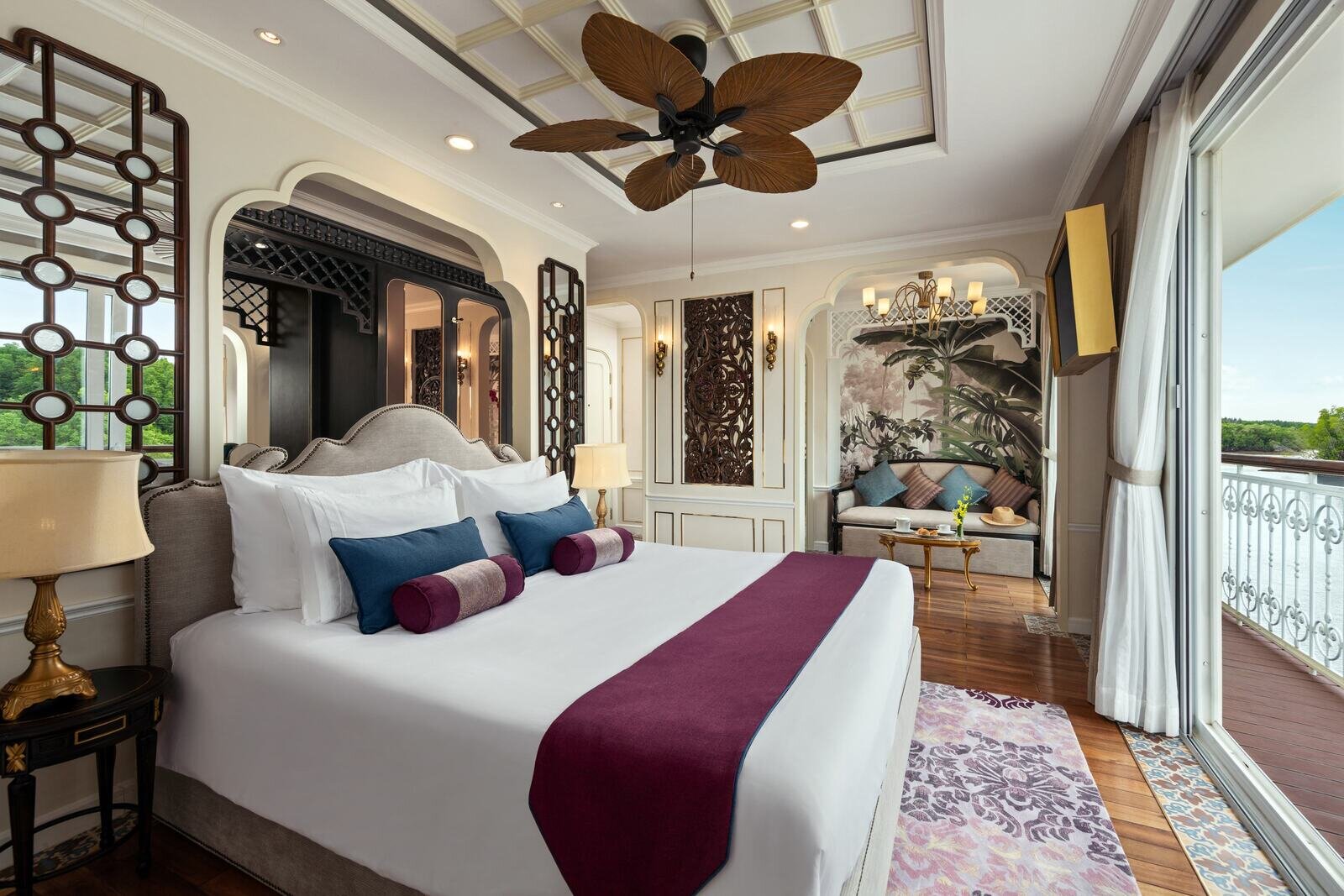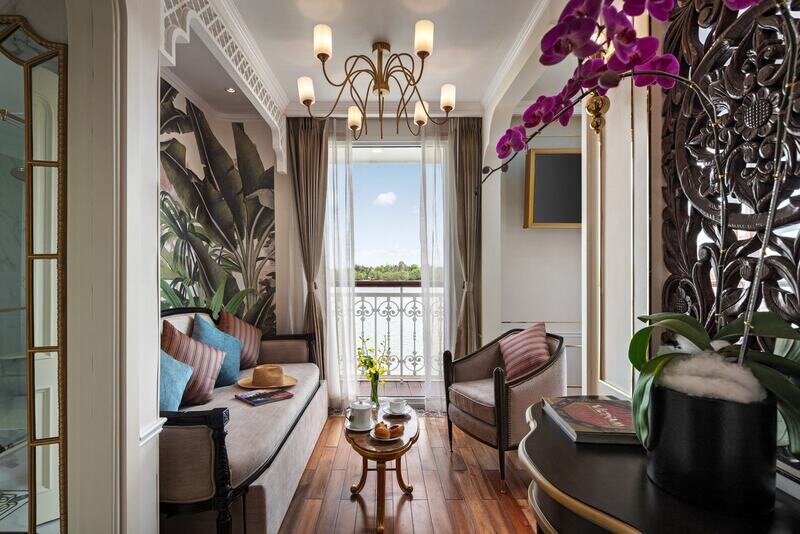 Deluxe Suite Category & Bathroom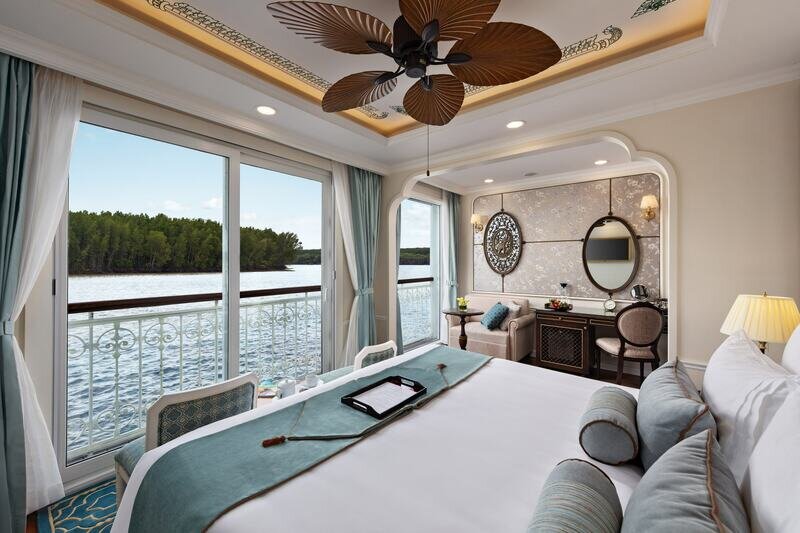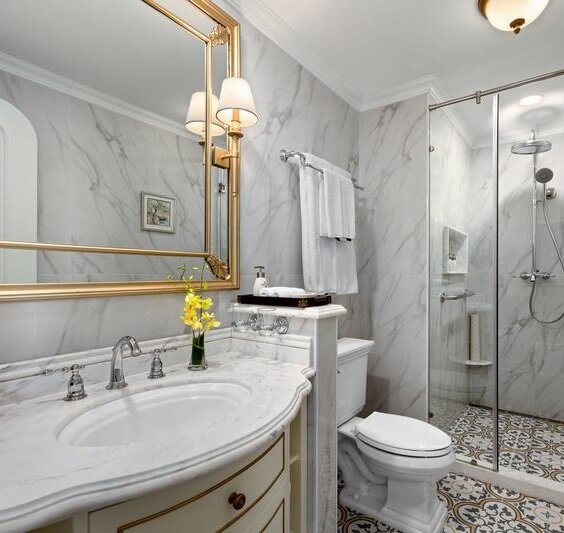 Rockstar Adventures – Mekong Vietnam Cambodia – Theme Parties
Not sure if you want to dress up in theme? Read our FAQ page and see why we think it works in your favor to get dressed up!
The theme nights for this fantastic trip are not yet available. Please check back here closer to the sailing date for the most up-to-date information about Theme Nights.
Rockstar Adventures – Mekong Vietnam Cambodia – FAQs
Is this a full ship charter?
YES, it is a full-ship charter filled with like-minded couples. This is a new option we are excited to offer to our guests who may be looking to try new destinations.
Are there playrooms etc?
Nope, Rockstars don't need playrooms to figure out how to have fun.
How about nudity?
TBA
Will there be other fun couples on board?
Rockstar Adventures started as a group of friends who would always coordinate their trip to the Hedo Resort in Jamaica. Since then they've started to branch out and travel the world with each other. So YES, there will be MANY fun couples, some in the lifestyle, some not, but ALL ready to party and have a spectacular time.  Read: [Is Rockstar Adventures for You?]
Is it All-Inclusive?
YES – All Meals and Drinks are included
How about fun, sexy Theme nights?
Yes! The organizers will have created some fun, exciting themes for our guests to partake in. Of course, these are completely voluntary. To see what they are, check out the "Themes" tab above.
Rockstar Adventures – Mekong Vietnam Cambodia – What's Included
Included:
7-night cruise aboard the Mekong Jewel
All meals on board the ship
Premium drink package for the duration of the cruise
Meet and Greet
Rockstar Parties
Theme Nights
All excursions as per itinerary
2 night in in Siem Reap

2 nights superior room at Sofitel Royal Angkor Resort
Breakfasts
Lunch at Malis restaurant with wine
Sightseeing including pass to Angkor temples
Private Apsara shows

All gratuities to ship's crew, local guides, driver and porterage
Taxes and fees of $399 per person
Prices Exclude
Airfare and taxes to and from the port
Transfers to and from the airport
Onboard purchases
Laundry
Optional shore excursions, services and activities sold on board
Items of personal nature
 Rockstar Adventures – Mekong Vietnam Cambodia- Pricing, Policies and Insurance
All Rates are total for 2 passengers after taxes.
Royal Panorama Suite $31,798
Grand Suite $27,798
Deluxe Suite A $16,998
Deluxe Suite B $13,998
Deluxe Suite C $11,998
Reduced Fare Offer 
**Make full payment at time of deposit by Zelle or E check and your fare will be reduced by $1000 per cabin.
Rockstar Adventures – Mekong Vietnam Cambodia
 – Payment Schedule
Payment schedule is as follows:

Deposit of 10% of your total is due to confirm your reservation ($500pp is nonrefundable)

First installment of 30% of the total is due by September 1, 2023                                                                               

Second installment 30% of the total is due by March 1, 2024  2024. 

All payments become non-refundable after March 1, 2024.

Final payment is due by September 1, 2024             
Credit Card Payments
Credit Cards Accepted: Visa, MC & American Express
Charges will appear as: "Preferred Travel Partners"

Rockstar Adventures – Mekong Vietnam Cambodia
 – Cancellation policy
 Until February 29, 2024 Penalty is $500 per person
After March 1, 2024 – Full Penalty – No Refund
** We strongly recommend Travel Insurance
Travel Insurance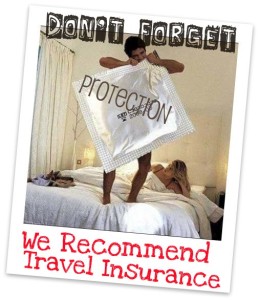 Yikes, travel insurance is not a fun topic but a lot of you have asked…
This is about what happens if you are paid, packed and ready to go… and there is a problem.
The biggest 2 reasons people take insurance are:
Trip Cancellation
Medical Expenses or Medical Evacuation
Full Ship charters are better than regular cruises in many ways, however the penalties and potential for a loss if you have to cancel is higher. Shortly after final payment most full ship charter cruises become non-refundable. That means if you have to cancel your trip not only do you have that disappointment of a cancelled vacation, but I have to tell you you don't get your money back.
Our most popular insurance is 'World Wide Trip Protector' and provides full coverage when purchased up to 21 days after your vacation purchase.
The best value just to make sure you have coverage is 'Trip Protector Lite Expanded.'
We recommend Travel Insured – Get a quote and buy insurance  
Note: this link opens a window for Travel Insured – if you have questions pleases phone our office for assistance.
Please consider purchasing Travel Insurance
Since everyone pretty much likes me right now and I'd like it to stay that way, please consider purchasing travel insurance. Or at least don't say I didn't warn you if there is a problem.
Other coverages that take the worry out of travel:
Trip Interruption – Return air only
Trip Delay & Missed Connection coverage
Baggage Loss or Delay
Cancel for Work Reasons Options available on select policies
We strongly recommend purchasing travel insurance for your upcoming cruise. There are hundreds of circumstances that could cause you to cancel your trip, return home early or force you to seek emergency medical treatment while traveling. Travel insurance offers coverage for unforeseen problems such as, an unexpected financial change or scheduling conflict, a cancelled flight or a serious illness. You even have the option where you can cancel for any reason. We recommend Travel Insured – Get a quote and buy insurance
Why book Rockstar Adventures – Mekong Vietnam Cambodia?
Sophisticated Luxurious Immersion into Vietnam and Cambodia

Bucket List Destinations, Temples, Culture, History
Unimaginable sights by day, turned-up party atmosphere at night culminating in lifelong friendships and experiences to last throughout a lifetime!
A close group of awesome friends who are sure to help make memories of a lifetime!
"Rockstar Adventures is a group of like-minded adults with the goal to see the world in a fun, vibrant group environment. Sharing common interests and an open-mind. Our members contribute to a healthy, drama-free, and high-energy vacation that enhances new experiences thus creating lifelong memories and friendships."
  – Rockstar Adventures Mission Statement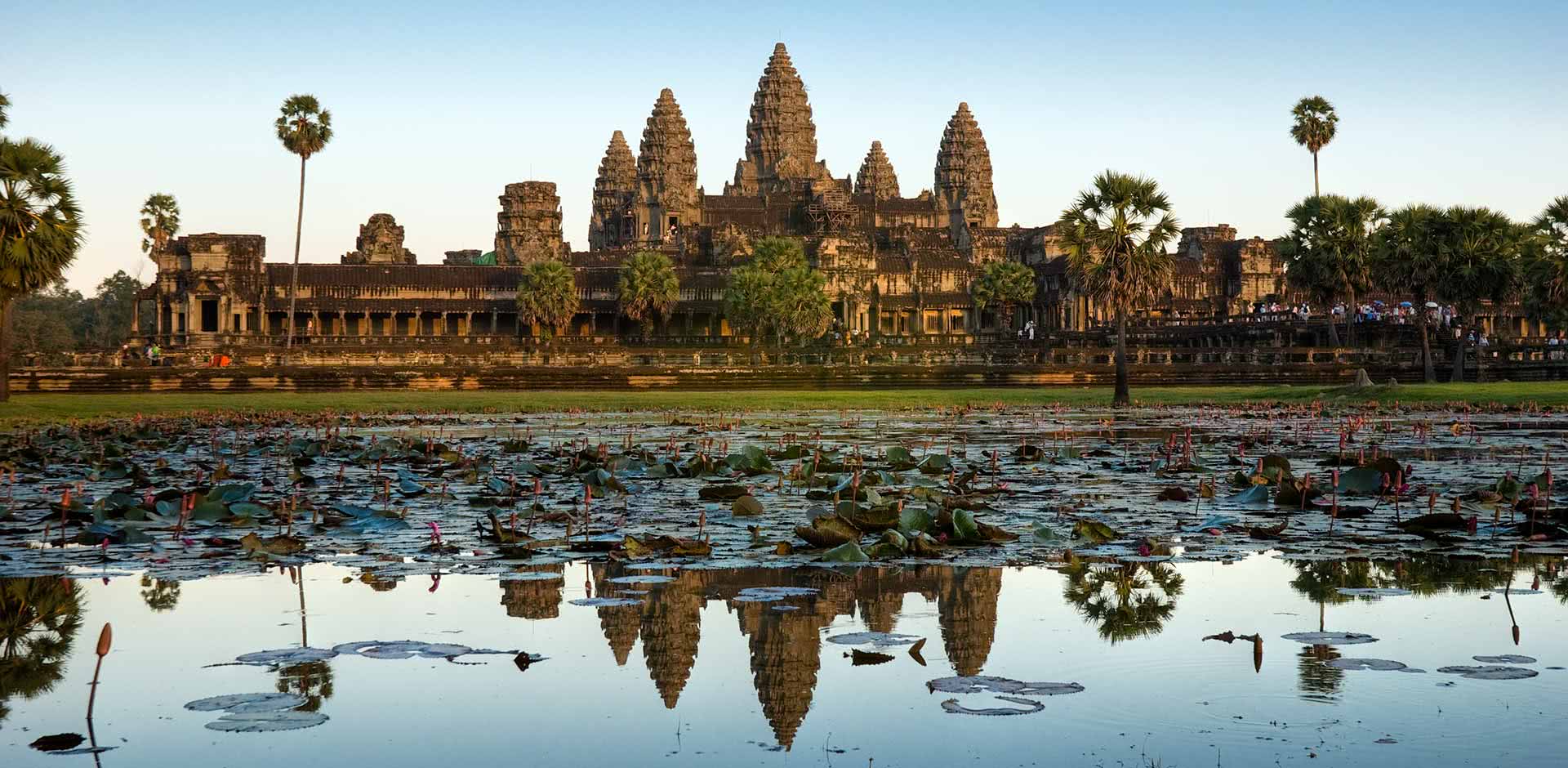 What Past Guests Have to Say About Mekong Jewel …
Mekong Jewel has a level of service that is amazing. Everything was first class.
The tours they arranged were so informative and revealed a personal and close-up experience in Vietnam and Cambodia.
We missed the start of an excursion one day and the captain actually stopped the boat, called a sampan for us, and sent a crew member so that we could connect with our group on shore.
Truly service above and beyond. I would highly recommend this cruise to anyone wanting to experience the Mekong Delta.
We LOVED the ship! Its a beautiful river boat. It is new in 2020.
The largely Cambodian staff is excellent-friendly and efficient.
Rooms are surprisingly large, the smallest one was 300 sq to and the suites were enormous!
Common areas and rooms nicely decorated. Bathroom and shower are large for a ship.
Good size pool with resistance jets. My husband enjoyed being able to swim against the jets to get his exercise.
Two of the most beautiful, historic, and friendly places in all of Asia
The meals on the Mekong Jewel were amazing! It was obviously they were prepared using the finest and freshest ingredients.  We loved the all-inclusive drinks program.  Most days we participated in the professionally guided tours, but we also took time for us to relax and enjoy the spa and pool on this beautiful ship!
We have traveled with TSC before and wish we would have know this cruise is available with lifestyle friends.  Having this crowd onboard would have made this a dream trip come true!
Why You Should book with TSC
TheSwingerCruise.com is the only agency with ALL the cruises.
TSC Expert Agents provide first hand experience.  We have sailed on over 87 Cruises and will help you find the one that perfectly fits your style.
Our Signature 'Get Ready' program provides all the information you need before you board the ship so you can get the most out of your vacation.
Rockstar Adventures – Mekong Vietnam Cambodia 
March 2 – 11, 2025
This will truly be a 'not-to-be-missed' Luxury Adventure!
Join this close-knit circle of friends on a voyage to through some of the most beautiful scenery in Cambodia & Vietnam.
Explore stellar destinations on the Mekong River.