Rockstar Iceland with Rockstar Adventures – Facts at a Glance
Rockstar Iceland is a full circumnavigation of  Iceland on board a true expedition ship with Rockstar Adventures.
Luxurious Atlas Ocean Voyages Ship.
Immersive Experience
Adults Only – Average age 45-65
Rockstar Adventures:

Boldly exploring beyond the boundaries of sexy travel! Read:  

[Is Rockstar Adventures for You?] 

To View Prices Click 

'Book Now'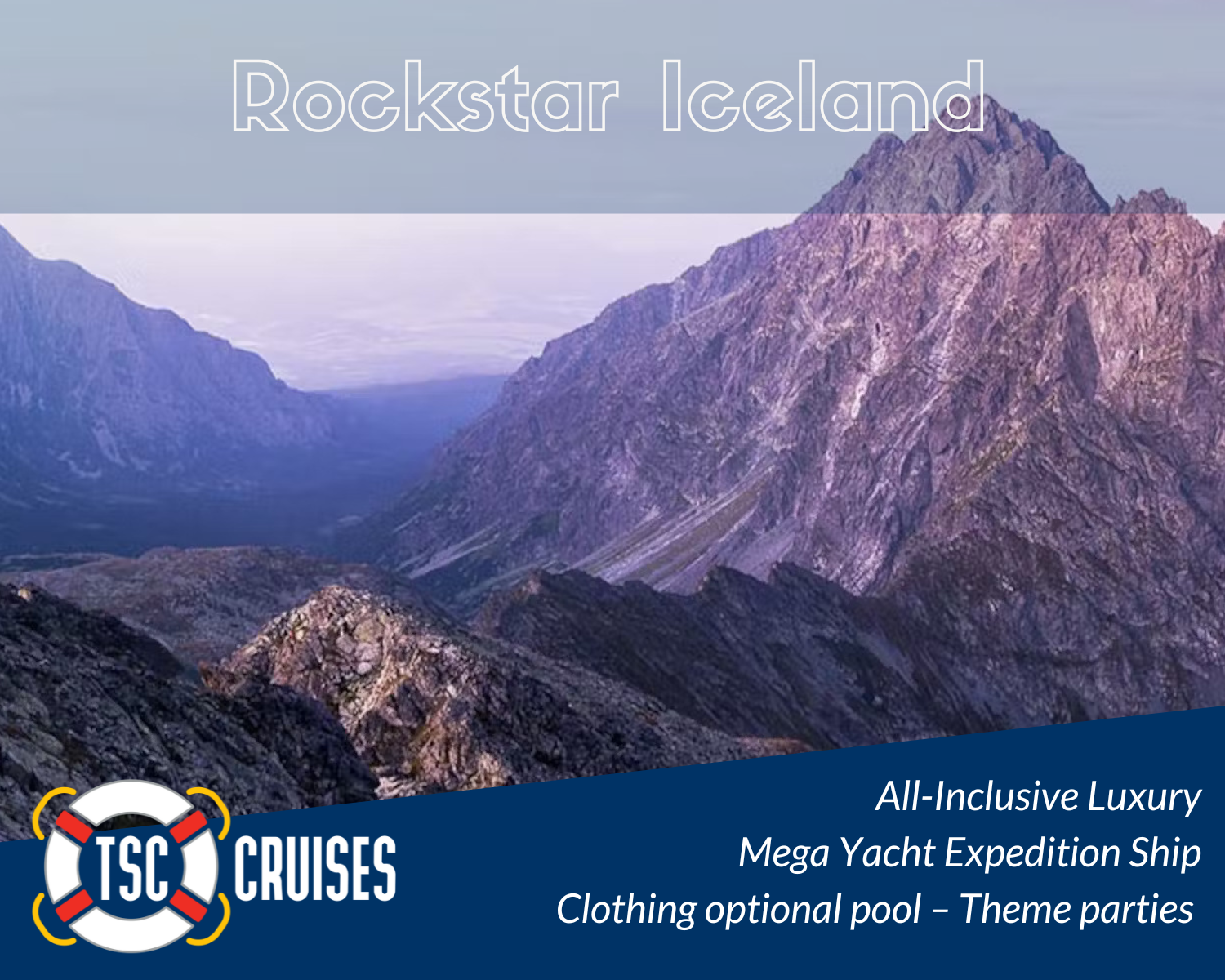 Rockstar Iceland will sail on Atlas Ocean Voyages
Bar & Lounge on Rockstar Amazon River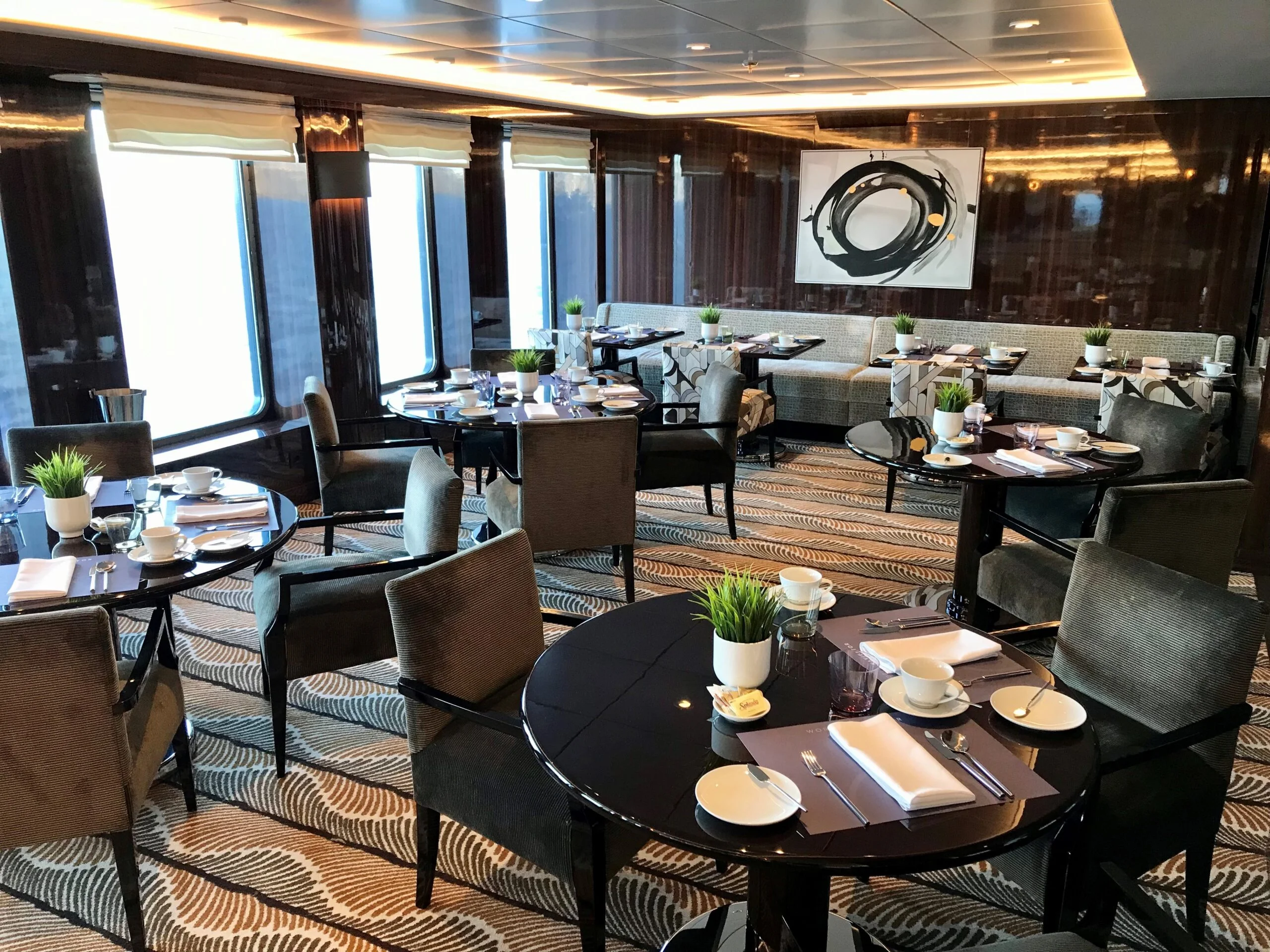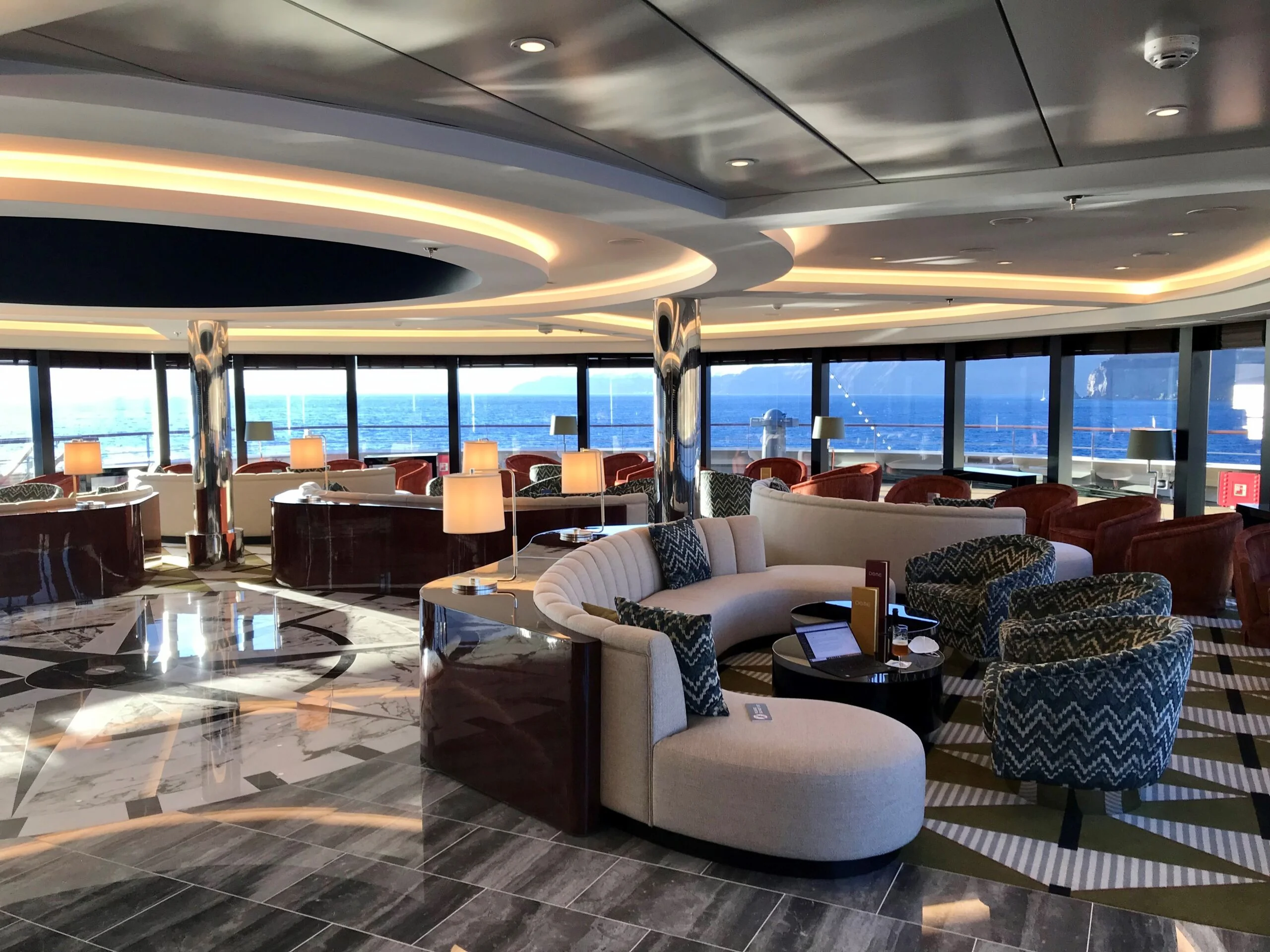 Top Deck Pool & Lounge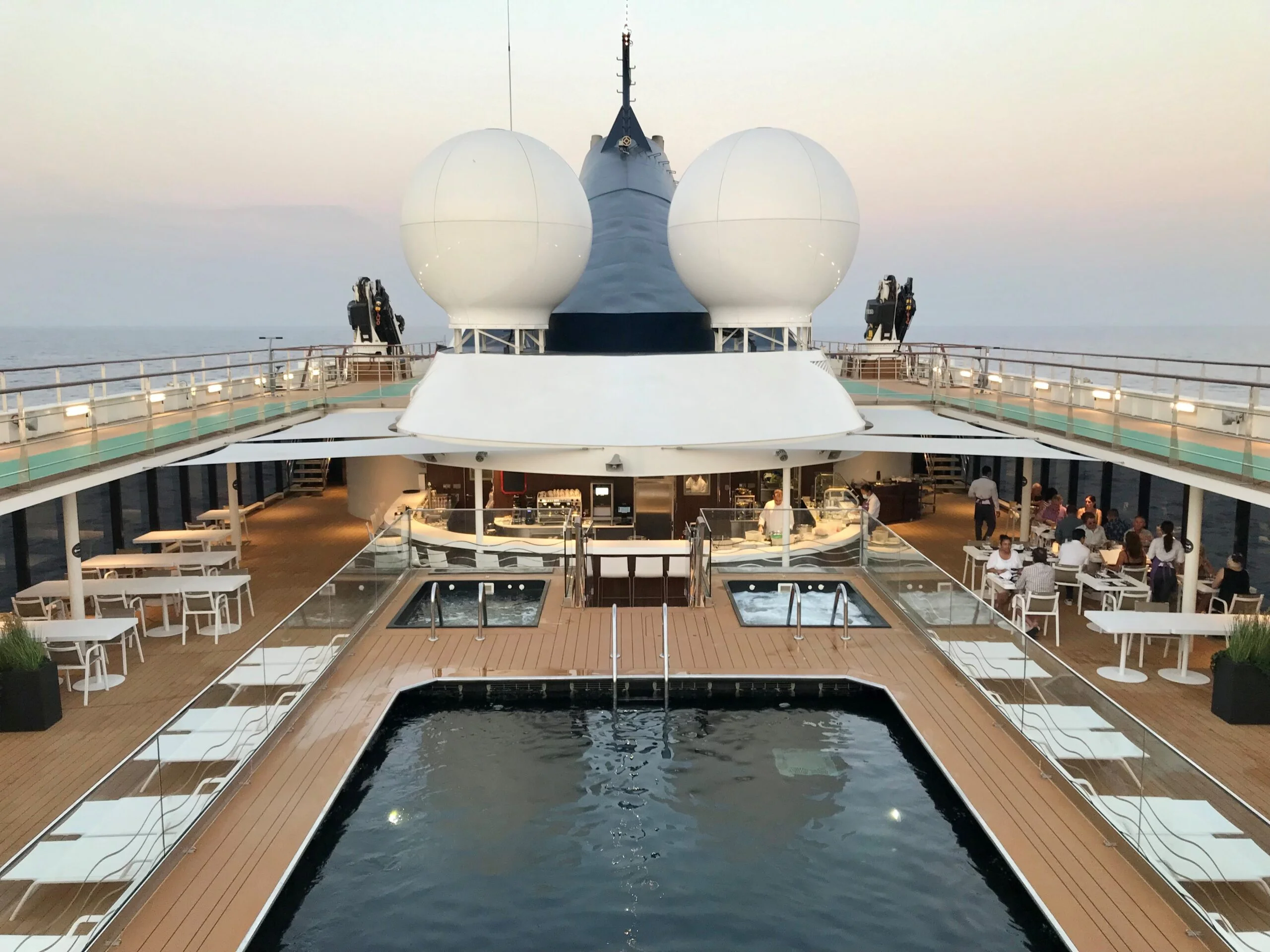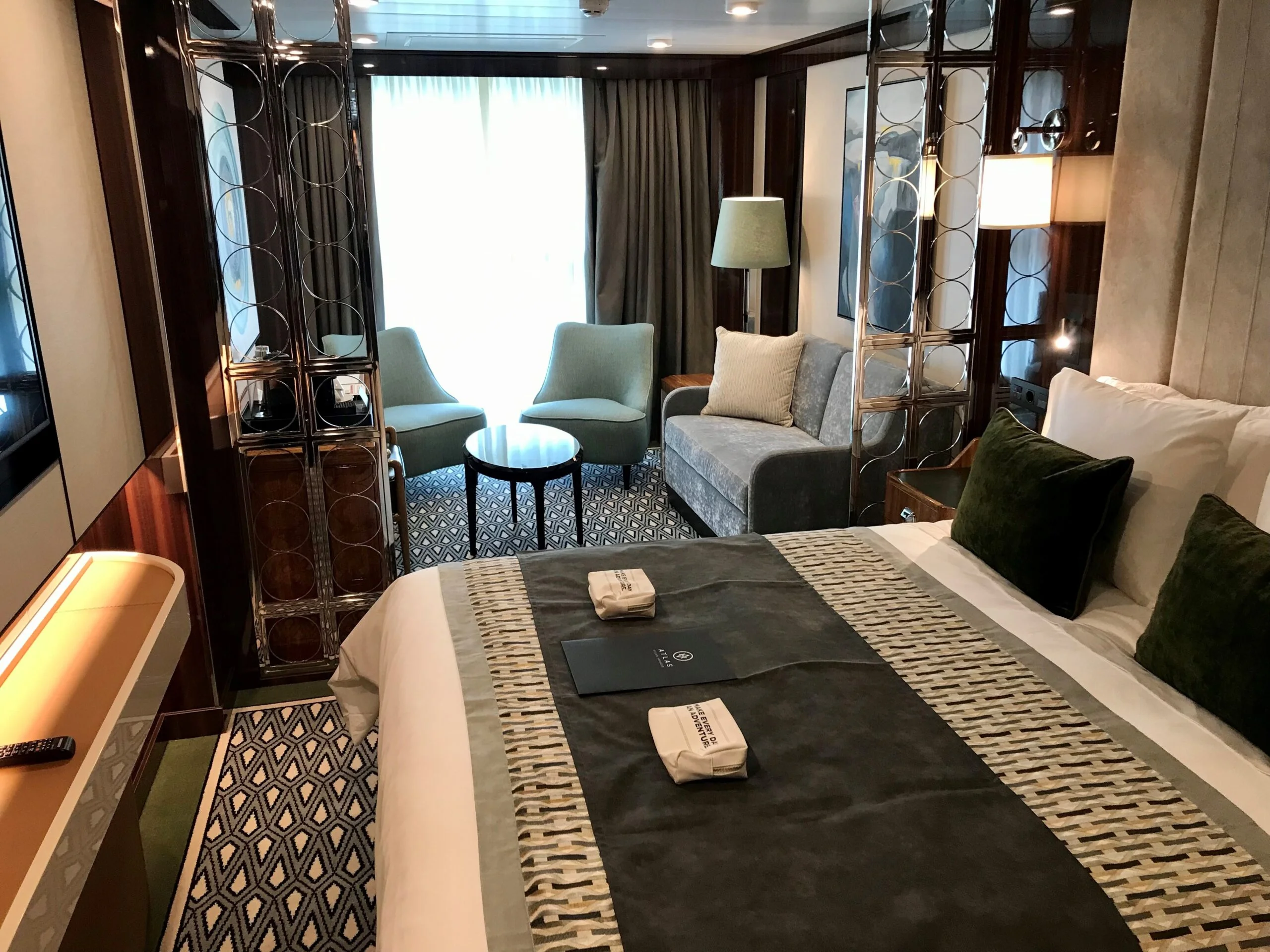 Veranda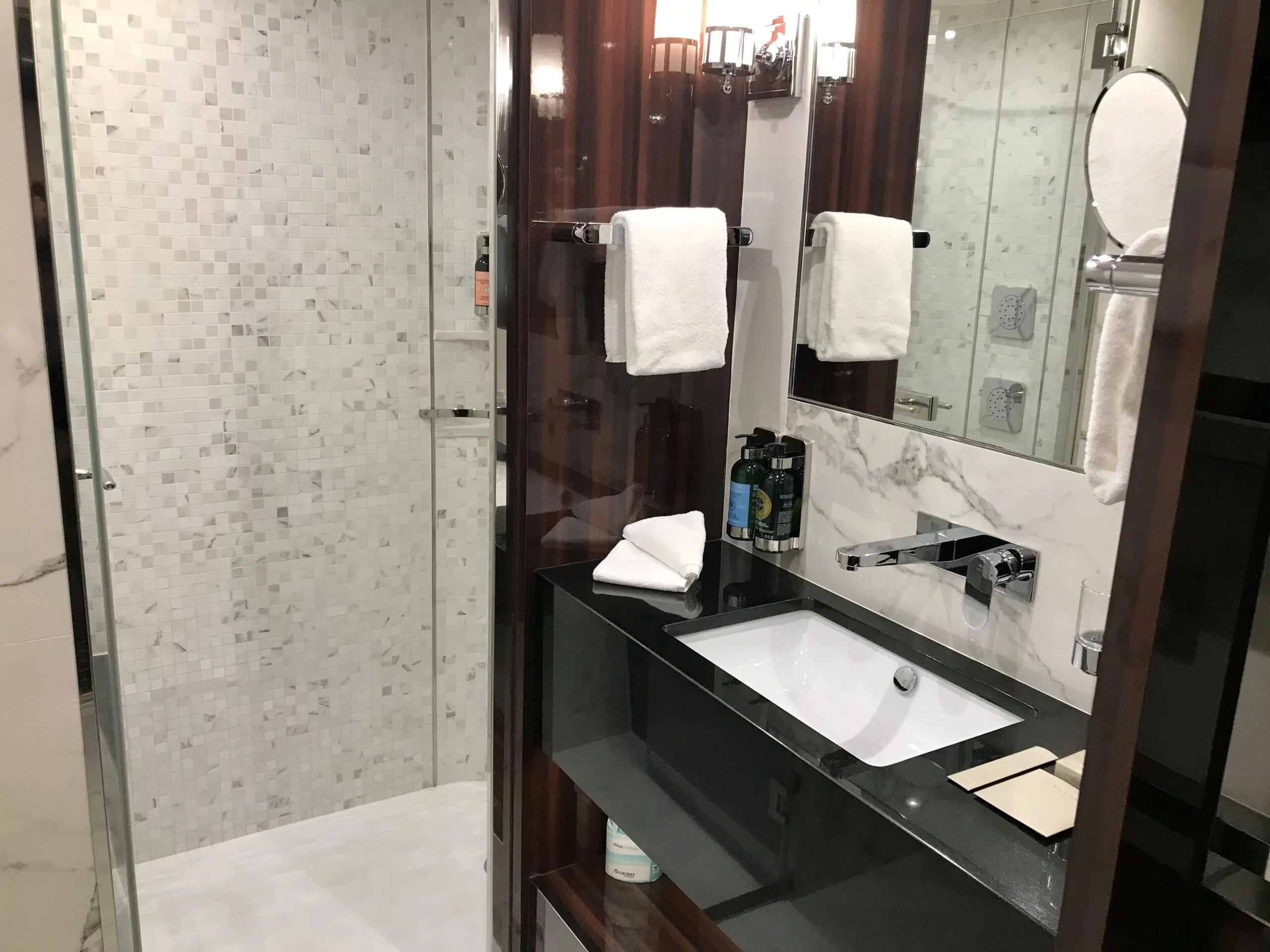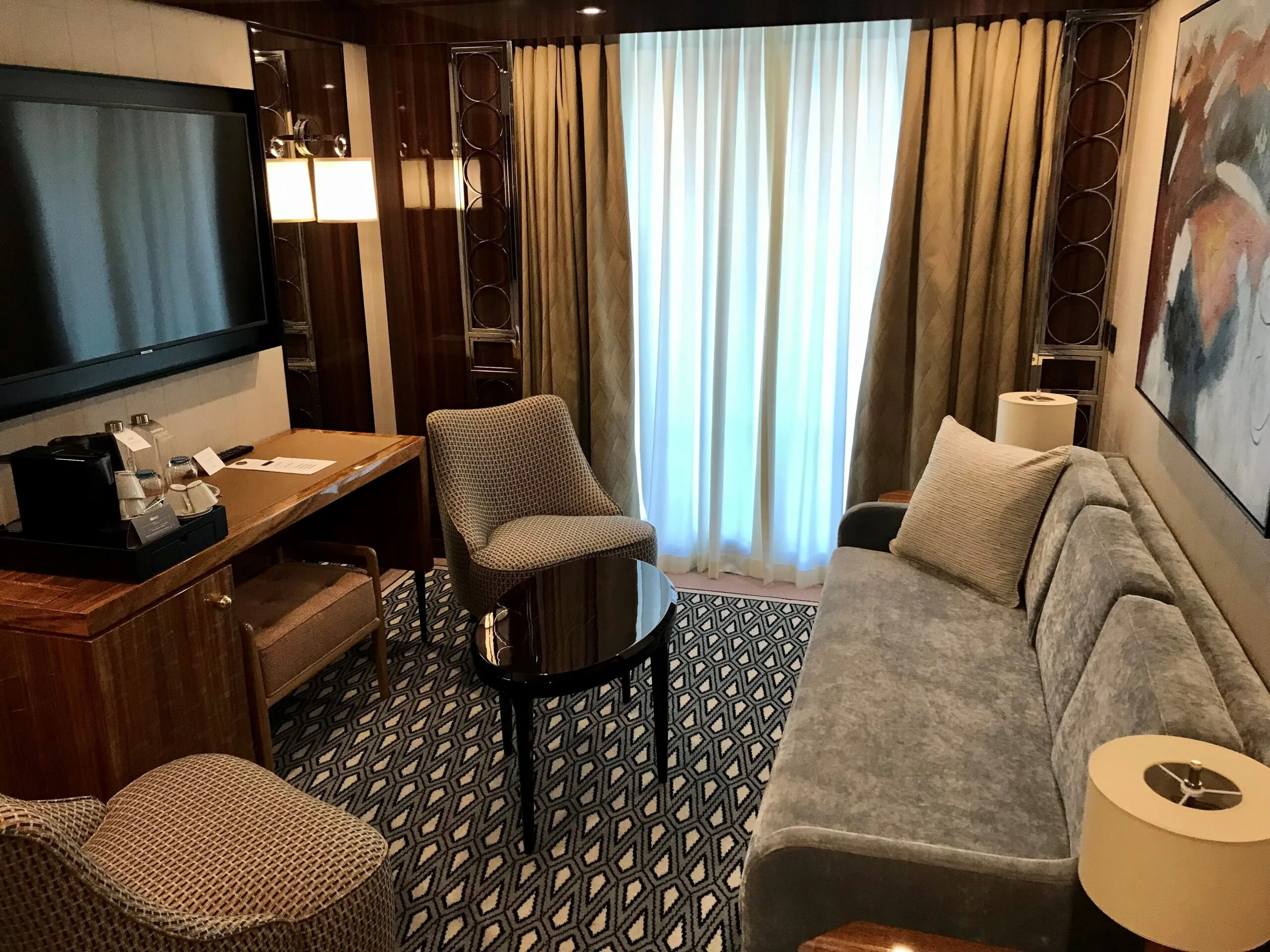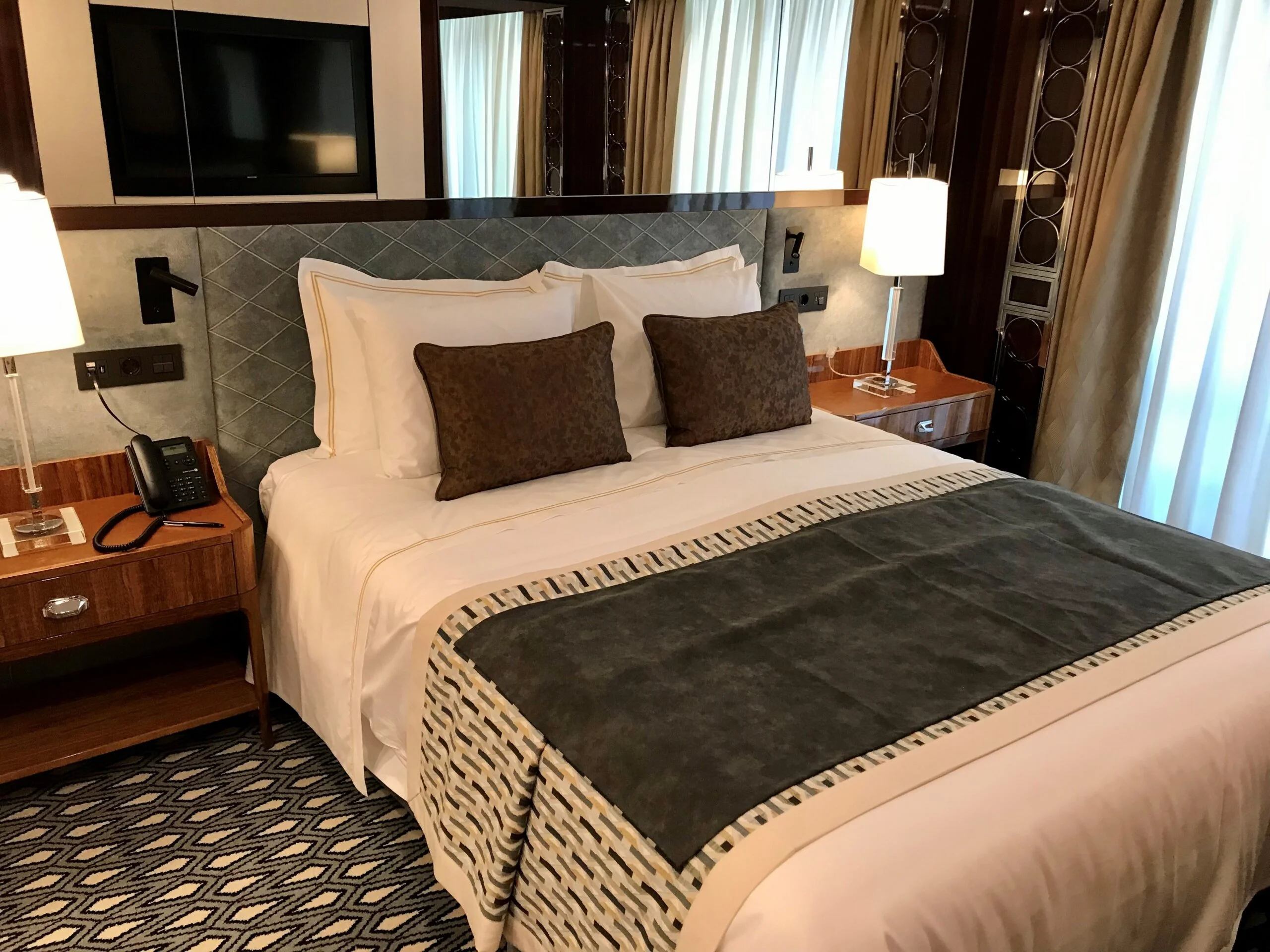 Rockstar Iceland
 – Itinerary
Get ready for a mind-blowing adventure, because Rockstar Adventures is about to take you on a wild ride through the captivating wonders of Iceland!
Opening Act – Monday June 30 – Thursday, July 3, 2025
REYKJAVIK, ICELAND
Opening Act: (Add On Option – 3 night pre-cruise)
Hold on tight as we kick off this epic journey in Reykjavík, the vibrant capital of Iceland. Brace yourself for a dazzling mix of cosmopolitan vibes and irresistible charm.
In Reykjavík you can unleash your inner architect as you step into the mesmerizing Harpa Concert Hall. This sparkling glass structure is like a kaleidoscope come to life, showcasing Iceland's cutting-edge design. But that's not all—prepare to have your mind blown at Perlan, a mind-blowing building perched atop Öskjuhlíð hill. Originally a group of hot water tanks, it has transformed into a captivating hub with an exhibition, planetarium, restaurant, and an observation deck that offers jaw-dropping panoramic views.
Rockstars will show you the true beauty of Iceland. Adventure inland to explore her hot springs and secrets.. Picture this: a sea of colorful houses painting a whimsical backdrop that will make you want to stay forever. 
And guess what? The excitement doesn't stop there!
Day 1 – Thursday, July 3, 2025
REYKJAVIK, ICELAND
Welcome aboard the luxurious mega-yacht – Atlas Ocean Voyages. As you step foot on this magnificent ship, prepare to embark on a journey like no other. Your adventure begins with a champagne toast the moment you step onboard. Settle into your elegant stateroom and get acquainted with the ship's facilities and amenities, including world-class dining options, rejuvenating spa treatments, and exciting, sensual spaces. Get ready for an unforgettable Adventure Circumnavigating Iceland!
Day 2 – Friday, July 4, 2025
GRUNDARFJORDUR, ICELAND
Hey, adventure-seekers! Get ready to discover the hidden gem of Grundarfjörður, nestled in the enchanting Snæfellsnes Peninsula. With fewer than 1,000 inhabitants, this place is a true treasure waiting to be explored. Brace yourself for an otherworldly sight—Kirkjufell, also known as "Church Mountain." This majestic peak will leave you in awe, and the three-pronged waterfall, Kirkjufellsfoss, adds an extra touch of enchantment. As you wander through town, keep an eye out for Thunderstorm the orca, a sculpture by Unnsteinn Guðmundsson that pays tribute to the friendly whale who often greets visitors during whale-watching tours. How cool is that?
Day 3 – Saturday, July 5, 2025
ISAFJORDUR, ICELAND
Prepare to be bewitched by the captivating town of Ísafjörður, nestled in the spellbinding Westfjords of Iceland. This fishing village is bursting with local energy and a rich cultural tapestry. Imagine cool summer months surrounded by breathtaking scenery that feels like a hidden treasure. And let's not forget about Naustahvilft, the awe-inspiring depression among the flat-topped mountains known as the troll seat. It's like Mother Nature decided to blend her natural beauty with the town's folklore.

Oh, and beer lovers, rejoice! Pay a visit to Dokkan Brugghús, the only brewery in the entire Westfjords, where you can sip on local brews crafted with water from the pristine mountains. It's a taste sensation you won't want to miss! And for all you sea-loving explorers, the Westfjord History Museum will take you on a deep dive into Ísafjörður's maritime heritage and its fascinating rise in the fishing industry.
Day 4 – Sunday, July 6, 2025
GRIMSEY, ICELAND
Welcome to Grímsey Island, the Arctic Circle's northernmost inhabited island. Picture this: a haven for approximately 100 people and a million birds! This place is like a real-life treasure hidden in the vastness of the Arctic. Get ready for 24 hours of glorious sunshine during the summer, just like the Puffins enjoy.

Keep an eye out for the stone sphere marking the edge of the Arctic Circle—it's designed to move along with the Circle, always keeping the true demarcation. But the real showstoppers here are the island's basalt columns, dipping into the water like geometric art covered in lush moss. It's a scene straight out of a dream!
Day 5 – Monday, July 7, 2025
SEYDISFJORDUR, ICELAND
Prepare to be enchanted by the picturesque village of Seyðisfjörður, the pearl of Iceland. This tiny town of only 700 people is hidden away at the innermost point of a fjord, and it's an absolute gem waiting to be discovered. As you explore, the majestic Fjarðará river cascading down the hill will leave you breathless. It creates a series of stunning waterfalls that tumble into a lagoon at the head of the fjord. And here's a tip for photography enthusiasts—every corner of this scenic village boasts well-preserved, old wooden buildings that will make your camera go clickety-click. Rainbow Street, in particular, is a visual feast that will have you swooning.
Day 6 – Tuesday, July 8, 2025
ESKIFJORDUR, ICELAND
Welcome to Eskifjörður, a village named after the mighty Mount Esja. This place has it all—history, natural beauty, and a thriving fishing culture. Brace yourself for epic views of Mount Hólmatindur, a streaked peak that evokes a sense of awe and wonder. And let's not forget about Randulff's Sea House, a shore building that houses a fishing tradition and doubles as a renowned restaurant.

Foodies, you're in for a treat! Sink your teeth into the delectable snúður, a mouthwatering bread rolled and filled with cinnamon, then covered in chocolate, sugar glaze, or caramel. It's a sinful delight that will leave you begging for more.
Day 7 – Wednesday, July 9, 2025
SURTSEY ISLAND, SCENIC NAVIGATION, ICELAND
Hold on tight, because we're about to embark on a journey to Surtsey Island, a true natural wonder. This pristine paradise was born from volcanic eruptions in the 1960s, and it's so special that it's part of UNESCO's World Heritage Sites. Only accessible to scientists, this place is a natural laboratory where they study plants and animals.

But guess what? You lucky adventurers get the chance to navigate around this young island and witness its flourishing wildlife up close. Prepare to be dazzled by flocks of puffins and migratory birds like eiders. And keep an eye out for the seals that call Surtsey home—they're known to attract orcas to the nearby waters. This is a dream destination for those with an explorer spirit!
Day 7 – Continued
HEIMAEY, VESTMANNAEYJAR, ICELAND
Welcome to Heimaey, the fascinating island in the Vestmannaeyjar archipelago, a place that will leave you in awe. Get ready to feast your eyes on volcanoes, lava fields, mysterious caves, and majestic mountains. The Eldheimar Museum, built around the remains of a home buried by ash during the Eldfell eruption, offers an incredible audio guide that will transport you through the island's history. It's like stepping into a time capsule that will take your breath away. And don't forget to keep an eye out for the iconic Elephant Rock, rising majestically from the sea. It's not an illusion—you'll see a colossal elephant from every angle. Now that's what we call nature's grand masterpiece!
Day 8 – Thursday, July 10, 2025
REYKJAVIK, ICELAND
As our wild adventure comes to an end, we return to Reykjavík, the capital that stole our hearts. Get ready to be captivated by the charming and cosmopolitan atmosphere. Those colorful houses on the horizon create a scene straight out of a fairytale, a place where you'll want to stay forever. And if you're an architecture lover, the Harpa Concert Hall is a dazzling gem that perfectly embodies Iceland's modern design—it's like music for your eyes.
So, are you ready to rock and roll through Iceland with Rockstar Adventures? Get ready for a mind-blowing experience that will leave you forever changed. Let's embark on this extraordinary journey together!
Rockstar Iceland – FAQs
Is this a full ship charter?
YES, it is a full-ship charter filled with like-minded couples. This is a new option we are excited to offer to our guests who may be looking to try new destinations.
Are there playrooms etc?
Nope, Rockstars don't need playrooms to figure out how to have fun.
How about nudity?
Clothing Option will be allowed on the hot tub and pool deck
Will there be other fun couples on board?
Rockstar Adventures started as a group of friends who would always coordinate their trip to the Hedo Resort in Jamaica. Since then they've started to branch out and travel the world with each other. So YES, there will be MANY fun couples, some in the lifestyle, some not, but ALL ready to party and have a spectacular time.  Read: [Is Rockstar Adventures for You?]
Is it All-Inclusive?
YES – All Meals and Drinks are included.
What IS included? Check out the 'what's included' tab
How about fun, sexy Theme nights?
Yes! The organizers will have created some fun, exciting themes for our guests to partake in. Of course, these are completely voluntary. To see what they are, check out the "Themes" tab above.
Rockstar Iceland – What's Included
What's Included:

7 night Iceland Circumnavigation cruise aboard the exclusive World Traveller
Unlimited select premium pours including wine, beer, spirits, water, specialty coffee, and sodas
Shipboard gratuities
Stocked in-room mini-bar in all guest staterooms
Room service during designated hours
Gourmet cuisine (breakfast, lunch and dinner)
Snacks at Paula's Pantry during designated operating hours
Butler service for suites
Wifi
Experience of a life-time!

What's not included:

Airfare to/from ship
Airport transfers to/from ship
Optional shore excursions sold onboard
Premium bottles of wine and champagne
On board purchases from spa treatments or ship store
Laundry service
Port taxes and fees
Communication, satellite telephone charges
Passenger laundry
Any items of personal nature
Rockstar Iceland – Pricing, Policies and Insurance
Rockstar Iceland
– Payment Schedule
Payment schedule is as follows:
Deposit of 10% due within 7 days after registration. $250 per person is non-refundable
Your first installment of 30% is due January 15, 2024
Your second installment of 30% is due July 15, 2024. On July 16, 2024 all payments become nonrefundable. No refunds.
Final payment is due by January 15, 2025. No refunds.
Credit Card Payments
Credit Cards Accepted: Visa, MC & American Express
Charges will appear as: "Preferred Travel Partners"

Rockstar Iceland
– Cancellation policy
** We strongly recommend Travel Insurance
Travel Insurance

Yikes, travel insurance is not a fun topic but a lot of you have asked…
This is about what happens if you are paid, packed and ready to go… and there is a problem.
The biggest 2 reasons people take insurance are:
Trip Cancellation
Medical Expenses or Medical Evacuation
Full Ship charters are better than regular cruises in many ways, however the penalties and potential for a loss if you have to cancel is higher. Shortly after final payment most full ship charter cruises become non-refundable. That means if you have to cancel your trip not only do you have that disappointment of a cancelled vacation, but I have to tell you you don't get your money back.
Our most popular insurance is 'World Wide Trip Protector' and provides full coverage when purchased up to 21 days after your vacation purchase.
The best value just to make sure you have coverage is 'Trip Protector Lite Expanded.'
We recommend Travel Insured – Get a quote and buy insurance  
Note: this link opens a window for Travel Insured – if you have questions pleases phone our office for assistance.
Please consider purchasing Travel Insurance
Since everyone pretty much likes me right now and I'd like it to stay that way, please consider purchasing travel insurance. Or at least don't say I didn't warn you if there is a problem.
Other coverages that take the worry out of travel:
Trip Interruption – Return air only
Trip Delay & Missed Connection coverage
Baggage Loss or Delay
Cancel for Work Reasons Options available on select policies
We strongly recommend purchasing travel insurance for your upcoming cruise. There are hundreds of circumstances that could cause you to cancel your trip, return home early or force you to seek emergency medical treatment while traveling. Travel insurance offers coverage for unforeseen problems such as, an unexpected financial change or scheduling conflict, a cancelled flight or a serious illness. You even have the option where you can cancel for any reason. We recommend Travel Insured – Get a quote and buy insurance
Why book Rockstar Iceland?
Round trip sailing from Reykjavik on the Expedition Class Super Yacht: Atlas Ocean Voyages!
Optional 3-night Opening Act in Reykjavik before the cruise

Unforgettable sights of majestic landscapes, volcanoes, and lava fields

The chance to explore Iceland's hidden gems and enchanting towns like Grundarfjörður, Ísafjörður, and Seyðisfjörður
The Rockstar spirit where everyone becomes close friends who help make memories of a lifetime!
"Rockstar Adventures is a group of like-minded adults with the goal to see the world in a fun, vibrant group environment. Sharing common interests and an open-mind. Our members contribute to a healthy, drama-free, and high-energy vacation that enhances new experiences thus creating lifelong memories and friendships."
– Rockstar Adventures Mission Statement

What Past Guests Have to Say About Iceland & Atlas Ocean Voyages.
A Living Masterpiece
Atlas Ocean Voyages delivered beyond my wildest dreams.
From the breathtaking landscapes to the impeccable service, every moment felt like pure magic.
I love traveling with TSC and I can't thank them enough for creating an unforgettable journey that will forever hold a special place in my heart.
Simply extraordinary!
The Iceland Cruise by Atlas Ocean Voyages showcased nature's masterpiece in all its glory.
From the warm waters of the Blue Lagoon to  to exploring dramatic volcanic landscapes, every day brought new wonders.
The knowledgeable expedition team ensured we had a deeper understanding of Iceland's natural beauty. An extraordinary journey that left me speechless.
Luxury at Sea
Luxury at sea reached new heights with Atlas Ocean Voyages' Iceland Cruise.
The elegant accommodations, exquisite dining, and impeccable service surpassed all expectations.
From indulging in spa treatments to savoring gourmet cuisine, every moment was pure indulgence. This voyage redefined luxury travel for me.
Why You Should book with TSC
TheSwingerCruise.com is the only agency with ALL the cruises.
TSC Expert Agents provide first hand experience. We have sailed on over 87 Cruises and will help you find the one that perfectly fits your style.
Our Signature 'Get Ready' program provides all the information you need before you board the ship so you can get the most out of your vacation.
Rockstar Iceland
Summer 2025
This will truly be a 'not-to-be-missed' Luxury Adventure!
Join this close-knit circle of friends on a voyage to through some of the most beautiful places on earth!

Explore the Majestic Beauty of Iceland