Special Balcony Bonanza Sale
Couples Cruise most popular cabin category – the B2 Balcony cabin is on sale at a 10% discount
 Book by November 30, 2016, you can pick one of the best B2's that are left by booking now and you can save even more (up to 20%!). Here's how:
Book now and save 10% (that is a $329.80 savings!)
Pay with a check and save another 5% (that ads up to a $494.70 savings) That is almost a $500 savings!
Find 4 other couples to join you and form a group and save an additional 5% (that would add up to a $659.60 savings) Not only would you save almost $700, but you would have friends on board that will make the cruise even better
What are you waiting for? Click now before the prices go up.
This pic has nothing to do with this sale, but we thought it was a funny black Friday gaffe.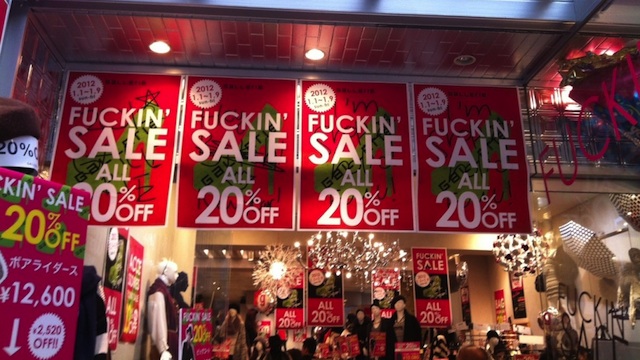 Beat the Bliss Booking Frenzy
Bliss Cruise sails this week and there is always a frenzy of booking onboard the ship.
Planning on getting on one of these cruises?
Don't delay you know everyone will book the best remaining cabins while they are sailing Bliss Cruise this week!
Bliss Cruise 2016
November 27 – December 4, 2016
7 nights from Ft Lauderdale More on Bliss 2016
Introducing the Bliss Quickie 2017!
March 2017 – 5 nights from Ft. Lauderdale –  Progresso  – Cozumel + Sexy Days at Sea  More on Bliss 2017 
August 2-11, 2016 – Baltic Swinger Cruise
Stockholm, Visby, Copenhagen, Amsterdam
Only 17 balcony cabins available
Book Baltic Now
August 5-13, 2017 – Mediterranean Swinger Cruise
The BEST Mediterranean Itinerary we have ever seen!
Only 11 balcony cabins available
Rome, Florence, Monte Carlo, St Tropez,  Cap d'Agde, Ibiza, and Barcelona.
Book Med Now