Los Angeles Harbor, San Pedro CA
The next big adventure on the Celebrity Century is sailing from the Port Los Angeles World Cruise Center in San Pedro California.   We have had lots of questions about the distances between airports, hotels and cruise ports.  Here is the information you are looking for!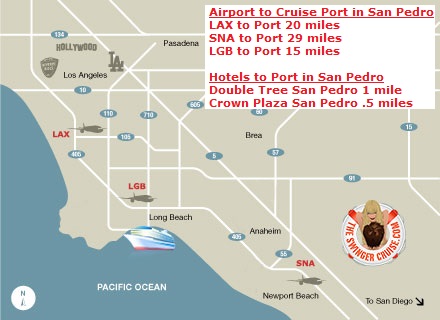 Ship Boarding Updates – Check in at  Pier 46
The check in process has changed and we want to make sure you know about it!  There are only two cruise piers in San Pedro and the day we leave there are three ships in port. Because of this, we will not be leaving out of the main pier, but out of pier 46, just down the road from the main cruise terminal.
If clients are coming in from the airport or catching a shuttle from a hotel, they can go directly to the ship at pier 46 and check in as normal.
If they are driving in and they need to park, here is where things get a little tricky. The best solution is to drive directly to Pier 46 (see the map below) and drop off their partner and luggage. As soon as they are dropped off, they need to drive back down Harbor Blvd to the main cruise terminal, where they need to park. Once parked, they can catch a free shuttle back to Pier 46. This will be a lot easier than trying to drag all of their luggage onto the shuttle.
When we get back into San Pedro on May 10th, we will be at the main cruise terminal, so there will be no need for any shuttles and debarkation will be a breeze.
Airports for the Celebrity Century Cruise
There are a variety of airports that you can use to get to the May 2014 Couples Cruise.
LAX Los Angeles International Airport – the largest and probably the most commonly thought of for flights into Los Angeles.   Airport Official Web
LGB Long Beach Airport – JetBlue seems to be the main carrier flying into Long Beach.  So if you have access to JetBlue and like a hassle free smaller airport this is ideal.   Limited service is also available from other airlines including Delta and USAirways.  There are not nearly as many arriving flights but if it connects from your city then you will enjoy this choice Airport Official Web
SNA John Wayne, Orange County Airport – John Wayne Airport (JWA) is serviced by a variety of airlines.  Airtran, Delta, American Airline, USAirways, Southwest, Frontier and many others.   This is a first rate and easy airport Airport Official Web
Pre and Post Cruise Hotels
Book The Hotels on Line So where is everyone staying.  We haven't visited the host hotels so here is our best effort to let you know what we have found out.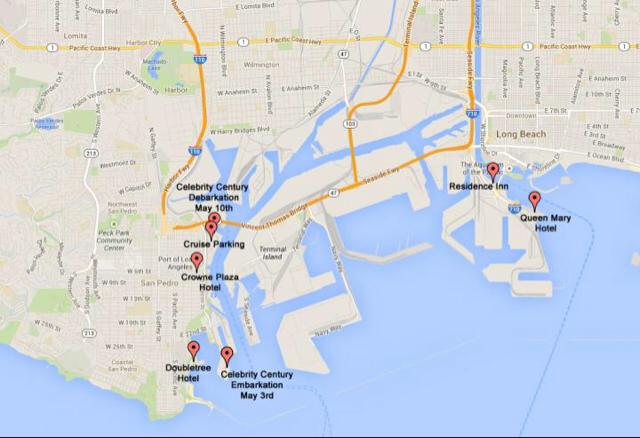 Crown Plaza, San Pedro –
Our Choice Hotel:  TheSwingerCruise.com Staff will be staying at the Crown Plaza
601 S. Palos Verdes St. San Pedro, CA
Across the street from the ship
Prices: King Room – 159.00 + tax, Executive King – 199.00 + tax
The inside scoop is that Couples Cruise is planning a FREE meet and greet at this hotel.   Folks on Trip Advisor Review Crown Plaza as an excellent Pre-Cruise Hotel.  Clean comfortable rooms – you can watch the ships sail in and out of the port because it is about 150 yards away.  Wayne from Couples Cruise says he has stayed here and there is a good selection of restaurants in the area that are walking distance.
Here is the Hotel's copy:  Crown Plaza San Pedro – Book your room at the Crown Plaza with their large spacious rooms, comfortable beds and friendly service. The outdoor pool with its hot tub will be very busy as you relax and get ready for your cruise. Their Fitness Center has a sauna and there is Free WiFi in each room. The food is great in the Blu Restaurant which features an adjoining cozy bar for meeting other couples. The cruise port is only a half mile away and free shuttles are available to get to the ship.

Double Tree San Pedro
2800 Via Cabrillo Marina, San Pedro, CA
About 1 mile to the ship
Prices: King Marina View – 169.00 + tax King Balcony Marina View – 199.00 + tax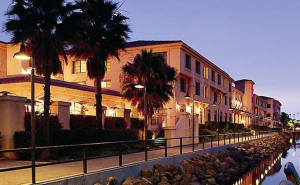 Located right on the marina, the ambiance of this hotel is a bit nicer than the near by Crown Plaza.
Trip Advisor Reviews of DoubleTree San Pedro
Here is the Hotel's Copy – Book your room at the DoubleTree by Hilton Hotel San Pedro, Port of Los Angeles, where you are welcomed with a freshly baked chocolate chip cookie. Situated on the marina, the sites are fabulous especially if you have a balcony room. The heated indoor and outdoor pools are inviting and the fitness centers are ready for you. You can even have a challenging tennis match. Stay in an airy guest room and sink into your plush bed. Each guest room contains a 32-inch flat-screen LCD TV, high-speed internet access, Dine on fresh seafood and exciting local cuisine at the Marina Bar & Grill where the food is fabulous. The hotel is 1 mile from the port and has free shuttles to the ship.
To book either of these hotel options email  Lee@couplescruise.com or phone 800-927-6672
Queen Mary Hotel
Two groups are staying at The Queen Mary Hotel.  This could be a fun option.   It is certainly a step into the historic past and there is a ghost tour, Princess Diana Exhibit and a ship board museaum that have a small extra fee.  We read the Queen Mary Reviews on Trip Advisor and see a lot of concern about room condition, cleanliness and bed size.   Sounds like the service is excellent.   This hotel option is about 20 minutes to the port by taxi.
If you decide you want in on this hotel DPT has a rate of $105 per night + Taxes.  If you would like to book a discounted room on their block click here.   SLS has the same rooms available for $119 per night.   You can also book direct with the hotel and have a variety of room categories and suites Queen Mary Web Site
SLS will be hosting a meet and greet at this location for $12.50 per person.