Free Desire Pearl. The words float past your desk like a whisper of smoke, almost too faint to be recognized.
But, suddenly distracted, you stop what you're doing and step away from your work. You start to shut out the drone of the daily grind around you.
Now you imagine yourself on a beach, sipping a cocktail, feeling tropical breezes caress your bare skin. Your lover breaks the silence and asks, "Honey, I can't believe we're here. This room must have cost you a fortune, but it's so worth it."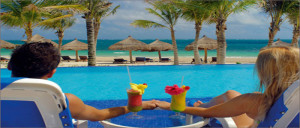 And your lover sighs with pure ecstasy. And you slowly smile to yourself because you remember those words that caught your attention now. Yes, you smile and chuckle a little because you took advantage of the Free Desire Pearl Night promotion offered by TSC Vacations!
Yes, you read that correctly. But in case you don't believe me, here it is again.
Free Desire Pearl Night Promotion!
Book 3 nights and get the 4th night free!
Book 6 nights and get the 7th and 8th night free!
This luxurious and lovely boutique resort in the beautiful Riviera Maya section of Mexico is the perfect retreat for couples. Honeymooners, small groups of friends, lovers who want to be pampered in paradise — all adventurous couples will enjoy the breathtaking splendor of Desire Pearl.
And now is the best time to get your free Desire Pearl night.  Just imagine the savings…just imagine the luxury…just imagine the desire.
Free Desire Pearl Night Promotion Details:
Good for travel from now until Dec. 25, 2014.
Room must be booked before April 1, 2014.
Promotion applicable to all room categories.
Not combinable with other discount promotions and hotel + flight packages.
Instant pricing and more detailed resort information is available on our Desire Pearl information page.
But in order to guarantee that you are getting the best possible deal, including your 4th night free, be sure to call Kevin at 603-384-3297!
Desire Pearl. Say it out loud. Slower this time. Even the name is sexy…. And the only thing sexier is getting your free Desire Pearl night. So don't wait, call today!