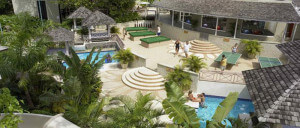 We've heard great things about Hedonism II improvements in recent weeks. While most lifestyle travelers were content in the past to say, "No, Hedo doesn't have the best service, or the best food, or the best decor, but at least it's a fun, adult vacation," the new owners of Hedo are making serious and long overdue renovations and investments at the resort and now guests are saying, "Wow, Hedo is gonna give Desire a run for its money!"
From what we hear from our customers, these renovations are most evident in the quality of food and in the renovated rooms (referred to as Premium Suites).
Here are some excerpts from a very detailed review online about Hedonism II improvements:
"Since we were booked into one of the new Nude Beach Jacuzzi Premium (NBJP) rooms, our check in would take place in our room where she would show us all the new features. As much as we love the "classic" rooms and all the changes that were made over the years (NOT), the new NBJP was a breath of fresh air. It contained all new furnishings, and fixtures in the bedroom as well as the glass enclosed bathroom."
"Overall service at the resort, in my opinion, is way up."
"The entire staff has always been friendly but I think it was kicked up a notch this year."
"When asked of several staff members how things were going at the resort since the new ownership, they said it is better than it has ever been. They are very happy with the new owners and really enjoy working there. They are treated well and are the highest paid of any resort on the island. They also share in the gross proceeds every week as tipping is not allowed."
"We remember the days when one would go to Hedo and lose weight because of the food offerings and tasteless desserts. I am happy to say that the food has improved so much."
"The bars were well stocked with a lot of premium liquors than in the past. We heard someone comment that they were pleased to be able to get Crown Royal at the pool every day."
"Hedonism II has improved in the past year with the new ownership. They are one year into a five year plan and if the next four years are just as good as their first, they will have a lot of happy people coming back year after year."
Read the entire review here.
While there are still a number of small details here and there for the resort to improve, it definitely seems that with the new ownership Hedonism II is heading in the right direction. And we look forward to hearing about more Hedonism II improvements in the coming months!
Interested in checking out the world famous (infamous?!) resort yourself? Book a trip today by calling Kevin at 603-384-3297!
[aio_button align="center" animation="pulse" color="red" size="small" icon="globe" text="Book Online Now – Hedonism 2″ target="_blank" relationship="dofollow" url="http://www.discount-all-inclusive.com/InstantPricing.aspx?HotelID=19&co=tsc"]
If you have your own report from Hedo to share, email me at Kevin@theswingercruise.com. We welcome feedback on all resorts, lifestyle events, and takeover cruises in order to better serve you.