Sexy on South Beach – Book by November 30th and receive $350pp off of the Shoes rate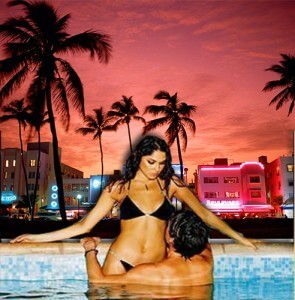 The embodiment of excess, South Beach is an international playground offering non-stop nightlife, sandy shores, unique architecture and plenty of eye candy.
In true ShoesOnlyTravel.com fashion this will be a super sexy and luxurious event. We will be taking over a beautiful 150-room art Deco masterpiece for a week and rocking it Shoes Only style.
When imagining the South Beach scene, think "Baywatch" with a sexy architectural twist … even the lifeguard stands are art deco masterpieces. The long, man-made beach stretches up the Atlantic for miles and is perfect for early morning runs and late night fun. The beach is also about the best spot to view the city lights at night.
For those of you looking for a warm weather event in the USA which will allow you to bathe in the sun Au Natural as well as enjoy and explore your sexy side without inhibition amongst other sexy couples than this is the place.
We are also super excited to be able to offer the very inclusive package at an extremely attractive price. Because South Beach is such an incredible hot spot for great food and fun we have combined our super inclusive packaging with enough flexibility to allow you explore some of the local flavor and culture.