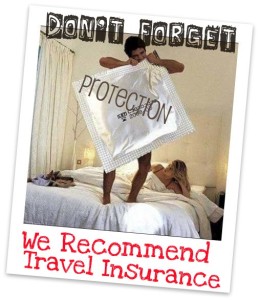 Yikes, travel insurance is not a fun topic but a lot of you have asked…
This is about what happens if you are paid, packed and ready to go… and there is a problem.
The biggest 2 reasons people take insurance are:
Trip Cancellation
Medical Expenses or Medical Evacuation
Full Ship charters are better than regular cruises in many ways, however the penalties and potential for a loss if you have to cancel is higher. Shortly after final payment most full ship charter cruises become non-refundable. That means if you have to cancel your trip not only do you have that disappointment of a cancelled vacation, but I have to tell you you don't get your money back.
Our most popular insurance is 'World Wide Trip Protector' and provides full coverage when purchased up to 21 days after your vacation purchase.

The best value just to make sure you have coverage is 'Trip Protector Lite Expanded.'
We recommend Travel Insured – Get a quote and buy insurance 
Note: this link opens a window for Travel Insured – if you have questions pleases phone our office for assistance.
Please consider purchasing Travel Insurance
Since everyone pretty much likes me right now and I'd like it to stay that way, please consider purchasing travel insurance. Or at least don't say I didn't warn you if there is a problem.
Other coverages that take the worry out of travel:
Trip Interruption – Return air only
Trip Delay & Missed Connection coverage
Baggage Loss or Delay
Cancel for Work Reasons Options available on select policies