Bigger and Wilder are Better, or Why A Young Couple Should Take a Lifestyle Vacation
– Skip ahead if you've been to Hedo so many times they know you by both your first name and your porn name –
Let me guess. You're a couple in their 30s or even 20s, relatively new to the lifestyle but with a few experiences under your belt. You've probably got a membership to one or two of the big dating sites. Perhaps you've been to a big hotel event or a local on-premise club. Maybe she likes the ladies. Maybe he likes to watch. Maybe you've even tried full swap experiences and survived to tell the tale. Maybe you're bored with this intro and want to get to the point… But first, a booby picture!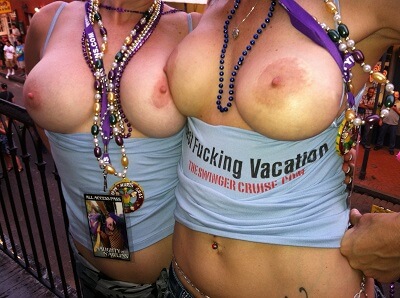 Just one of the amazing shots from Naughty in N'awlins 2013
The point is you're ready for a lifestyle vacation. You heard about it from someone, saw an ad on a  swinger dating website, or watched a TV expose about the YOLO takeover cruise in 2007. You're curious, you've got some vacation time and spare change in your pocket, and you're still young enough to try something crazy. Here's the skinny on why you, as a young couple, should join us on an upcoming lifestyle cruise.
Lifestyle vacations are by nature kid free, couples only (except for Hedo II in Jamaica), and extremely permissive and open about behavior, dress, and attitude. They are also the most fun you can have on a vacation anywhere, ever because they are large in scale and designed specifically to facilitate sexy fun time.
Those two reasons explain what all the buzz is about.
"Large in scale" means you have more couples to meet and choose from (and especially more young couples). As I tell every first time client, there is a bell curve of ages at any lifestyle event of any size, with twenty percent or so being under 40 and twenty percent or being over 60, with the median age right around 48 years old. If you go to a club that has fifty couples, you get ten young couples. If you go to a hotel party that has one hundred couples, you get twenty young couples. If you go on a swinger cruise that has eighteen hundred couples, you get three hundred and sixty young couples to meet and potentially play with. Math rocks!
"Designed specifically to facilitate sexy fun time" means just that: the whole point of the vacation is to meet other couples and get your rocks with them. From classes to meet-and-greets to pool parties to meals to entertainment to open playtime in the dungeon, every freaking thing on the ship (or at the resort) is sex-oriented. Remember that feeling you had at that second-rate vanilla resort in Mexico when, amidst the kids screaming in the pool and the start of a mid-afternoon hangover you spot another young, attractive couple and whisper to your honey, "Gee, don't you wish we could just get naked and go swimming alone with them." Well, on a lifestyle vacation you can do just that. What's more, a play room with sexy ambiance are always provided. Straight from the pool to the play room bed, my friends.
But wait, there's a bonus here. Booking a lifestyle cruise with me, TSC Kevin, means you always have friends on board. I organize young couple events, help couples meet other couples they'd be interested in, and always know where the best place to dance is. And I don't care what you think of my crazy outfit — baby, I was born this way! And at the end of the night, if you're lucky and have the stamina to dance all night with us, you might just make it back to the suite for a hot tub party!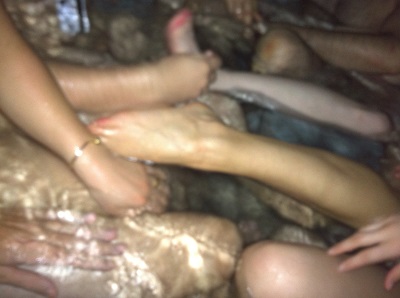 From the Presidential Suite on the Freedom of the Seas lifestyle takeover cruise in 2013
Seriously, don't be afraid of the term "swinger" and don't be afraid of a swinger cruise. There are tons of young couples on board, just waiting to meet you. Under 45? Contact Kevin to book your first/next lifestyle vacation. It's a hell of a ride.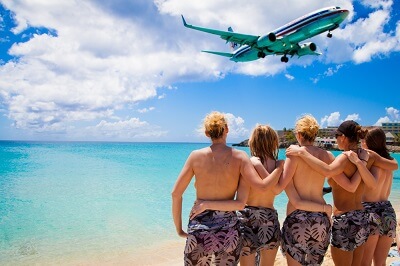 From St. Maarten on the Brilliance of the Seas lifestyle takeover cruise in 2013