In the last month, TheSwingerCruise.com travel agents have logged over 26,000 miles of exotic lifestyle travel. We have been to Singapore, Malaysia, and Thailand & New Orleans.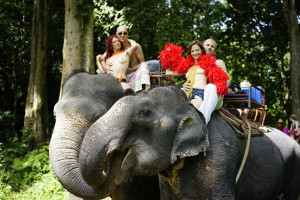 We visited erotic South East Asia with Shoes Only Travel friends on the Menage a Asia cruise.
From there we jetted to the wildest party state-side, Naughty in N'awlins.  Bob and Tess organize this amazing event with the same polish and flare they put into the the best lifestyle cruise afloat, Couples Cruise.
I've been organizing lifestyle travel events since 1997 and its clear that 'the lifestyle' is coming of age.  It's moving out of the closet and into the mainstream.  It's getting sexier and more inclusive.   It's certainly not a dirty little secret for many couples any more.
Bringing 'cool' back to old terms
This year at Naughty in N'awlins Bob from French Connection events proudly changed the name of the featured Bourbon Street parade to the World's 1st Swinger Pride Parade.
Of course, just because you are in the Swinger Pride Parade, does not mean that you are a swinger, just like everyone in a Gay Pride Parade is not gay. It just means that you support their choices. In fact, probably half of the people in our parades do not identify themselves as a "swinger", but they support our event and our lifestyle choices.  Read Bob's full article on the  lifestyle going main stream
In an industry meeting with cameras from ABC News 'Nightline' rolling Bob talked about the Rat Pack days when swinger was the term used to describe the jetset and cool-cats.   It's his vision to see the term 'Swinger' leave the Austin Powers campiness behind and once again become a popular flattering term.
Are you Living Sexy?
In a slightly different but equally expanding direction we spent quite a bit of time with Michael & Holli from Playboy Radio and TV.  They were broadcasting live from both Asia and New Orleans passionately promoting their very inclusive concept for Living Sexy.    They describe Living Sexy as an attitude not an action.
Truly we have seen this to be the case on both trips.  Couples are finding a way to express their sexiness and connect closer as a couple.   It might include dressing sexy, feeling crazy about your partner, communicating openly and fulfilling desires.  On our adventures during the past weeks we saw couples enjoying swinging and  enjoying a sexy luxurious and stimulating environment.
Young and Sexy meets Living Sexy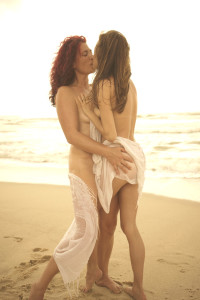 For the past two years Kevin from TheSwingerCruise.com has been leading the TNG group (TheNextGeneration.) He specializes in the Young and Sexy crowd, helping them find their niche in the lifestyle.
It was fantastic to see how his concepts clicked with the Living Sexy couple, Michael and Holli.
If you've ever seen Kevin on a cruise with his lovely wife, then you know how much they embody the Living Sexy attitude — always cool, always smiling, and always surrounded by young, hot, and fun couples.
In Asia Kevin and Anika were guests on the Swing with Holli and Michael show while they were broadcasting from the Saxy Salon of the M/S Paul Gauguin late one night and you may have heard Kevin call in to Swing with Holli and Michael this week to recap the highlights of Asia and N'awlins.
You can see all of Kevin's Naughty in N'awlins pics here.
On air Michael was quick to recognizing the great lengths we go to keep our customers happy and all the benefits especially for sexy young couples when they book with Kevin.
Sexy,Young and Wild
During the month of August Desire Resort is celebrating Sexy Young Wild Month.  Couples have been asking if young is an age or an attitude.   We are certain it's an attitude and just to make sure we are sending Kevin off to Mexico to help heat up the festivities.   Sexy, Young and Wild party is going on all month and will conclude with a special celebrity guest appearance from our friends Holli and Michael to help close out the party.
I can't wait to see what Kevin and his new Living Sexy friends get up to in the future. To book an exciting vacation with Kevin, just call 603-384-3297 or email 
Kevin@theswingercruise.com
. Mention you heard him on Swing with Holli and Michael for a special sexy couple discount.