Decorate Your Door Dilemma
Imagine you've come on board your very first Swinger's Cruise. There's electricity in the air and the fun, flirty atmosphere is rampant out at the pool. While having a few drinks you strike up a conversation with a couple of sexy new friends, Tina & Steve, and it looks like it's really going somewhere. You and your partner ask if the feelings are mutual. They come back with "We are DEFINITELY interested, but right now we've got plans. Let's hook up later? How can we find you?"
After telling them the cabin number in hopes they will come find you later, hours pass and no sign of Tina or Steve.
Why not? Did they change their minds?
Perhaps they got lost when looking for you. How could it have been any easier to find you?
Can your cabin door stand out from the rest?
My most simple advice for this couple is: Decorate your door, and make it easy to find!
Which would be easier to remember?
"Find us on deck 11, cabin 1542. Go left once you get to our deck, we're just beyond the second set of elevators"
Or
"We're on deck 11, just look for the door with the giant XXX on it?"
Decorate Door Swingers Cruise:  Collage or White Board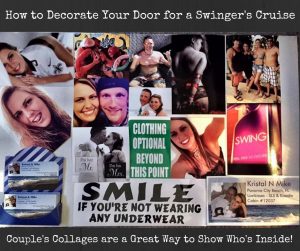 Decorate Door Swingers Cruise Ideas
Well we've made a short list of ideas for you to try. Some as simple as putting your picture on your door, to some completely outside of the box thinking.
Post pictures of you and your partner on your door: They don't need to necessarily be Glamour Shots. Hell, sometimes using pictures of you out at a party, having a blast is better. This will not only be a visual ID but it will also show that you know how to have a good time. Posting a few pictures is a simple, quick way to let John or Jane find you at a later time.(Nothing to racy, however. We've seen pictures get taken down because they break the "nudity" policy in the halls).
A Dry Erase Whiteboard: This could be used in many different ways. You could simply write your names, and how to get ahold of you during/after the cruise. You could write your daily plans on it, where you'll be and when, or imagine the fun that you could have asking passers-by to leave you a salacious message. Sexy. The point is, this is a quick, easy way to make your door easily identifiable from the rest.
Couple's Cards (Aka Slut Cards) & Holder: Veteran cruisers will tell you how handy these little guys can be! These cards have the quick reference information on them for potential playmates. Generally your names, a photo or two, your contact info (SLS/Kasadie screen names, email), where you are from, and your interests/limits. Perhaps you're the adventurous type who enjoy meeting new people on the fly and playing. If you have a card holder with your couples cards on them, someone walking down the hall may see your card, find you on the pool deck, already know what you're looking for and say "Let's go back to your place for some fun!
Party Decorations: Here's a little out of the box thinking. Decorating your door with streamers, a grass skirt, lei and coconut bra, or you could really go all out and be "that fun, crazy couple on deck 6" with a condom wreath, battery powered blinky lights, or a bead curtain! Definitely a way to be the most easily identifiable cabin on the boat!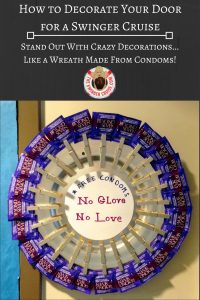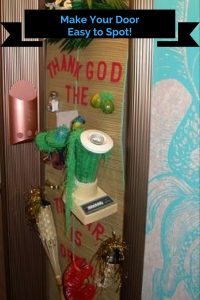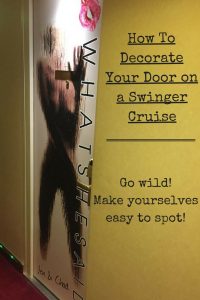 Got your decorations ready?  All You need now is a door to decorate!
Check Out ALL of the available cruises Learn More +