So, you booked your cruise…now what can you do to make the most of it?  Perhaps some of these tips from your friendly, local neighborhood Dominatrix of Ditties will help…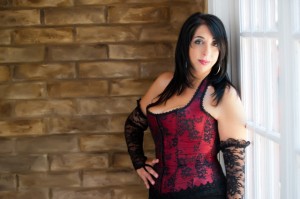 1.  Smile and compliment.  ALWAYS.  If you look like you're having fun and you have good things to say to others, people will find you much easier to approach.  And let's face it…this is about fun.  No one wants to hang with an unhappy couple.  One cruise, we met a couple where all the husband did was complain how he hated the food, hated everyone hitting on his wife, and how he spent all this money and didn't get laid.  Hmmm…wonder why?
2.  When you meet a couple, NEVER say "I'm terrible with names."  You know what?  Everybody is fucking terrible at names!!!  But here's the deal…NO ONE wants to be in the throes of passion and have their partner call the wrong name…so MAKE THE EFFORT!  I use tricks all kinds of tricks to remember their names.  Mary and Mike?  M & M.  Sam & Mary?  S & M.  David from Delaware likes Drag Racing?  Triple D's.  Katey and Kelly from Kansas?  Don't even go there.
3.  NEVER ignore THE SPOUSE/SIGNIFICANT OTHER.  Make an effort to get to know the spouse, even if you don't want to fuck them.  Because guess what?  The Sweet, Soft Spouse can be one Crunchy Conniving Cock Block if he/she gets dissed.
4.  Dining tip:  Never sit at a table that only seats two, unless you are not on that cruise to meet other like-minded kinky fuckers like yourself.  Always sit at a table large enough so people can join you, OR always ask to sit at a table where you can join another couple.
5.  Make plans to have dinner with at least 2-3 other couples you've met and want to get to know better.  If you let the cruise ship staff seat you randomly, you don't always know who you're going to be sitting with…you might get that guy that complains about the food and hates you hitting on his wife!
6.  DO NOT TOUCH!  Unless you've been given permission.  That goes for everyone, except the Cruise Ship Staff.  They are off limits no matter what they say!
7.  Dynamic Duos:  for those of you in a D/s dynamic, do not get upset when someone doesn't understand your D/s dynamic.  Many swingers don't understand D/s at all.  A hug and kiss is a typical HELLO in swinger speak, and they will probably even realize that they've over stepped the bounds of your dynamic.  Should a swinger hug or kiss your sub and that is a no-no, don't fly off the handle.  Take a few minutes and realize his intentions, then take a few minutes to quietly, and politely explain your dynamic.
8.  Body Language…it tells you more than you can possibly imagine.  Sometimes people say one thing, and really mean another.  The body language doesn't lie.  Is the other couple leaning in to you because they are engrossed in your conversation?  Green light!  If one of the two is leaning back with her arms crossed…caution!  If both of them seem uncomfortable…red light!  Politely excuse yourselves because something ain't right.
9.  Business cards:  These are a great way to stay in touch after the cruise.  Information you can include:  your picture, first names, city, state, cell phone, email address, and any handles you have for SLS, SDC, Kasidie, Fetlife, CollarMe, etc. on there.  If you have a hall pass, you may want to put that on there too.  Leave the back blank for your cabin #, dining times, or complete list of fetishes.
10.  Excursions:  Plan on going on at least one excursion if your budget allows.  We've had some great bonding experiences with couples that we wouldn't have met any other way…and isn't this what it's all about?
BONUS TIP – no charge!
11.  Come to The Dominatrix of Ditties musical comedy show!  She shares her stories and song parodies about the lifestyle and BDSM…some of which you may have already experienced!  Her show is one of a kind…so don't miss it!   www.dominatrixofditties.com