When surveyed, the #1 area for vacation stress is the airport. I think we all feel it.  Depending on the time of year, it only gets worse. In this article, I hope to give you a few tips that will make your airport experience easier.  When things are easier than I expect, I always feel happier. Just the way I want to start out my vacation. Some of these airport tips are no-brainers, some are little tips and tricks I've picked up over the years, or from friends. Hopefully, you find them just as useful as I do!
Airport Tips for Vanilla Travel
Easy Airport Tips – Check-in for your flight online
You can check in for your flight online up to 24 hours before your flight. You know this already. I even go the step further and download the app for that airline. Most will allow you to put your boarding pass right on to your phone, so less you have to worry about carrying around or possibly losing. It's an easy time-saver, and one less thing on your mind to stress you out when going through the lines.
Easy Airport Tips – Empty your pockets and organize your bag before you get to the security line.
Even if you have TSA PreCheck, it's still worth ensuring that all of your appropriately sized liquids are in one easy-to-grab Ziploc bag. When you get to the airport, take everything out of your pockets – loose change, car keys, your collection of small electronic devices (phone, battery back-up, etc) – and put it in your carry-on (and before you pack your carry-on, double check to make sure you're not carrying anything potentially problematic, like a can of soda or that tube of GoGurt that you somehow overlooked at lunch).
Easy Airport Tips – Keep your ID and boarding pass together
Keep them either in your hand or in one quickly accessed pocket. I like to use an alligator clip to hold them firmly together so I just have to go looking for one thing not two in line.
Easy Airport Tips – Check out TSA pre-check & Global Entry for future travel
It may cost a few dollars but they are both lifesavers in helping to avoid airport frustration.
The TSA pre-check is pre-screening program can make your travel experience happier by allowing you to zip through speedier lines, not remove shoes and half your belongings from your carry-on when going through TSA screening.
Global Entry allows you to use a kiosk with a very short or non-existent line when you return to select airports from overseas. The program fee is $100 however Platinum American Express has a program that currently reimburses card holders when they enroll. If you find yourself wasting time standing in the immigration line this could be for you.  TSA pre-check is included as a perk with Global Entry.
The screening process for TSA pre-check and Global Entry take place in the same location.
Find out more about qualifying for this perk.
Easy Airport Tips – Airport Lounges
Airport lounges can make the airport travel experience much more luxurious.  There are several ways to get into these member-only lounges.
Purchase a membership or day pass:  There may be a discount on the pass offered when you check in for your flight.

Many frequent flyer programs included one sample pass for the year

Benefits from Credit Cards like Platinum American Express included Priority Pass which is a complimentary or discounted admission to the lounge.

And for those of you feeling bold,

Lifehacker offers tips for free admission

including asking a stranger with a pass to add you as their guest to the lounge.
Since you're here reading this, I presume you're planning on joining us on one of our sexy cruises. If you are anything like me, you're going to need these few following tips to get your naughty bits through security with as little embarrassment as possible…
Airport Tips for Sex Toys in Your Suitcases
No one wants to be that person in the security line pulling out their battery-operated-boyfriend or any have to explain why they are carrying two pairs of fuzzy handcuffs, a large bag of dildos and a gorilla mask in their carry-on. Here are a few tips to getting through the airport without the world knowing about your debauchery.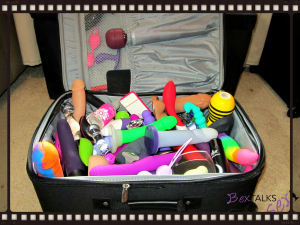 Easy Airport Tips – Put the sex toys in your checked luggage.  
Obviously the first tip… don't bring it in your carry-on. I'm sure it has been done, but no one wants a TSA agent whipping out your hitachi and making you explain that it's just a "personal massager". While TSA will allow you to travel with many items in your checked luggage, they may want to inspect battery operated ones and confiscate toys that might be mistaken as weapons. So remove batteries from toys that buzz and to avoid the search.
Easy Airport Tips – Gallon Bag Trick
My friend Mistress Absolute has a never-fail way to keep the TSA from handling your personal penetration toys like dildos and vibrators. Just put them in a gallon zip lock bag labeled 'Soiled'.  She claims that never, not even once, have those toys been removed from the baggie. I've done this myself, and never had an issue yet! Clever girl.
Airport Tips for Cruising & Toys
Most everything is allowed on a ship. There is a short list of things to avoid: metal handcuffs, blades longer than 2.5 inches, guns or sword replicas, open flame (no candles)
Approved are whips, floggers and any assortment of dildos and insertable toys are just fine.  Some guests have even traveled with their sybians. Party time!
Want more info?
LELO has a fantastic list of do's and don't you might also want to take a look at depending on the contents of your toy bag.
Now that you know how to properly traverse the travel portion thanks to our airport tips, you can go ahead and book one of our amazing Lifestyle Cruises!
Check out our full [Cruise Calendar Here]. When you are ready to book, give our office a call! 877-348-6570