September 18 – 22, 2023 in Denmark
AN EXCLUSIVE RETREAT
This Couples Intimacy Retreat is an exclusive 5-days / 4-nights sexual sojourn held in a Magnificent Castle in the Kingdom of Denmark.
Together with other adventurous couples curious to explore, you will have a unique chance to transform your relationship and revitalize the intimacy with your partner in a potent ground of playfulness, pleasure and self-expression.
Bonding with kindred spirits, we will share magical moments, helping each other to grow, go deeper and experience new levels of awareness.
All this while enjoying Royal comfort, great food, and excellent service.
The retreat is limited to 25 couples.
EXPLORE, LEARN, DISCOVER
Each day during the retreat, you will have the opportunity to attend transformational PlayShops taught by seasoned Sexperts.
We invite you to explore the magic of Tantra, Polarity, Conscious Kink,
Divine Rituals and more.
A ROYAL VENUE
You will be staying in a magnificent Castle dating back to 1588, located 2.5 hours drive from Copenhagen, the capital of Denmark.
Impressively furnished this Castle embodies the spirit of the Kingdom of Denmark. The Exclusive Suites, Junior Suites, and double rooms are tastefully and individually decorated.
There will be free time to enjoy the spirit of the Castle, the surroundings and the coziness of your room.
CLAUS & KATRINE
Have you had the pleasure of learning from Claus & Katrine? Their play shops have been delighting couples all offer the word for years! Now we are thrilled to introduce you to their private event!
With over a decade of experience in the Sex-positive lifestyle, Katrine and Claus have taught a wide variety of Sensual & Sexual Courses around the world.
During that time Katrine & Claus have helped thousands of people experience richer and more fulfilling sex lives.
They excel in creating a warm erotic ambiance that encourages all to explore their desires and boundaries while always respecting the rules of consent.
Supporting Katrine & Claus will be a team of experienced Sexperts and hosts, dedicated to ensuring you receive personal and excellent service throughout your stay.
The Serendipity Couples Intimacy Retreat Includes:
The Room Rate is per person and includes all meals with basic drinks such as water, coffee, and tea plus 1 soft drink or beer for lunch and 3 glasses. of wine or beer for dinner. You also have access to all PlayShops, evening programs, and Playroom. Ground Transportation from Copenhagen to the Castle.
The following items are available at an additional cost:
Alcohol and other beverages plus the bar service gratuities.
Room Rates are posted in U.S. Dollars $. Room rates are expressed per person based upon double occupancy (one female and one male).
Room Categories & Rates
There are four main categories of rooms: Suites, Junior Suites, Superior Double Rooms and Standard Double Rooms. Each suite or room offers a television, private bath/shower, vanity and a hair dryer. The rooms each have their own individual decoration and have been designed to be a comfortable, relaxing place for you to rest and reenergize after a full day of PlayShops and activities.
Suites
The spacious suites transform your stay into a completely indulgent experience. Book one of the three Suites and enjoy special privileges plus extra amenities including robes, slippers, a hair dryer, custom bath products, fresh flowers, a daily fresh fruit platter, and more.
The King Suites – $6000 per person – SOLD OUT
The Queen Suites – $6000 per person – SOLD OUT
The Cabinet Suite – $6000 per person
Junior Suites – $2750 per person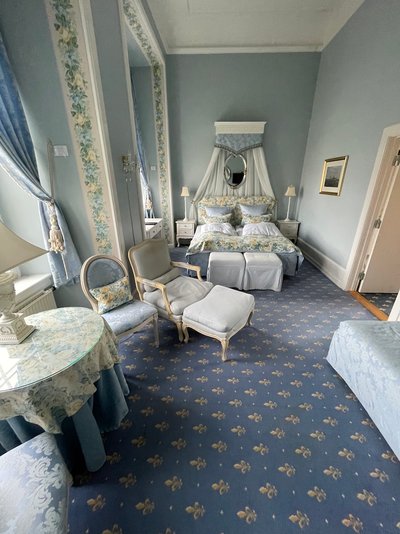 Rooms
Superior Double $2500 per person
with a Queen Size bed, sitting area with chairs and table, working desk, and bathroom with shower and hairdryer.
Standard Double $2300 per person (one remaining)
with a Queen Size bed, one chair and table, a working desk, bathroom with a shower.