Star Clipper 'Vanilla' Cruise Review & Get Ready for the Charter!
Sometimes you just don't know until you go! So, I decided to do a preview sailing on the magnificent Star Clipper who will be the home to the Rockstar Adventures Sailing February 11-18, 2023.  I got a first hand look at what it's all about.  
Here you will find resources, videos and menus galore!
Star Clipper is a GIANT Sailboat!
While they have some of the amenities of a cruise ship, there is no question that this is a sailboat, not a cruise ship.
My week onboard took us from Panama City, Panama to San Jose, Costa Rica.
The ports were remote and pristine. Jungle, beaches, and private islands awaited.
I wasn't sure what exactly to expect, but my heart knew that I wanted this tall ship adventure. The pictures on the internet said feel the wind in my soul – watch the sails catch the wind – climb the crows nest – lie back in the net and experience oneness with the sea and sky. Star Clipper gave me that and more.
The vessel is a working clipper ship. Built in 1990 and patterned after the great clipper ships of the 1800's. She moves primarily under sail power and sailors raise and trim the sails by hand. There are maybe 17 sails on the ship Our first sail away raised a magnificent 14 of them.  Most of the time we employed 4-sails.
My cabin was cozy, small and well planned for storage and comfort. On deck one my port hole window was about 6 feet above sea level. That meant that when there were waves they did slosh on the window and I could see the zodiacs and tenders right outside during ports of call.
Embarkation
Relax – this is a sailboat!  Embarkation starts late at 4 pm.  The ship won't sail until after dinner. I'm used to jostling to be the first onboard a cruise ship.  Here THAT doesn't matter one bit.  Feel free to stay up late the night before; plan to sleep in! Getting on the ship is slow and easy. You will have time to settle in, freshen up and then get the party started!
On the Dock check-in process: Sign a

 

watersports waiver and health form, Present your Covid card & passport; you are issued an embarkation card.
On Board In the library: Present a credit card for onboard charges, Collect your passport, Take a photo
There will be a welcome snack, so you never have to worry about being hungry.
Once you are on board, have a look around, check out your cabin and meet your neighbors.
Embarkation drill at 7 pm – watch a video in your cabin, then report to muster station with a lifejacket for instruction.
If this were our trip, I would have used this time to dress in theme attire for dinner and the party.
Dinner
Raising the sails and sail away
Party
The Cabins
Video Tour of Cabin 112 – Category 4
Hairdryers are in all cabins
Small Safe – fits $$ but not computers
I never locked my door
The Pros: 
I'm super comfortable,

 

closet & storage is good 3 sections per cabin

 

A/C is strong, I love the brass fittings and nautical decor
I'm entertained by the shower/toilet all-in-one-room combo
Cons: 
Bring an adapter there is only one plug under the vanity + one behind the tv.

 

Underbed suitcase storage could be challenging,

 

WIFI is about as bad as I have ever experienced on a ship.

 

Bedding could be softer.
Drinks!
Wine List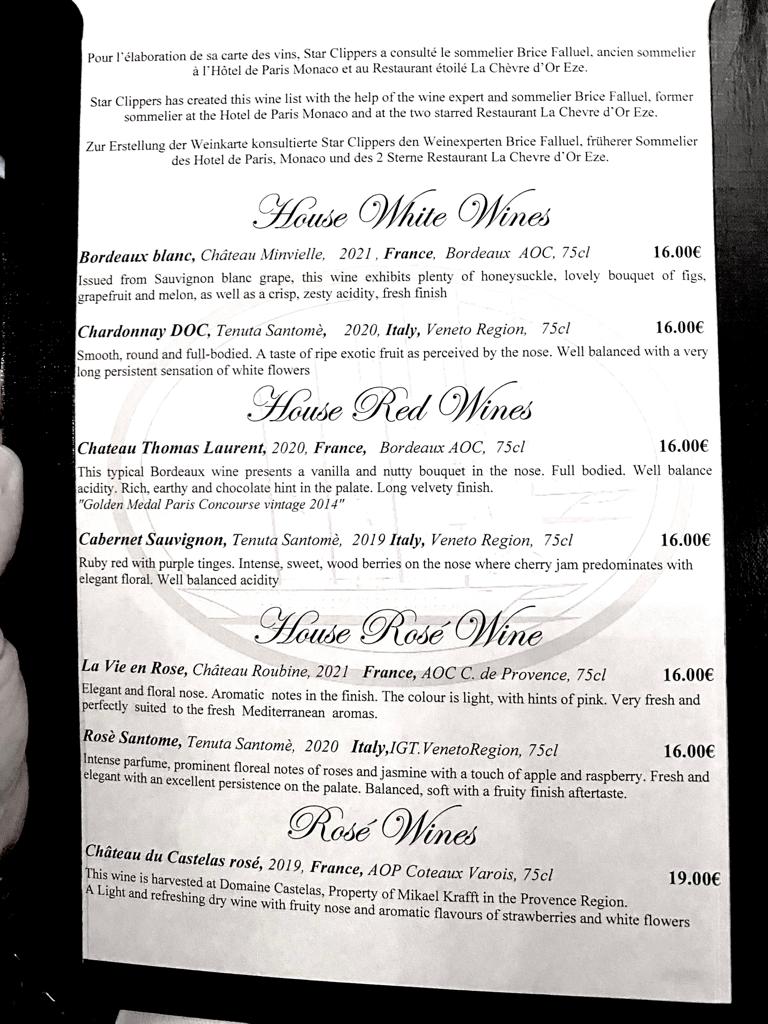 What to Wear:
During the Rockstar Adventures week, the attire is casual. I felt like the deck & deck chairs were often wet.  Did I mention this is a giant sailboat. The weather is warm and humid. 
Here is the great news. On this ship the only place clothing is required is the dining room.  A/C in the dining room was comfortable.  A bit cool until the room was full but then bustling and pleasant.
By day consider packing a sarong, swimsuit, sports clothes if you are doing excursions. 
Footwear: maybe you noticed all the ropes, steps and ledges for waterproof doors in the videos?  Combine those with the sway of the ship and you could have a situation where heels become challenging.  Consider Boat Shoes, Keen's Water Shoes, Sneakers, Flip Flops.
Storage in the cabins is limited so we recommend wearing theme attire for dinner and the party to follow. In the dining room sheer, sexy is welcomed, just be sure to cover the naughty bits below.
Men, Shorts are okay during this sailing.
For the party less is more!