Wondering about the "ins and outs" on swinger cruise playroom etiquette?   We, at The Swinger Cruise, are happy to break down the basics of playroom etiquette.
If you've been on a lifestyle cruise, resort based vacation or attended a club then you know what a playroom is. If you haven't but only heard about them, curious reader, then I am going to pull back the curtain and school you on the rules and etiquette of a public playroom.
Swinger Cruise Playroom Perspective
Although the playroom may appear to be a literal fucking free-for-all, there are rules to be followed so that everyone is comfortable and enjoying the experience.
The Prime Directive (a nod to you science fiction fans), is that consent is required to proceed.
Yes means Yes,
No means No,
and Maybe means No.
What that means is if you are not playing with your regular partner, you should always discuss rules and boundaries with your sexy new friend(s). You can do it once you are in the playroom, but it certainly wouldn't hurt to do it prior to entering. Perhaps a bit of verbal foreplay to heighten the mood?
This is a hard and fast rule. Nothing is worse than a person who feels he or she has permission to grope or more on anyone in the playroom simply because they are there. They don't. In most cases this will be explained to the person politely at first, more intently if it persists and in some cases will be cause for physical removal by the host, club owner or playroom monitor. Don't be "that guy". It is the kiss of death in the lifestyle world. Word travels, and those words include your name and a warning. Sadly it's almost always the guy who is the aggressor in these situations. Draw what conclusions you may from that.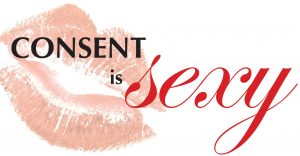 Swinger Cruise Playroom General Rules
OK now that we've gotten that big issue out of the way what else should the playroom player know and practice?
It's OK to watch. I mean it's public play and that's half the fun. Though it IS a little rude to gawk and stare intently for long periods of time, like the entire time people are fucking. That's a little creepy…actually it's a lot creepy. Watch, learn, and admire, but don't stare for hours.
You can't just jump into the fuck pile. You need to be invited. You can even ask if you can join. A fuck pile may seem random but it is often elaborately planned out and invitations made prior to the pile forming. Don't be offended if you ask to join and the answer is no. There will be plenty of other opportunities.
Practice good hygiene. Make sure you put clean sheets down and make sure you clean up after you are done and for the love of all that is important to you throw the used condom away in a trashcan and not on the floor.
Everybody loves a screamer….well most do. Screaming wild passionate moans are fun in public. Talking really loudly, fighting or laughing really loud is not. Drunk babbling while amusing, especially to the babbler, is not really encouraged.
Please be considerate of time and space considerations. What I mean by this is that space can often be at a premium in a playroom. Sure if you get there when it first opens and it's empty you can take your time. However, when it's midnight and people are lined up to go in, you should be considerate. Find your spot, do your thing, have a great time and multiple orgasms, cuddle with your partner for a few moments of bliss, get yourself together and then it's time to go. When you've secured a spot in the playroom, it's yours for a little while…when you are screwing. You don't get to take a nap afterwards and you shouldn't lay there waiting for Mr. Johnson to come back to life after his refractory period. Finish up and let others play. If you don't, in a busy playroom someone will ask you to move on. It's awkward for the playroom monitor and it's awkward for the players. Avoid it from the start.
Wanking is for wankers, not playroom players. You are in there to play because you Mr and Mrs Lifestyle are Players! Wankers who are rubbing one out by themselves are not players. They are wankers. A good club or playroom won't allow this. Don't ever be accused of being the wanker in the playroom. You can't live that one down.
Point that thing in a safe direction. If you enjoy cum shooting and cum shots be careful of your aim. Consider what is behind your intended recipient. Nothing worse than getting a shot of man goo when you weren't expecting it. Be sure of your aim.
Bring what you need to get off. Whether it be lube, a special brand of condoms, vibrator, handcuffs or a gorilla mask (don't ask) you need to make sure you have it with you. Some swinger cruise playrooms will provide supplies, others virtually none. Better be safe than sorry.
Dress code: Sexy is usually best. Read the sign or ask someone. Don't bring things you don't mind losing since I seem to lose something every time I go to the playroom. The last time I went to one, the theme of the party was Gods and Goddesses. I was shocked how many parts of my Gladiator suit I had to replace after that festival of indulgences!
I hope these tips help the newbie and veteran alike. Although a playroom seems to be a free-for-all, it can have more rules than a boarding school. It pays to follow the Golden Rule. Treat others how you'd want to be treated… unless you are just a sick twisted freak like we are… then treat them better! Enjoy the Swinger Cruise Playroom!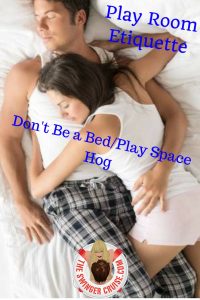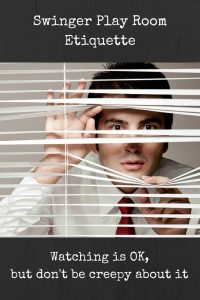 Swinger Cruise Playrooms We Recommend
Bliss Cruise Independence of the Seas – This cruise is going to turn the entire Studio B into a play room!
Couples Cruise LAX – They call their play room the 'Perfect Playroom'  We have been in a few of them and we have to agree.
Desire Cruise – They have fabulous playrooms at their resorts in Mexico, and we think the playrooms on the ships will be just as awesome!
If you have any questions we are always here to help at 877-348-6570 or via chat at TheSwingerCruise.com.