Temptation Cruise 2023 Review: 

The creative team over at the Temptation office have done it again. 
This voyage was another fantastic experience for our customers to get a little "Naughty-cal at Sea"!
"Just HOW naughty-cal"?
We can tell you, but truly — you have to be onboard with us to believe it.
Before we begin though, for those new to the Temptation brand – this offers an experience slightly different than our normal options for travel. So to be transparent, this cruise is NOT: 
It is n

ot

 as wild as a typical Swinger Cruise.

It is a topless-optional cruise that will have lifestyle couples who also book looking to meet select couples and singles. 

It is offered to couples, AND singles – however, in total roughly 1-5% of the total ship count were people booked and traveling solo.

The average age range was between 35-40 on this year's trip. But onboard you will always have passengers of all ages above and below average, also various backgrounds, and nationalities.
If this sounds too tame, then here are more options [Check Our Cruise Calendar for All Available Cruises]
Ready to Book Temptation Cruise 2024 already?: [Click Here to Book the Best Party At Sea!]
So on to our review…
As always, they promise the 'Temptation Resort Experience at Sea'
Having been to both the new and improved resort space and all of the Temptation Cruises that have sailed to date, I can tell you the cruises have surpassed the resort to me, if only by a little bit.
**GASP** 'Brian, how could you make such a claim?"
What really made this a great trip in my mind were three key things:
The Vibe.. The energy I felt, the entertainment onboard and the fantastic people I met.
The Ship/Staff.. With over 2000 party-goers coming to them rapidly, I noticed the ship crew and staff made their best efforts to make everyone's trip enjoyable.
The Temptation Team.. From always taking feedback from their guests and improving year after year, working with TSC closely to help get our client's needs taken care of quickly and easily, and for always stepping up their game making this product continually enticing!
Temptation Cruise 2023 Review – The Vibe
When I wasn't at the desk helping our guests or getting them booked for next year, I made sure to get up on to the pool deck and around the ship as much as I could.
Strolling on the pool deck and the deck above I could get a different feel based on where I went.
Of course you've got Sarah69, Barbie and the amazing Playmakers keeping the party going poolside. With the help of the resident DJs on the trip with us, everyone is dancing, sunbathing, taking a dip in the hot tub or pool, or one of the crazy games and mischief the Playmakers get up to.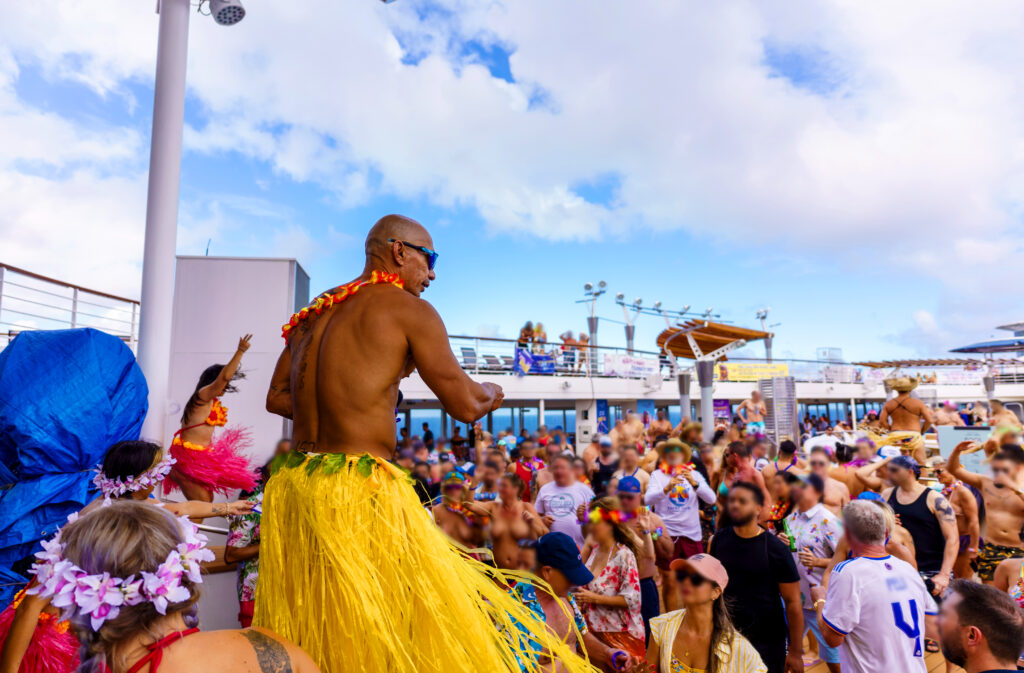 At night between getting ready and exploring the ship I loved seeing everyone's theme night outfits. It's great to see how creative everyone gets!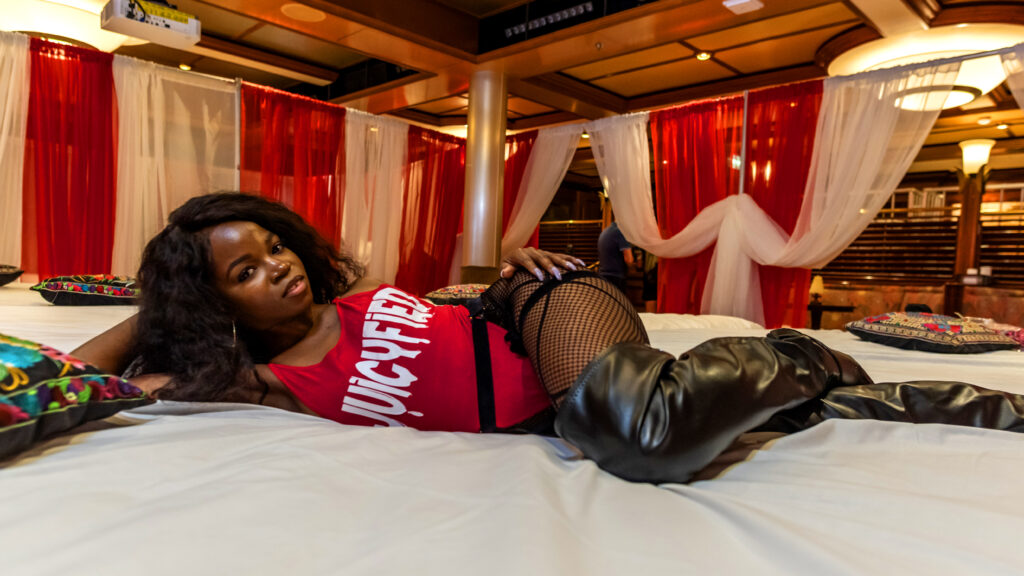 The onboard classes, like the one I saw from Davia Frost were definitely a great mood setter, but some really good '101 basics' info to remind yourself of.
Of course just going around the ship on a wandering adventure I had lots of fun too. Between your normal ship things, the casino, hitting the walking track every morning, and having a drink after working – especially at the Martini Bar. That was one of the main meet-up locations during the night. Lots of people coming through. Not only was it a hot spot to say hi to everyone, but the crew are real showmen too. They love keeping everyone smiling and having a blast!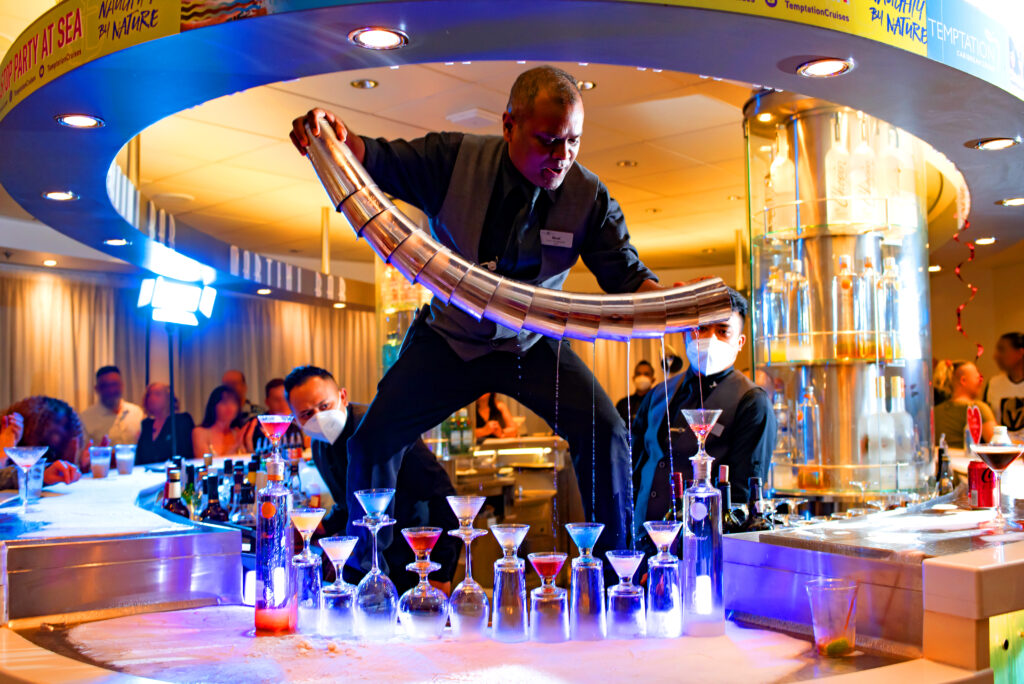 Speaking of the amazing staff. That leads me to key #2:
Temptation Cruise 2023 Review – The Ship Crew/Staff
Let's face it – our lifestyle can handle our alcohol and let loose. Maybe more than your average cruiser on any other trip. So these bartenders, have their work cut out for them but very rarely did I see a long wait at the bars.
With everyone wanting to have a great meal with time to get ready for the nightly theme parties, the pattern is that unfortunately sometimes the dining rooms get a little bottle necked. When the hole ship shows up for dinner at the same time it can create delays.  I dined in the Main Dining room a few nights and the waiters were zipping around doing their absolute best the whole night through.
My hope is that I wasn't the only one who recognized the extra efforts from ships staff. I've spoken to many client who agree having a "sour crew" can definitely ruin a trip regardless of the rest of what happens.
I welcome comments from past guests who so I can make recommendations to both Temptarion Cruise and the ship to help make next year's trip even more refined and hitting all of the right notes with the guests.
Leading to key #3:
Temptation Cruise 2023 Review – Temptation Team
Each year everyone from Mario, Silvina, to the entire team and Playmakers love getting the feedback from guest to always improve. Please if you've traveled with us before, let us know your experience!
Not only do they strive to offer a great product for our agency to offer clients, but working closely with them from the moment the trip is announced to disembarkation — when you work with TSC, you work with an agency that has a fantastic working relationship with Temptation and we will work together to make your trip the most relaxed 'Best F#$ing Vacation!' We're really superheroes!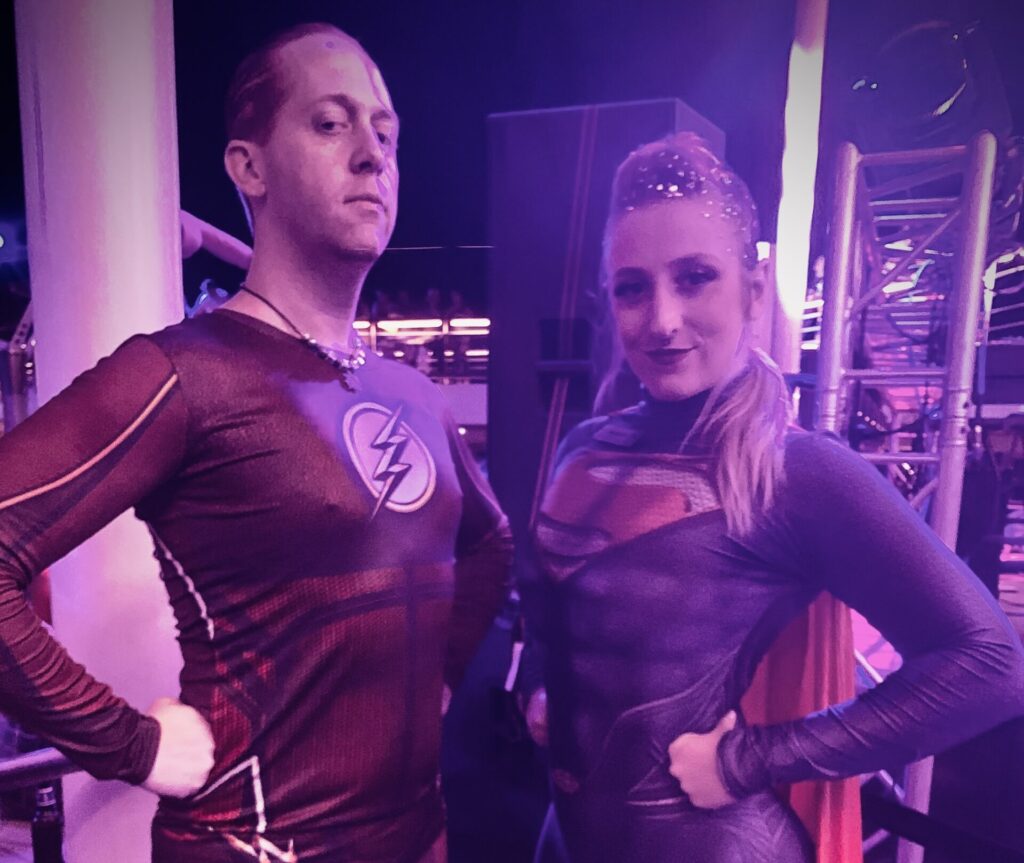 As an added bonus – while writing this I happened to speak to one of the guests who traveled solo with us – and they shared this key from their experience:
Their attitude.. From a solo-traveler's perspective it had its struggles but they persevered!
"Those who know me wouldn't know, but I can be a bit of an introvert despite how I act with a group I'm comfortable with. So traveling solo going to parties, (especially topless ones like this!) I have a tendency to be a wallflower. I was expecting (or hoping) the fun to come to me. A few days in you can understand when I was a bit 'meh' and it showed. I literally sat in my cabin, gave myself a pep talk and decided now or never. I went up to people I normally wouldn't, just introduced myself and asked how the trip was going, the rest of the conversation flowed…everyone I chatted with were amazingly friendly and easy going. The rest of the cruise was amazing and so fun! Turns out I was holding myself back from getting what I wanted."
So in summary, let's say the experience you get out of this trip will be based on what type of energy and effort you put in to the cruise.
Do you…
Want that 'music festival at sea' experience with adults-only, R-rated atmosphere?
Dance all night with hundreds of fellow cruisers at the theme parties; chat with soon-to-be friends at the various bars and eateries around the boat, go on the adventurous excursions and create some great memories with everyone, then come back next year and try to make better ones!
Want to have a quiet, romantic trip (with a bit of a sexy edge) with you and your partner alone?
Relax in the selections of Specialty Restaurants each night, sunbathe in the quiet on the top deck listening to the sea pass with cool drinks in your one hand, your partners hand in the other.
Want to slowly dip your toe into an enticing new lifestyle together in a fun, exciting environment?
Check out the onboard classes led by professional sex educators and the meet & greets on your daily planner each day, make plans to hang out with the new friends you make at the topless dance party in the Red Room even..
Temptation Cruise 2023 Review – In Summary
After all of that, I hope you understand why I claim this marginally better experience of resort vs cruise.
What's the largest group of friends you personally could organize for a solid 5-nights together at the resort? 2 dozen? Maybe?
When you book the Temptation Cruise 2024, you're booking an epic 5-night Temptation Resort stay, — but at Sea — with 2,000 old and soon-to-be NEW friends!
Ready to Book Temptation Cruise 2024?: [Click Here to Book the Best Party At Sea!]
Five Reasons to Book the next Temptation Cruise!
A Pool Area that is Topless-optional: The pool deck will be a topless option for fun in the sun!
Sensual Clothing-Optional Hotspot: Enjoy a taste of Temptation's New Experience, Temptation Grand Miches, in this sexy new indoor place-to-be!
Themed Pool Parties: Sticking true to Temptation's style, a guaranteed pumping poolside experience.  We loved that they did a theme for the daytime parties too on sea days. The on board playground will offer a selection of high-octane, energy-filled pool parties, performances, and VIP presentations.
You Get To Immerse Yourself Into the World of the Unknown: Live for the enticing atmosphere as you dive in to the signature theme parties.
Push the boundaries: Fulfilling your elevated expectations of an adults-only cruise.
Free your spirit & find your fun: Aboard Temptation Cruise's floating playground at sea.