World's First Sex Cruise!  It makes me excited and giggle all at the same time. Yup, that's right.  I saw it on a blog posted by the well know international men's magazine, Maxim.com and Esquire.com had a blog article posted about how the world's first sex cruise could be stressful!  Imaging that.
Of course, those in the know have made a habit of sailing on the world's most freaking amazing sex cruises for the past decade.
In cruising as in sex, I love it when EVERY time feels like the first time.  So all of us at TSC welcome the 'World's First Sex Cruise'… again and again and again!
The World's First Sex Cruise: What Maxim.com didn't tell you…
You're a single guy, you read Maxim and a sex cruise sounds GREAT to you.  Well guess what Maxim didn't tell you?  This cruise is not for single guys.  Oops!  That does seem like an important detail doesn't it.  Desire Resorts and Desire Cruises are for Couples Only.   Guy's its obviously going to be ideal if your wife or female partner are adventurous.  This cruise is not for you as a solo expedition.
The World's First Sex Cruise: The First One
Those who love the lifestyle and cruising know that there have been large group cruises produced by Couples Cruise as far back as 2005.   These large group cruises were spectacular, but they didn't take the whole ship. The first full ship take over cruise was the YOLO Cruise that sailed in April 2009. YOLO was the first full ship takeover cruise that was devoted to a 'sex cruise' lifestyle and this is widely considered the world's first sex cruise.
What a cruise THAT was!
I blush every time remember the thrill of sailing on the world's first sex cruise.   It was my first time in many ways.  World's First Sex Cruise, first swinger cruise, and the first large group sailing for our travel agency, TheSwingerCruise.com.  It was huge!
As we prepared to sail away from the pier, the horn blared and I was thrilled to see my agency's banner displayed on the forecastle of the ship.   We were the winners of the 'bring the largest group competition.' Our prize was a promotional package that included having our logo and banner displayed prominently.
We set sail and the Captain announced that we were sailing on the 'World's first Swinger Cruise!'  In that moment it felt as if our travel agency was officially christened.
Here's a picture of our banner back on that world's first sex cruise.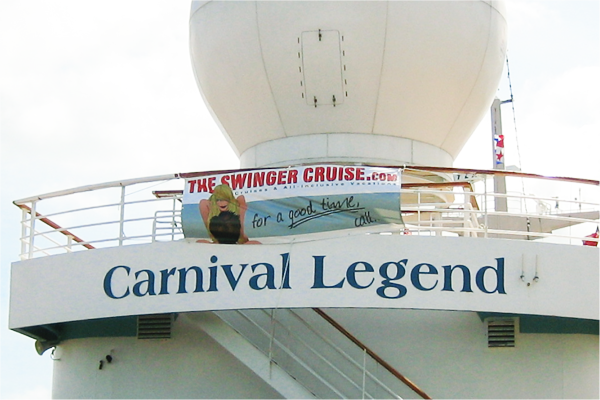 More World's First Sex Cruises
YOLO turned out to be a 'one time wonder' but TheSwingerCruise.com has been the leading travel agency specializing in adult lifestyle or sex cruises since that first cruise.
There have been so many exciting cruises.  All in all we have sailed on 22 full ship charters that have been specifically for couples interested in an open relationship, the lifestyle and a sex cruise.
Couples Cruise has produced the most charters that could be billed as sex cruises.  They have thrown fabulous parties on Royal Caribbean, Celebrity Cruises, MSC Divina, and Emerald Waterways.
Bliss Cruise sailed their first charter on the Celebrity Silhouette in November of 2015.  They were sold out 6 months in advance and have the largest inventory of cabins for full ship charters over the next 2 years.  You can make your Bliss Cruise booking with us and sail with TheSwingerCruise on the Celebrity Silhouette in November 2016, Celebrity Summit in March 2017 and Celebrity Equinox in November 2017.
We have also enjoyed the upscale experience sailing with Luxury Lifestyle Cruises know as LLV Cruises that have sailed on the Azamara Quest and Journey.  Their Baltic Cruise in August of 2016 sold out 3 months prior to sailing and their Med Cruise for 2017 sold out a full year in advance.
And the story on the world's first sex cruises goes on with even more charter companies who have sailed exotic full ship takeovers on Windstar Cruises, Sea Dream and the Paul Gauguin Cruises from Tahiti and Singapore.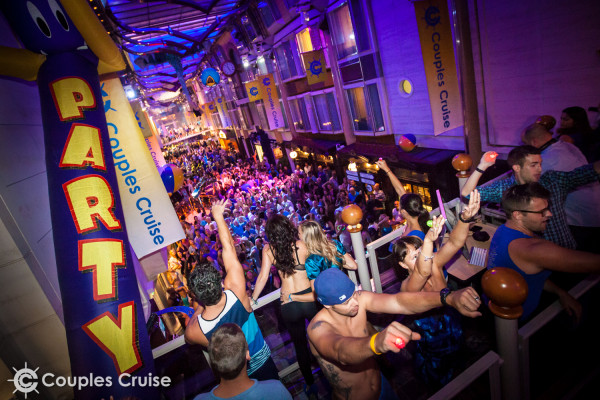 Picture of what one of these cruises really looks like.  Couples Cruise on Freedom of the Seas
Future of Sex Cruises
I found the blog by Esquire.com way off in some ways and on the mark in a few ways.  They were correct to say that 'Your first sex cruise can be stressful.'
If you are considering this sort of vacation for the first time you can try to guess how it will all work or you can choose to work with a travel company that specializes in this sort of thing.
You asked us to hold your hand and we said 'Yes!'
One of the leading features that the TheSwingerCruise.com Travel Agency is know for is our down to earth approach that really answers the questions clients have before their first time.  Having your own professional travel agents who has actually been there really makes a difference for our clients.  Got a question?  It's okay to ask and feel confident you are getting the right answers.
TheSwingerCruise.com also features a signature 100 day program that helps all our couples get ready, know what to expect and how to handle any issues that might arise.  We like to say that our program helps couples get ready for 'The Best Fucking Vacation.'
The future of cruises like this is strong and growing.  Including the new Desire Cruise we have 6 full ship charters on our calendar for 2016-2017.
Our repeat guest ratios are high.  Many of our travelers attend 3 cruises a year.  Most travel on at least one every year. There is no other vacation that gives a couple the freedom that these full ship charters do.
Thinking about getting onboard?  What are you waiting for?
[view our full cruise calendar]