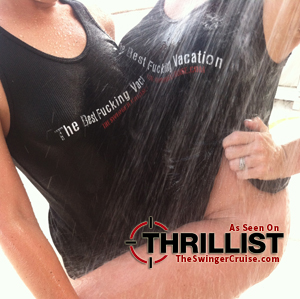 What happens when young couples go on a swingers cruise?
Are you a young couple under 45? Are you interested in the lifestyle and ready to experience "The Best F*cking Vacation"?
Thrillist.com interviews Kevin to find out the inside scoop. Maybe you are wondering what the demographics are like on a swinger cruise…
Maybe, as a young couple, this is your first lifestyle experience or vacation…
Maybe you are interested in meeting other young couple sexy friends prior to the cruise…
You are in the right place!
My lovely wife and I are both cruise experts, as well being a young lifestyle couple with loads of swinging experience. Looking for a fantastic young swinger cruise experience? Email us at info@theswingercruise.com.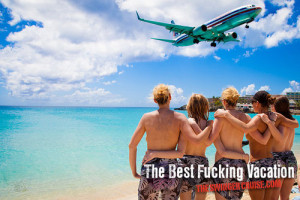 Young Couples Swinger Cruise FAQs
The most common question from young couples who want a young swinger cruise are concerns the demographics of the cruise. What's the average age? Will we meet people in our age range? Are they attractive, etc?
Here's the answer. All cruises, resorts, events, and clubs tend to have to have the same general age range. Average age is 49, with 20% under 40 and 20% over 60. I've found that to be the case all over and at events of all sizes. So the good news for a young couple is that to find the biggest lifestyle dating pool you have to find the biggest event. And it doesn't get any bigger than a full ship cruise takeover — think 2000 – 4000 couples (depending on the ship). You will find dozens if not hundreds of attractive, young couples. The rest it up to you!
How do we meet people?
Go to meet and greets, be social by the pool, say hello to everyone, and bring "business cards" with you (these are good for all over the lifestyle world, not just on a ship). The cards should say your names, screen name, possibly cabin #, possibly a small pic of you. All up to you and easy to print with an online template service (such as Vista print). There are tons of meet and greets organized by the charter company and the travel agencies, all around a specific age group or interest and all publicized in your daily schedule.
Is it fun for young couples?
Yes! We went on our first cruise and it changed our lives. We've been doing this ever since. Read our blog to see some of our crazy adventures!
Are kinky, non swinger couples welcome?
Yes! There are no limits (other than the posted rules on nudity and sexual behavior in certain areas) to the kind of safe, sane, consensual exploration you can do. And there are no requirements for coming on the cruise! All male-female couples who would enjoy a kids-free, sex positive vacation are welcome. This includes swingers, nudists, kinksters, EDM fans, cruising pros, and all types of freaks who just don't give a f*ck!
Oh, and you can bring a third in the cabin: unicorn, manicorn, slave-icorn, what have you.
What if I can't stomach a cruise?
First, there are drugs that will significantly decrease the chance of getting sea sick. However, if you know that you won't be able to handle the mild movement of the ship and/or the drugs don't work for you (the best is Scopolamine, IMO), there are great events like Naughty in N'awlins every year. Like a cruise on dry land and in the best party city in America! Plus there are several lifestyle friendly resorts, such as Desire or Hedonism II. We can guide to the right spot.
What's the cost?
Swinger cruises are generally very affordable. Like starting around $2500-$3000 for an interior or ocean view, $3800 or so for a balcony, and higher for suites. That price includes both passengers fare, taxes, fees, port charges. Add on airfare, the hotel the night before, extra activities off the ship, and alcohol on board. There are hundreds of internet forums to find cruise hacking tips, such as sneaking on alcohol in your luggage. Caveat emptor. The best online forum for lifestyle cruises is Alreadybooked.com.
What cruise is best for you?
With only a few cruise takeovers a year, the timing will determine much of this decision:
Big ships:
Bliss Cruise – late November, early December in 2015 and 2016. Caribbean cruise out of Ft. Lauderdale.
Couples Cruise – mid-April, 2016. Caribbean cruise out of Miami.
Smaller ships:
Couples Cruise Rhine River cruise – October, 2015. Amsterdam – Basel.
Luxury Lifestyle Vacations Baltic cruise – August, 2016. Stockholm – Amsterdam.
Luxury Lifestyle Vacations Mediterranean cruise – August, 2017. Rome to Barcelona.
That's it. There are no West Coast takeovers this year or next. There are no full ship takeovers on Carnival. There are none out of NYC or Texas. Sorry, you got to make the effort to get to the departure spot, but it is definitely worth it!
So…
Bottom line: If you want to have the biggest possible party, go with Bliss or Couples Cruise — both will be fantastic and fun, with a huge crowd, and relative ease of sailing from Florida. Couples Cruise has more cabins at a lower price point, Bliss has a nicer ship and more balcony cabins.
But, if you speak a foreign language, and are interested in seeing Europe with a smaller, possibly older crowd, you'll love the Luxury Lifestyle Vacations cruises and the Rhine River cruise with CC.
As travel agents, we can sell you any of these and explain in greater detail the differences and what to expect with each.
YOUNG COUPLE FRIENDS: We can answer your questions, you will be welcome on a cruise, and you will definitely find this to be the "Best F*cking Vacation"!
Email us at info@theswingercruise.com