August 29 – September 5, 2016
Looking for a vacation that's exciting but not too naughty?  The Couple Next Door host trips that are exactly that!
Hidden Beach Au Naturale Club is a Gourmet Inclusive Experience.
Located a private tucked away beach in the Riviera Maya, Mexico.
There are some amazing bonus offers we have included for this group.
$250 Resort Credit: Each couple gets 5 x $20 premium wine credits
2 x $50 SPA credits towards a massage
1 x $50 Candle Light Beach dinner credit.
Credits are per room, per stay. 5 rooms minimum required.
Complimentary Round Trip Shared Shuttle Transfer
Complimentary Internet in guest rooms.
Oceanfront Jacuzzi Jr Suite $3299 total for 2
Oceanfront Jacuzzi Swim up Suite $4099 total for 2. – SOLD OUT
Highlights Include:
Welcome Meet & Greet + VIP Group Dinner

Couples Only Spa Experience in the 5 star Naya Spa (Clothing Optional)
Mescal Tasting & Happy Hour at Mescalitos Mescal Bar
Nude Catamaran Cruise
Nightly Parties
Hosted Activities
Who Are the Couple Next Door?   
We are Fred and Ethel and we facilitate adult travel for adventurous couples. 
If you like to be flirty and fun in a sexy atmosphere, you would enjoy a Couple Next Door vacation.

If you like meeting new people while connecting with your partner, you would enjoy a Couple Next Door vacation.
If you went on a swinger cruise and told your family you are on a different boat, you would like a Couple Next Door vacation.
If your life is consumed 24/7 with work, kids, and other commitments, vacation time is precious and coveted.
Our goal is to make the most of this time, make it YOU time, FUN time, and PLAY time.  
We host events for happy couples willing to expand their boundaries with their spouse in an open, sexy, no pressure  environment.  Those who enjoy the flirt while being covert. 

Our guests travel to top vacation spots,  step out of the everyday and indulge their senses.  Take that next step to a closer relationship with your partner

We provide opportunities to be playful during the day, explore each others desires, and  act out fanasties behind closed doors.

Each Cnd experience will include a welcome party, a VIP group experience, and a sexy connection event.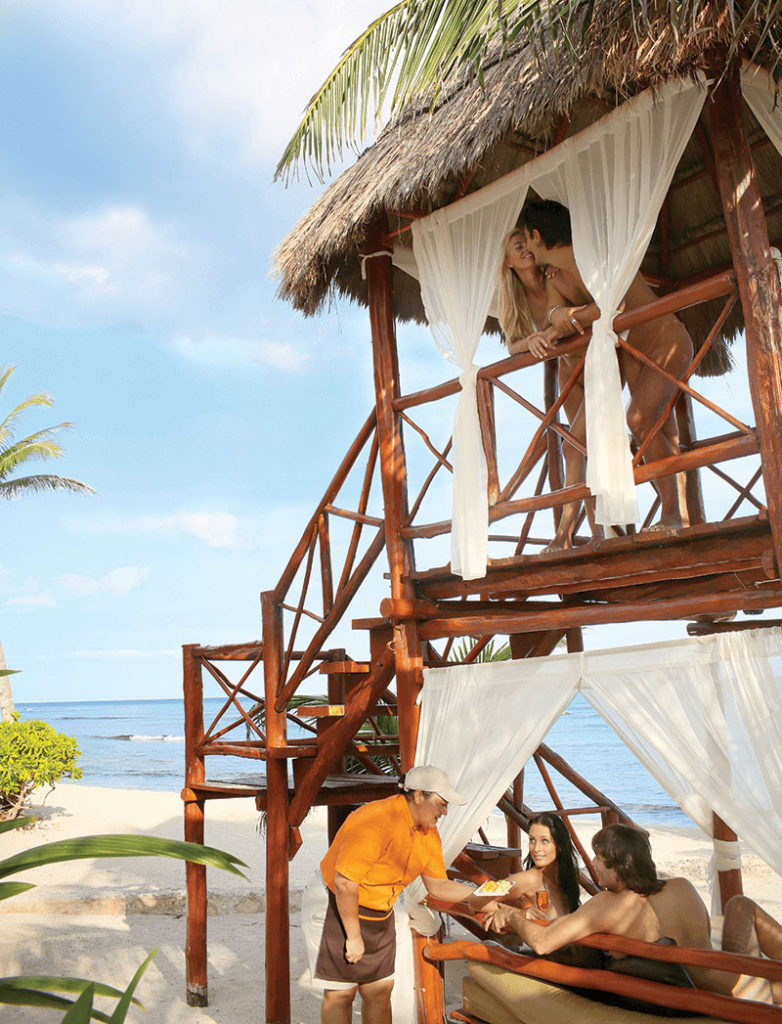 Here's a recent list of activities and nightly themes sponsored and provided  by the resort.   The resort can and often does make changes.
Parties are hosted in the Moonlight Club Bar or Poolside next to the restaurant.
Monday – Welcome Cocktail Party + Group Dinner
Karoke Night: Show off your talent of just enjoy the fun.
Tuesday – Sexy Lingerie: Time to wear that provocative sexy lingerie and enjoy during dinner time a fashion show and the sensual presentation.
Mescal Tasting & Happy Hour
Group Dinner at Hidden Beach
Wednesday – Retro Night: Enjoy a live entertainment that pick ups to dance the night away .  Dinner: 7:00 – 10:00 pm Live band starts at 8:00 pm
Group Dinner at Italian Restaurant El Dorado Seaside Suites
Thursday Hawaiian Party: Aloha and your Hawaiian costume are the two things you need to come and enjoy a live band in the Moonlight Bar.
Catamaran Cruise excursion (optional) $$
Friday Glow Party: Get ready to shine and glow when the black lights go on and the DJ plays your favorite music.
Saturday Rock Star Night: Bring your rocker outfit and let`s rock with a really good band.
Sunday Circus Night: Come and enjoy a really good circus performance with sexy acrobats. Come dressed like you favorite circus character.
Sexy Connection Event:  Naked Spa Party! Give your lover a mud bath and enjoy the sybaritic waters of the Naya Spa at El Dorado Seaside Suites – private for our group
Policies
Trip Details:
Fly to Cancun (CUN)
Hidden Beach is 84 KM south of the Cancun Airport and the drive takes about 1 hour and 20 minutes.
$500 Deposit Due at Booking
Final Payment Due 90 days prior to travel (May 29, 2016)
[formcraft id='9′]