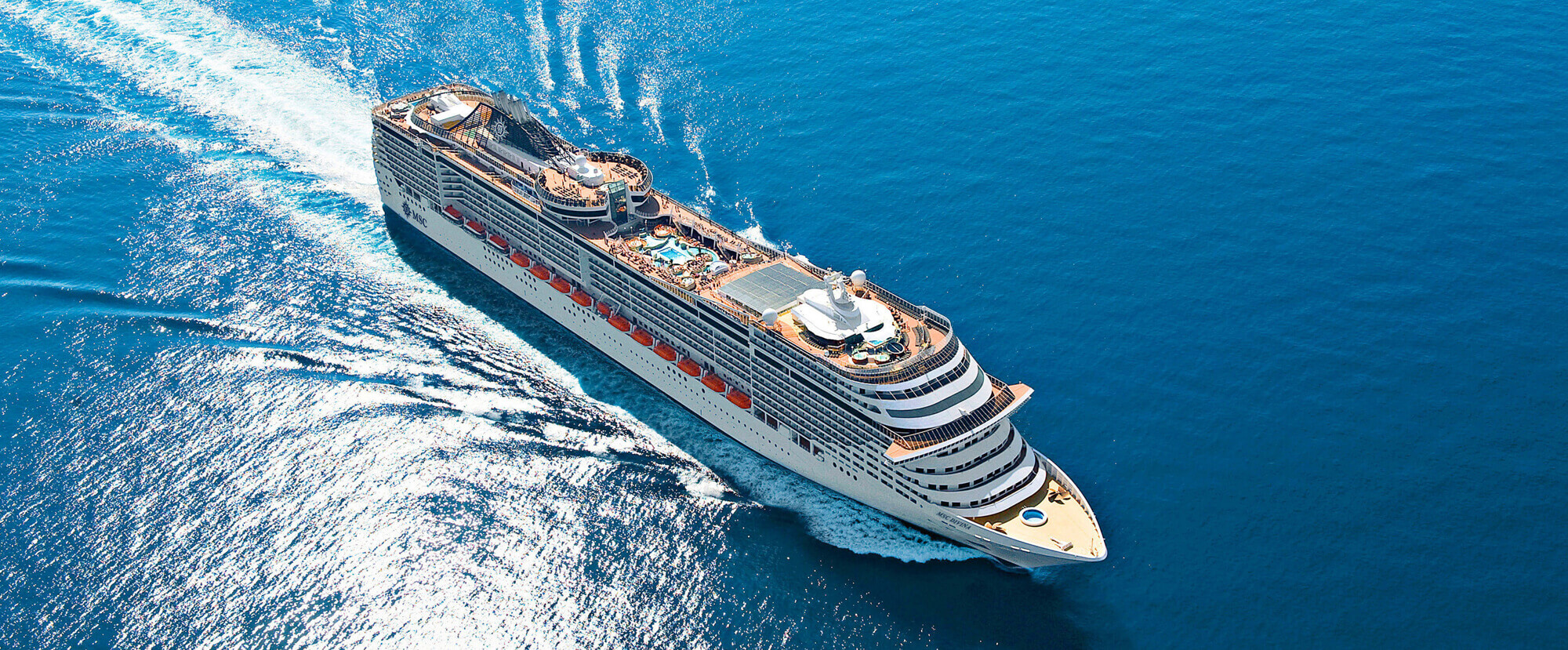 MSC Divina Couples Cruise
April 16-23, 2016
Miami, St. Maarten, San Juan, Puerto Rico and Great Stirrup Cay, Bahamas + Sexy Days at Sea
Divina Couples Cruise proclaims that sometimes bigger is better.
The MSC Divina Couples Cruise is exactly that.
The MSC Divina is the largest lifestyle, full ship charter in the world! A beautiful ship that will hold over 3,500 people, this will be the biggest party at sea. No other nude or clothing optional cruise will be anywhere as big as this Couples Cruise. Sometimes size does matter…
Couples Cruise has chartered some amazing ships during the last several years, but none are finer than the MSC Divina Couples Cruise. With over 1,700 cabins, it is the largest, clothing optional, full ship, lifestyle charter in the world.
Divina Couples Cruise Itinerary 2016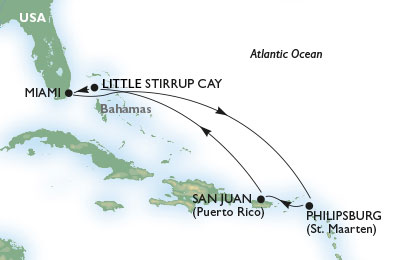 Here is the Divina Couples Cruise itinerary. We love the sexy days at sea the best, but can't wait to see Great Stirrup Cay, Bahamas.
The timing for embarkation is a little different than past cruises.  We checked the times with MSC and they confirm that boarding for the Divina begins at 12 noon. We recommend you are onboard no later than 3:00 pm.  The ship is scheduled to sail at 7:00.
| | | | | | |
| --- | --- | --- | --- | --- | --- |
| Night | Day | Date | Port | Arrive | Depart |
| 1 | Saturday | 16-Apr | Miami, FL | | 7:00 PM |
| 2 | Sunday | 17-Apr | At Sea | | |
| 3 | Monday | 18-Apr | At Sea | | |
| 4 | Tuesday | 19-Apr | St. Maarten | 9:00 AM | 6:00 PM |
| 5 | Wednesday | 20-Apr | San Juan | 8:00 AM | 4:00 PM |
| 6 | Thursday | 21-Apr | At Sea | | |
| 7 | Friday | 22-Apr | Great Stirrup Cay, Bahamas | 8:00 AM | 5:00 PM |
| 8 | Saturday | 23-Apr | | 7:00 AM | |
Couples Cruise has always had great clothing optional ports and excursions.  This is one of the best itineraries that Couples Cruise has ever had.
St Maarten
St Maarten is the Couples Cruise  #1 rated destination according to their passenger surveys. This French & Dutch Island has one of the world's most beautiful Nude Beaches, Orient Beach. Orient Bay offers lots of shopping, great little beach bars and restaurants but it is the long white nude beach that brings our passengers back every time. Maho Beach is another great option.  It's located next to the airport and planes approach for landing literally right over your head. We have always had a GREAT time at Maho and the photo opportunities are priceless. Insider tip: Visit Sunset Bar at Maho Beach.  If ladies go topless they get to drink free!
The America's Cup 12 meter sailboat race is another one of our favorite excursions in St Martin. Each passenger is taught a crew position and you have the once in a lifetime opportunity to race multi-million dollar America's Cup Race Boats in the warm blue waters and brisk trade winds of the Caribbean.  How naughty will your boat be?
San Juan, Puerto Rico
There is nothing like stolling through Old San Juan. It's like walking back through time in this historic colonial city. Visit the forts, go shopping and eat some of the best food you will find on this cruise. Don't forget to try a mohito, the island's specialty. Couples Cruise will also have a clothing optional party boat where we can really party down like the locals do (only naked!). You can also visit rainforests, hike to waterfalls and even visit the famed Bacardi Rum Distillery. Puerto Rico offers plenty of great sites in a safe place where everyone speaks English and they use the American dollar and you can make calls back home on your cell phone!
Little Stirrup Cay
One of our favorite places to visit is our very own private island in the Bahamas. We will be able to sunbathe nude, go on clothing optional snorkel excursions and the best part: the food is included and if you have the drink package Couples Cruise announced that it will also work when you go ashore!  Awesome!
Divina Couples Cruise Theme Parties 2016
Are there theme parties on Divina Cruise?
This is a Couples Cruise, so of course there are theme parties.  You can get as dressed up as you desire.  Not in the mood?  No problem it's all about doing your own thing with your partner and having a wonderful time.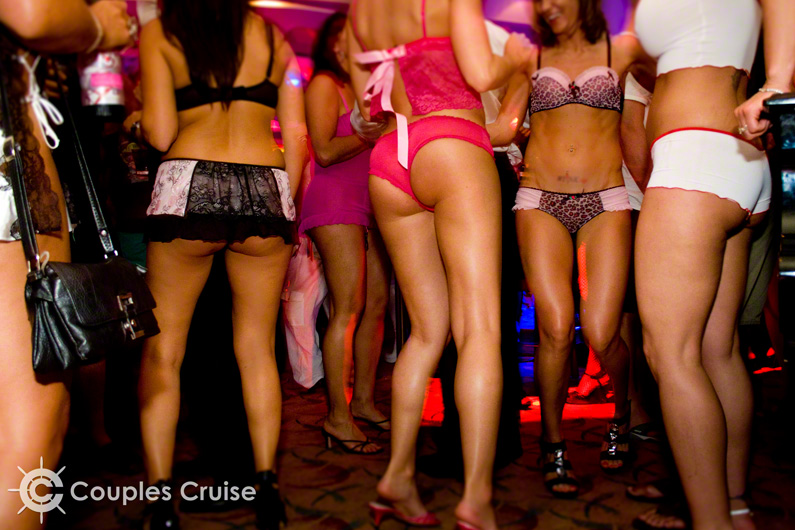 | | | | | |
| --- | --- | --- | --- | --- |
| Night | Date | Port | Dinner Dress | Theme Night |
| 1 | April 16, 2016 | Miami, FL | Casual | Tropical |
| 2 | April 17, 2016 | At Sea | Formal | Dress Up, Dress Down (PJ Party) |
| 3 | April 18, 2016 | At Sea | Casual | Naughty School Girl |
| 4 | April 19, 2016 | St. Maarten | Casual | Mardi Gras |
| 5 | April 20, 2016 | San Juan | Casual | Pirate Night |
| 6 | April 21, 2016 | At Sea | Formal | Fetish Night |
| 7 | April 22, 2016 | Great Stirrup Cay | Casual | White Night |
| | | | | |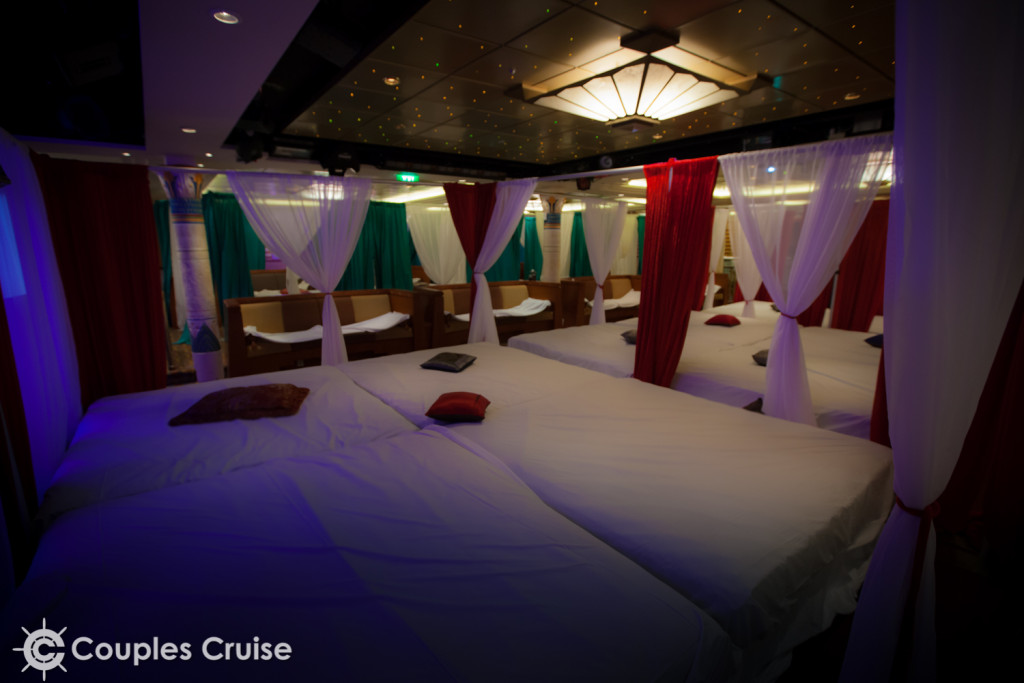 What about play rooms, sex & nudity on Divina 2016?
Play?  YES!
Is there a play room?  Couples Cruise is know for their amazing playrooms.
Is there a dungeon?  Of Course! and you can count on other specialty play rooms too!
Nudity?  Thats one of the things we love about Couples Cruise and you can be nude on the pool decks and topless in the dance clubs.
The Perfect Playroom
The whole ship, it is a clothing optional charter. Couples Cruise has playrooms where you can expand your sexual horizons and explore your own fantasies. Some people are intimidated by any playroom and are unsure about checking them out, so on the 1st night, they always have an hour long preview where you can tour the playrooms, ask questions and see what they are all about before anyone is actually using them.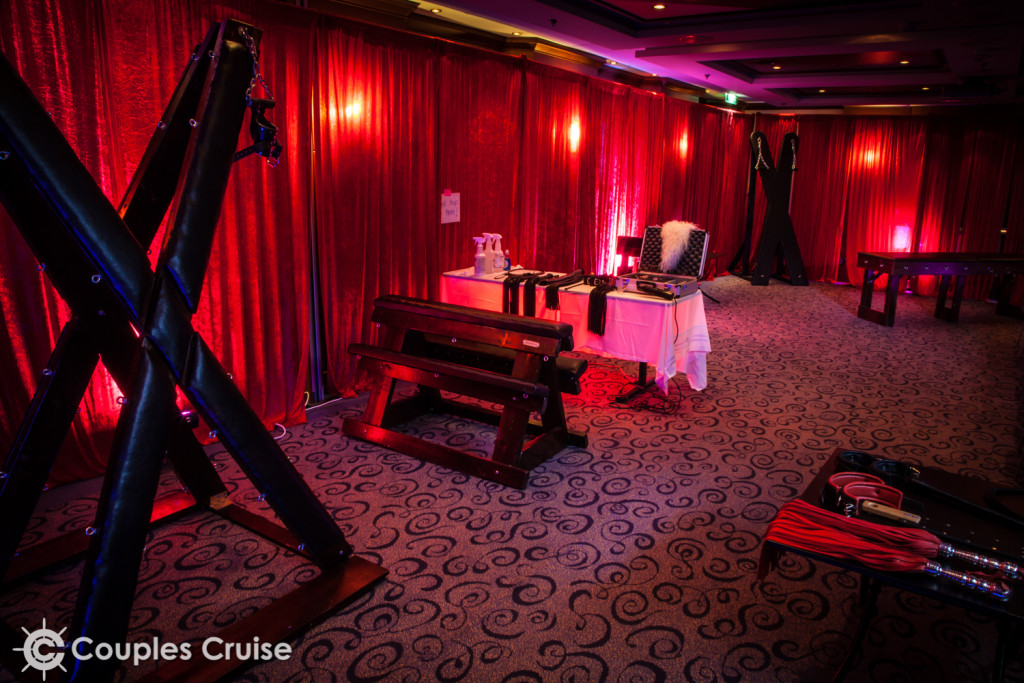 Creating Your Experience
If you are not comfortable, you don't have to come into the playrooms at all, it's your choice. But if you do, you can set the level of your experience to your level of comfort.
You can do as much or as little as you want in the playrooms. You can just watch others or be watched if that is where you feel comfortable. The drapes allow you to be as private as you want to be by giving you the option to leave the curtains open, so anyone can see, closing the sheers for a little more privacy or you can close the drapes completely for maximum privacy.
Education
Not only are Couples Cruise "Perfect Playrooms" used for open play at night, but during the day, they use these spaces for multiple classes, seminars and demonstrations. They believe it is their duty to educate the passengers as much as possible to ensure that they can play safe, learn new techniques and expand their sexual knowledge base.
This Cruise brings on some of the best sexologists, doctors, sex therapists and teachers that will teach classes on massage, Tantra, BDSM, communication, as well as demonstrate techniques and show you how to add to your own, personal sex lives.
You will go away with better relationships, more understanding of one another, inspiration and new knowledge.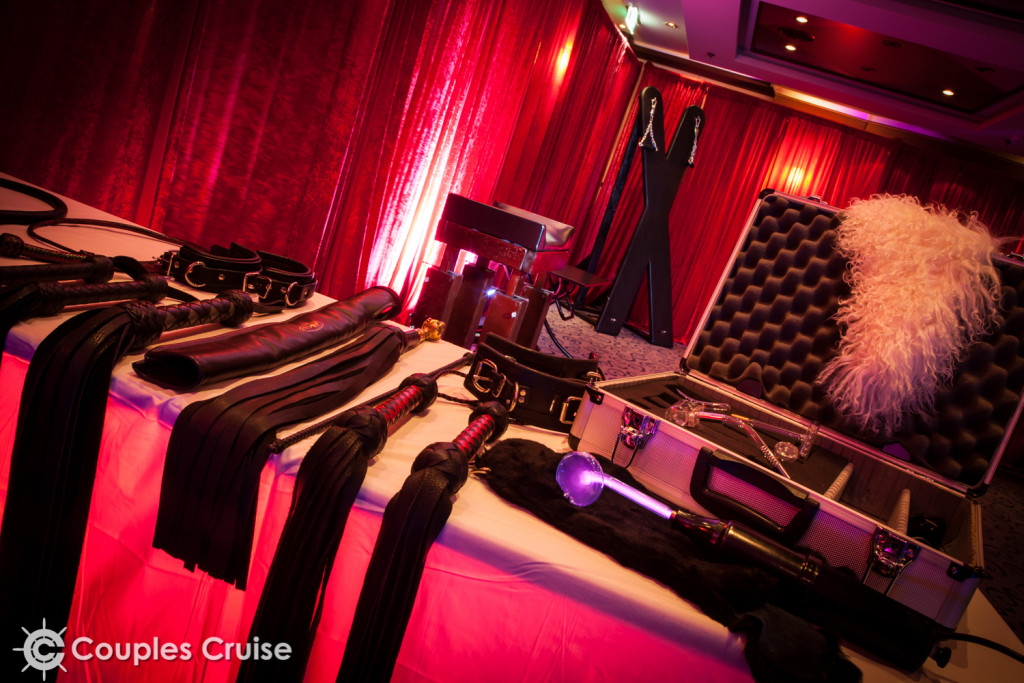 Divina Couples Cruise Cuisine 2016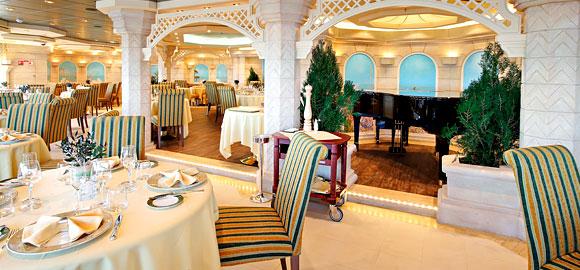 Dining on the Divina
New cruisers often ask what food options are actually included in the cost of a cruise.  The answer is everything except the specialty restaurants.  To simplify it there will be options all day and night!
Read the review or watch the video to find out more!
Divina has two main dining rooms: The Black Crab (Decks 5 and 6) and Villa Rossa (Deck 6). The Black Crab, the larger of the two, is decorated in black, gold and purple with marble touches throughout.  Villa Rossa, with its gold, black and red color scheme, has sweeping panoramic views from Divina's aft.
Both restaurants feature the same menus and hours. Breakfast is served from 7 a.m. to 9 a.m., lunch from noon to 2 p.m. and dinner begins at 6:30 p.m.  though times vary occasionally. Dinner consists of five courses: starter, soup or salad, pasta, entree and dessert.
Buffet
Manitou and Calumet, located on Deck 14, are Divina's casual buffet options. The two adjoin, essentially forming one mammoth buffet area.  At breakfast, served from 6:30 a.m. to 10 a.m. Early risers can grab a continental breakfast there from 6 a.m. to 6:30 a.m., and those who show up from 10 a.m. to 11:30 a.m. can also get a continental breakfast.
For lunch, from noon to 4 p.m., options include burgers, fries, stir-fry and a carving station. The carving station routinely offers the best protein option; for example, chefs carved a whole, fresh turkey during one lunch. And, of course, there's plenty of pasta.
The buffet includes a pizzeria, open from noon to 4:30 p.m. and from 5 p.m. to 3 a.m.
Divina offers an afternoon buffet, with limited options that include fruit, cheese and salad, from 4 p.m. to 5:30 p.m., and a make-your-own-sandwich bar is open from 4:30 p.m. to 5:30 p.m. and again from 11 p.m. to 3 a.m.
Dinner, from 6:30 p.m. to 9:30 p.m.
Specialty Restaurants
The best dining experience we had onboard came at Eataly Steakhouse, which serves excellent salads, soups, pastas and steaks. The restaurant is simple and modern, with faux wood tables and clear, acrylic chairs.
Service, too, is attentive and knowledgeable. The restaurant features an exceptionally knowledgeable sommelier, who explains what is recommended and what the characteristics of every wine are. Eataly features a la carte pricing, with pastas starting at $8.50 and entrees ranging from $15 for lamb or salmon to $25 for an 8.5-ounce tenderloin. Veggie sides are $3. Attached to the steakhouse is Ristorante Italia, which serves a different prix fixe menu each night for $34 per person. There, menu options represent the various regions of Italy; they include Tuscan selections like Citrus-infused seafood passatelli or lasagna and Sicilian favorites like spiced braised veal cheeks and stuffed sardines. Both are open only for dinner from 6 p.m. to 11 p.m.
The Galaxy Nightclub is a hopping disco at night, it serves a daily luxury brunch for $28, which includes breakfast items such as omelets and waffles and options like oysters and foie gras, as well as one glass of Prosecco per person. From 7 p.m. to 11 p.m., dinner is served there, with several different Mediterranean fusion menus. Passengers can choose a la carte options (with appetizers starting at $7.50, pasta and rice starting at $7.50, main courses starting at $12 and desserts for $5) or choose from one of three price fixe options. The Saturno menu offers courses for $24 per person; the Venere menu is five courses for $35; and the Galaxy menu is seven courses and includes a glass of wine with each dish for $59 per person.
La Cantina di Bacco (open 6 p.m. to midnight) is a small but charming spot on Deck 7. There, wine- and beer-lovers can chat over a glass of wine and a tapas plate (olives and bruschetta, for example), included when you purchase drinks. This is also the best place on the ship for pizza. It's delicious, with flakey, thin crust, and the ingredients taste fresh. The spicy pizza, with its hot Ventricina salami, was a favorite, as was the vegetarian. Pizza pricing starts at $8.50 per pie, and one pizza serves two comfortably.
At the Sports Bar on Deck 7, it's clear Divina is aimed at American passengers. (The menu even reads "American Food Experience.") Dining options are strictly of the bar/finger food variety and include Buffalo wings, chicken tenders, burgers and wraps. Prices are a la carte. For $7, the burger is the best onboard — juicy and melty.
Gelato — really amazing gelato — is available at two spots on the ship: Cafe Italia on Deck 7 and poolside on Deck 14. Cafe Italia also features pastries and chocolates. Pricing at both spots is a la carte. Segafredo Coffee Bar is located on Deck 7 and offers a variety of caffeinated options, including espresso and cappuccino, for a fee.
Room Service
A small room service menu is available all day, but a small service charge applies to orders placed after 11 p.m. Pizza delivery service is also available.
Yacht Club Dining passengers have additional options for dining, including Le Muse, which offers an upscale option to the main dining room. It serves breakfast (7 a.m. to 9:30 a.m.), lunch (noon to 2:30 p.m.) and dinner (6:30 p.m. to 10 p.m.) in a serene, Greek-inspired space at the aft. Select beverages are included. As in the main dining room, meals are served in five courses, which are heavy on seafood and pasta options. The unique French onion soup there was a hit, as were the cherries jubilee and baked Alaska. Healthy and vegetarian options also are available.
For a less formal meal, Yacht Club passengers can grab a continental breakfast (granola, fruit, cheese and pastries) from 7 a.m. to 10:30 a.m. or snacks from 11 a.m. to 4 p.m. in the Top Sail Lounge. High tea is available there from 4 p.m. to 5 p.m.
Overall we thought the food on the MSC Divina was fantastic!  We sailed on the Couples Cruise Yacht Club takeover in April 2015. Our favorite restaurant was Le Muse which is a specialty restaurant set aside for the Yacht Club only.  We also enjoyed the main dining room.  Curious about what's served there?   Here is a full week long copy of all the sample menus from the main dining room.
This video tour will show you exactly what the cuisine in the restaurants is like and you will also find out about the specialty restaurants that are available for a slight up charge.
Enjoy the taste of Italy: MSC Divina has partnered with a number of famous Italian brands to bring a taste of Italy onto the ship to reinforce the differences versus other cruise lines.
They have a partnership with Nutella. This is a chocolate spread that was created just after the Second World War as a way of making chocolate go further. Now it is a popular chocolate spread, and you can have crepes with Nutella in on board. They are fantastic.
They also brought the Eately chain of restaurants and deli on board. Eately was created in Turin, and it's a concept of slow food, great ingredients, great food, and very careful slow cooking. They have two restaurants on board, one has a steakhouse spin and the other serves a premium set menu.
They also have an arrangement with Disaronno, which is a liqueur from the Sorrento part of Italy. It's a recipe that dates back to the 1500s and used a lot in cocktails. There is a Disaronno bar near the infinity pool serving cocktails, including one which was created for the MSC Divina.
Segafredo Coffee, which is a famous Italian coffee, is also now on-board. Cafe Italia mostly sells it but there are other various places around the ship where you can get a nice cappuccino, latte or espresso.
The most popular partnership of all is with Venchi Gelato. This is more than just ice cream – it is a gourmet pleasure! It is absolutely delicious and freshly made.
Italian Food:  Although there's a wide range of food of all types including standards like hamburgers and hot dogs, there's a strong Italian theme weaving through it and I would encourage you to embrace that.
The Eately restaurant has great Italian food
There is another restaurant, La Cantina di Bacco, which has the most phenomenal pizzas I have ever had. The pizza oven is right there in the restaurant and you can watch the chef making the pizzas.
On the last night in the main restaurant is the Italian menu. A beautiful menu with loads of Italian dishes and tables decorated with the colors of the Italian flag. Towards the end of the meal the waiter comes with massive tiramisu desserts beautifully decorated with the Italian flag colors.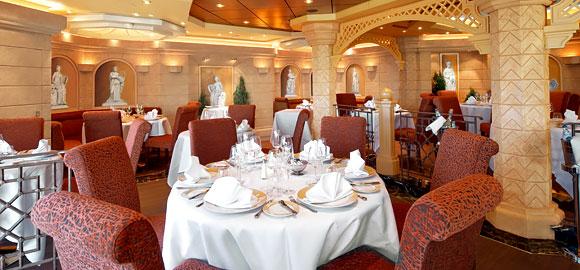 Exclusive Yacht Club Dining on the Divina
During the Sneak Peek you might decide to enjoy all your meals in sexy swinger attire in the Yacht Club.
Exclusive Yacht Club Dining Pleasures
In MSC Yacht Club you'll discover what delicious days are made of from morning to night. Perhaps you'll begin with breakfast served by your Butler on the veranda. Throughout the day, feel free to indulge in gourmet creations by our European-trained chefs In The Top Sail Lounge or by The One Pool & Bar. In the evening, savor dinner in the sophisticated restaurant Le Muse reserved exclusively for MSC Yacht Club guests.
Dining choices include: Top Sail Lounge and The One Pool & Bar: All-inclusive upscale menu of appetizers, salads, sandwiches, entreés and desserts––plus a selection of wines, spirits, soft drinks, mineral water and specialty coffees.
Private MSC Yacht Club Restaurant: Panoramic views, a gourmet menu and select complimentary wines and beverages are yours when dining in Le Muse.  Enjoy the ease of open seating or ask your Butler to reserve a favorite table.
British Afternoon Tea: Savor a fine cup of tea and luscious freshly-made cakes, scones and delicate tea sandwiches served each day by Butlers in the Top Sail Lounge.
En Suite Dining: Your Butler will graciously serve selections from our MSC Yacht Club menu, or help yourself to the complimentary mini-bar.
Myriad Dining Options: Of course, you may choose to dine in any of the ship's restaurants. Your Butler would be glad to make reservations at one of the ship's specialty restaurants and our Concierge can make recommendations and reservations for a restaurant on shore.
The Top Sail Lounge––An elegant atmosphere with panoramic views.  Feel sexy as you share this private sanctuary with other yacht club guests.  Enjoy gourmet foods with complementary wines and spirits.
The One Pool Bar––Enjoy au natural sunbathing at the Private pool, two whirlpool spas, solarium and sun deck.  Of course there is also attentive food and beverage at no extra charge.
Le Muse Private Restaurant: The finest restaurant on the ship is part of the Yacht Club experience  morning, noon and night. Enjoy open seating or ask your Butler or Concierge to make reservations.
"We thought the food on the MSC Divina was fantastic!  We sailed on the Couples Cruise Yacht Club takeover in April 2015. Our favorite restaurant was Le Muse which is a specialty restaurant set aside for the Yacht Club only.  We also enjoyed the main dining room.  Curious about what's served there?"  Here is a full week long copy of all the sample menus from the main dining room.
But you might not want to stop there.  The dining on the rest of the ship is fantastic.  Enjoy this video of some of the restaurants on the MSC Divina.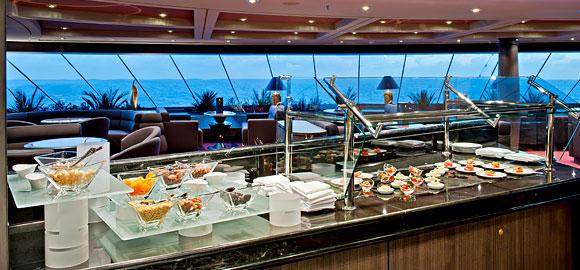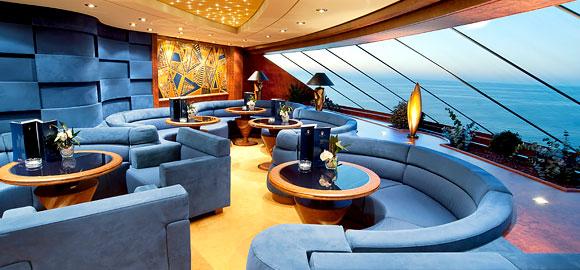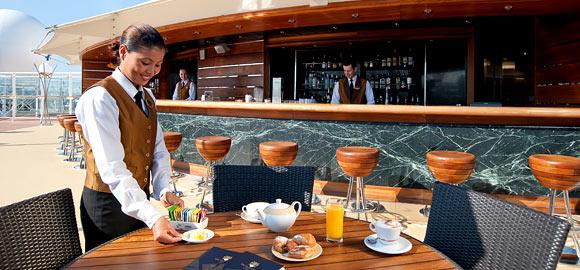 Drink Package Updates
MSC Divina is offering awesome drink packages during the Couples Cruise.  The real gem may be the Drink Voucher Program
Drink Package Details:  Basic & Ultimate packages require both passengers in the cabin to have a drink package on their account. All drink packages can be ordered for your account after you complete online checkin. Booking numbers to complete on-line check in should be available about 30 days prior to the cruise.  Don't confuse the TSC 'booking' invoice number with the MSC booking number for online check in.
MSC beverage policy, rules and allowance
Here is a guide to the many options available on the MSC Divina. There are more options than on most cruise lines, so it takes a minute to digest, but the good news is that there are more options to suit the needs of our passengers giving you exactly the plan that is best suited for you.
Bringing Alcohol on board
Bringing liquor onboard MSC Cruises ships at embarkation is not allowed. No beverage or food can be brought, unless there is medical necessity. Bringing champagne or wine onboard is also not allowed. MSC or its agents have the right to confiscate alcohol that was brought onboard by guests.
Note: Every charter, we see tons of confiscated liquor that people try to hid in their suitcase, in bottles of water (easily found by shaking the water bottle) and other places.
Purchasing liquor from MSC cruise ships' duty-free shops and while on shore (in ports of call)
Alcoholic drinks, including spirits, beer, other liqueurs and wines, are available to purchase onboard at fixed price. Any liquor that has been purchased in ships' duty-free shops is retained till the last night of cruise. Alcohol purchases that have been brought in from call ports will be held safe and later delivered to passengers' rooms – on last evening of the voyage (until disembarkation).
MSC Cruises beer list
Draught: Draught beer varies and may include Amstel Light, Beck's, Heineken, and Stella Artois. Regional draught beer includes Brahma, Castle, Itaipava, Quilmes, Strongbow, Warsteiner.
Bottled: Beck's, Bud Light, Budweiser, Coors, Coors Light, Corona, Franziskaner, Guinness, Heineken, Miller, Miller Lite, Peroni, Samuel Adams. A selection of around the world beers may be also available, depending on the region MSC is sailing.
Specialty bars on MSC ships
MSC themed lounges go beyond alcohol and include chocolate, coffee and ice cream bars and, of course, wine, beer and martini bars.
MSC Cruises drink packages
In August 2013 MSC Cruises promoted new drinks packages. The new Classic Allegrissimo, Beverage Carnet All-Inclusive, Cocktail, Soda, and Doremi packages offer more all-inclusive beverages and much savings.
The More-for-less packages are available only for the Caribbean and have to be booked on MSC Cruises website up to 3 days before departure.Note: We are expecting the booking numbers for MSC online checkin from Couples Crusie about 30 days out.  That will give you plenty of time to book the drink package that suits you best.
Packages are purchased for the entire voyage.
To be applicable, all adults in a cabin must buy beverage packages.
15 % gratuity is included in the below prices.
If you don't drink an average of 9+ drinks per day, go with the card or voucher booklets instead of the all inclusive packages.
Drinks Packages
Inclusion
Package Prices
More-For-Less Premium Package Adult
This is the BIG- ALL INCLUSIVE "you get (just about) everything" PackageDrinks from bar lists with bar price up to $7.25 are included.

It would take 8.5 drinks per day to break even at that price.

This package also includes Margaritas, Pina Coladas, Mojitos, Coco Locos, Bahama Mamas and other tropical drinks.

This also includes all wines from the selection "by the glass", house-brand (choose from one rosé, two reds and two whites), mineral water, bottled and draft beer, soft drinks in buffets and main restaurants, mineral water and all drinks from in cabin mini bar, take away from Gelateria.

US $61Per Day
More-For-Less Classic Package Adult
This is a Beer & Wine package.Includes all wines from the selection "by the glass", house-brand (choose from one rosé, two reds and two whites), sodas, mineral water, soft drinks, juices, bottled and draft beer, cocktails without alcohol, hot drinks (hot tea, hot chocolate, espresso, cappuccino), take away from Gelateria.

Room service items, cocktails and spirits are not included. Price was increased to 15 vouchers.

US $45Per Day
More-For-Less Escape Pass
This is a card that you can get discounted drinks with, not an all inclusive package.At an average of $4.67 per item/drink, this is a BIG savings for those that drink cocktails (42% savings). Your total savings will depend on the items you use this card for.

You get a beverage card that is good for 18 consumptions, including all drinks from the Bar and Wine (wines by the glass up to US$7.50), draft, bottled or canned beer up to US$5, canned sodas, mineral water, fruit juices, coffee-based drinks, hot chocolate delights, premium teas, selection of call-brand spirits, all cocktails from the Bar list (up to US$8), as well as take away ice cream in a cone/cup.

Once you use up your card, you simply buy another card.

If you aren't a BIG drinker and aren't going to drink 9+ drinks per day, then this is the best deal for you.

US $84Per Card
Beer Package
This is a discounted beer package of vouchers, not an all inclusive package.MSC Cruises beer packages offer 14 vouchers for all canned and bottled beers from bar list. Package prices allow guests save more than 25% off the regular prices in Bar list.

This is a great option if you prefer premium beer brands in bottles or cans rather than draft beer as you will get each bottle for an average of around $4.

Once you use up your vouchers, you simply buy another package of vouchers.

US $57Per Voucher Book
Soda Package
Includes 15 canned sodas (fruit juices or fountain sodas on request). Vouchers can be consumed at any restaurant, self-service buffet and bar.
US $30Per voucher Book
Wine Package "Dinner Wine"
The "Dinner Wine" MSC package offers house-brand wines – Dolcetto, Grillo, Montepulciano, Salento, Trebbiano. Passengers can choose between 1 rosé, 2 reds and 2 whites.Wines that are included in packages are available only in the main dining rooms.

Unfinished bottles are conserved and served to you the next day.

for 7 bottles – US $85
For 10 bottles – US $120

Wine Package "Your Choice"
"Your Choice" wine selection gives you a choice of at least 20 labels featured in MSC select wine list.The low price of package allows guests save more than 20% off the regular wine prices.

The included in package wines are available only in the main dining rooms, and unfinished bottles are conserved and served to you the next day. MSC's dedicated sommelier is always onboard, available to assist with information and advice on available wines.

for 7 bottles – US $160
for 10 bottles – US $220.
MSC Cruises may refuse to serve alcohol/further alcohol to a guest where in their opinion he/she is likely to be a nuisance/danger to himself/herself, other passengers or the ship, so drink responsibly.
Divina Couples Cruise Accomodations 2016
Getting the most out of the Divina with Couples Cruise
The Ship is Adapted for North America: What? That's different than Royal Caribbean or Celebrity. This is a Mediterranean style cruise line with a strong Italian influence. There are six official languages on board MSC Cruise ships. However, they realized by bringing the ship into North America permanently that they needed to tailor it more to the North American consumer because it's likely the ships will be mostly filled with these passengers. They have made a number of changes including:
The dominant use of English except for emergency drills and messages.
Recruited a Cruise Director to join the MSC Divina with many years of experience on developing programs that are liked and enjoyed by North American passengers.
Evolved some of the dining options to make sure it's got many of the staples well liked within the US.
The staterooms have US plugs as standard, so you don't have to bring adapters.
The currency on board is Dollars and not Euros.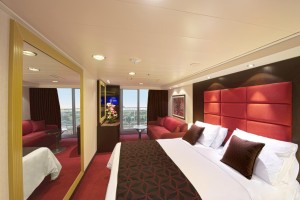 MSC Divina's spacious cabins are decorated in tones of blue, yellow, orange and brown. Each standard cabin features a European king bed, vanity seating area & closet and drawers with plenty of space. Cabins also have interactive flat-screen TVs, hair dryers, mini-bars, safes and Internet connectivity in each stateroom. The bathrooms feature showers with glass shower doors and dispensers for body wash and shampoo.
The Divina's inside cabins range from 138 to 169 sq ft. Her oceanview cabins range from 130 to 215 sq ft. The ship's balcony cabins range from 182 to 317 sq ft, including the verandahs. Balconies measure between 34 and 124 sq ft. (Those seeking the 29 cabins with 124-square-foot balconies should look for categories 8, 9, 10, 11 and 12). Two fabric chairs and a low fabric table are included on each balcony.
Yacht Club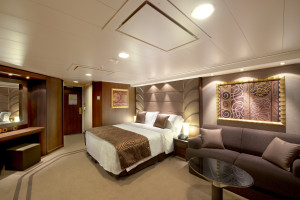 The Yacht Club is a high end, exclusive oasis for the most private and distinctive guests. Not only are the suites exclusive to other Yacht Club passengers, but they will have their own pool, bars and lounges to enjoy. Yacht Club passengers have access to a 24-hour concierge and butler services, as well as the Top Sail Lounge, a quiet spot on Deck 15 forward that provides passengers complimentary drinks, snacks and desserts throughout the day. Yacht club passengers also get complimentary in-suite mini-bars, 24-hour room service (late-night fees are waived), and select wines, spirits, beers and soft drinks in all of the Yacht Club venues, as well as priority check-in and debarkation.
Welcome to the Yacht Club
Were you one of the lucky few to book into the Yacht Club? During the Couples Cruise the Yacht Club will offers a haven of luxury and refinement for 120 very lucky guests. You will notice it the moment you enter the marble Concierge Reception area with original artwork and a Swarovski crystal staircase say "this is something special. Upon entering you will know you have arrived."
Now accepting waiting list for the Yacht Club – phone 215-268-3202 to get in queue
The Yacht Club Private Couples Cruise Venues:
The Top Sail Lounge: An elegant atmosphere with panoramic views. Feel sexy as you share this private sanctuary with other yacht club guests. Enjoy gourmet foods with complementary wines and spirits.
The One Pool & Bar: Enjoy au natural sunbathing at the Private pool, two whirlpool spas, solarium and sun deck. Of course there is also attentive food and beverage at no extra charge.
Le Muse Private Restaurant:The finest restaurant on the ship is part of the Yacht Club experience morning, noon and night. Enjoy open seating or ask your Butler or Concierge to make reservations.
I've never had a butler before! What does he do?
Your Butler is at your service around-the-clock, as you wish. It's a lifestyle cruise, consider how that can help add to an amazing trip. You butler will be trained to the standards of the prestigious International Butler Academy in the Netherlands. When was the last time you had the pleasure of receiving trained service? MSC Yacht Club Butlers are dedicated to your ease and well being throughout your stay.
Butler services include:
Private priority embarkation with luggage assistance from our Butlers and priority debarkation- I'd like to tell you what a treat it is to be greater on the red carpet at check in – butlers will meet you as you arrive, out side on the sidewalk in front of the ship.They make sure your bag is priority tagged and delivered immediately to your suite. After a cool beverage they escort you directly to the Yacht Club Lounge. As soon as the ship is ready for embarkation you are taken to your suite. LOVE that BUTLER!
Unpacking and packing of suitcases, shoes shined and more, upon request- Miss Lynn says take a chance and try this! I love the idea of someone unpacking and lining up everything perfectly in my closet. If nothing else send your husbands shoes out for a top notch shine.
Arrangements for cocktail parties, en suite dining and more -Its a swinger cruise event, so somehow having someone set up a cocktail party in my suite seems perfect!
Champagne and canapés served upon your arrival at the MSC Yacht Club
Afternoon Tea in the British tradition, served by Butlers
Daily delivery of your favorite international newspaper in its original format
So what does the Concierge team do?
The MSC Yacht Club Concierge Team is located in the opulent Concierge Reception lobby. Concierge services include:
Priority reservations for on board services, specialty restaurants and the MSC Aurea Spa – So if you and your new yacht club friends care to venture to one of the other ships restaurants for dinner and a show just let them know, easy peasy!
Services to make each destination visit go smoothly, providing detailed information on local attractions, and priority reservations for shore excursions
Arranging unique and unforgettable private onshore excursions with optional private photographer – We expect an au natural excursion planned by Couples Cruise on this sailing but if you want to do your own thing we recommend your concierge set it up. Not sure what to do? Ask them!
Reserving private out-of-hours en suite shopping, accompanied by your Butler
Extraordinary Shore Excursions
As an MSC Yacht Club guest there's no need to follow the crowd when it comes to shore excursions. Our Concierge staff is happy to help you build the perfect tailor-made excursions based on your desires and our extensive knowledge of each port of call:
We'll make your dream trip come true with individualized shore excursions
Custom shore excursions may include the opportunity to explore on your own in a luxury sports car, relax and sightsee in a private car with driver, take the family in a comfortable minibus and more
A personal multilingual guide can accompany you throughout your onshore adventure
Enjoy exclusive shopping ashore with a personal guide, upon request
Record life-long memories of a special destination or event––if you desire, a personal photographer can accompany you discreetly on any excursion
Divina Couples Cruise What's Included 2016
What is included…
All cabins have the following standard amenities: spacious wardrobe, bathroom with shower (deluxe suites have bathtub ), interactive TV, telephone, internet connection (payable), mini bar, safe, air conditioning. Room sizes range from 120 sq.ft, up to 560 sq. ft.
Opulent Casino
Enjoy free access to the casino, slot machines and gaming areas.
Onboard Activities
Fun activities may be organized throughout the day, from quizzes to hobbies. These are open to everyone
Fitness Facility
Most of our luxurious cruise ships are equipped with a fitness facility. Access to the gym is free of charge.
All Meals
Library and Card Room
Enjoy a quiet game with friends or sit in our tranquil onboard library with its porthole ocean views and collection of books.
Nightclubs and disco
(there is no entrance charge for any of the nightclubs or discos on board our ships)
Broadway Style Shows
All our evening shows, from musical medleys to dramatic theater productions are open to everyone, at no extra cost.
What is not included…
Access to Aurea Spa and Spa treatments
Please consult the Spa brochure for a list of treatments and prices.
Internet Café
There is a small charge to use the facilities in the internet café.
Beauty Salon
A comprehensive list of hair and beauty treatments at attractive prices.
Shopping
All MSC ships have a range of fantastic boutiques on board as well as a small shop for 'essentials'.
Art Auctions 
It is possible to bid or purchase works of art in our sales, and these must be transacted on board.
Shore Excursions
Our shore excursions and activities offer the best way to view the top sights and attractions in our ports.  Please contact your travel agent for more details or request full excursion details including pricing and programs, once on board.
 Bar Drinks
Drinks are not included in the full board package.
Divina Couples Cruise Policies 2016
Divina Couples Cruise Cancellation Policy
Up to Jan. 15th, 2015 – full refund, less $75.00 per person
Up to July 15th, 2015 – full refund less $150.00 per person
Up to November 15th, 2015 – full refund less $250.00 per person
After November 15th, 2015 – NO REFUND.
We Have New Payment Options Available
There are now 4 ways to pay:
Couples Cruise has recently reconfigured the pricing structure to give you more options. This way, you can book your cabin now, and chose your own payment plan.
Pay in Full- Anytime you pay in full, you will receive the pre-increased pricing (before the September 15 increase)
Pay 1/2 now, pay 1/2 in November 2015.
Pay 1/3 now, pay 1/3 in November 2015, Final Payment due in January 2016.
Easy Cruise Plan- Book now and your final payment is due 

February 1, 2016.


Deposit due when booking an Inside or Oceanview Cabin – $500
Deposit due when booking a Balcony or Suite -$1000
We will split the payments up monthly and your final payment is due February 1st
** There is a 5% increase when choosing the Easy Cruise Plan
3RD and 4TH IN CABIN: – $ 275.00 P/P BASIC CABIN – $ 425.00 P/P SUITES Additional Fees While all cabin pricing reflects the basic cost per person, there will be an additional fee which will reflect port charges, government taxes, doc fees, gratuities and security fees.
These will be as follows. – $ 375.00 per person for all Staterooms – $ 410.00 per person for all Suites SINGLE SUPPLEMENT As this is a COUPLES CRUISE, any person showing up at the port without their partner , shall not be admitted onto the ship and shall not be entitled to any sort of refund. A single male or female will be allowed on the ship in a cabin as long as they are accompanied by a couple and staying with them in their cabin.
Divina Couples Cruise Travel Insurance 2016
We strongly recommend travel insurance.
Our low cost Deluxe Group Plan will be added to all reservations for for residents of the United States except for the states of Texas, Washington and New York.  Your policy details will be mailed to you with your invoice. Residents fromTexas, Washington and New York are encouraged to purchase your individual plan here.  We do not have policy information for non-US residents and we encourage you to purchase a policy in your home country.
Divina 2016 Deluxe Group Plan Rates – For US Residents except Texas, Washington & New York
| | | |
| --- | --- | --- |
| Total Trip Cost | Insurance Cost Per Person | |
| $501-$1000 | $49 | |
| $1001 -$1500 | $79 | |
| $1501-$2000 | $99 | |
| $2001-$2500 | $126 | |
| $2501-$3000 | $149 | |
NO REFUNDS given without written notice. Written notice may be mailed to Couples Cruise Inc, 1025 Bienville St. Suite 7, New Orleans, LA 70112 or emailed to info@couplescruise.com or by FAX to 504-324-0581. We will not accept cancellations over the phone. No refunds will be made if you do not cancel and do not show.
Travel Insurance
There are hundreds of circumstances that could cause you to cancel your trip, return home early or force you to seek emergency medical treatment while traveling. Travel insurance offers coverage for unforeseen problems such as, an unexpected financial change or scheduling conflict, a cancelled flight or a serious illness. You even have the option where you can cancel for any reason. We recommend Travel Insured – Get a quote and buy insurance
Divina Couples Cruise FAQ 2016
FAQ Reservation Numbers, Drink Packages, Bag Tags
Q. Where do I do my online checkin?
A. MSCCruiseUSA.com under the 'Already Booked' section.
Q. What booking number do I use to complete online checkin?
A. All MSC Reservation Numbers have been emailed to clients along with instructions for online check in. If you don't think you have your MSC Reservation Number please phone us. We agree, it's a little confusing.
You have 3 different numbers to choose from. You have an booking/invoice number from TSC (that's not it.)
You got a booking/invoice number from Divina Cruise on their automated invoice (that's not it.)
The number you need is the MSC Reservation Number.
Q. Where are my cruise tickets?
A. We won't be mailing documents or tickets. This is all online. You use the information we are providing to go online at MSC Cruises to check in and print your boarding pass.
Q. Where do I find information and booking Tours and Drink Packages?
A.The key to unlocking all tours, dinner reservations, drink packages can be found on MSCCruiseUSA.com You will only access that information after you complete your online check in.
Pre-reserve spots in the specialty restaurants.
Book excursions; especially the clothing optional catamarans.
Get tee times for the world famous golf courses.
Reserve cabanas on the beach.
Divina Couples Cruise Pre-Cruise & Hotel 2016
We have had some calls about rooms being sold out at the Couples Cruise hotels.  Our recommendation is to first try the link.  If that doesn't get you a room on the nights you want, then give the hotel a call directly.  There seems to be some glitches with the hotel online booking.
Free Pre-Cruise Party:  Couples Cruise is hosting the official pre-cruise party at a club called the Regency.  This club is adjacent to all of the host hotels and great news… This is a FREE party! Awesome!
There are several pre-cruise hotels located in the Marriott Hotel complex (Crowne Plaza, Marriott, Residence Inn & the Marriott Courtyard). There are free shuttles from the Miami airport to the hotels.  There will be paid shuttle ($10 per person) services that can be booked from the hotels that will be set up by Couples Cruise that will take guests to the ship on Saturday morning, April 16th.
This link has all 3 hotel options
Here is some phone and address information:
Crowne Plaza Miami International Airport 950 NW 42nd Avenue (LeJeune Road), Miami Florida – 33126, United States Hotel Front Desk: 1-305-446-9000
Residence Inn Miami Airport Phone: (305) 642-85701201 NW 42nd Avenue  Miami  FL  33126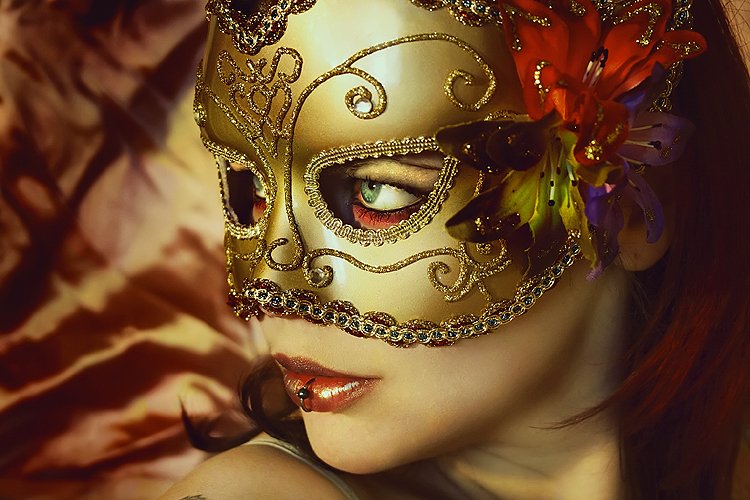 Do they have theme parties?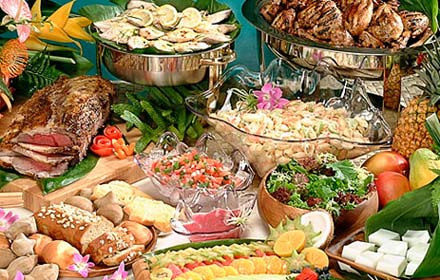 What is the cuisine like?