[rev_slider MaAJul14] [aio_button align="center" animation="pulse" color="red" size="small" icon="globe" text="Find Out More – Book Now" target="_blank" relationship="dofollow" url="http://www.shoesonlytravel.com/agents/agent-tsc.php"]
Menage a Asia – An Adventure in exotic cruising from Singapore
The Ménage a Asia is the pinnacle in exotic and sensuous Lifestyle vacations. Prepare to be amazed, enticed and fascinated by this life changing experience.   Come with us and discover the natural beauty and erotic side of the Orient.
Itinerary July 27st – August 4th 2014 (9days, 8 nights)

Sunday – 7/27

Singapore

Monday – 7/28

Malacca

Tuesday – 7/29

Penang

Wednesday – 7/30

Ko Adang

Thursday – 7/31

Phuket (Overnight)

Friday – 8/1

Phi Phi Ley & Ko Phi Phi

Saturday – 8/2

Railey Beach

Sunday – 8/3

Sea Day

 Monday – 8/4

Singapore

Typical arrival and departure times are 9am/6PM except Phuket where we are at the dock overnight *This is the planned itinerary although some of the times and ports could change.
Ports and Shore Excursions for Menage a Asia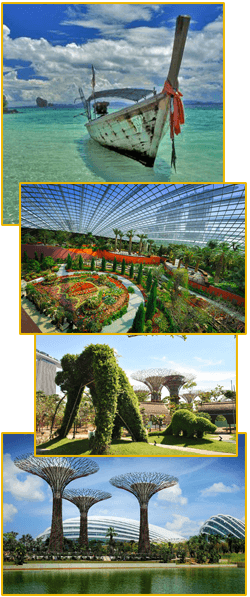 Shoes Only is in the process of finalizing shore excursions for Menage a Asia. We are really excited about the excursions. In total we are anticipating 5-8 different trips at each location. There will be a mix of cultural, exotic, erotic, culinary, adventure and shopping.  You can see and experience much more than a typical traveler. All Menage A Asia excursions are 100% private.  You will be sharing your adventures with other sexy lifestyle travelers!
• Singapore Menage A Asia
Gardens by The Bay (Day or Night) Singapore's new mega-project, the Gardens by the Bay, is like stepping into Pandora, the beautiful fictional world created for James Cameron's hit film Avatar. This 1 Billion dollar oasis in the heart of Singapore consists of 3 waterfront gardens. Gardens by the Bay opened in the summer of 2012.  All who visit are blown away by the park's amazing design. The project highlights is a pair of carbon neutral conservatories. One is the largest climate controlled greenhouse in the world.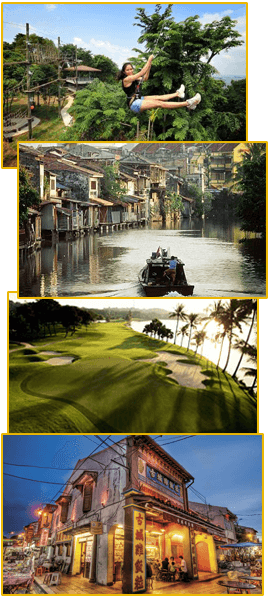 Sentosa MegaZip Adventure A first for Singapore and a must for all visitors, MegaZip will give you a real high, literally! Featuring the most extreme zip wires in Asia.  They have an aerial rope course and a free-fall simulator.  This is an experience that you'll never forget. Depending on your fitness level, choose to try out the different courses at your own pace. Over 450 metres long and at 72 metres above sea level, the MegaZip flying fox lets you whizz over the jungle canopy and the buzz of Siloso Beach. For a more strenuous adventure, ClimbMax is an aerial obstacle course set amongst the treetops. Prepare to navigate wobbly bridges, balance on swaying tightropes and scramble along cargo nets high in the sky. Golf Outing Singapore has a number of incredible courses to enjoy.  Don't worry about clubs, all will be provided. Relax and enjoy a day on incredible "lynx"… After all, you are on vacation and you are a swinger! Malacca Private Cultural Heritage Tour Vist Malaysia's most historical city.  Malacca has seen the rise and fall of major empires that extended their influence to this region. The legacy of the Malay Sultanate, Portuguese, Dutch and British is evident in Malacca's medieval charm, picturesque buildings, multi-racial population and narrow streets. This tour includes a visit to historic sites such as St Paul's Hill where St. Francis Xavier was interned. Cheng Hoon Teng Temple is the oldest Chinese temple in Malaysia.  You will also visit Porta De Santiago, the Portuguese fortress. A special lunch in Malacca where you can experience local cuisine is included.
Phi Phi Islands Menage A Asia

Full Day Phang Nga James Bond Island Tour James Bond Island is a famous landmark in Phang Nga Bay. It first found its way onto the international tourist map through its starring role in the James Bond movie 'The Man with the Golden Gun'. A distinctive feature of this famous bay is the number of sheer limestone cliffs that vertically jut out of the emerald-green water. The bizarre, why-doesn't-it-fall-over outline of James Bond Island or Koh Tapu (meaning Nail Island in Thai), lies next to the equally well known Koh Ping Ghan (sometime spelled 'Ping Gan' or 'Ping Gun'). The entire area surrounding this island is indeed spectacular.
Railay Beach Menage A Asia
Half or full day rock climbing adventure How about Rock climbing ? Its easier and safer than you think and a heck of a lot fun. Classes are taught with local instructors , fluent in English. Our rock climbing adventure is design for you to experience real rock climbing. Railay is a secluded peninsula just south of Ao Nang. It's part of the mainland, but is inaccessible by road.  There are impressive towering cliffs that cut it off from the roads. Our ship will provide you unique access.  We will anchor right off the beach. This inaccessibility gives Railay Beach a special island feel. Railay is also Thailand's rock climbing capital. The climbing pioneers started negotiating the limestone cliffs here over ten years ago; most of the climbing schools in Railay have today the most respected instructors in the country. A distinctive panoramic view of Railay Bay and the whole of the Krabi province can be achieved from the top of the cliffs.
Phuket Menage A Asia
Escorted Jungle in Khao Phra Thaeo Wildlife Park This guided tour is ecologically significant and stunning. This national park contains the only significant virgin rain forest left on Phuket. It covers an area of 22 sq kms. on the north of the island.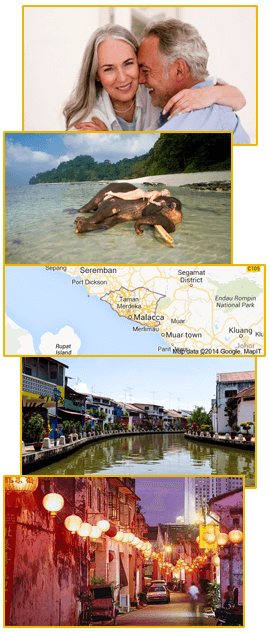 The towering giant trees and the forest canopy are spectacular. One of the attractions is the small but beautiful Nam Tok Ton Sai waterfall. In particular there is an eight kilometer trek (heading north-east) to the Bang Pae waterfall, which although not huge is Phuket's largest waterfall. There is also a small museum and information centre, and a floating restaurant in the mangroves. Bang Pae is also the home of the Phuket Gibbon Rehabilitation Centre – an NGO run project which adopts gibbons in captivity and returns them to the wild. The centre is close to Bang Pae waterfall. Elephant Trek Elephant Trekking Safari in set on a beautiful ocean viewpoint in Phuket where the dense tropical jungle overlooks Kata Noi Bay. We offer various jungle routes  from 20 minutes, or to the summit on 30 minute and 1 hour treks. Fully trained and experienced guide handlers will take you through the dense tropical forest. You will stop at scenic beauty for photographs along the way. This is a great photo opportunity.  You can even touch the elephant's trunk. Singapore Starting Point for Menage A Asia This may be the perfect Asian city to spend a few days.  Singapore has everything you can imagine in abundance. It is also one of the safest cities in the world. Singapore is surprisingly modern.  A harmonious blend of Chinese, Malay, and Indian cultures have inspired the city's cuisine, art, and architecture.  Singapore is rich in contrast and color. Singapore is one of the most enjoyable cities in Southeast Asia. Phuket Hedonistic Phuket seduces honeymooners, heiresses, surfer babes and a host of pleasure seekers from around the world. Thailand's largest and most popular island. Phuket is colorful and cosmopolitan.
Phuket (poo-get) boasts some lush inland vistas, including a few remote swathes of rainforest on Ko Yao, but the island really comes into its own along its western shoreline, where hunter-green foliage meets the turquoise waters of the Andaman Sea. The mile upon sandy mile of coastline boasts tons of water sports, delectable restaurants and decadent resorts.  
Booking Details: Terms & Conditions
Payment Schedule: First deposit 2/3 of cabin – DUE at booking (all payments are non-refundable) Final payment 1/3 of cabin plus Port Charges, Taxes & Fees at $495pp – DUE January 15, 2014 All payments are non-refundable, trip insurance is strongly advised.
Travel Insurance
We strongly recommend purchasing travel insurance for your upcoming cruise. There are hundreds of circumstances that could cause you to cancel your trip, return home early or force you to seek emergency medical treatment while traveling. Travel insurance offers coverage for unforeseen problems such as, an unexpected financial change or scheduling conflict, a cancelled flight or a serious illness. You even have the option where you can cancel for any reason. We recommend Travel Insured – Get a quote and buy insurance [aio_button align="center" animation="pulse" color="red" size="small" icon="globe" text="Find Out More – Book Now" target="_blank" relationship="dofollow" url="http://www.shoesonlytravel.com/agents/agent-tsc.php"]