Rockstar Adventures – Rockstar Amazon – Machu Picchu Facts at a Glance
Peruvian Amazon River Cruise + Machu Picchu Tour.
Luxurious Belmond Hotel Accommodations in
Lima,  Sacred Valley and Machu Piccu.
5 star Belmond Train Round Trip from Cusco to Olyontombo.
Immersive Rainforest Experience on the Luxurious Delfin III river boat takes you Trekking, Kayaking, Canopy Walks, Observing Pink Dolphins, Night Safari, Luxury Cuisine, Amazing new Friends.
Adults Only – Average age 45-65
Rockstar Adventures:

Boldly exploring beyond the boundaries of sexy travel! Read: 
To View Prices Click 'Book Now'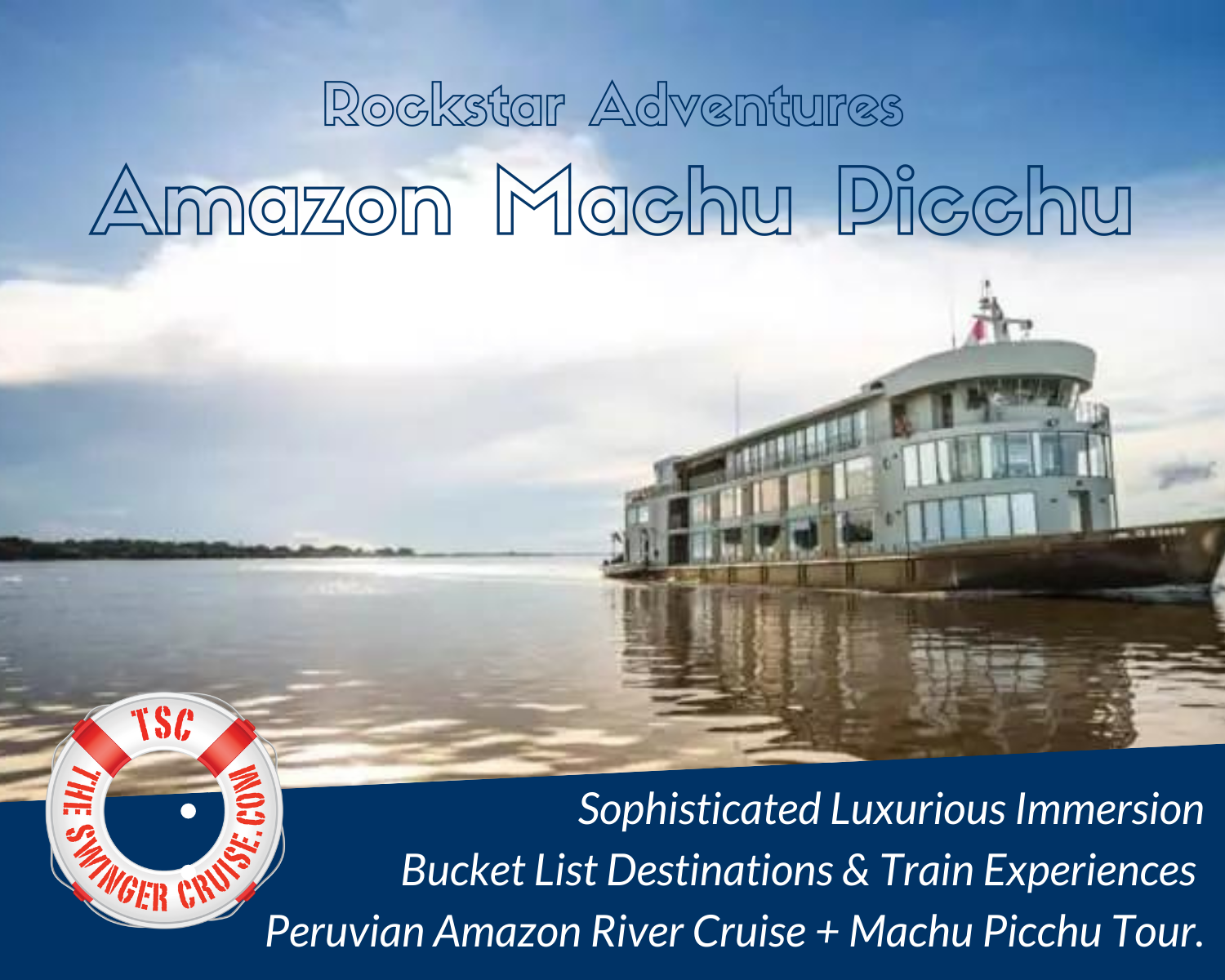 Rockstar Amazon Machu Picchu  – Features
This adventure is about inner discoveries. Allowing yourself and your partner to be swept away by the Rainforest of the Amazon River. Hearing the symphony of the Rainforest at Night. Feeling the energies of the Sacred Valley. Connecting by relaxing into the experience.  And doing it all in ultimate first-class style
This trip features the 5-star Delphin III ship, the iconic Belmond Hiram Bingham Train, and authentic Belmond hotels.
Delphin III
The Delfin III will be the luxurious home for 22 couples as we explore the Amazon River during the first half of this adventure.  All Suites feature breathtaking views of the expansive river through 180 degrees of floor-to-ceiling windows. The top deck features beautiful indoor and outdoor lounge areas, a sundeck with a plunge pool, a spa and gym, and of course, the bar.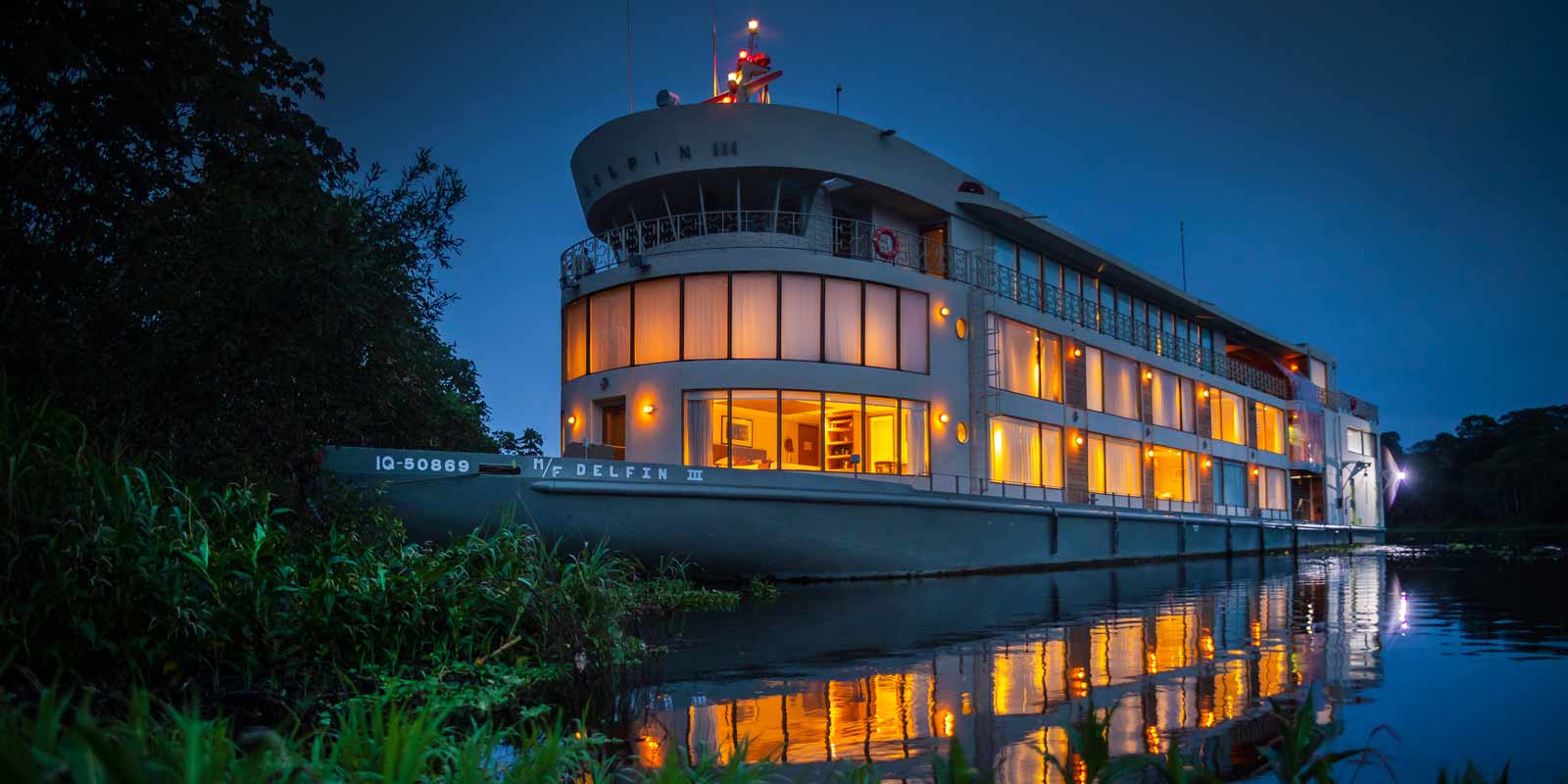 Belmond Hiram Bingham Train 
Be swept away by old-world charm as Hiram Bingham journeys through the Peruvian highlands. Gleaming wood-panelled interiors and brass finishes evoke classic 1920's parlour cars, while vibrant colours and nature-inspired motifs reveal a distinctly Peruvian soul.
Savour classic local flavours and gourmet cuisine as the train meanders through the breathtaking Sacred Valley. Celebrate the South American spirit with a lively dance as musicians play in the Bar Car. Marvel at the fertile lands and soaring mountains between Cusco and Machu Picchu. Bring the lost art of the pioneer to life with a thrilling rail adventure through the heart of the Inca Empire on Hiram Bingham.
Miraflores Park Belmond, Lima Peru
The best seat in an oh-so stylish part of town!  This hotel is set in one of Lima's most fashionable areas, Miraflores Park.  You will be in the heart of all that's the best about this great capital city.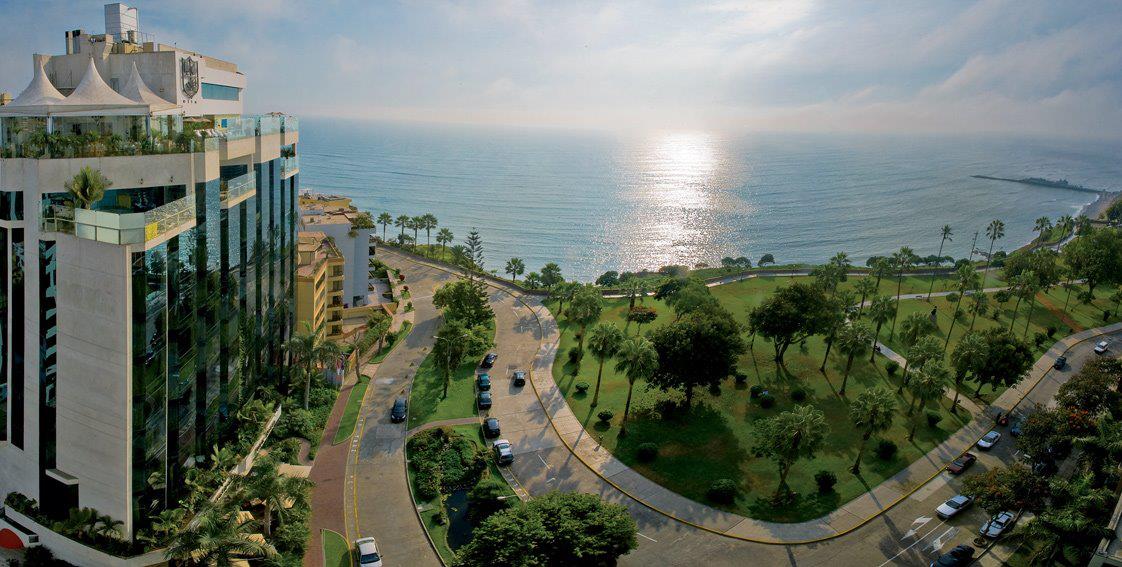 Belmond Rio Sagrada, Sacred Valley
Slip into the rythm of Peruvian Life!
Built to resemble a rural Peruvian village, Rio Sagrado is one of the most unique luxury hotels in Peru. A stay here lets you experience the majesty of life in the mountains.
Situated at a lower altitude than nearby Cusco, the hotel provides the perfect environment in which to acclimatize, and is an ideal base to explore the Sacred Valley and Machu Picchu.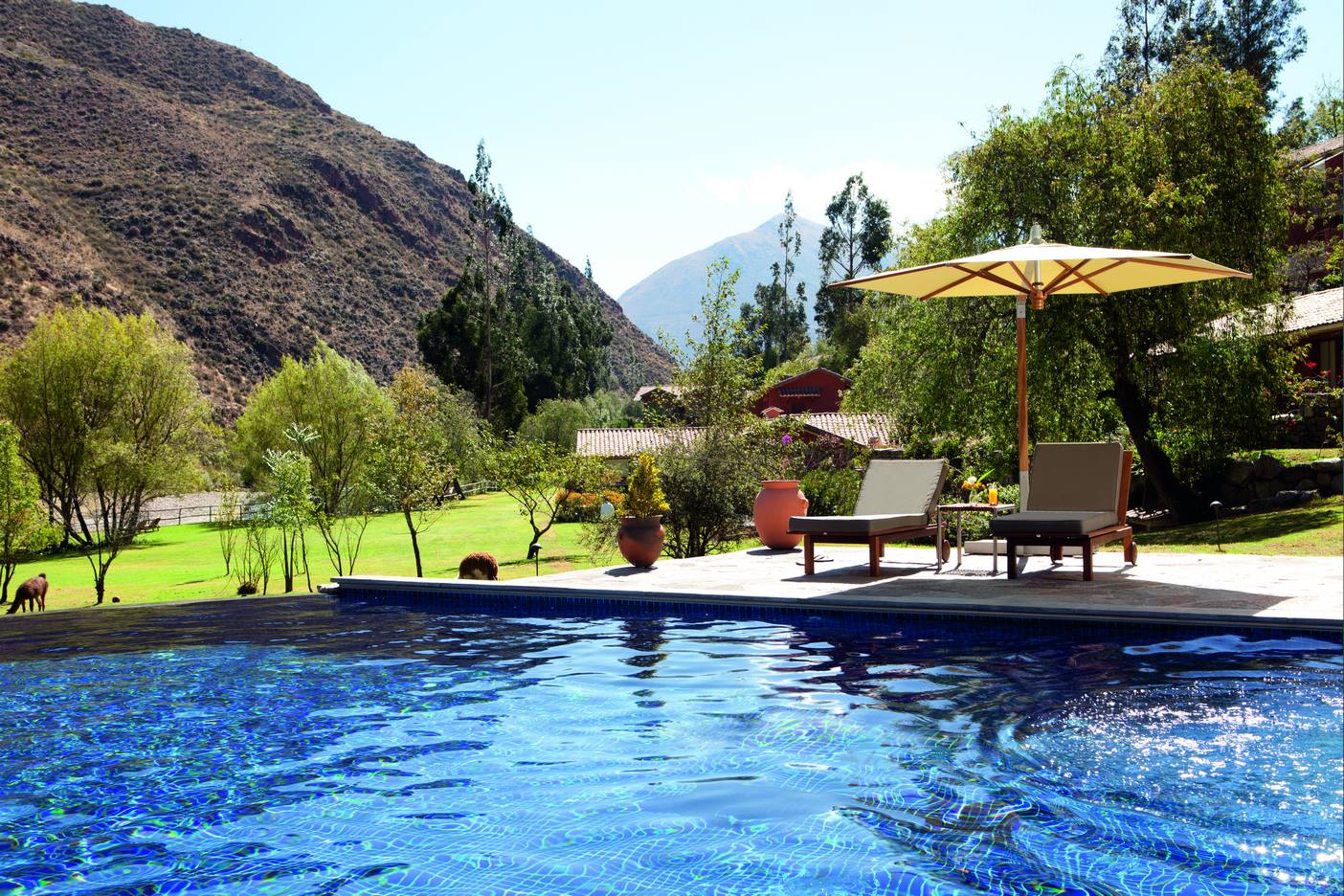 Belmond Sanctuary Lodge Exclusive Experience

This mystical lodge is perfectly placed for exploring the ancient Inca Citadel. Make your adventure even more magical. This is the only hotel located at the entrance to Machu Picchu. Tranquility, wonder and beauty are at the heart of this unique experience.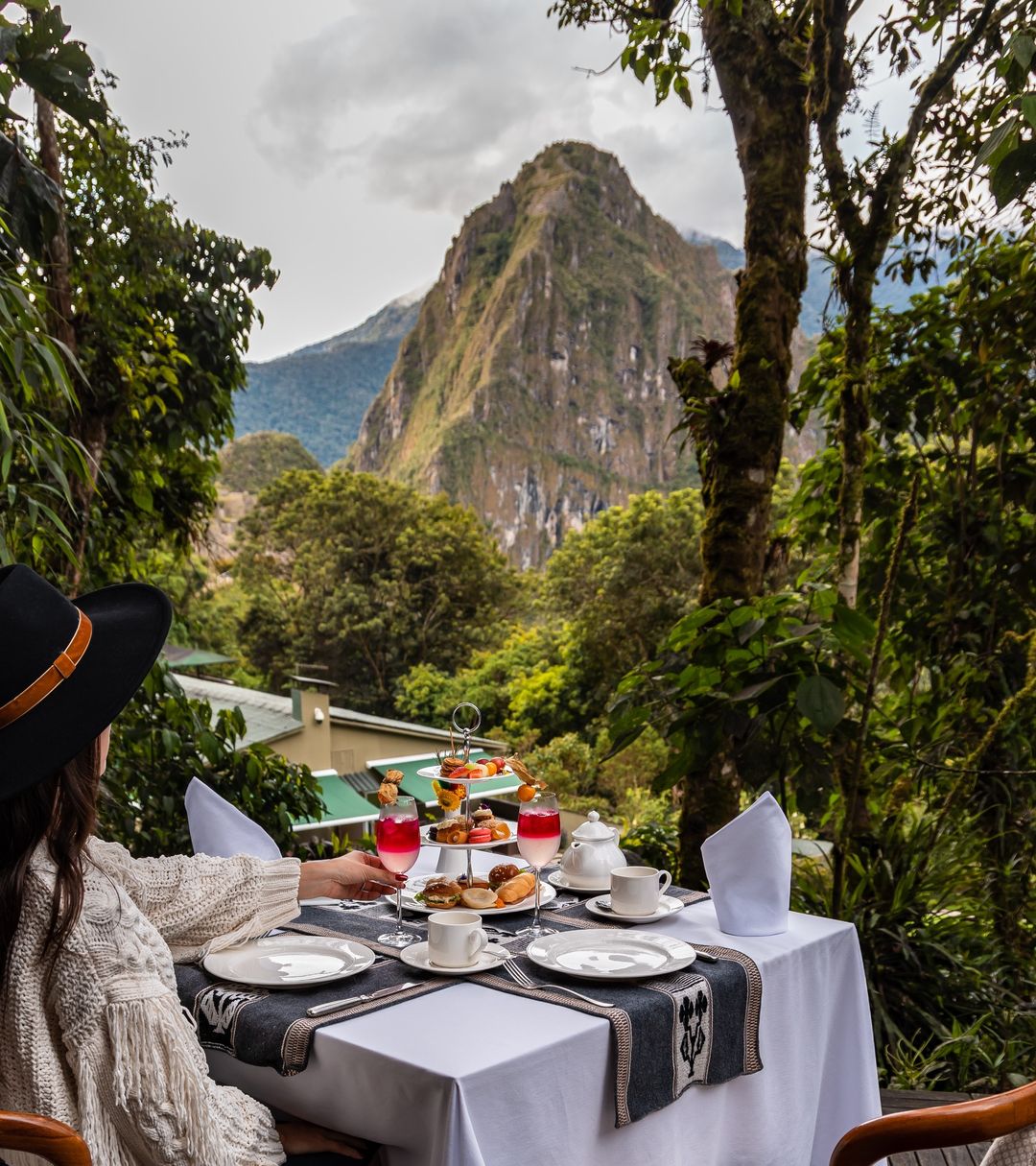 Rockstar Amazon Machu Picchu – Itinerary
This itinerary includes your entire adventure thru Peru including a 7 night Amazon River Cruise, 5 night tour of the Sacred Valley & Machu Picchu, Inter-Peru flights.
Day 1: Welcome to Lima – Friday, October 11, 2024
Location : Lima, Peru
Welcome to Lima and an Adventure of a Lifetime!  A big Rockstar Welcome starts after your included airport assistance and transfer to your luxury accommodations.
Overnight at the Belmond Miraflores Park Hotel (or similar)
Day 2: Lima/Iquitos and Boarding Delfin III – Saturday, October 12, 2024
Location : Iquitos, Peru
An intra country flight will take us to the city of Iquitos where our private transfer will whisk us to our luxurious floating home for the week. A VIP reception at our private port will be waiting for us.  Embark, enjoy and surrender to the sights and sounds of the Amazon on board the Delfin III.
Overnight on Delphin III
(B,L & D)
Day 3: Clavero Lake & Supay Cocha – Sunday, October 13, 2024
Exploration at Clavero Lake on board of our aluminum skiff, where you will have the chance to get deep into the rainforest and its fantastic diversity of flora and fauna. Then on to Supay Cocha, an enchanting little river of the Peruvian Amazon.
Overnight on Delphin III
(B, L & D)
 Day 4: Belluda Cano Creek U Dolarado River – Monday October 14, 2024
Today we head for a spectacular tributary spot within the Pacaya Samiria Reserve where you will experience an unforgettable encounter with gray and pink river dolphins. The afternoon and evening, along the Dolarado River, will be encounters of a whole new world of adventure.
Overnight on Delphin III
(B, L & D)
Day 5: Pacaya River – Tuesday, October 15, 2024 
On the Pacaya River, kayaking provides an up close and intimate look plus a chance to interact directly with the waters of the Amazon. You will have the chance to swim in one of the pristine Amazon lagoons in this wonderful region!
Overnight on Delphin III
(B, L & D)
Day 6: Sapuena & the Yarapa River – Wednesday, October 16, 2024
Exploration of Sapuena will have us searching for mammals and reptiles that are abundant. We should spot three-toed sloths, piranhas, squirrel monkeys, tamarins, and white-throated toucans.  Then on to Yarapa River where you will get to explore this tributary intimately.
Overnight on Delphin III
(B, L & D)
 Day 7: Amazon Natural Park, Yanayacu Pucate – Thursday October 17, 2024
A unique opportunity; you will get to walk the only Canopy Walkway in this area, an experience unequaled in the rainforest! At a height of over 25 meters (85 feet) and extending for 500 meters (one-third of a mile), the Canopy Walkway provides a view of the rainforest from the treetops, the best vantage point for observing Amazon wildlife and vegetation. The suspended walkway is spread between 14 of the area's largest rainforest trees and is one of the longest canopy walkways in the world.
Overnight on Delphin III
(B, L & D)
 Day 8: Fundo Casual, Pacaya Samira National Reserve and Nauta Cano Creek – Friday October 18, 2024
A trail walk at Fundo Casual will take you deep into the rainforest on terra firme (non-flooded forest) where your guide will point out the dynamic creatures. We will then visit Nauta Caño Creek where you will have the chance to go fishing for the famous piranha, a delightful and challenging experience you won't forget! As night approaches, your guide will take you on a night safari in search of caiman alligators.
Overnight on Delphin III
(B, L & D)
Day 9: Lima, Cusco & the Sacred Valley – Saturday, October 19, 2024
Location : Lima, Peru
Early flight to Lima and then on to Cusco with transfer to Sacred Valley. A farm lunch will be served at Sarapampa Hacienda where we will enjoy a Marinera and Peruvian Paso horse dance. You will have a chance to immerse yourself in the workings of this traditional farm and get a real taste of the Sacred Valley of the Incas.
Overnight at the Belmond Rio Sagrado (or similar)
(B & L)
Day 10: Sacred Valley – Sunday October 20, 2024
A full day visit to Moray terraces, a masterful archaeological site showing how the Incas excelled at building masterful constructions in harmony with nature. We'll enjoy a gourmet picnic lunch beneath a Bedouin style tent. and payment to the Earth Ceremony.  Experience today includes: kayaking or stand up paddle boarding; Manuel Choqque – a cooking lesson on how to prepare uchucuta; and a Mother Earth ritual offering to Pachamama.
Overnight at the Belmond Rio Sagrado (or similar)
(B & L)
 Day 11: Sacred Valley/ Machu Picchu/ Belmond Train – Monday, October 21, 2024
All Rockstars aboard!! A chartered Hiram Bingham train ride awaits to carry you the sacred sanctuary of Machu Picchu, one of the seven wonders of the world.
Overnight at the Belmond Sanctuary Lodge (or similar)
(B, L & D)
Day 12: Machu Picchu/ Cusco/ Belmond Train – Tuesday ,October 22, 2024
Location : Machu Picchu, Perú
An optional morning hike at Huayna Picchu, then a second visit to Machu Picchu citadel.  Then on to Cusco by way of the Hiram Bingham train with gourmet dinner served on board.
Overnight at Palacio Manco Capac by Ananay Hotels (or similar)
(B, L & D)
Day 13: Cusco – Wednesday, October 23, 2024
Location : Cusco, Peru
Explore the city of Cusco and visit the Qoriqancha (the Golden Temple); the Cathedral on the main square; the Fortress of Sacsayhuaman; and San Blas, home to many artists. After our Farewell dinner at La Merced Convent you have the option to experience the best bar in the city!
Overnight at Palacio Manco Capac by Ananay Hotels (or similar)
(B, L & D)
Day 14: Fly to Lima International Airport – Thursday, October 24, 2024
Transfer from the hotel to the airport to board your flight to Lima.  The ends your Peruvian Rockstar Adventure. Continue on or fly home.
(B)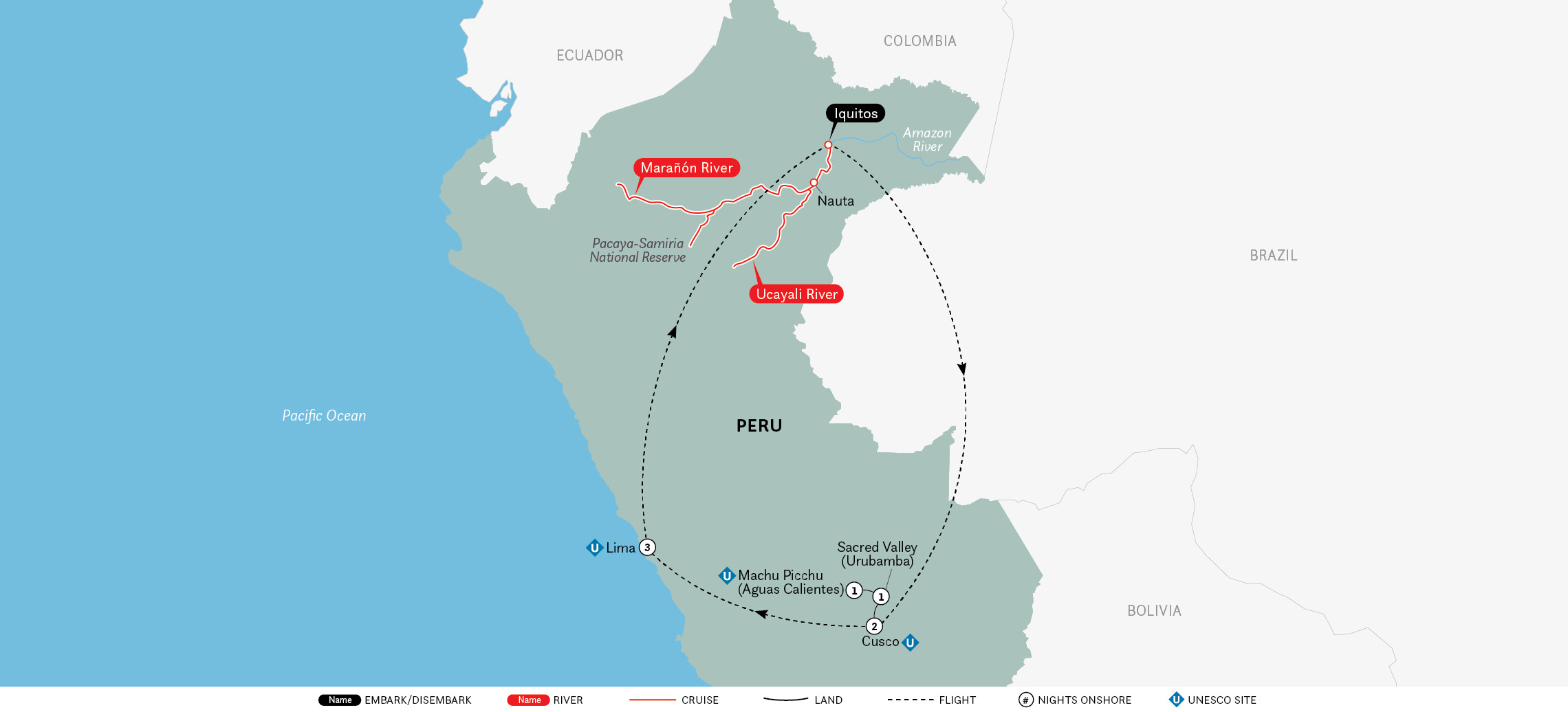 Rockstar Amazon River Machu Picchu will sail on Delfin III
Bar & Lounge on Rockstar Amazon River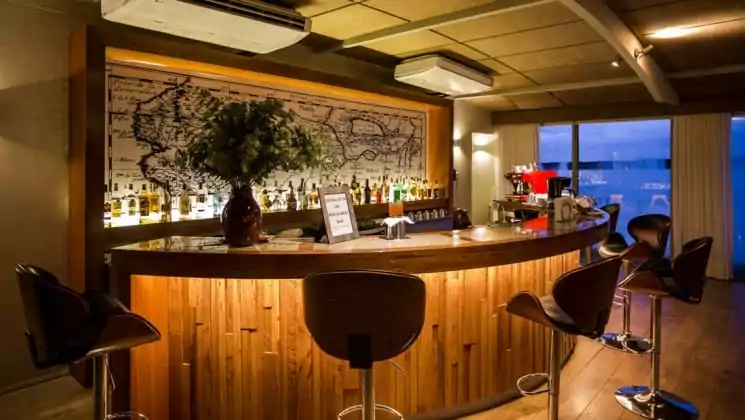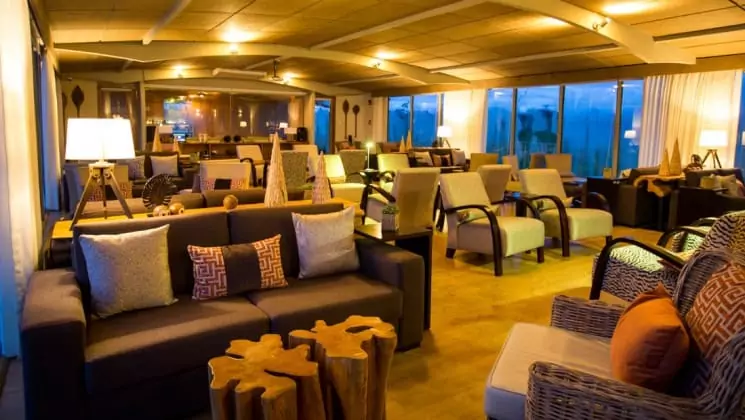 Top Deck Plunge Pool & Lounge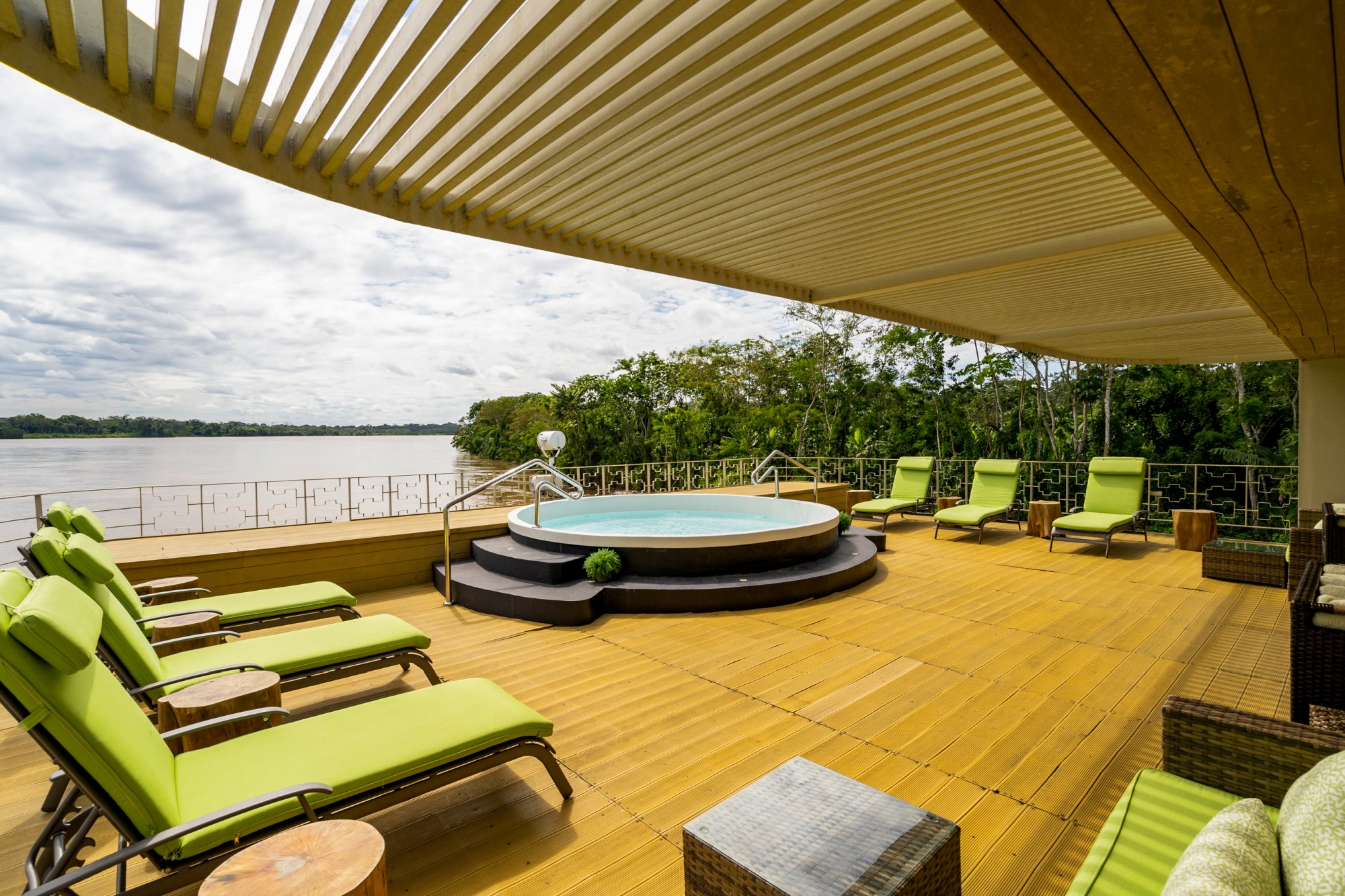 ROOM CATEGORIES
All Rates are total for 2 passengers after taxes.
Owners Suite $42,798 total for 2
Corner Suites $38,798 total for 2
Upper Suites 32,798 total for 2
Suites $28,798 total for 2
Reduced Fare Offer 
**Make full payment at time of deposit by Zelle or E check and your fare will be reduced by $1000 per cabin.
Owners Suite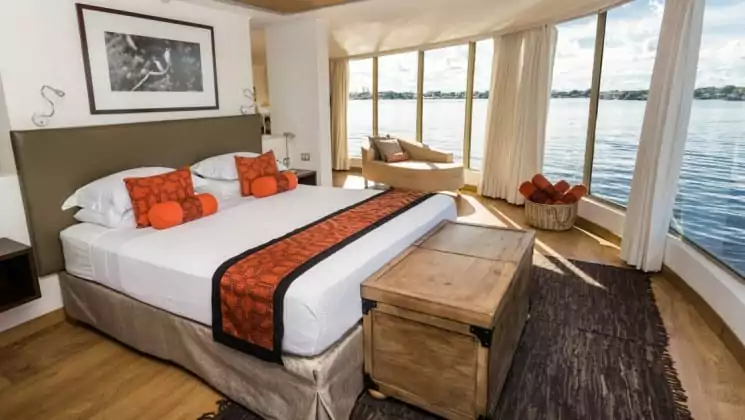 Corner Suite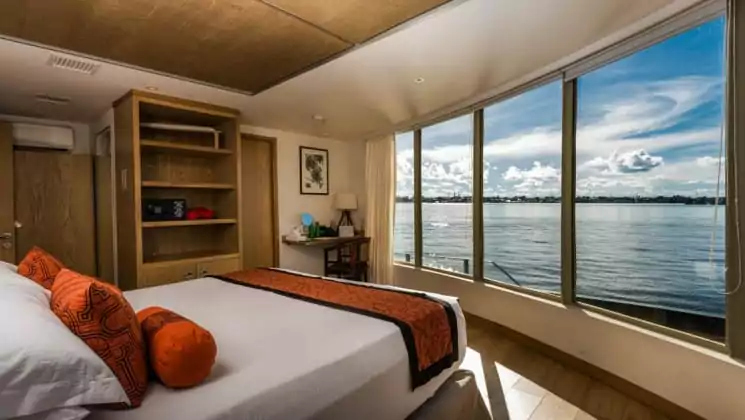 Upper and Suite Category & Bathroom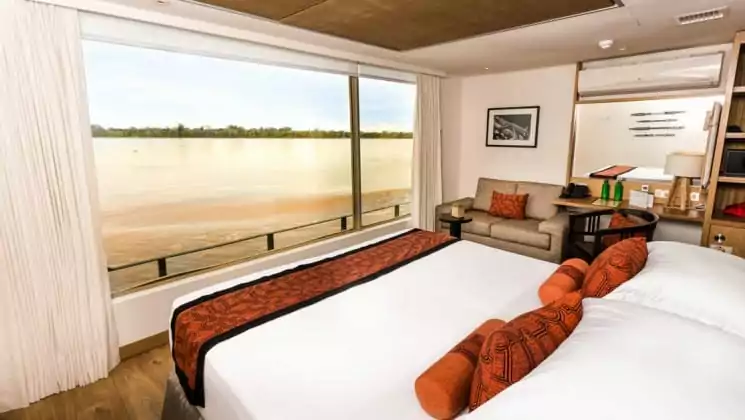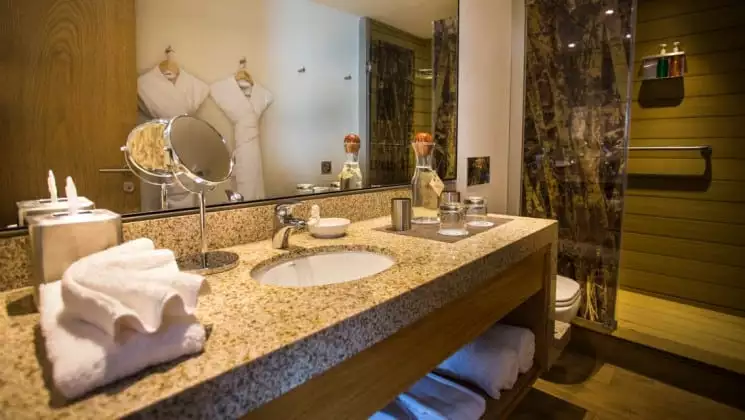 Rockstar Amazon Machu Picchu – Theme Parties
Not sure if you want to dress up in theme? Read our FAQ page and see why we think it works in your favor to get dressed up!
The theme nights for this fantastic trip are not yet available. Please check back here closer to the sailing date for the most up-to-date information about Theme Nights.
Rockstar Amazon Machu Picchu – FAQs
Is this a full ship charter?
YES, it is a full-ship charter filled with like-minded couples. This is a new option we are excited to offer to our guests who may be looking to try new destinations.
Are there playrooms etc?
Nope, Rockstars don't need playrooms to figure out how to have fun.
How about nudity?
We've been informed
Will there be other fun couples on board?
Rockstar Adventures started as a group of friends who would always coordinate their trip to the Hedo Resort in Jamaica. Since then they've started to branch out and travel the world with each other. So YES, there will be MANY fun couples, some in the lifestyle, some not, but ALL ready to party and have a spectacular time.  Read: [Is Rockstar Adventures for You?]
Is it All-Inclusive?
YES – All Meals and Drinks are included.
What IS included?
Breakfast, lunch, and dinner daily premium spirits and wines by the glass.
ALL GRATUITIES onboard


Your choice of

 

CAREFULLY CURATED EXCURSIONS


Shipwide

 

INTERNET

 

and

 

WI-FI

 

access


Onboard

 

ENTERTAINMENT

 

and

 

ENRICHMENT
How about fun, sexy Theme nights?
Yes! The organizers will have created some fun, exciting themes for our guests to partake in. Of course, these are completely voluntary. To see what they are, check out the "Themes" tab above.
Rockstar Amazon Machu Picchu – What's Included
What's Included:
1 night Opening Act in Lima, Peru (Pre-Cruise)
7 night Amazon River cruise aboard the exclusive 5-Star Delphin III
5 night Encore in the Sacred Valley, Machu Picchu & Cusco
All tours and shore excursions listed per itinerary
All meals while onboard the Delphin III
Beer, Wine & Cocktails, soda, fresh juice, water, coffee & tea onboard the Delphin III
Gratuities on the Delphin III
Transfer between airports and hotels and ship
Intracountry flights with flight assistance
Breakfast and Lunch provided daily on the Encore (Machu Picchu Tour)
3 Dinners provided on the Encore (Machu Picchu Tour)
Round trip Hiram Bingham Train
Ship wide Internet and Wi-Fi access
Rockstar Themed Events
Onboard entertainment
What's not included:
International airfare to/from Lima
Premium bottles of wine and champagne
Dinners at Hotels on Day 1, 9 & 10
Communication, satellite telephone charges
Passenger laundry
Optional shore excursions sold onboard
Any items of personal nature
Rockstar Amazon Machu Picchu – Pricing, Policies and Insurance
All Rates are total for 2 passengers after taxes.
Owners Suite $42,798 total for 2
Corner Suites $38,798 total for 2
Upper Suites 32,798 total for 2
Suites $28,798 total for 2
Reduced Fare Offer 
**Make full payment at time of deposit by Zelle or E check and your fare will be reduced by $1000 per cabin.
Rockstar Amazon Machu Picchu
– Payment Schedule
$4000 Deposit – Due at time of booking
$8000 first payment April 15, 2023
$8000 second payment October 15, 2023
Final Balance due April 15, 2024
Credit Card Payments
Credit Cards Accepted: Visa, MC & American Express
Charges will appear as: "Preferred Travel Partners"

Rockstar Amazon Machu Picchu – Cancellation policy
Cancel before April 14, 2023 penalty is $1000 per person
Cancel April 15, 2023 onwards – all payments are non-refundable. Full Penalty, No Refund.
** We strongly recommend Travel Insurance
Travel Insurance

Yikes, travel insurance is not a fun topic but a lot of you have asked…
This is about what happens if you are paid, packed and ready to go… and there is a problem.
The biggest 2 reasons people take insurance are:
Trip Cancellation
Medical Expenses or Medical Evacuation
Full Ship charters are better than regular cruises in many ways, however the penalties and potential for a loss if you have to cancel is higher. Shortly after final payment most full ship charter cruises become non-refundable. That means if you have to cancel your trip not only do you have that disappointment of a cancelled vacation, but I have to tell you you don't get your money back.
Our most popular insurance is 'World Wide Trip Protector' and provides full coverage when purchased up to 21 days after your vacation purchase.
The best value just to make sure you have coverage is 'Trip Protector Lite Expanded.'
We recommend Travel Insured – Get a quote and buy insurance  
Note: this link opens a window for Travel Insured – if you have questions pleases phone our office for assistance.
Please consider purchasing Travel Insurance
Since everyone pretty much likes me right now and I'd like it to stay that way, please consider purchasing travel insurance. Or at least don't say I didn't warn you if there is a problem.
Other coverages that take the worry out of travel:
Trip Interruption – Return air only
Trip Delay & Missed Connection coverage
Baggage Loss or Delay
Cancel for Work Reasons Options available on select policies
We strongly recommend purchasing travel insurance for your upcoming cruise. There are hundreds of circumstances that could cause you to cancel your trip, return home early or force you to seek emergency medical treatment while traveling. Travel insurance offers coverage for unforeseen problems such as, an unexpected financial change or scheduling conflict, a cancelled flight or a serious illness. You even have the option where you can cancel for any reason. We recommend Travel Insured – Get a quote and buy insurance
Why book Rockstar Amazon Machu Picchu?
Sophisticated Luxurious Immersion into Authentic Peru

Bucket List Destinations, Hotels & Train Experiences
Unimaginable sights by day, turned-up party atmosphere at night culminating in lifelong friendships and experiences to last throughout a lifetime!
A close group of awesome friends who are sure to help make memories of a lifetime!
"Rockstar Adventures is a group of like-minded adults with the goal to see the world in a fun, vibrant group environment. Sharing common interests and an open-mind. Our members contribute to a healthy, drama-free, and high-energy vacation that enhances new experiences thus creating lifelong memories and friendships."
  – Rockstar Adventures Mission Statement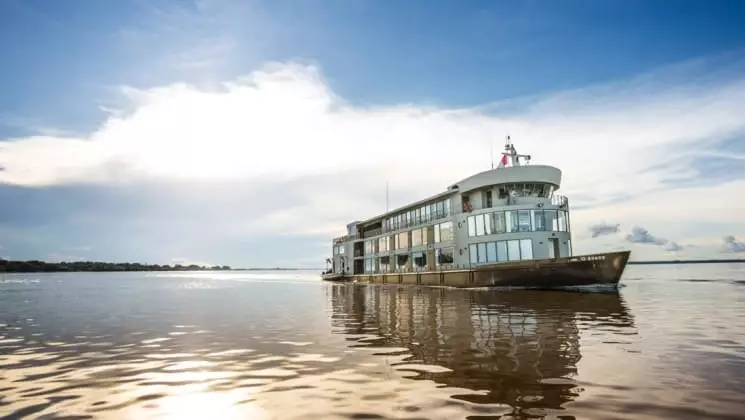 What Past Guests Have to Say About Delphin III …
Wonderful – Wanderful!
Every expectation was met. This is a world class operation with outstanding staff, guides, cuisine and pace. While we saw plenty of wildlife it is good to lower your expectations.
It is a huge jungle with thousands of species. You cannot see them all. But every minute of the boat was pure pleasure and delight.
Sailing aboard Delfin III is more like staying at a chic, floating bed-and-breakfast
Many people think they'll never have the opportunity, or the gear or the guts to explore the Amazon, but Delfin III Amazon Cruises makes it easy and  luxurious.
No mosquito netting over the bed, no rustic jungle hut, no purifying the water before you take a sip.
If you've always wanted to see this storied jungle, this is the way to do it! Great food, expert naturalist guides, interesting activities and a comfortable private cabins.
If you're adventurous and are willing to step into a world foreign to your own, and can navigate boats and jungle trails to get the most out of the Amazon, you've found a great cruise on the Delfin III.
The Delfin 3 is a very pretty boat and the staff are spectacular. Rooms are large with huge windows overlooking the river. The air conditioning quite strong and it was a relief after our time in the jungle.
I estimate 95 percent of the passengers were between 30 and 65,
Why You Should book with TSC
TheSwingerCruise.com is the only agency with ALL the cruises.
TSC Expert Agents provide first hand experience.  We have sailed on over 87 Cruises and will help you find the one that perfectly fits your style.
Our Signature 'Get Ready' program provides all the information you need before you board the ship so you can get the most out of your vacation.
Rockstar Amazon Machu Picchu
October 11-24, 2024
This will truly be a 'not-to-be-missed' Luxury Adventure!
Join this close-knit circle of friends on a voyage to through some of the most beautiful scenery in Peru.

Explore stellar destinations on the Amazon River and Machu Picchu.