Rockstar Adventures – Rockstar Douro River Portugal Facts at a Glance
51 Rockstar Couples to share the adventure with!
Portugal's Douro river is a hidden gem! This River of Gold holds sleepy villages and amazing vineyards.
Luxurious new ship launching in April 2024 – Avalon Alegria

Adults Only – Average age 45-65

Rockstar Adventures:

Boldly exploring beyond the boundaries of sexy travel! Read: 

 [Is Rockstar Adventures for You?]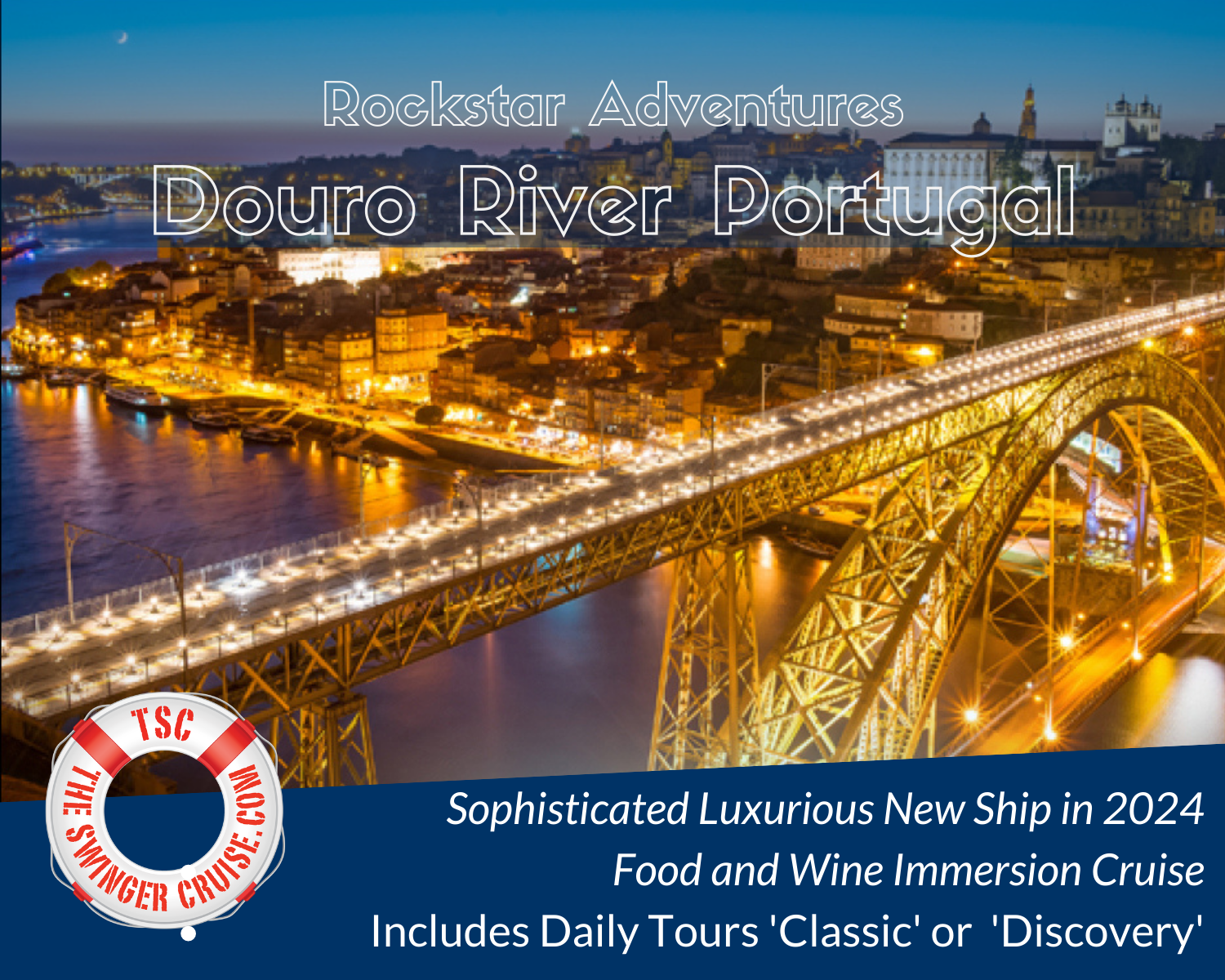 Book Now – Rockstar Douro River Portugal
Rockstar Douro River Portugal – Features
This adventure is a deep dive into everything Portugal. You will find wine discoveries like Vino Verde along the twisting countryside of the golden 'Douro' river, hauntingly soulful tradition of Fado musical performances, and enchanting cuisine. This cruise is all about inner discoveries. Of course, Rockstar Adventures are playful, cheeky and spontaneous. So you will be smiling and laughing the whole week.
This trip features the 'NEW-in-April-2024' Avalon Alegria River Cruise Ship!
Something to make you smile:  'Alegria' is the Portuguese word for 'Happiness!'
Rockstar Douro River on Avalon Alegria
The Avalon Alegria is the newest ship in the Avalon Fleet. This will be the luxurious home for 51 couples as we explore the amazing Douro Valley in Portugal. We are super excited that there are so many panoramic balconies and a pool on the sky deck!  Of course, all drinks are included on this 5-star luxury ship!
Rockstar Douro River on Avalon:  Choice Excursions 
Experience your cruise your way. Choose between three styles of activities & excursions throughout your trip:
Classic: Your expert Local Guide is ready to escort you through the history and heritage of local destinations.
Discovery: Inspiring and hands-on activities designed to speak to your interests—from cooking classes to painting workshops.
Active: Embark on energetic excursions to stay in motion and on the go.
Rockstar Douro River Local Flavors of the World
On an Avalon cruise, every meal is part of the journey. Avalon frees your tastebuds from the ordinary. Using the freshest local ingredients, our talented chefs prepare mouthwatering recipes from the regions of Portugal and present them in inspiring settings.
Choose the onboard dining venue that suits your mood – from a breezy al fresco lunch at the Sky Grill to an elegant four-course dinner in the glass-walled dining room… or maybe some type of Rockstar Signature Event Dining! 

Who are the Rockstars?
Rockstar Adventures is a lifestyle and travel brand that creates immersive adult-only travel experiences. They are building a Rockstar world where travelers share and savor surprising and delightful experiences.
Where everyone belongs.
Where everyone is loved.
Where everyone has their own story and is celebrated.
Where stories are made and everyone feels like a Rockstar!
So, let go of expectations, prejudices and reality and allow your adventurous side to let loose.
Rockstar Douro River Portugal – Itinerary
This itinerary includes .
DAY 1 – Wednesday, August 21, 2024 – Porto Portugal
Welcome to Portugal!!!
Flights into Porto must arrive by 3:00 pm. Guests must be on board by 5:00 pm.
Your day in Porto is free to explore at your leisure. You may choose to join an afternoon guided culinary tour if arriving early today. Experience some of Porto's most famous sites and most delectable dishes with regional wine. Enjoy dinner and explore the ship on your first night on board.
Overnight in Porto
D
DAY 2 – Thursday, August 22, 2024 – Braga, Portugal
Sample green wine and famous pastries with stops en route to Regua.
DISCOVERY: Step back in time within the walls of the interpretation Centre of the Romanesque with a fascinating introduction to its symbolism and architure. Enjoy an excursion with an exclusive visit to one of the most iconic monasteries of the Romanesque era with entrance to a XIII Century Church and be enchanted by sounds of Gregorian Chant from the high choir
OR
CLASSIC: Enter a world of Celtic history and the reign of Cesar Augustus where five roads diverged to form an empire with a full-day guided tour of Braga. Marvel at the magnificent castle and San Miguel church in Guimareas, a UNESCO World heritage Site. Celebrate your experience with a stop at one of the area's many wine farms and enjoy a tasting.
Overnight docking in Porto Antigo
B,L,D
DAY 3 – Friday, August 23, 2024 -Pinhão, Portugal
You have an opportunity to enjoy free time in Pinhão to browse the artisanal markets for woven textiles, terra cotta creations, and culinary delights, or consider joining an optional excursion to learn about the Douro Valley's "liquid gold" at a traditional olive oil mill.
DISCOVERY: Experience life on one of the oldest farms in the Douro Valley with a personal tour by the owner, inluding an olive oil and wine tasting
OR
CLASSIC: Take a guided walking tour of the charming town of Regua-with its religious architecture, narrow streets, beautiful tiles, and stained-glass windows of Casa do Douro. Continue to Lamego to visit the cathedral, followed by a delicious tasting of bola de Lamego and sparkling wine in a local pastry shop.
This evening, consider an optional excursion to enjoy an authentic Portuguese dinner hosted by local farmers.
Overnight docking in Pinhão
B,L,D
DAY 4 – Saturday, August 24, 2024 –  Barca d'Alva to Figueira de Castelo Rodrigo
Enjoy a relaxing cruise to Pocinho for a day in the Terra Quente region.
DISCOVERY: Discover Vila Nova de Foz Coa at the eastern terminal of the legendary Douro Railway Line. Marvel at the amazing archaeological site along the River Coa where a wealth of remarkable prehistoric rock paintings and carvings were discovered as the most significant collection of open-air Paleolithic figurations known today. Before returning to ship, enjoy a tasting of the unique wine of the region
OR
CLASSIC: Join a guided tour of Freixo de Numao. a charming village nestled betweeen the nearby mountains. Visit a local farm for a delightful wine tasting where sustainable farming practices have recovered some of the region's 100 original grape varieties.
Overnight docking in Barca D'Alva
B,L,D
DAY 5 – Sunday August 25, 2024 – Pocinho to Vila Nova de Foz Côa, Portugal
After your morning excursion, you might with to join our optional excursion to enjoy a do-it-yourself workshop to learn how to bake traditional Florinhas (Portugese Pastries.)
CLASSIC: Join our guide for a guided tour this morning to one of the most remote villages of the coutry, Freixo de Espda a Cinta village in the Douro International Natural Park, home to majestic birds of prey, OR:
CLASSIC: Ge a taste of Spain with a full-day excursion to Salamanca. This Spanish city wil take your breath away with its stunning streets and squares, featuring a feast for the eyes with Romanesque, Gothic, Baroque, and "Plateresque" architecture. Dive into a delicious dish of the traditional Spanish delicacy, toston asado (traditional roast suckling pig.)
Overnight docking in Pochinho
B,L,D
DAY 6 – Monday August 26, 2024 – Caldas de Aregos and Resende, Portugal
During your morning sailing, a professional painter will guide you through the process of painting an azulejos (traditional Portugese tile) to take home a piece of Portugal's tradition. You may alternatively join an optional excursion to 18th century Casa de Mateus — birthplace of Mateus Rose wine and a masterpiece of Baroque architecture.
CLASSIC: Join a guided sightseeing tour of Amarante — poised against a breathtaking backdrop of the great Serra do Marao mountain and the Tamega River, which courses through the heart of the city and assortment of houses lining the riverbanks.
Later, feel the passion of Portugal's soulful and stirring Fado music during a visit with local musicians on board.
Enjoy a scenic sailing to Porto for a free evening to explore the city
Overnight docking in Porto
B,L,D
Day 7 – Tuesday August 27, 2024 – Ancient Charm Meets Avant-Garde – Porto Portugal
After your morning excursion, you may choose to join a guided optional excursion such as a scenic canal cruise on the Aveiro (Venice of Portugal) or explore a family-owned factory to witness the Portuguese art of cork and barrel production. Perhaps simply spend time strolling through Porto's cobblestone lanes, lovely shops, and tempting tapas bars this afternoon before experiencing the energy of Porto's buzzing nightlife.
CLASSIC: Join a guided sightseeing tour of Porto, a UNESCO World Heritage site. Continue your experience with a ride to the riverside city of Matosinhos and up Avenida da Boavista to admire some of the modern charms of Porto — from ancient avenues to avant-garde graffiti street art, OR:
ACTIVE: Take a scenic bike ride to pedal through picturesque surroundings from Porto to the Atlantic Coast.
Overnight in Porto
B,L,D
Day 8 – Wednesday August 28, 2024 – Disembarkation – Porto, Portugal
Your cruise ends with breakfast this morning
B
Rockstar Douro River Portugal will sail on Avalon Alegria
This is a brand new ship scheduled for inaugural sailing in April 2024.
One of the cool features is a Sky Deck Pool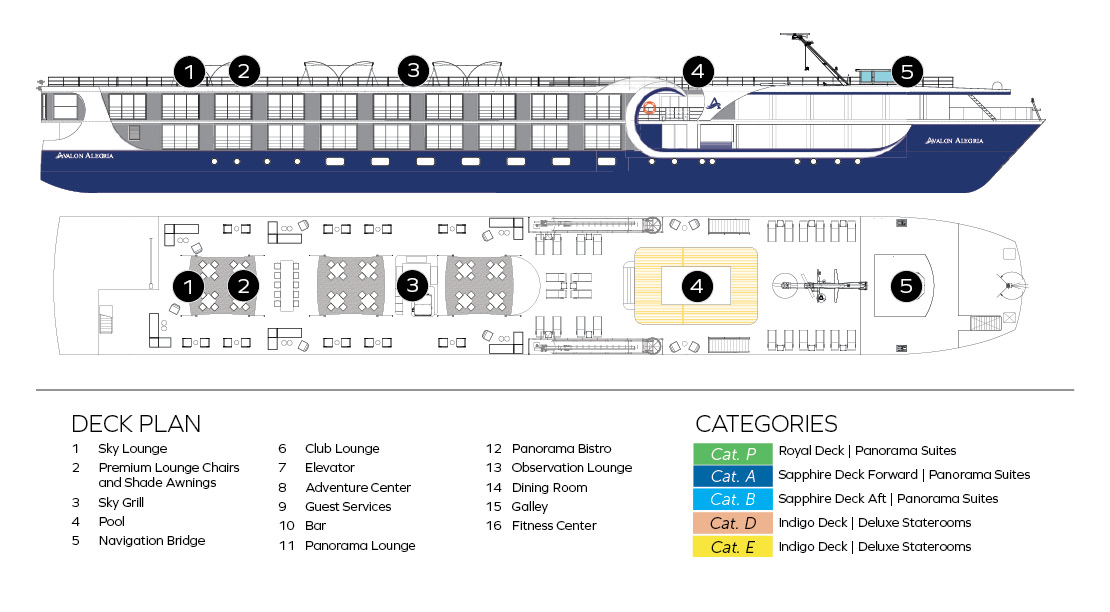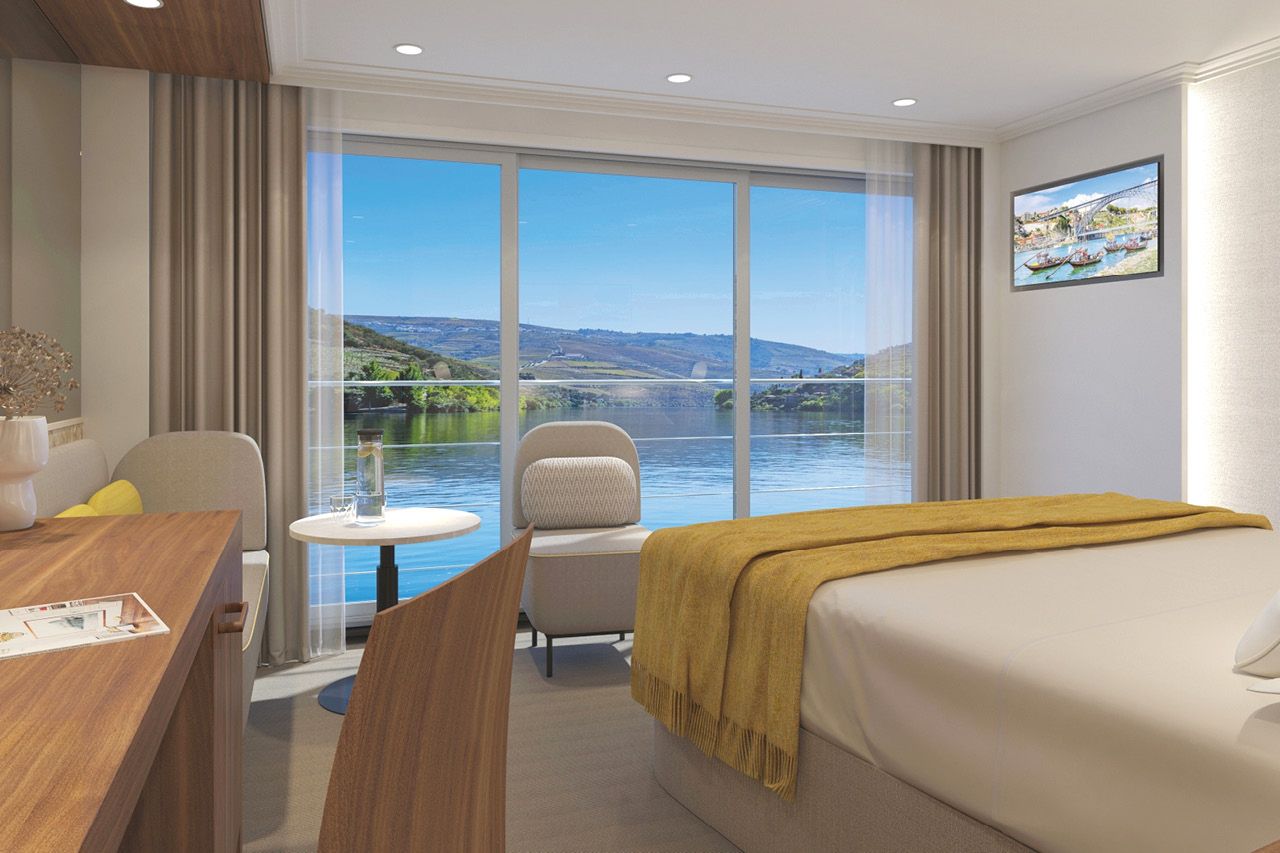 ROOM CATEGORIES
All Rates are total for 2 passengers, including taxes, fees and pre-paid gratuities.
Category P       $17,596 total for 2  – Early Booking Rate $14,698 total for 2  [Save $2,898]
Category A       $16,196 total for 2 –  Early Booking Rate $14,298 total for 2  [Save $1,898]
Category B       $15,596 total for 2 –  Early Booking Rate $13,898 total for 2  [Save $1,698]
Category D       $9,898 total for 2
Category E        $8,698 total for 2
Category P   $17,596 total for 2
Category A   $16,196 total for 2
Category B   $15,596 total for 2
Category D.  $9,196 total for 2
Category E    $8,596 total for 2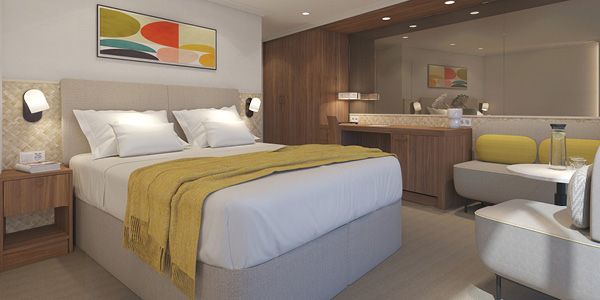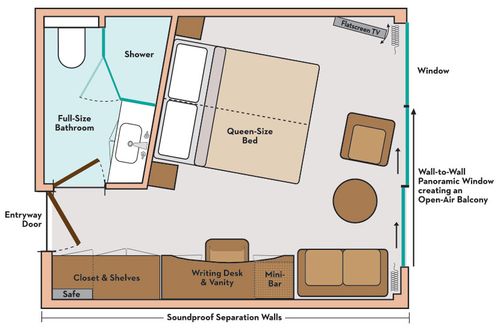 Panorama Suites
Category P 200 sq ft – Royal Deck
Category A 200 sq ft. – Sapphire Deck
Category B 200 sq ft – Sapphire Deck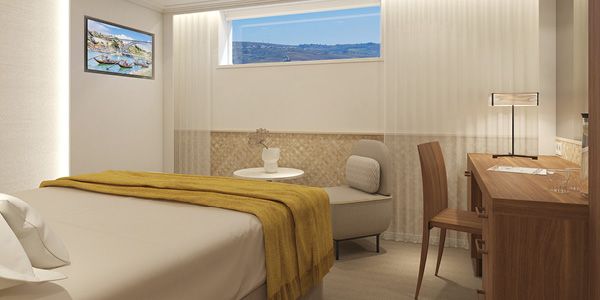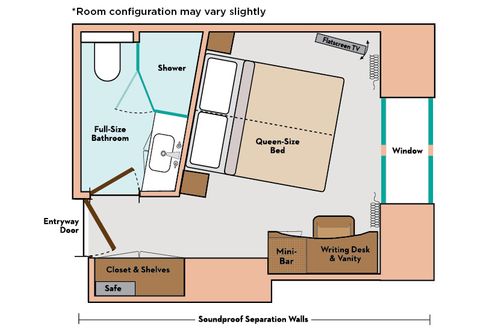 Deluxe Stateroom 
Category D 180 sq ft. – Indigo Deck
Category E 172 sq. ft. – Indigo Deck
Rockstar Douro River Portugal – Theme Parties
Not sure if you want to dress up in theme? Read our FAQ page and see why we think it works in your favor to get dressed up!
The theme nights for this fantastic trip are not yet available. Please check back here closer to the sailing date for the most up-to-date information about Theme Nights.
Rockstar Douro River Portugal- FAQs
Is this a full ship charter?
YES, it is a full-ship charter filled with like-minded couples. This is a new option we are excited to offer to our guests who may be looking to try new destinations.
Are there playrooms etc?
Nope, Rockstars don't need playrooms to figure out how to have fun.
How about nudity?
We've been informed
Will there be other fun couples on board?
Rockstar Adventures started as a group of friends who would always coordinate their trip to the Hedo Resort in Jamaica. Since then they've started to branch out and travel the world with each other. So YES, there will be MANY fun couples, some in the lifestyle, some not, but ALL ready to party and have a spectacular time.  Read: [Is Rockstar Adventures for You?]
Is it All-Inclusive?
YES – All Meals and Drinks are included.
What IS included?
Breakfast, lunch, and dinner, daily premium spirits, and wines by the glass.
ALL GRATUITIES onboard


Your choice of

 

CAREFULLY CURATED EXCURSIONS


Shipwide

 

INTERNET

 

and

 

WI-FI

 

access


Onboard

 

ENTERTAINMENT

 

and

 

ENRICHMENT
How about fun, sexy Theme nights?
Yes! The organizers will have created some fun, exciting themes for our guests to partake in. Of course, these are completely voluntary. To see what they are, check out the "Themes" tab above.
Rockstar Douro River Portugal – What's Included
What's Included:
7-night Douro River cruise on the new Douro-Exclusive Ship, Avalon Alegria
Choice of complimentary Classic, Active, and/or Discovery shore excursion options in each port
All meals and snacks while onboard the Alegria, including early riser breakfast, full breakfast, late riser breakfast, lunch, sky grill lunch on the Sun Deck (weather permitting), afternoon snack, and dinner
Picnic lunches are available to guests for independent sightseeing in port
Unlimited Premium Drink Package including in-room mini-bar
Welcome Party upon embarkation
Nightly themed parties
Use of active gear for use ashore, including Nordic walking sticks, picnic blankets, binoculars, and backpacks.
Onboard fitness center, spa, an expansive Sun Deck with a shaded system, and swimming pool
Ship-wide Internet and Wi-Fi access
Experience of a lifetime!
What's not included:
International airfare to/from Porto, Portugal
Communication, satellite telephone charges
Any items of personal nature
Rockstar Douro River Portugal – Pricing, Policies and Insurance
All Rates are total for 2 passengers, including taxes, fees and pre-paid gratuities.
Category P       $17,596 total for 2  – Early Booking Rate $14,698 total for 2  [Save $2,898]
Category A       $16,196 total for 2 –  Early Booking Rate $14,298 total for 2  [Save $1,898]
Category B       $15,596 total for 2 –  Early Booking Rate $13,898 total for 2  [Save $1,698]
Category D       $9,898 total for 2
Category E        $8,698 total for 2
Rockstar Douro River Portugal
– Payment Schedule
New Payment dates as of 3/1/2023
Deposit amount is 10% per person – $250 per person is non-refundable.

First payment of 30% of your total is due June 1, 2023

Second payment of 30% of the total is due October 1, 2023. Cancel on or after October 1, 2023 50% penalty of total paid.

Final payment is due by March 1, 2024 at which time all payments become non-refundable.
Credit Card Payments
Credit Cards Accepted: Visa, MC & American Express
Charges will appear as: "Preferred Travel Partners"

Rockstar Douro River Portugal
– Cancellation policy
Cancel on or before August 31, 2023 – Penalty $500 per person/$1000 per cabin
Cancel on or after September 1, 2023  – All payments are non-refundable. Full penalty – No Refund.
** We strongly recommend Travel Insurance
Travel Insurance

Yikes, travel insurance is not a fun topic but a lot of you have asked…
This is about what happens if you are paid, packed and ready to go… and there is a problem.
The biggest 2 reasons people take insurance are:
Trip Cancellation
Medical Expenses or Medical Evacuation
Full Ship charters are better than regular cruises in many ways, however, the penalties and potential for a loss, if you have to cancel, is higher. Shortly after final payment, most full-ship charter cruises become non-refundable. That means if you have to cancel your trip, not only do you have that disappointment of a canceled vacation, but I have to tell you you don't get your money back.
Our most popular insurance is 'World Wide Trip Protector' and provides full coverage when purchased up to 21 days after your vacation purchase.
The best value just to make sure you have coverage is 'Trip Protector Lite Expanded.'
We recommend Travel Insured – Get a quote and buy insurance  
Note: this link opens a window for Travel Insured – if you have questions, pleases phone our office for assistance.
Please consider purchasing Travel Insurance
Since everyone pretty much likes me right now and I'd like it to stay that way, please consider purchasing travel insurance. Or at least don't say I didn't warn you if there is a problem.
Other coverages that take the worry out of travel:
Trip Interruption – Return air only
Trip Delay & Missed Connection coverage
Baggage Loss or Delay
Cancel for Work Reasons Options available on select policies
We strongly recommend purchasing travel insurance for your upcoming cruise. There are hundreds of circumstances that could cause you to cancel your trip, return home early or force you to seek emergency medical treatment while traveling. Travel insurance offers coverage for unforeseen problems such as, an unexpected financial change or scheduling conflict, a canceled flight or a serious illness. You even have the option where you can cancel for any reason. We recommend Travel Insured – Get a quote and buy insurance
Why book Rockstar Douro River Portugal?
Brand New Luxurious Ship

Choose between three styles of activities & excursions: Classic, Active & Discovery!
Unimaginable Food and Wine Immersion and with amazing sights by day, turned-up party atmosphere at night culminating in lifelong friendships and experiences to last throughout a lifetime!
Rockstars are fun! They contribute to the vibe, are accepting and playful.
"Rockstar Adventures is a group of like-minded adults with the goal to see the world in a fun, vibrant group environment. Sharing common interests and an open-mind. Our members contribute to a healthy, drama-free, and high-energy vacation that enhances new experiences thus creating lifelong memories and friendships."
  – Rockstar Adventures Mission Statement
What Past Guests Have to Say
The Douro Valley is a Wine Wonderland!
The ancient Romans knew a lovely location when they saw one. Two millennia ago they found a delightful spot on the Douro River, planted vines, and founded Porto.
We came to drink the splendors of those vines! And it's way more than just Port!  Althought that is really spectacular. We learned a whole new wine vocabulary on our visit to the Douro Valley!
I'm returning for more of what I love!
On TSC's VIP Pre-Cruise in Lisbon, I fell in love with Portugal!  Lynn gave us a gift of a traditional painted tile and I've been enchanted ever since!   There was an option for tile painting but the opportunity just slipped away from me on that trip. When I saw it offered on this cruise, my heart just said – Let's Book it!
I love that Rockstars are giving me what my heart desires!
I just find NEW ships super sexy!
It might be a bit of a fetish, but I love the exciting features of new ships.  If it's new, I'm in!
I'm sure the NEW Avalon Alegria will tickle all my new-ship-buttons, and my husband will enjoy the sexy crowd and the fantastic food and wine destinations!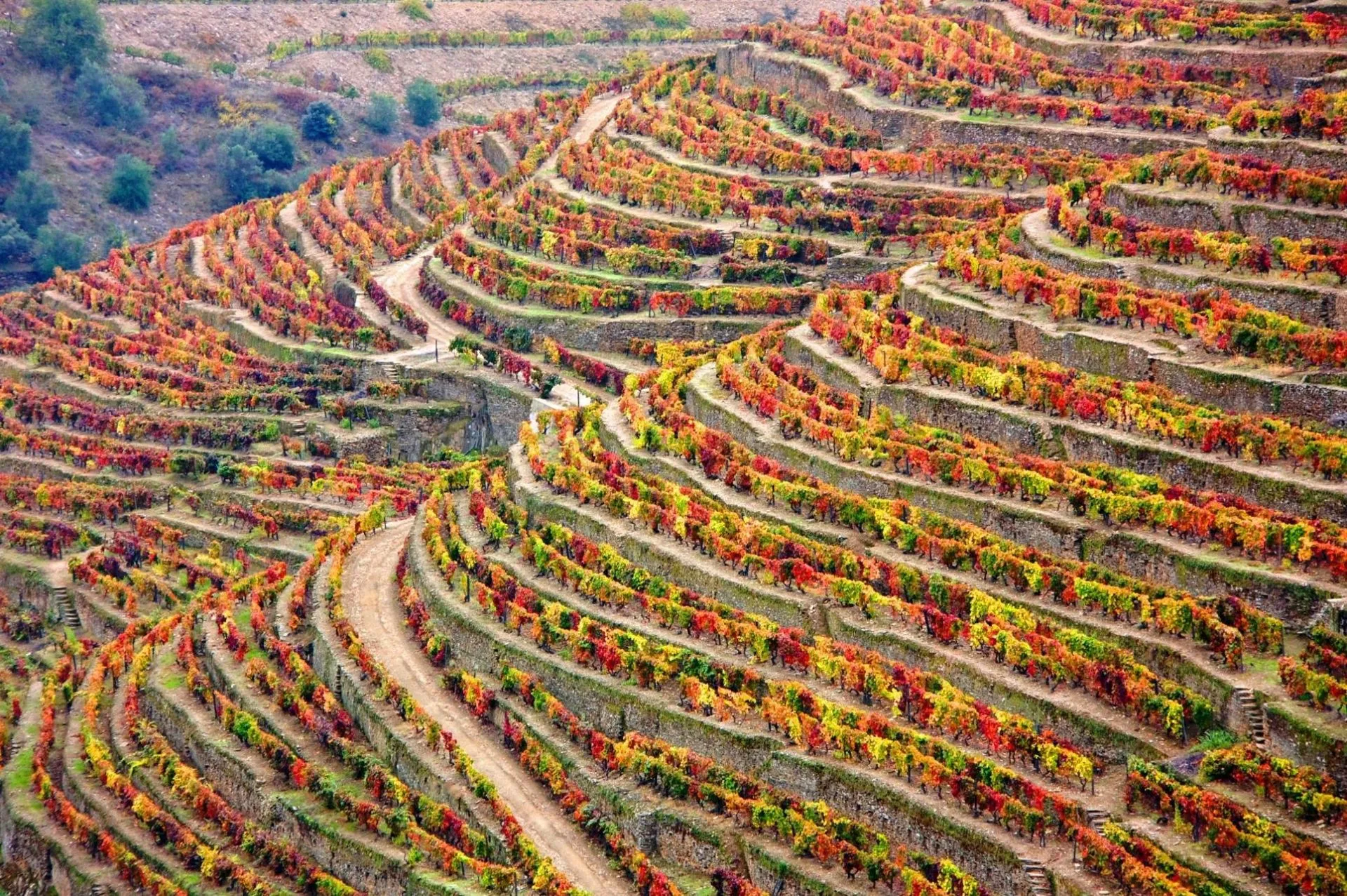 Why You Should book with TSC
TheSwingerCruise.com is the only agency with ALL the cruises.
TSC Expert Agents provide first hand experience.  We have sailed on over 87 Cruises and will help you find the one that perfectly fits your style.
Our Signature 'Get Ready' program provides all the information you need before you board the ship so you can get the most out of your vacation.
Rockstar Douro River Portugal
August 21 – 28, 2024
This will truly be a 'not-to-be-missed' Luxury Adventure!
Join this close-knit circle of friends on a voyage to through some of the most beautiful scenery in Portugal.

Explore stellar destinations on the Douro River.