Silhouette Bliss Cruise – November 2015


Priority Waiting List Available – Phone 215-268-3202
Bliss Cruise promises to be the newest Couples Only Lifestyle Cruise. This very popular cruise is Sold Out. Sailing November 29 – December 6, 2015 on the Celebrity Silhouette from Fort Lauderdale for a 7 day Caribbean Itinerary.

Silhouette Bliss Cruise Itinerary – November 2015
| | | | |
| --- | --- | --- | --- |
| Date | Port Location | Arrive | Depart |
| Sun, Nov 29, 2015 | Port of Ft. Lauderdale, Florida | | 4:30 PM |
| Mon, Nov 30, 2015 | At Sea | | |
| Tues, Dec 1, 2015 | At Sea | | |
| Wed, Dec 2, 2015 | Casa de Campo, Dominican Republic | 7:00 AM | 5:00 PM |
| Thurs, Dec 3, 2015 | Samana, Dominican Republic | 7:00 AM | 3:30 PM |
| Fri, Dec 4, 2015 | Labadee, Haiti | 10:00 AM | 4:30 PM |
| Sat, Dec 5, 2015 | At Sea | | |
| Sun, Dec 6, 2015 | Port of Ft. Lauderdale, Florida | 7:00 AM | |
* All itineraries are subject to change without notice.
Bliss Cruise Itinerary – New Ports
Three stops all on the same island? What fun will that be?
Experienced island travelers and Swinger Cruisers will quickly see the genius to this plan.
Cruising around the island practically guarantees calm seas.
We hope this means more deck parties! Wind and waves can put a damper on the outdoor party. Since Bliss Cruise won't be making a long haul to a new destination at night we expect calm seas for night time fun.
Something new! We haven't visited Casa de Campo or Samana by ship before.
Three unique flavors. Upscale Resort Casa de Campo, Barefoot Samana and the Cruisers Only Haven of Labadee.
Wondering what these new ports are like? Where is the Dominican Republic? Samana & Casa De Campo? Read the Bliss Cruise Dominican Republic Mega Post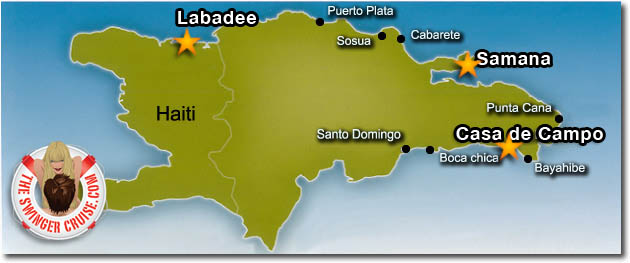 Never heard of Casa De Campo? Well there is a good chance you may have been dreaming of is since your younger days of paging thru the Sports Illustrated Swimsuit Edition. Casa de Campo was the featured back drop in 1971 & 1978.
This former sugar mill property is now a 7000 acre tropical resort village. Situated on the southeast coast of the Dominican Republic Casa de Campo has been know as THE luxury spot in the DR for over 30 years. Of course it's hosted celebrities and Oscar de la Renta was hired to do the interior design. This resort is truly a village.
Over 70 restaurants, shops & bars
Golf: The famous Teeth of the Dog, Dye Fore & Dye Fore Lakes.
400 berth marina designed to resemble Portofino Italy.
Silhouette Bliss Cruise Theme Parties– November 2015
In the planning meeting January 26, 2015 Bliss Management released this tentative list of official themes for the Bliss Cruise 2015. They have some great ideas and welcome cursers to consider it more of a theme for the day, rather than just the theme for the party at night. They asked that we let guests know that themes could change slightly and are tentative at this time.
Sunday
Roman Orgy Toga Party
Gladiators, Gods and Togas are key for our version of the Roman Bath
Monday
Formal – Roaring 20's Formal Party
Go formal or go 20's or both!
Tuesday
Wild Wild West
Cowboys, Indians and Ladies with Parasols.
Wednesday
Glow Panty Rave
Anything that glows in this up all night rave.
Thursday
Informal or ABC (Anything But Clothes)
Anti-formal wear or anything but clothes – get creative!
Friday
Fetish Friday
Get you freak on and show off you wild side
Saturday
Holiday Tease Party
Elves, Snowmen and Dreidels and a turn on Santa's Lap
Silhouette Bliss Cruise Cuisine – November 2015
| | | | |
| --- | --- | --- | --- |
| Ocean View Cafe | Buffet serving breakfast, lunch, dinner + late night | | deck 14 |
| Grand Cuvee | Main dining room: breakfast, lunch + dinner on Sea Days Breakfast + dinner on Port Days | | deck 3 deck 4 |
| Aqua Spa Cafe | The perfect spot for a healthy breakfast or lunch | | deck 14 |
| Blu | Specialty Restaurant for Aqua Class Guests with a healthy living focus Serving breakfast + dinner | | deck 5 |
| Mast Grill | Burgers & dogs grilled to order | | deck 15 |
| The Porch | Outdoor lunch on the lawn, lovely! | $ | deck 15 |
| Bistro on 5 | Crepe house open from 6 am until midnight. Sweet and savory crepes + soups, salads, deserts | $ | deck 5 |
| Cafe as Bacio | Specialty Coffee bar with small bites and delicious treats | $ | deck 5 |
| Gelateria | Gelato. Need we say more? | $ | deck 5 |
| Cellar Masters | This wine bar offers a small selection of hot & cold tapas | $ | deck 4 |
| Murano | A modern take on French Continental cuisine | $$ | deck 5 |
| Tuscan Grill | Bold flavors abound in this Italian Steakhouse's rustic dishes | $$ | deck 5 |
| Qsine | A gourmet journey with playful whimsical approach to familiar food | $$ | deck 5 |
| Lawn Club | Outdoor grilling with cosmopolitan flair for dinner under the stars. Guests can mak their own flatbread pizza and grill their own steaks. | $$ | deck 15 |


Main Dining Room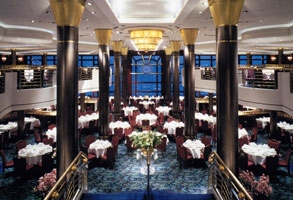 The Main Restaurant is the centerpiece of our immersive and enriching range of culinary experiences. We're proud to present an unparalleled wealth of choices every evening. Working literally around the clock, the galleys delight in sending out artfully presented dishes, every delicate micro-green garnish perfectly in place.




Murano Restaurant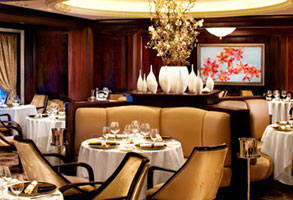 Impeccable service, classic design, world-class cuisine and comfortable sophistication are celebrated to the utmost in Murano. Experience tableside lobster presentation, an expansive selection of artisanal cheeses from around the world, or the extensive American and French wine list. Charming and timeless, Murano transports you to a modern and sophisticated level of dining.





Lawn Club Grill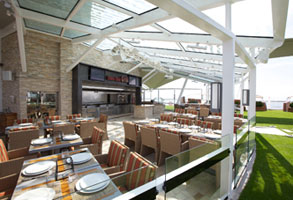 Fire up your culinary passion. The bright and modern Lawn Club Grill celebrates the flavorful joys of outdoor grilling. The highlight of dining at the Lawn Club Grill is the opportunity to serve as your party's "Grill Master", by being paired with a Celebrity chef to assist in preparing the menu for your table over custom-built, ventilated grills.





Qsine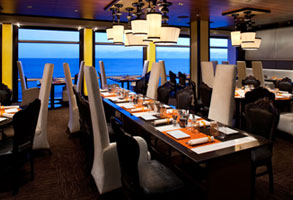 Qsine® is a unique and extraordinary experience with elements of surprise and delight. Our concept behind Qsine was to give you something you've never experienced before on land or sea. Leave any preconceived notions behind. Dig in and try new things. It's time your palate got a wakeup call. Our iPad® menus are fun, interactive, and full of surprises.
Silhouette Bliss Cruise Accommodations – November 2015
After all that fun you will need someplace to sleep!
Bliss Cruise Suites – SOLD OUT
Bliss Cruise Balcony Categories
Aqua Class with Balcony – Concierge Class with Balcony – Balcony
Bliss Cruise Cabins
Oceanview – Interior – SOLD OUT
Silhouette Bliss Cruise What's Included– November 2015
What is included??
7 Night cruise with 4 Ports of Call
Breakfast, Lunch and Dinner (all meals) (Dine anytime )
Entertainment
Port charges
Sexually themed parties
Playrooms
Daily Activities
Fitness room
24 hour room service
coffee, tea, ice cream, and pizza.
What is not included?
Specialty Restaurant
Shore excursions ( Optional and range from a variety of choices )
Spa services, and some fitness classes (Pilates, Yoga)
Alcohol and Beverages
Gratuities on Alcohol and beverages ( automatically added to your bill )
Photographs ( optional to have taken … such as formal night)
Gift shop items
Vendor items
Casino Gambling, Wedding services
Bliss Cruise Excursions
Click here for Bliss Cruise Shore Excursions Brochure
Teeth of the Dog Golf
Teeth of the Dog Golf Course Port: Casa De Campo, Dominican Republic Tour
Date: December 02, 2015
Minimum: 4 Maximum: 12
Duration: 5 hours Guest Price: $349.00 USD per person Tour
This Excursion will sell out fast if you are interested pleases call ASAP 877-348-6570Description: Ranked as the number one course in the Caribbean and 43rd in the top 100 courses, worldwide, by Golf Magazine, Pete Dye´s classic Teeth of the Dog attracts the best professional and amateur golfers in the world. Play 18 holes with 7 of them being directly on the Caribbean Sea.Notes: Tee times will be 3 groups with 4 golfers max. A caddy is mandatory and fees will be paid in cash at the end of the round to the caddies.Rates of the Caddies: 1-2 players – $25.00 USD, plus tips 3-4 players – $40.00 USD, plus tips
Rental rate for the golf clubs: $55.00 USD+ 18% itbis (to pay directly to the golf course)
Rental rate for the shoes: $15.00 USD + 18% itbis (to pay directly to the golf course)
Beach Break at Saona Island & Natural Swimming Pool
Port: Casa De Campo, Dominican Republic Tour
Date: December 02, 2015
Minimum: 20 Maximum: 450
Duration: 7 hours Guest Price: $120.00 per person
Tour Description: From La Romana port, you will board an a/c bus for a half hour ride to meet your boats. Your tour will take you on a relaxing catamaran ride or an adrenaline-inducing speedboat ride, along the Dominican eastern coast where you can admire the scenic coastline and the crystal clear waters. They stop and welcome you at a wonderful Caribbean beach at Saona Island. A welcome drink in hand; enjoy a good swim in the calm, blue waters, participate in some of the beach activities available, work on a suntan or just relax while enjoying some refreshing soft drinks. At lunch time you'll enjoy a Caribbean-style, delicious buffet, and some more relaxing time to enjoy this gorgeous beach. If you came in the catamaran, you'll ride back in speedboat and vice versa. You'll make another stop at a lovely place called "the Natural Swimming Pool" because of its extraordinarily calm waters, three feet depth, and quiet swim. This will be a good relaxing time to prepare yourself before your boat ride back to Bayahibe. From there you board the a/c buses again to travel back to the La Romana Cruise Port.
Bliss Cruise is Playroom-Palooza!
Just back from the ship inspection tour and planning meeting, Lynn declares that Bliss Cruise is a Playroom-Palooza! In the works are a 24 hour outdoor playroom + the world's largest floating playroom + Enormous Fetish Area + a special secret playroom for Aqua Class only!
Plans are still being finalized but what we saw in the works so far simply blew us away! We really haven't seen anything like this before it's really 'outside the box' thinking. The plans are super sexy and designed to give you exactly what you want. More access to play served up just the way you want it! Our clients have given us tons of playroom feed back and Bliss Cruise is really going for it! Go ahead, think thru your playroom wish list… they probably have it in the plan!
Outdoors. All day. All night. Imagine the feel of a caribbean breeze on your naked body – the warmth of the sun or the shadow of moonlight. Making new friends on the pool deck and when that spark of chemistry hits, heading straight up the stairs to the open air 24×7 outdoor play area on decek 16. Play will only be restricted in port per local authorities.
Indoors. By night the solarium will transform into the worlds largest floating playroom. Beautiful decor with 75 + queen size beds. Group areas and individual areas. And something about jumbo TV's? Cool!
Aqua Class Secret Playroom Bliss has added a special perk for Aqua Class, a private play area on deck 11 forward for Aqua Class Guests Only.
We like it kinky! What a pleasure to have a fetish play room where the plan is to allow both kink and sex – together at the same time! Brilliant! Deck 14 Sky Conference Center Forward.
Newbies 101: Sexier and More Connected
Free Class taught by Lynn
Monday – Day 2 from 1:15-2:30 pm
Celebrity Central Theater on Deck 4
Is this your first cruise? Do you consider yourself a 'new couple?'
This is the best hour you can spend to get the most out of your cruise. Plus you will pick up useful information like:
*How to get what you are looking for.
*How to make a pitch, how to tactfully turn one down if its not what you really want.
*The top 5 things to NEVER DO!
*And Lynn's easy to use, never fail, works every time pick up line.
It's also a great place to meet other new couples.
Silhouette Bliss Cruise Policies – November 2015
Payment Schedule
For bookings on or after October 17, 2014:
Deposit due at booking
1st Payment: Due on or before December 15, 2014
2nd Payment: Due on or before March 15, 2015
Final Payment: Due on or before May 1, 2015
* Payment schedule will be adjusted accordingly as we pass the dates set above.
Cancellation Policy/Fees
Up to December 1, 2014: Full Refund
Dec 2, 2014 – Mar 1, 2015: $150.00 pp ($300 pp for Suites)
Mar 2, 2015 – Jun 1, 2015: $250.00 pp ($500 pp for Suites)
After Jun 1, 2015: NO REFUND
Silhouette Bliss Cruise Travel Insurance– November 2015
We strongly recommend purchasing travel insurance for your upcoming cruise. There are hundreds of circumstances that could cause you to cancel your trip, return home early or force you to seek emergency medical treatment while traveling. Travel insurance offers coverage for unforeseen problems such as, an unexpected financial change or scheduling conflict, a cancelled flight or a serious illness. You even have the option where you can cancel for any reason.
We recommend Travel Insured – Get a quote and buy insurance
Silhouette Bliss Cruise FAQ– November 2015
Important if you are Booked on Bliss
FAQ Reservation Numbers, Drink Packages, Bag Tags Q. Where do I do my online checkin? A. CelebrityCruises.com under the 'Already Booked' section.
Q. What booking number do I use to complete online checkin? A. All Celebrity Reservation Numbers have been emailed to clients along with instructions for online check in. If you don't think you have your Celebrity Reservation Number please phone us. And we agree, it's a little confusing. You have 3 different numbers to choose from. You have an booking/invoice number from TSC (that's not it.) You got a booking/invoice number from Bliss Cruise on their automated invoice (that's not it.) The number you need is the Celebrity Reservation Number.
Q. Where are my cruise tickets? A. We won't be mailing documents or tickets. This is all online. You use the information we are providing to go online at Celebrity Cruises to check in and print your boarding pass.
Q. Where do I find information and book Tours and Drink Packages? A. The key to unlocking all tours, dinner reservations, drink packages can be found on CelebrityCruises.com You will only access that information after you complete your online check in.
Pre-reserve spots in the specialty restaurants.
Book excursions; especially the clothing optional catamarans in Labadee.
Get tee times for the world famous "Teeth of the Dog" golf course in Casa de Campo
Reserve cabanas on Adrenaline Beach in Labadee.
Book an alcove on the Lawn Club for a day on Deck 15 (designed for 6 people).
2. Drink Packages: After you complete online check in you can also book the all-inclusive drink packages:
Premium Package – $69 per person/per day + Gratuity
Classic Package – $59 per person/per day + Gratuity
3. Baggage Tags: 49 days before sailing, you can order luggage tags.
Silhouette Bliss Cruise Pre-Cruise Hotel & Party – November 2015