Virgin Voyages – Facts at a Glance
Irresistible Med Itinerary:

Barcelona • Toulon • Marina di Carrara • Ajaccio • Cagliari • Ibiza • Barcelona

Adults Only

This cruise is a good fit for: Fun-minded people, open-minded adults looking for a fun, classy party atmosphere with good food and new concepts!

We are organizing a circle of sailors (we love the innuendo!!) but actually, that's Virgin Voyages' way of calling our group of like-minded friends who enjoy the finer and more fun things in life.

This is not a full-ship charter or a swinger cruise but it's going to be an AWESOME experience!

Join Miss Lynn & Friends in the Med.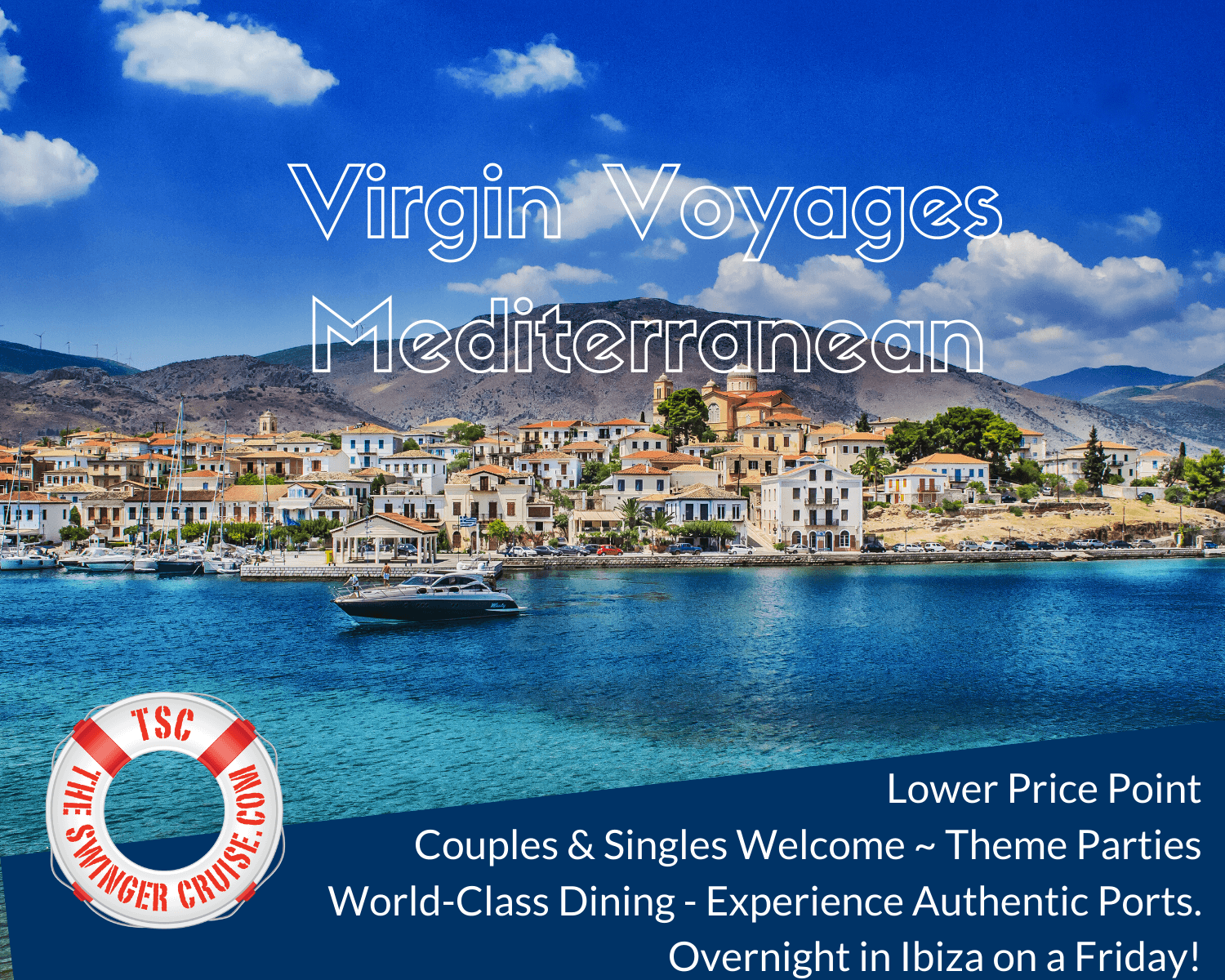 Virgin Voyages Mediterranean – Frequently Asked Questions
We heard about you on the New Years Ahoy – will this be the same thing?
On VV-NYE we were fortunate to have guests who booked all of the top suites and agreed to host parties.  On this cruise we have a few suites but its a smaller start so far.  That said we know it's bound to be the same type of wonderfully fun people.  Since no two happenings are ever the same, bring your sense of adventure and join us!
Is this a full ship charter swinger cruise?
No, not this time. This trip will be a group of like-minded couples on the hottest new offering on the water. So naturally, we want to be there an awesome circle of friends.
Are there playrooms etc?
Nope again, this is NOT a Swingers Cruise. It is the latest cutting-edge release for cruising and we think YOU will love it.
Will there be other fun couples on board?
We think everyone who books a Virgin Voyage and this event will be FUN.
Expect to meet people who love adventure, fantastic entertainment & top-notch service.
Are you Open to an Epic Sea Change?
Everything about this voyage is redefining cruising.
Does More Inclusive sound good to you?
We think it does. Expect more inclusive lifestyles, dining & entertainment.
What Clients Who are Booked are Saying:
I can't wait until this trip! It's all he and I have been talking about! I think it's going to fill that gap between a full swinger charter and a vanilla cruise. And besides, what says we can't turn a suite into a playroom with the right people 😂
—B & H in New Jersey
I saw Richard Branson on TV talking about the new cruise line – It looks SO cool.  I booked as soon as you emailed us to let us know we could get on the cruise with this group!
— R & J in Tampa
From what I've heard from Lynn, I'd say Virgin Voyages isn't 'vanilla' but also NOT a swinger cruise. This cruise line seems like it's about being an adult playground for the open-minded adult looking for a fun, classy party atmosphere with good food and new concepts! I mean, where else can you find a drag queen brunch at sea?!
–– S & T in NYC

We met Richard at a wine festival a few years ago.  What a GREAT guy!  As soon as you emailed us about the trips you're organizing we knew it is something we need to get on!  Classy, Upscale & Lots of fun! We love the way TSC operates.
— C & M in Boston, MA
Virgin Voyages Mediterranean – Irresistible Med Swinger Cruise
We currently have great groups of friends (circles as they are called by Virgin Voyages) booked on this (and other) highly anticipated cruises planned for late 2021.
The Irresistible Med is a sampling of the Med and its islands. Travel the French Riviera and Ibiza before wandering Tuscany's countryside. Encounter royal beauty on the island of Corsica before the Italian island of Sardinia competes for the crown and an overnight on the Ibizan isle takes it home.
Virgin Voyages Mediterranean with The Swinger Cruise
July 24 – 31, 2022
Day 1 Sunday Barcelona – Departs at 06:00 PM, local time

Day 2 Monday 

Toulon

 – 08:30 AM – 06:00 PM, local time

Day 3 Tuesday 

Marina di Carrara

 – 08:00 AM – 08:00 PM, local time

Day 4 Wednesday 

Ajaccio

 – 08:00 AM – 06:00 PM, local time

Day 5 Thursday 

Cagliari

 – 09:00 AM – 06:00 PM, local time

Day 6 Friday 

Ibiza

 – Arrives at 06:00 PM, local time

Day 7 Saturday 

Ibiza

 – Departs at 06:00 PM, local time

Day 8 Sunday 

Barcelona

 – Arrives at 06:30 AM, local time
What we like about this trip:
We love Barcelona and think it makes a perfect home base for both before and after explorations.
Friday Night Overnight in Ibiza!!!
A great, cool, and social group of friends on an Adults-only Cruise
Most of our couples are booked in suites. It's so affordable!
Shore Excursions
You can pre-book tours and excursions on the Virgin Voyages app prior to sailing! 
Rockstar and Mega Rockstar Suites 135 days prior to travel
All cabins 120 days prior to travel
Take a look at the Shore Excursions: Caribbean+Shore+Things+Sneak+Peek 
Virgin Voyages New Years Eve – Theme Parties
Meet Scarlet Night!
One of the questions being frequently asked is how will Virgin Voyages compare to our other cruises, such as a Bliss Cruise? We think an epic theme party will be one exciting point that the two share in common.
"Scarlet Night" is Virgin's signature theme party that will be offered on every sailing. If you can, go all out for this one, we know the sailors and crew for Virgin Voyages will! Expect spectacular performances, outrageous scarlet costumes, and pulsing music to get you up and moving!
Here is a photo we found from Cirque du Soleil's Nightclub in Vegas. It's our inspiration for what the Virgin Voyages Scarlet Night Party will feel like. The lights, the acrobatics, the environment…We can't wait!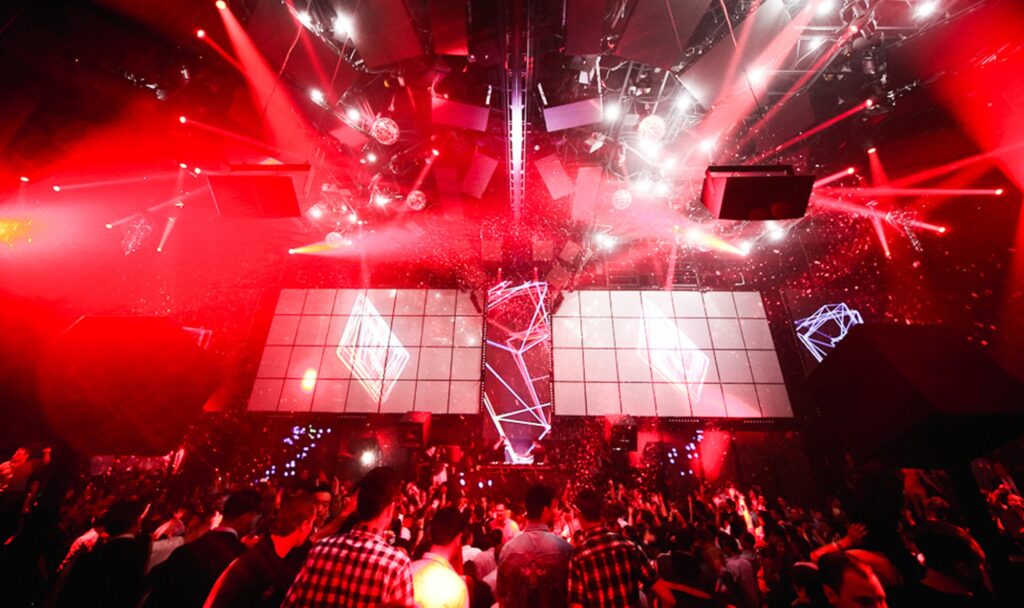 Virgin Voyages Mediterranean – Ship Details & Virgin Attitude
The design of Scarlet Lady is a big part of what will set Virgin Voyages apart from all other ships.
It seemed to start with the simple question, 'What don't people like about cruises?'
Virgin Voyages then sought the answer and solved it by not looking within the cruise industry, but at culture.  What do people really LOVE?  The simple solution… they decided to do that instead of the same old – same old.
Here are a few of the things we LOVE about the Scarlet Lady preview:
Adults-only
A sports bar where you can watch 'live sports' instead of TV's
More than 20 places to grab a bite to eat with no 'extra-fee' restaurants
Themed Bars in the restaurants… you know, like they are on land.
Rooms Designed for Entertaining – mood lighting, more space, and daytime/nighttime furniture arrangement.
More Inclusive Fares include basic drinks (soda, bottled and sparkling water, juices, drip coffee, and tea)
The majority (86 percent) of cabins will have balconies, and 93 percent will offer ocean views
All the balconies have a hammock!
Gratuities are included.
The first-ever Tattoo Studio at sea
Unlimited Group Fitness Classes
Free WI-FI! And super cool apps to plan your days and nights
Ships employees are paid full wages (they are no longer surviving on your tips alone)- we love that Virgin is treating the staff that makes vacations so special so much better than other cruise lines.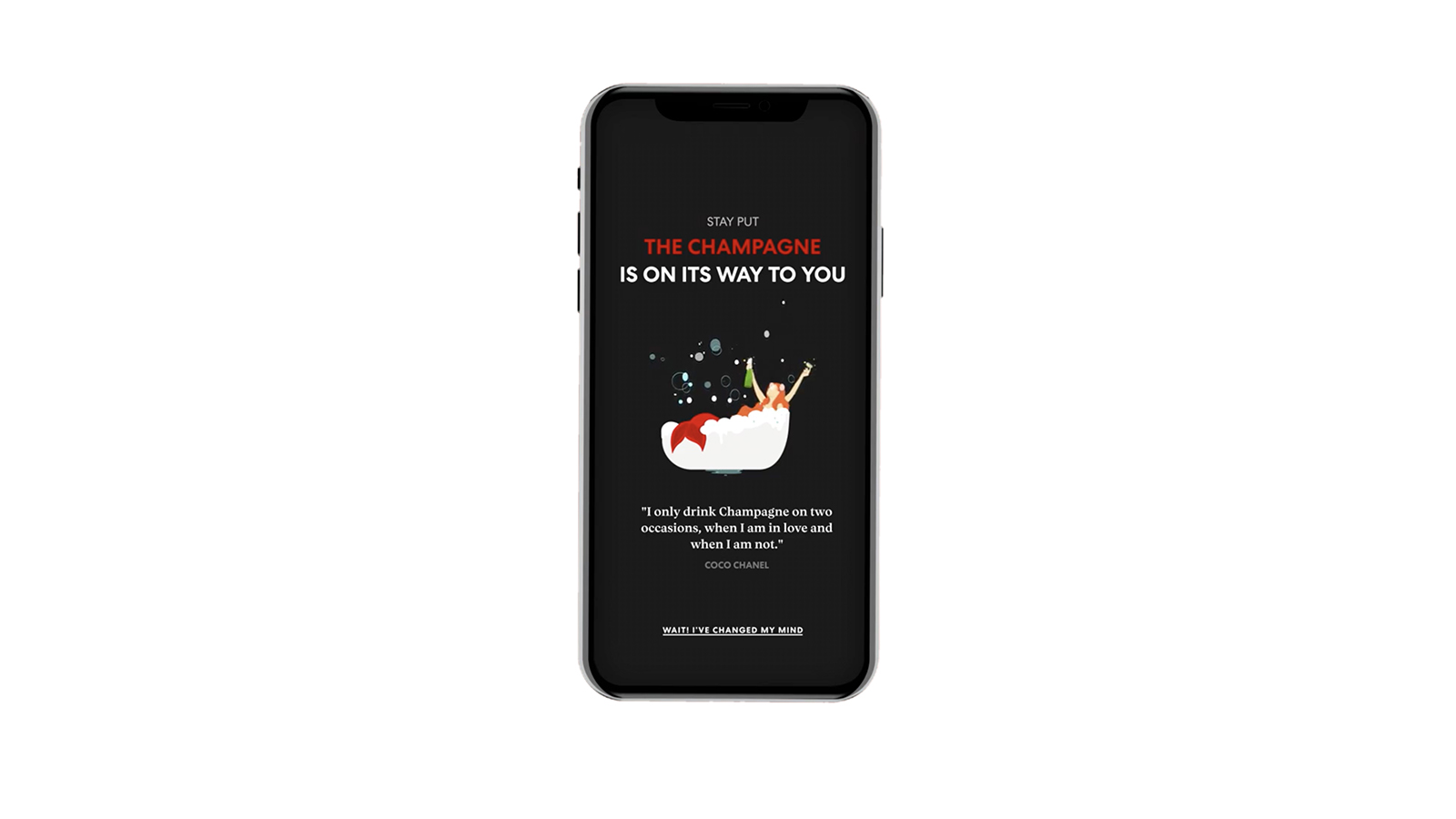 Virgin Voyages App
Everything about your cruise will be on the app. This will be your control center for everything happening on the ship.
Online Check-In happens on the App.
Important Dates for all of our Virgin Voyages
Tours & Excursions can be booked on the app
– Rockstar & Mega Rockstar Suite Guests: 135 days prior to travel
– Stateroom Guests: 120 days prior to travel
Dinner Reservations can be booked on the app
– Rockstar & Mega Rockstar Suite Guests: 60 days prior to travel
– Stateroom Guests: 45 days prior to travel
Of course, you can book tours on board too! Or maybe you don't even want a dinner reservation and prefer to just go with the flow.  Just because you CAN make a reservation, doesn't mean you have to know what you want to eat and at what time a month in advance. 😉
Shake for Champagne
Already talked-about is the innovative 'Shake' feature SHAKE FOR CHAMPAGNE™
Virgin Voyages is giving you one more reason to celebrate all of life's moments with its on-demand delivery service, Shake for Champagne™. When the Virgin Voyages Sailor App is shaken, a secret Virgin Voyages Champagne button is revealed and, with just one press, a bottle of Möet Chandon Impérial® will be delivered to the Sailor.
Check out the shake video:  https://youtu.be/w4mVOBBysx4
Virgin Voyages Mediterranean – What's Included
More Inclusive is a big part of what sets Virgin Voyages apart.  Of course, there is the obvious more inclusive 'stuff' in your cruise fare.
Basic Bevvies: Still and Sparkling Waters, Juices (except cold pressed), drip coffees, teas and sodas
All Dining with 20+ choices such as "Extra Virgin" or "Lick Me Til Ice Cream" – You can see why we think our crowd will enjoy this ship
Wi-Fi – Oh Thank GOD… I hate this nickel & dime charge on other cruises.  And I hate not having my smart phone.  Problem solved! And we read they have their own satellite… so hopefully, it's speedy WI-FI too!
In addition to the inclusive 'stuff' Virgin seems to embrace an inclusive attitude about people and lifestyles too.  At the VIP High-tea event at World Trade Center in Feb 2019, Richard Branson proudly acknowledged from the stage an LGBT-couple celebrating a landmark anniversary.
The Virgin philosophy embraces diversity.  Celebrating people for who they really are.  This inclusive spirit is part of why we feel that Virgin Voyages is going to be such a popular choice among our cruise clients.
Dining on Virgin Voyages
Dining features over 20 eateries – these are just a few of them to whet your appetite!
STEAK & SEAFOOD – 
The Wake
The perfect mix of sophistication, nostalgia and cool — entering The Wake is an event in and of itself. And once you've made your way down the grand staircase, you'll enter a world that harks back to the old steakhouse, three-martini-lunch days of Madison Avenue ad men. But ya know, now with, thankfully, gender equality. And less cigar smoke.
FEATURES
Table service only
Cocktail trolley
Personal dining rooms for groups of 10+
Steaks, seafood and a full raw bar
COOKING LAB & RESTAURANT –
The Test Kitchen
Inspired by Escoffier's Ma Cuisine, this laboratory-like eatery is part cooking school and part restaurant. It's educational, experiential and social. With classes and evolving tasting menus, this is for the curious, boundary-pushing tastebuds on board.
FEATURES
Table service only
Experimental cocktails
Cookery classes
Seasonal tasting menus
VEGETARIAN-FORWARD –
Razzle Dazzle
So your best friend wants something light and healthy and you want to get real weird? This is that place. Boasting a bold interior, this restaurant offers creative surprises on some classic, comfort go-tos. Whether you're looking for something familiar (#basic can be good) or something spicy and out of left field, this place does all of that with a twist (bfast, lunch, dinner, baby).
FEATURES
Casual all-day dining
Veggie-focused menu
Signature cocktails
Drag queen brunch
KOREAN BBQ –Gunbae
If you're into hands-on meat-grilling and soju drinking, our Korean BBQ is the perfect spot to do all that with maximum social engagement (IRL, but feel free to 'gram it if you want). It's a catalyst for great conversation since we all have that one friend who insists on being the meat-master. Go ahead and roast the master while they roast the meat. 🔥
FEATURES
Table service only
Grill-your-own BBQ
Social seating
Drinking games and fun cocktails
UPSCALE MEXICAN  – 
Pink Agave
Inspired by the capital city's red hot street food scene, sailors are treated to an immersive odyssey of Mexican cuisine. Personal, intimate, and educational, a master of ceremonies will guide you through a highly curated dining and drinking experience. Mezcal dinner pairings equipped with a history lesson? Yes please.
Okay, frankly we'd be wild to build a ship and not have a restaurant with a sun-drenched lounging area so you can combine all the things you love in one place (eating and views, obviously) so yep — we did that. The Dock feels like an elegant cabana caught between the chill, seaside perfection of Ibiza and the rustic-chic resorts of Brazil.
Virgin Voyages Mediterranean – Pricing, Policies, and Insurance
Pricing could be a moving target with rates increasing as the popularity of this sailing grows.  Contact us TODAY about the cruise and we will get you up-to-date pricing for your selected category.
Virgin Voyages Mediterranean – Pricing & Payment Plans
We include the most recent rates on our 'book now' form under the drop down menu.  From time to time Virgin Voyages changes prices just a moment or two before we can update that form.  We do our best to keep up and will notify you if the price is something different than what you selected. The good new is we will also notify you if there is any price drops or sales and adjust accordingly!
Deposit 20%
Final Payment due 120 days prior to sailing.
Virgin Voyages Mediterranean – Cancellation policy
One of the most flexible policies we have ever seen.
We love that you can even do a double name change and sell the cabin to a friend if you are in full penalty and cannot travel.  UNIQUE to this cruise line alone.
Virgin Voyages Mediterranean – Travel Insurance
Yikes, travel insurance is not a fun topic but a lot of you have asked…
This is about what happens if you are paid, packed and ready to go… and there is a problem.
The biggest 2 reasons people take insurance are:
Trip Cancellation
Medical Expenses or Medical Evacuation
Full Ship charters are better than regular cruises in many ways, however the penalties and potential for a loss if you have to cancel is higher. Shortly after final payment most full ship charter cruises become non-refundable. That means if you have to cancel your trip not only do you have that disappointment of a cancelled vacation, but I have to tell you you don't get your money back.
Our most popular insurance is 'World Wide Trip Protector' and provides full coverage when purchased up to 21 days after your vacation purchase.
The best value just to make sure you have coverage is 'Trip Protector Lite Expanded.'
We recommend Travel Insured – Get a quote and buy insurance  
Note: this link opens a window for Travel Insured – if you have questions pleases phone our office for assistance.
Please consider purchasing Travel Insurance
Since everyone pretty much likes me right now and I'd like it to stay that way, please consider purchasing travel insurance. Or at least don't say I didn't warn you if there is a problem.
Other coverages that take the worry out of travel:
Trip Interruption – Return air only
Trip Delay & Missed Connection coverage
Baggage Loss or Delay
Cancel for Work Reasons Options available on select policies
We strongly recommend purchasing travel insurance for your upcoming cruise. There are hundreds of circumstances that could cause you to cancel your trip, return home early or force you to seek emergency medical treatment while traveling. Travel insurance offers coverage for unforeseen problems such as, an unexpected financial change or scheduling conflict, a cancelled flight or a serious illness. You even have the option where you can cancel for any reason. We recommend Travel Insured – Get a quote and buy insurance
Welcome to The Band: How to get yours!
The Band serves as a:
• Digital ticket to board
• Key card
• Form of payment (including in the casino)
• VIP pass, securing our Suite Sailors entry into restricted areas like Richard's Rooftop.
• Personal GPS for our app's Shake for Champagne feature
The primary Sailor on the account will receive The Bands for all Sailors included in their reservation within one month of sailing. They will be sent to the contact information we have on file, so please make sure it's correct – The Band is necessary for successful embarkation!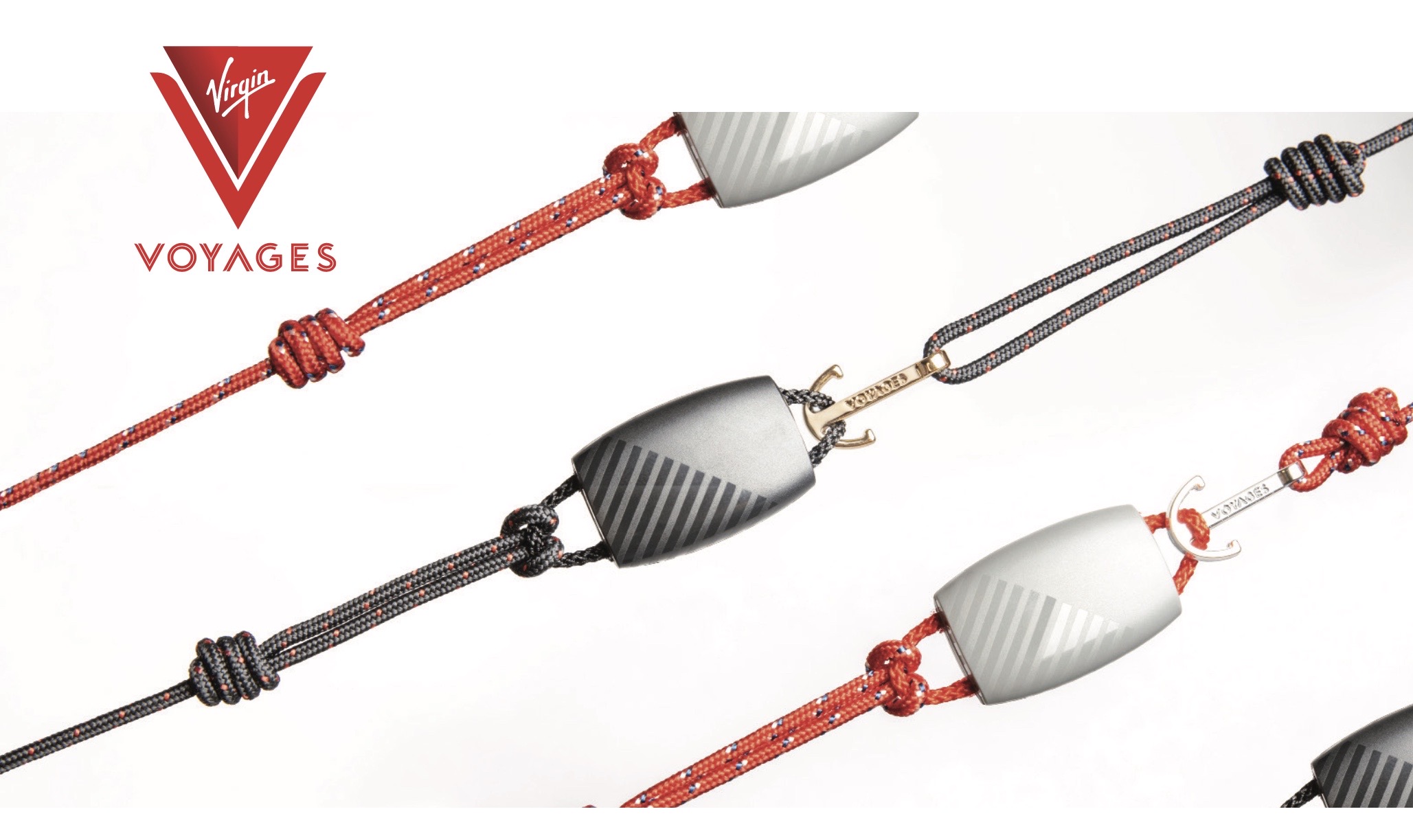 Why book Virgin Voyages Mediterranean?
Because Richard Branson always goes above and beyond!
An atmosphere combining the best festival imaginable with world-class dining & space to chill.
The greatest possibility for the perfect experience.
This cruise line embodies the spirit that we are all about. We love the idea of shaking up the status quo to make the world a better place! Playful, Authentic, Cool, Classy, and Conscientious.
Virgin Voyages: Designed for Entertaining
All the venues on this ship are designed to maximize your fun.

Rockstar suites feature tables with stairs… so it's easy to get up there to dance!

Basic cabins that have extra pizzaz and make the switch from daytime to nighttime entertaining.

Mood lighting that changes based on the time of day and your preferences.

Designed for in-room parties!
The Coolest Cabins At Sea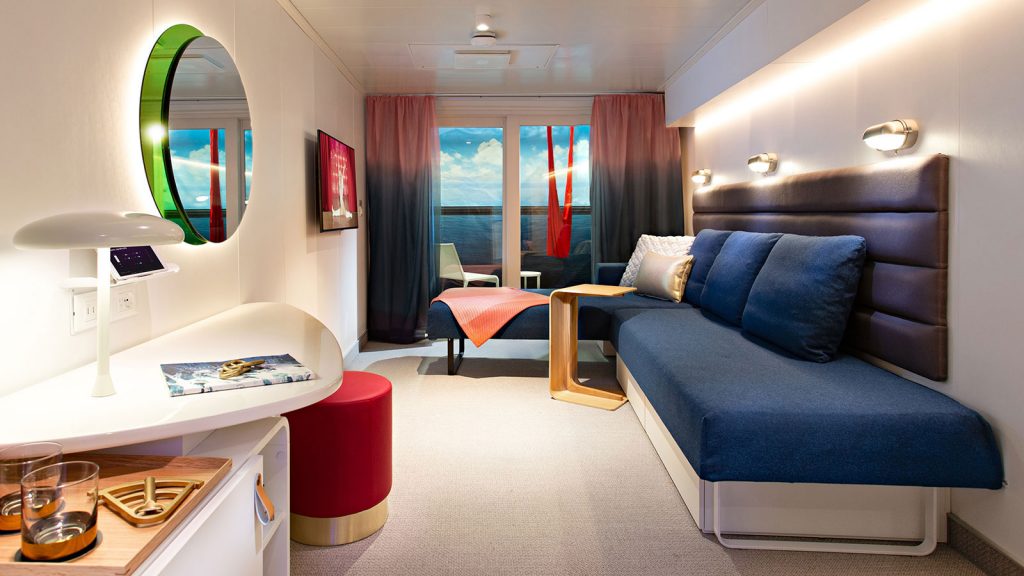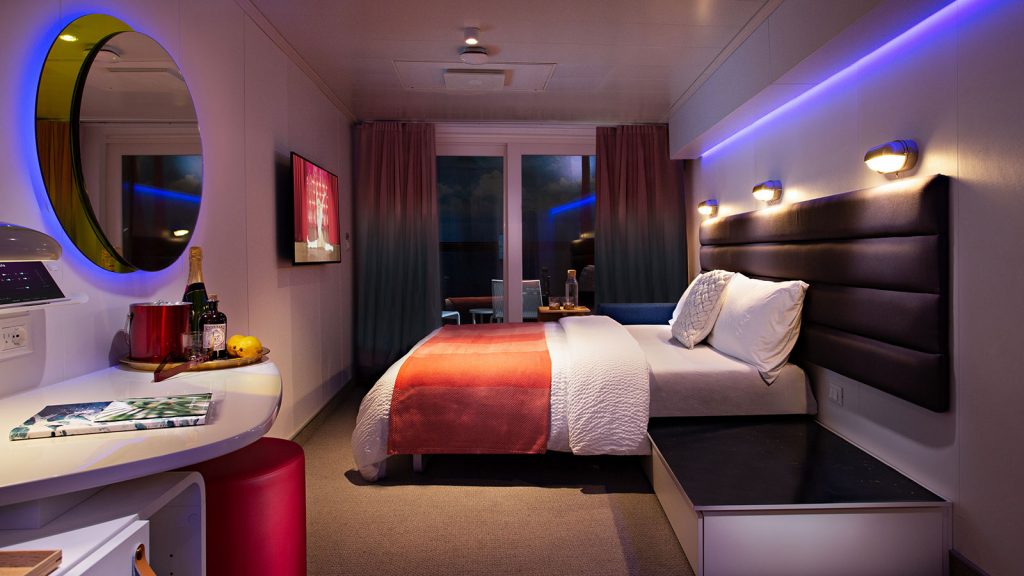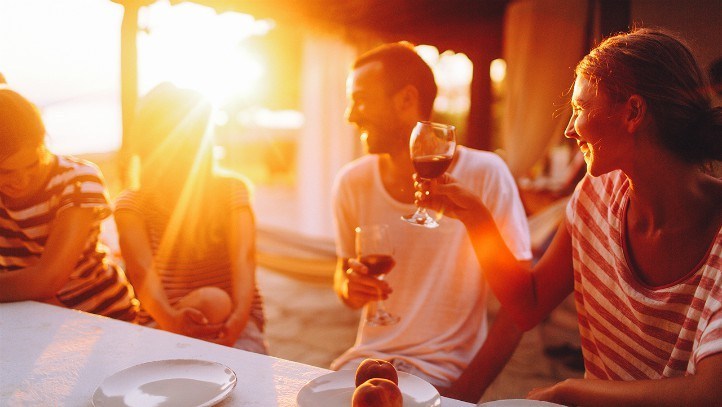 What Future Guests Have to Say…
We are super foodies and think this sounds like they have everything we love. 'Extra Virgin' is the perfect name for gourment italian and we think it's so cool that 'the Galley' is set up food-truck sytyle. And I love "Lick me til IceCream!" Lol!
No buffet lines or mass main dining room? We won't miss 'em!
We plan to take full advantage of all the gourmet offerings. The only problem we see is 20+ options and not enough nights on the ship.
The first time we booked a cruise we weren't sure if we would fit in. We are in our mid 30's and Lynn assured us that our desire for the finer things in life would be the key to fitting in with this group. She was right!
On Virgin Voyages we expect tons of couples our age… But we get that the common factor will be people who love fun! We loved every moment of our last cruise and cannot wait to get on this new ship!
We loved the theme parties! Lynn told us about the spectacular Scarlet Night Theme party and we can't wait!
One thing that made other cruises we have been on special was that everyone was dressed up beautifully. We felt really special to be included in such an amazing group. There were so many possibilities. Mrs says she never felt sexier.
It was so exciting to be part of such a vibrant group of people all dancing sexy and having fun.
Why You Should book with TSC
TheSwingerCruise.com is the only agency with ALL the cruises.
TSC Expert Agents provide first-hand experience. We have sailed on over 33 Swinger Cruises and will help you find the one that perfectly fits your style.
Our Signature 'Get Ready' program provides all the information you need before you board the ship so you can get the most out of your vacation.
We create VIP Pre-Crusie authentic emersion events. Board the ship with a whole group of new friends.
Virgin Voyages Mediterranean
July 24 – 31, 2022
This will be the party of the year!
Join our circle of friends on this premier voyage to celebrate this fantastic new cruise line!
No, it's not a swinger cruise, but an energy-packed exciting environment we know we will LOVE!

Explore the Irresistible Mediterranean Barcelona – Ibiza and all the fun stuff inbetween!
Enjoy this Rebellious Luxe atmosphere.