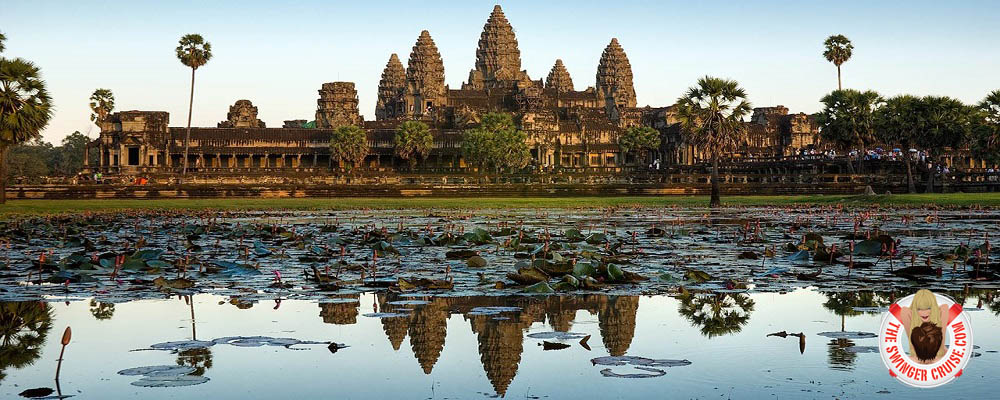 Angkor Wat Lifestyle Takeover
This trip includes two hotel takeovers, the first 5 nights are in Angkor Wat, Cambodia and the second 5 nights are on a beautiful private island in Vietnam.
Forty-five couples will share the magic, the mystery, and the magnificence of this event.
Experience the fantastic temples of Cambodia and the sunniest, sexiest, most beautiful beach of Phu Quoc Island, Vietnam
Angkor Wat lifestyle takeover will tour the City of Temples which were built almost 1000 years ago. First designed as a Hindu capital for the Khmer Empire and later transformed into a Buddhist temple (which continues to this day), Angkor Wat is a mystical experience for believers of all types.
In addition to the most famous temple in Cambodia, your experience will also feature private guide visits to two other fascinating sites.
After five nights of exploring the history, culture, and cuisine of Cambodia, we will slow down the pace and spend five luxurious days and nights at our private beach hotel a short flight away in Vietnam.
All villas feature private areas, including bathtubs, plunge pools or even swimming pools and gardens, and one of these pool villas will be reserved as a private hospitality villa for use by all our guests.
While in Vietnam, we will even take a day trip to a 100% private island, for a complete fantasy island experience with food, drinks, and transportation all included.
[aio_button align="center" animation="pulse" color="red" size="small" icon="globe" text="Book Angkor Wat Lifestyle Takeover" target="_blank" relationship="dofollow" url="http://www.passionsuiteclub.com/events/fantasia-angkor-wat-and-fantasy-island-2017?aid=tsc"]
What's included: Angkor Wat Lifestyle Takeover
11 days/10 nights at our 5-star hotels in Angkor Wat (Cambodia) and Phu Quoc (Vietnam). The first five nights will be spent in our magical boutique property near the temples of Angkor Wat; the second five nights are at our exclusive villa resort on our private beach on the island of Phu Quoc. Both hotels are 100% private for our group.
Free high speed wireless Internet in both hotels
Deluxe buffet breakfast every morning at both locations
3 three-course dinners at our Angkor Wat hotel
Nightly open bar cocktail hour at our Angkor Wat hotel
All lunches, dinners, room service, and beverages, including wine, beer, and select mixed drinks at our hotel on the island of Phu Quoc
Private entertainment and parties at our hotels, including a private hospitality suite at each destination
A private party at a chic lounge in the heart of the nightlife district near Angkor Wat
A complimentary massage treatment at one of our hotels
Fantasy Island experience on a private island off the coast of Phu Quoc
Private airport pickup and dropoff in Siem Reap, Cambodia (airport code REP) and Phu Quoc (airport code PQC) on January 7th and January 17th, 2017 and private transfers on January 12th, 2017
One-way flight from REP to PQC on January 12th, 2017
Angkor Wat Lifestyle Takeover Optional Activities:
Additional onsite spa treatments and massages
Exciting excursions, city and nightlife tours, guided expert photography tours, Khmer and Vietnamese cooking classes, local market shopping, and sport tours (bicycle, motorbike, hot air balloon, waterfall hikes, range shooting)
Angkor Wat Lifestyle Takeover Details
Saturday, January 7 – Tuesday, January 17, 2017.
Fly into Siem Reap, Cambodia (REP). Fly out of Phu Quoc, Vietnam (PHQ). Most countries require a visa for entry into Vietnam. Please check online for country specific Visa requirements for Vietnam. As of July 2015, flying from REP to PHQ, staying on the island of Phu Quoc, and then leaving from PHQ internationally without visiting mainland Vietnam does not require a visa.
Private airport pick up and drop off on January 7th and January 17th is provided.
The two portions of Fantasia are not separable. All reservations must be made for the entire ten-night event.
[aio_button align="center" animation="pulse" color="red" size="small" icon="globe" text="Book Angkor Wat Lifestyle Takeover" target="_blank" relationship="dofollow" url="http://www.passionsuiteclub.com/events/fantasia-angkor-wat-and-fantasy-island-2017?aid=tsc"]