[rev_slider NiNAug14] [aio_button align="center" animation="pulse" color="red" size="small" icon="globe" text="Book Online: Naughty in N'awlins – Aug 2014″ target="_blank" relationship="dofollow" url="https://secureregistrationonline.com/new_nin/signup.php?affiliateId=6&c=1″] Naughty in Nawlins is the best swinger convention anywhere. Join us August 6-10, 2014 in the legendary French Quarter where Canal Street meets Bourbon Street at the Astor Crowne Plaza New Orleans.  Packages are available for arrival on Wednesday or Thursday and festivities run thru Sunday.We recommend arriving early and staying late!
Naughty in Nawlins Themes & Parties
Wednesday Afternoon Bar Crawl: Casual  Dress

Wednesday Night Dance: Roaring 20's

Thursday Afternoon Bar Crawl: Funnny T Shirts

Thursday Night Dance: Dress  to Impress

Friday Afternoon Bar Crawl: Casual  Dress

Friday Night Dance: Red Dress (for both the girls AND the guys!)

Saturday Afternoon Bar Crawl: Red Dress Bar Crawl
Saturday Night Dance: Mardi Gras Masquerade Ball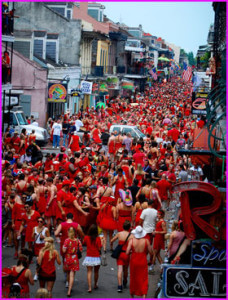 What's all this about red dress? Friday night is the night before the Red Dress run (http://nolareddress.com/), and Bourbon St will be full of people (yes, guys) in red dresses, so let's all get into the spirit and put one on tonight!
Saturday Afternoon Bar Crawl: Red Dress Bar Crawl The streets will be packed with people in red dresses, so we are going to join them today for our annual bar crawl. Check out this video so you get the idea:
All Bar Crawl's are Private party for Convention Attendees Only
Convention packages  Thursday – Sunday Package $475 Wednesday – Sunday Package $525 Book You NIN Package Now Rates listed are Early Bird Prices – Notifications from French Connection said the rates would increase $100 after November 15, 2013. [FYI – as of February 13, 2014 they still showed the early bird prices on our link.- GRAB IT!]
What really happens at Naughty in Nawlins? Imaging fun, all day and all night.  Full full out parties on Bourbon Street.  That's right, the classic New Orleans lifestyle party with the booze and boobs and beads.  At Naughty in N'awlins you can do it all or simply chill in the big easy. Everything is right there and you can jump into the party or take a less rowdy path and find some place sultry.
Every day there are choices and what you enjoy is entirely up to you.  During the early party of the day you can
Attend a Fun and Sexy seminars with sex, lifestyle and kink experts, entertainers, in the past convention attendees have learned about things like g-spot orgasms, burlesque dancing, stripping for your partner, beginners bondage or just having better sex.  Why not try on some new attitudes and strut your stuff down bourbon street!
Sleep in and enjoy a slow luxurious brunch
Wander down the street to Cafe Du Monde and experience the classic french market coffee and beignets
If you don't wake up until noon you can begin your day with the first of 2 bar parties held each day on Bourbon Street.   These parties are closed to the public and exclusively for the Naughty in Nawlins couples only.   The first one runs from noon-3:00 pm  and the second one from 3:00-6:00 pm.   You will have to consult your daily schedule because the venue changes daily.   This is the way to experience the best of Bourbon Streets best party bars where anything goes!
Your convention pass includes admission to all of the parties on bourbon street and the nightly entertainment at the hotel, access to vendors, play rooms, a dungeon play space, dance party, comedy entertainment, seminars and rooftop pool after parties. Every night at the hotel there is entertainment and themed dance parties.  One of the highlights for Naughty in N'awlins is the worlds only famous Swingers Parade down bourbon street!  You will also have a chance to visit Colette an upscale local Swing Club or visit the mezzanine floors for the the sexiest play rooms anywhere. The hotel used for Naughty in New Orleans has great meeting space and the largest balcony on Bourbon Street. The staff at the Astor is excited to have our group back and we are glad to be back at this 4 Diamond property. Our hotel has a Brennan family restaurant loacted in the hotel which has won numerous awards including "Best Restaurant" from Esquire Magazine. Bob & Tess say it's their favorite place to get oysters in all of New Orleans (always cold & salty!) and has the best collection of Bourbon & Whiskey in the city. Just steps outside the hotel doors it's foodie paradise. If you haven't been to New Orleans the rumors are true the food everywhere there is simply fantastic. Because Bob and Tess think of everything you also have the option of purchasing an additional group dinner as part of the convention package. For $100 the couple gets to join in on a fantastic meal at the Astor Crown Plaza. This is a great way to get to know people and it's New Orleans, so you can count on fabulous food with out even having to step foot out of the hotel. This option is selected when booking your convention package. The The Astor Crown Plaza is the perfect hotel in just the right location to host a swinger lifestyle convention. They have recently finished an $11 million dollar renovation that has touched every aspect of the hotel. The newly renovated guest accommodations which are lavishly appointed with designer fabrics and new furnishings won the "Best Renovation Award" at the InterContinental. When the Naughty in Nawlins convention was previously held at this hotel in 2003 & 2004 it was operated as two separate properties (the Astor Crowne Plaza & the Alexa Hotels), but they have since combined to be one hotel (the Astor Crowne Plaza), with two separate towers. We will be taking over the entire (500 room) Astor tower along with all of the meeting space, pool, gym, Bourbon St. Balconies and Mezzanine (where our party rooms will be located) floors. Because we are not taking over the 2nd tower (the old Alexa Hotel), the Astor will still have rooms available online, but they will only be for the 2nd tower and anyone staying in that tower will not have access to our convention areas. Anyone attending the convention must book their room through us when they are reserving their convention package. Only rooms booked through us will be able to stay in the main hotel and have access to the classes, seminars, themed balls, erotic marketplace, parties and hospitality (play) rooms. We know you will LOVE this year's hotel and we can't wait to see you get "Naughty in New Orleans!" Rooms Note: All rooms come with the Crowne Plaza "Sleep Advantage" with enhanced beds which give a new level of comfort with 7 pillows, a plush duvet, luxurious sheets and a pillow-top mattress. Prices Range from $149 for deluxe rooms to $329-$379 for a variety of sexy suites. Book You NIN Package Now [aio_button align="none" animation="pulse" color="red" size="small" icon="globe" text="Book Online: Naughty in N'awlins – Aug 2014″ target="_blank" relationship="dofollow" url="https://secureregistrationonline.com/new_nin/signup.php?affiliateId=6&c=1″]