Temptation Cruise Review:
Sometimes you just don't know until you go! So, I decided to go on Temptation Cruise and in this case I'm super glad I got a first hand look at what it's all about.  
Before the first Temptation Cruise the marketing team really only told me a lot about what this cruise was NOT going to be: 
It was

not

a Swinger Cruise.

It was

not

a nudist cruise. 

The Rated R-Red Room was

not

a playroom.

It was

not

going to be like other charter cruises.
They promised 'Temptation Resort at Sea'
Just to give you a bit of background, I've been in the all-inclusive travel business for 24 years, so I've seen a lot of Cancun all-inclusive resorts. I've also sailed on over 30 full-ship lifestyle charter cruises.  
As I was packing my bags for 5 nights of theme parties, I wondered…
What could possibly make this a signature experience?

Well…
I can say, with certainty, that Temptation Cruise Rocks!
Their inaugural sailing was an adults-only, 5-night, non-stop-all-out party at sea.
It was the rocking-est charter cruise experience to date.
Temptation Cruise is a festival at sea.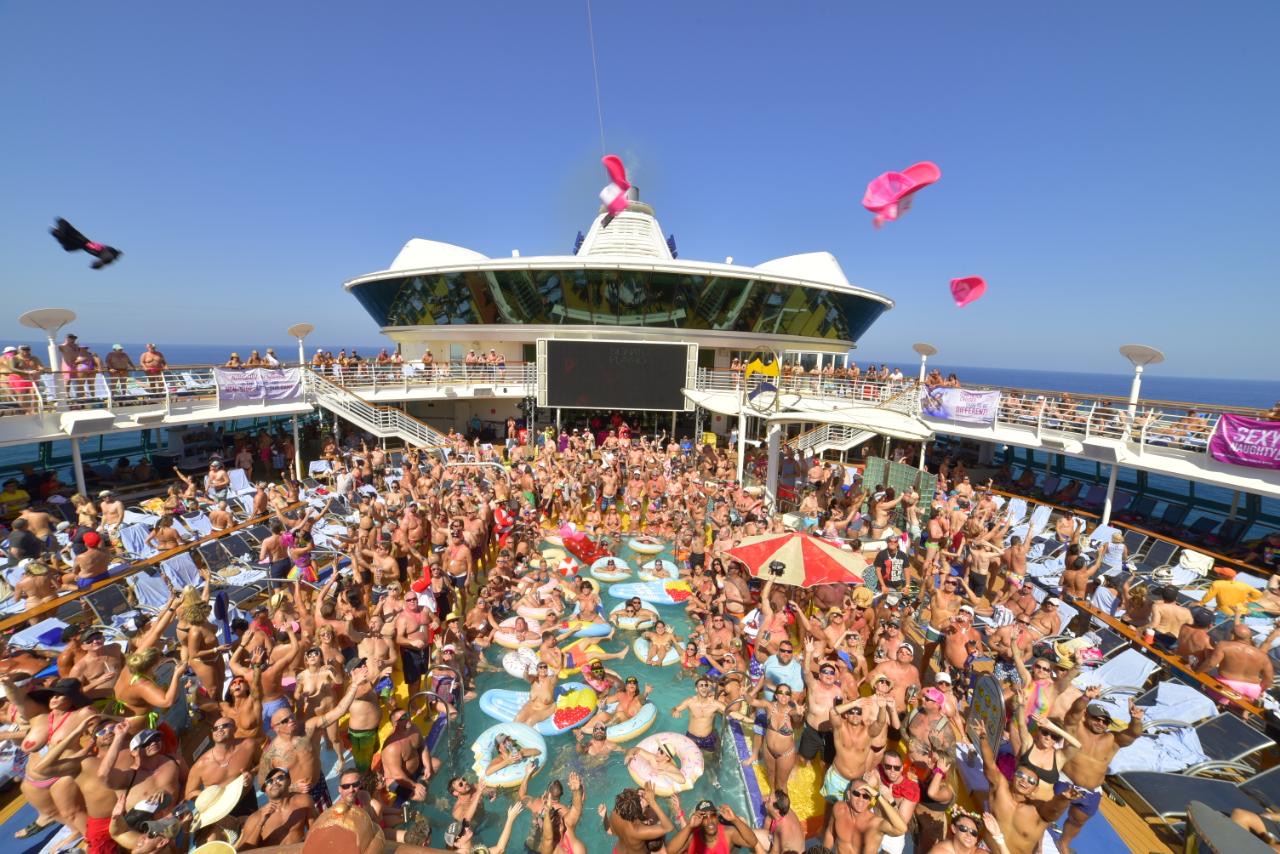 What really defined Temptation Cruise? 
The Guests

The Laughter & Entertainment 

The Sexy Vibe

The Temptation Resort Experience
Temptation Cruise Review: The Guests
Since I'd never been to the resort, telling me I was about to experience the Temptation Crowd was a bit like explaining the difference between red and green to a colorblind person.
What I encountered were guests that were young or young-at-heart. 
Everyone seemed excited and ready for a great time. At a glance around the pool deck, I could tell this was a much younger crowd.
Speaking of the pool deck it was the vibrant heartbeat of Temptation Cruise.
It was Sexy.
It was Really LOUD.
Like, thumping loud, and crowded with sexy bodies everywhere! 
Many of the Temptation Crowd regulars said their 'thing' at the resort is to party all day – standing waist deep in the water and floating over to the pool bar for drink after drink on the all-inclusive plan.
The crowd definitely LOVED the pool scene. If there was one thing that was a disappointment to the Temptation Crowd it might be the actual design of the ship's pool.
While experienced cruisers know that all ship pools have a wading area then a deep drop off… that didn't quite meet their expectations for the same experience they get at the resort.
Ships are engineered that way to keep the water in the pool during high seas. There is no way around it. Oh, and cruise ship pools are always salt water and not heated either… Just a little cruise 411 for you novice cruisers out there
There were tiny bikinis, ladies dancing topless in thong bottoms and buff guys galore on the pool deck.
I asked one of ladies who was smiling and dancing what she thought about the topless pool deck. She said 'I love it! This cruise is sexy – but not nude. The nudity on some cruises makes me a little uncomfortable – I just don't want to see other people's naked bottoms in the line at the bar.'
Perfect bodies weren't required, but a playful attitude was.
Crowds wiggled into the Jacuzzi tubs – giggling, laughing, celebrating!
Others enjoyed more private conversations, lounging on the chairs in the shade. Maybe they were scoping the scene. Temptation Cruise had a sexy mix of all ages. 
While everyone was very welcoming, not everyone was all about the loud DJ party.
In the solarium you could grab a slice of pepperoni or a sandwich and have a quiet conversation.  Like an oasis of 'ahhhhh' this space was filled with relaxing bird sounds instead of thumping music. Giant 3-story elephants guarded the quiet pool. Couples smiled at each other and slipped through the water, maybe they were making plans for tonight's dinner. It was much less crowded and had a more relaxing vibe.
Curious to know more about the Inaugural Temptation Cruise?
This Temptation Cruise Review is in 4 sections:
Temptation Cruise Review: The Guests
Temptation Cruise Review: The Laughter
Temptation Cruise Review: The Sexy Vibe
Temptation Cruise Review: The Temptation Resort Experience
Five Reasons to Book the next Temptation Cruise!
A Pool Area that is Topless-optional:  The pool deck will be a topless option for fun in the sun!
Themed Pool Parties –  Sticking true to Temptation's style, a guaranteed pumping poolside experience.  We loved that they did a theme for the daytime parties too on sea days. The on board playground will offer a selection of high-octane, energy-filled pool parties, performances, and VIP presentations.
You Get To Immerse Yourself Into the World of the Unknown: Live for the enticing atmosphere as you dive in to the signature theme parties.
Push the boundaries: Fulfilling your elevated expectations of an adults-only cruise.
Free your spirit & find your fun: Aboard Temptation Cruise's floating playground at sea.