Tahiti Cruise 2022 – Facts at a Glance
March 17 – 25, 2022
323 Cabins
Featuring Great Stops: Papeete, Tahiti – Moorea – Fakarva – Rangiroa – Bora Bora

Couples Only, Clothing Optional, Full Ship Charter
This cruise is good fit for: Newbies, Open Minded Adventurous Couples, Swingers
Average age 35-65
Frequently Asked Questions – Tahiti Cruise 2022
Is this a full ship charter? Yes!

Nudity/Clothing Optional? Yes at the pool & sundeck
Playrooms – Yes!
Theme Parties? Yes – fabulous theme parties!
Who is the sponsor of this cruise? Luxury Lifestyle
Will Lynn be traveling with this cruise? YES!
Will there be a Pre-Cruise? Yes at Tahiti Intercontinental and it will include some rooms with overwater bungalows – nice!
How do I get to 

Tahiti

? You will fly to Papeete 

Tahiti

 (PPT) this is an 8.5 hour flight from LAX.
What do flights cost? Approx $800-1000 per person for coach on Air 

Tahiti

 Nui from Los Angeles.
Can we bring a third? Yes there are a limited number of cabins that will accept a third female traveling with a couple. Third female rate is $2065 + taxes
Tahiti Swinger Cruise 2022 Itinerary
Our Tahiti 2022 cruise will feature stops in some of the most beautiful ports in the Polynesian Islands.
Ports to include:
Papeete, Tahiti
Moorea
Fakarava
Rangiroa
Bora Bora
Raiatea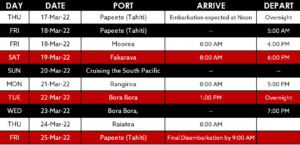 We love that we have overnights in some of the fantastic islands around Tahiti. This allows plenty of time to explore off the ship and immerse yourself in the awesome island culture.  It also makes for no-stress excursions out on the water since you won't have to worry about making it back to the ship before departure.
I also recommend adding a short pre-cruise beach resort stay for the full Tahiti Experience.  I'll have just what you are looking for and of course that includes an overwater bungalow option.
Tahiti Swinger Cruise 2022 Theme Parties
The theme parties on this cruise are designed help you step into expressing your inner desires.  Let go, immerse yourself in the fantasy of it.  Guests who dress in theme report more social interaction and more fun.
You can go all out on a costume or simply echo the theme with an accessory.  For travel to a far away destination like Tahiti we recommend this approach whenever possible.
What if you are not in the mood? No problem it's all about doing your own thing with your partner and having FUN!
March 17 – Polynesian Night
March 18 – Pirates & Sailors
March 19 – Formal Black Night
March 20 – Your Favorite Decade
March 21 – White Night
March 22 – Chromatic Metal Night
March 23 – Sports Night
March 24 – Planet 69 (space fantasy)
Tahiti Swinger Cruise 2022 Ship Details
Gross Tonnage: Tonnage: 30,277 GT[4]2,700 DWT
Length: 180.96 m (593.7 ft)
Beam: 25.46 m (83.5 ft)
Draught: 5.95 m (19.5 ft)
Decks: 9 (passenger accessible)
Propulsion: 2 propellers
Speed: 18 knots (33 km/h; 21 mph)
Capacity: 684 passengers (lower berths) / 824 passengers (all berths)
Crew: 386
Oceanview Deluxe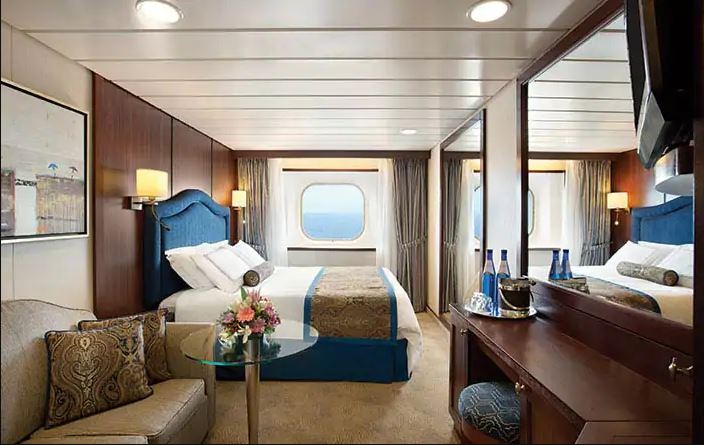 Concierge Veranda
Penthouse Suite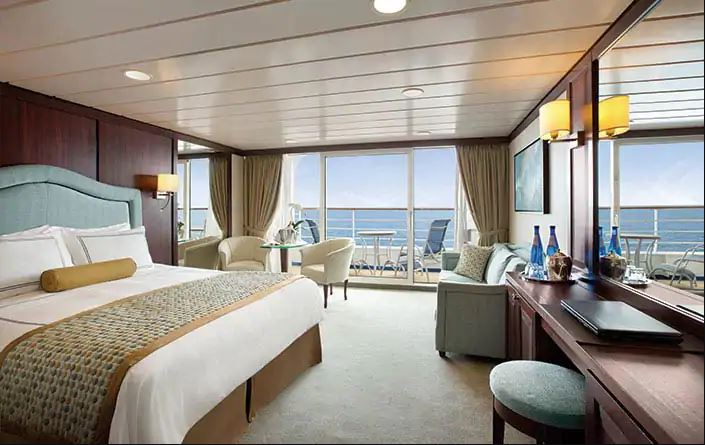 Tahiti Swinger Cruise 2022 What's Included
The Tahiti Swinger Cruise is All-Inclusive

All Beverages & meals are included.
Complementary 24 hour room service.
No Up charges for Specialty Restaurants
Complimentary beverages, including select wines and spirits, beers, soft drinks, bottled water, and hot beverages served throughout the ship


Dining on the Tahiti Swinger Cruise 2022

The Bistro – Exquisite white linen main dining room with inspired entrees by Executive chef Jacques Pépin – [Sample Dinner Menu]
Polo Grill – Traditional Steakhouse serving succulent beef and seafood dishes. – [Sample Dinner Menu]
Toscana – Elegant Italian eatery celebrating Italy's cultural passion – [Sample Dinner Menu]
Terrace Cafe – Indoor or Al Fresco dining outside on the beautiful Terrace. Great for a quick snack. – [Sample Lunch Menu]
Waves Grill – Poolside dining serving the All-American Favorites – [Sample Menu]
Baristas – Delightful coffee bar serving delicious pastries and delectable spcialty coffees – [Sample Menu]
24 hour room service is also included
Pricing, Policies and Insurance for the Tahiti Swinger Cruise 2022
Pricing
The best pricing strategy is to book early. Prices are always released at the lowest rate and get higher closer to departure.
Payment Plans
Payment in full is due at the time of reserving
Cancellation policy – For Resold Cabins
Cancellations of resold cabins are non-refundable (speak to Travel Agent for details)
Cancellation policy – For New Cabins
Cancellation on or before March 17th, 2021 – Penalty of $250 USD p/p (Staterooms) and $300 USD p/p (Suites)
Cancellations between March 17th  and June 17th, 2021 – Penalty of $375 USD p/p (Staterooms) and $500 USD p/p (Suites)
Cancellations between June 17th, 2021 and September 16th, 2021 – Penalty of $500 USD p/p (Staterooms) and $750 USD p/p (Suites)
Cancellations after September 17th, 2021 – No refund will apply.
Cancellations must be in writing by emailing your cancellation request to info@theswingercruise.com
Tahiti Swinger Cruise Policies
We recommend travel insurance.
Travel Insurance
Yikes, travel insurance is not a fun topic but a lot of you have asked…
This is about what happens if you are paid, packed and ready to go… and there is a problem.
The biggest 2 reasons people take insurance are:
Trip Cancellation
Medical Expenses or Medical Evacuation
Full Ship charters are better than regular cruises in many ways, however the penalties and potential for a loss if you have to cancel is higher. Shortly after final payment most full ship charter cruises become non-refundable. That means if you have to cancel your trip not only do you have that disappointment of a cancelled vacation, but I have to tell you you don't get your money back.
Our most popular insurance is 'World Wide Trip Protector' and provides full coverage when purchased up to 21 days after your vacation purchase.
The best value just to make sure you have coverage is 'Trip Protector Lite Expanded.'
We recommend Travel Insured – Get a quote and buy insurance  
Note: this link opens a window for Travel Insured – if you have questions pleases phone our office for assistance.
Please consider purchasing Travel Insurance
Since everyone pretty much likes me right now and I'd like it to stay that way, please consider purchasing travel insurance. Or at least don't say I didn't warn you if there is a problem.
Other coverages that take the worry out of travel:
Trip Interruption – Return air only
Trip Delay & Missed Connection coverage
Baggage Loss or Delay
Cancel for Work Reasons Options available on select policies
We strongly recommend purchasing travel insurance for your upcoming cruise. There are hundreds of circumstances that could cause you to cancel your trip, return home early or force you to seek emergency medical treatment while traveling. Travel insurance offers coverage for unforeseen problems such as, an unexpected financial change or scheduling conflict, a cancelled flight or a serious illness. You even have the option where you can cancel for any reason. We recommend Travel Insured – Get a quote and buy insurance
Tahiti Pre-Cruise Options
We have some fabulous resort options in the works.  Please check back closer to the date to find out what's instore for the days prior to the Tahiti Swinger Cruise 2022
Why book the Tahiti Cruise
This is an All Inclusive full ship charter
Clothing optional – couples only – sexy theme parties
Tahiti is one place on earth where Everything is magical; the brilliant shades of blue in the water, the scent of vanilla on the breeze and of course all the sexy couples that will show up for this 'must do' cruise.
Shopping the street markets for black pearls and a breathtaking Manta Ray dive in Bora Bora.
What Past Guests Have to Say…
We loved the theme parties on our last cruise!
One thing that made it special was that everyone was dressed up beautifully.  We felt really special to be included in such an amazing group. There were so many possibilities.  Mrs says she never felt sexier.
It was so exciting to be part of such a vibrant group of people all dancing sexy and having fun.
The quality of the dining on this ship is second to none!  Our favorite was dining on the ships deck under the tahitian moon.
We took full advantage of all the gourmet offerings. Room service for breakfast on our verandah while watching the islands float by.
The first time we booked we weren't sure if we would fit in. We are in our mid 30's and Lynn assured us that our desire for the finer things in life would be the key to fitting in with this group. She was right!
We expected couples age 45-65 and we were surprised how many young couples there were!  We loved every moment of that cruise and cannot wait to get on the Tahiti Swinger Cruise!
Why You Should book with TSC
TheSwingerCruise.com is the only agency with ALL the cruises.
TSC Expert Agents provide first hand experience.  We have sailed on over 23 Swinger Cruises and will help you find the one that perfectly fits your style.
Our Signature 'Get Ready' program provides all the information you need before you board the ship so you can get the most out of your vacation.
We create VIP Pre-Crusie authentic emersion events.  Board the ship with a whole group of new friends.
'Must Read' Swinger Cruise Articles
We have been on over 37 full ship charters.  Here are a few articles we have written to answer your questions, calm any worries, and get you excited for the 'Best Fu@%ing Vacation!'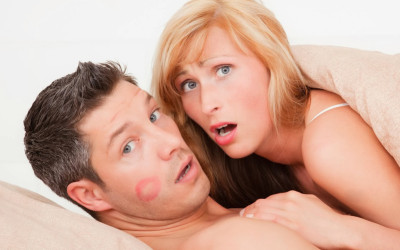 What's the first things all newbies should do?  Some people say attend a meet & greet! Go to naked speed dating! How about a seminar on spanking/squirting/dirty dancing? Here is the truth.  The #1 thing to do is to 'Have the Talk.'  An open discussion between the...
Tahiti Swinger Cruise 
March 17-25, 2022
Explore Tahiti and her islands with the Tahiti Swinger Cruise 2022.
Join 323 beautiful couples as they gather in one of the most romantic places on earth.
Imagine sailing in this sensual environment.
Explore Bora Bora, Private Island Beaches and Morea by day.
Enjoy erotic theme parties every night.