Desire Cruise Review Dining and drinks on the 2019 Mediterranean Cruise.
Experiencing the food and wine of a region is one of the reasons I love European travel. Desire Cruise made the most of the region.
The ship sources local produce, fish and wine… so in Italy, Spain and that speaks volumes. Several of my favorite wines including several fabulous Rose anda Vermentino from Sicily and Viognier from the Rhone Valley.
Desire Cruise Review Dining – Kudos to Management
The thing I noticed about Desire Cruise management is that they were listening to guests and adapting as the cruise progressed.
They adjusted dining hours, extended food service to almost all day long, with no break between breakfast and lunch.
They also adjusted the midnight buffet quality and hours. So after a long night of dancing and playrooms… we always found something to cure the munchies.
Dining on this ship is superb.
Tip: The Chef Table is a great food and wine experience and a GREAT social way to get to know other sexy couples. These fill up so make sure to book yours as soon as you get onboard.

Miss Lynn, owner
TheSwingerCruise.com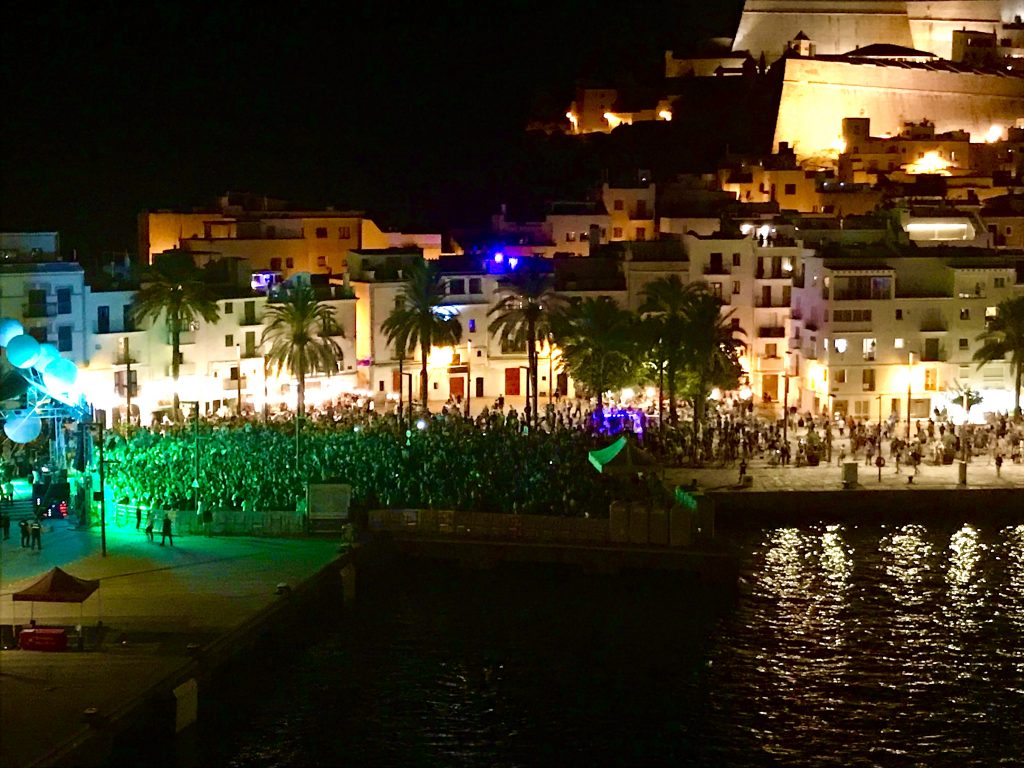 No Desire Cruise Review Dining is complete without sharing my personal secret. Dining on the back deck of the ship includes the most spectacular view anywhere and the food quality is super high, with a great selection that equals the offerings in the Discoveries Main Dining Room. Complete with wine service.
It was during dinner the night we sail away from Palma Majorca into Ibiza, As we entered Ibiza that evening a spark within me ignited.
We were enjoying Greek Night Buffet – complete with all sorts of meze and classic favorites. We were sipping one of my favorite white wines, a Viognier from the Rhone Valley.
We could hear the bass drop in the distance. Flashes of light. I realized we were sailing right by on of the famous Ibiza rave dance parties. Then the ship turned and slowly the captain backed the ship to the dock right at that party.
WHAT AN ENTRANCE!
I have a friend who arrives by helicopter to the EDM music festival at the Las Vegas Motor Speedway… but THIS. This beats that.
We had premier seats and truthfully that moment was the most exciting thing I've ever experienced on a cruise ship.
We danced and sipped chilled white wine on the back deck. Once we were cleared we disembarked right into the behind stage for the dj.
No discussion of fabulous dining on desire cruise would be complete without talking about their white night.
The second night in Ibiza the dance party lived on the ship.
The entire pool deck was dressed in white, white flags, table cloths, decoration… and of course the fancy food displays!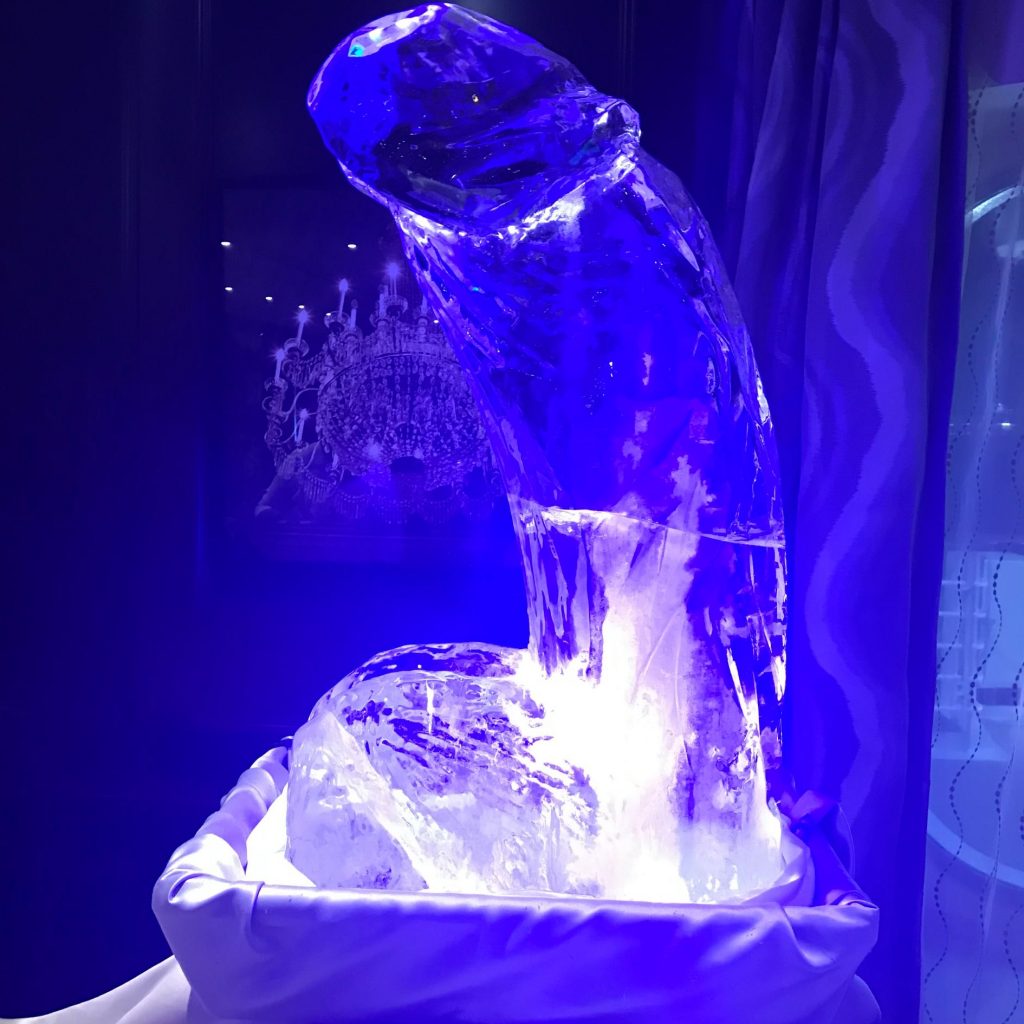 Desire Cruise Review Dining – White Night
To honor the nature of a "couples only adult themed cruise" the ship staff carved giant ice sculptures… nude female figures and yes even a colossal ice penis.
If you can imagine a Mediterranean delicacy it was served. Beautiful French creamy ripened cheeses, grilled meats & fish, an enormous antipasto station, escargot station, a paella made for Poseidon, fresh pasta station, sushi… and I'm sure I'm only remembering half of the creations that made up that gala.
Oh the deserts! How can I forget to mention that! They were exquisite. But then we already knew the pastry chef was world class.
On one evening the ships chief officers served the most amazing chocolate buffet. It covered half of deck 5 and decadence was clearly on the menu.
Speaking of decadent. Our Desire Cruise view dining – is that food service didn't miss a trick! On the sea day they created a special grande brunch that was served from mid morning into the early afternoon. No need to wake up early. No missing out on anything. We slept in late. Enjoyed a world class champagne brunch and partied the afternoon away with sexy couples on the pool deck.
Maybe that meant a late morning coffee on our balcony – or an early evening aperitif and canapés. Maybe a relaxed buffet style meal after a full day of tours. Perhaps a dinner with 8 new friends in the main dining room, or even a romantic dinner just the two of us in Primc C or Aquafina.
The key here is that whatever we desired on the menu was available.
We give food and beverage on Desire Cruise 5 stars!
Now on to the the rest of the review
Desire Cruise Review: Overview and Entertainment
Desire Cruise Review: Playroom and Experiences
Desire Cruise Review: Itinerary and Season
Curious to join a future Desire Cruise?