Desire Cruise Review Playroom and other onboard experiences on the Mediterranean Cruise
Welcome to what makes this cruise – Desire at Sea.
Stepping onboard the ship simply felt sexy. We boarded at the lovely harbor in Nice and were greeted by my favorite ship dressed for Desire!
Embarkation was smooth – we were greeted in our rooms by custom desire cruise beach bags, commemorative lanyards and a Desire Cruise ball cap. There was also the program that outlined the events for the day.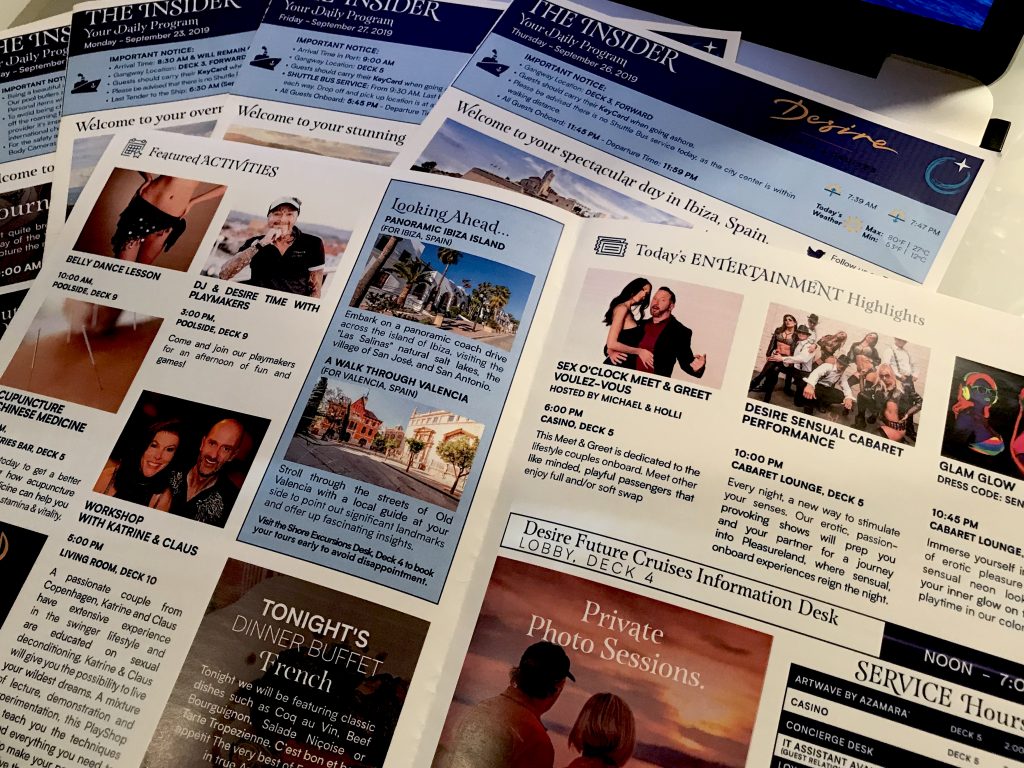 First theme night: Sea Safari.
While Desire Cruise announces the themes in advance – they did not give much advance notice about the order of the parties. This did cause some confusion with guests who may not have seen the printed program or watched the tv show. I'm an over planner – I would have preferred to know the order of the theme parties in advance so I could have left costumes at home for the nights I knew I would be off the ship (like in Ibiza)
I enjoyed the music. When you ask other guests there is ALWAYS someone who thinks what the dj is playing is too Latin, or too EDM, or too Country, or too oldies. With only one dance club on a ship this size, the dj mixes it up and seems to play a wide variety.
The show at 10 pm featured the same type of sexy performances you would see at Desire Resorts and in the same fashion the dance party began after the show.
One fabulous addition to this cruise was a comedy performance by the international touring lifestyle comedian 'The Dominatrix of Ditties.' She packed the cassino bar and guests left roaring with laughter.

I loved that our favorite Desire Playmakers, Dancers and dj's were spreading their joy and entertaining from morning to the weeeee hours of the evening.
What everyone always wants to know about is the Desire Cruise review playroom… but first…

Desire Cruises has also paid attention to guest requests for adding Meet & Greets. Michael and Holly hosted a number of them organized by language, geographic location or age group.
Dr Jessica O'reilly, Claus and Katrina and Dr Nancy Sutton were onboard teaching sexy ed topics. I'm not a 'sun person' so while I'm on some of the big ship charter cruises I usually spend my day learning sexy new things. The ports on this cruise were fabulous so we spent a lot more time ashore and actually didn't make it to any of the sexy-ed. I heard raves from couples who went to the full body orgasm class and rope bondage classes.
There were also a variety of daytime dance lessons including Bachata, Kizomba, belly dancing & pole dancing
If you were wondering how to find out about what's happening onboard. You can read 'The Insider' daily program or just switch on your tv and hear about what's coming up!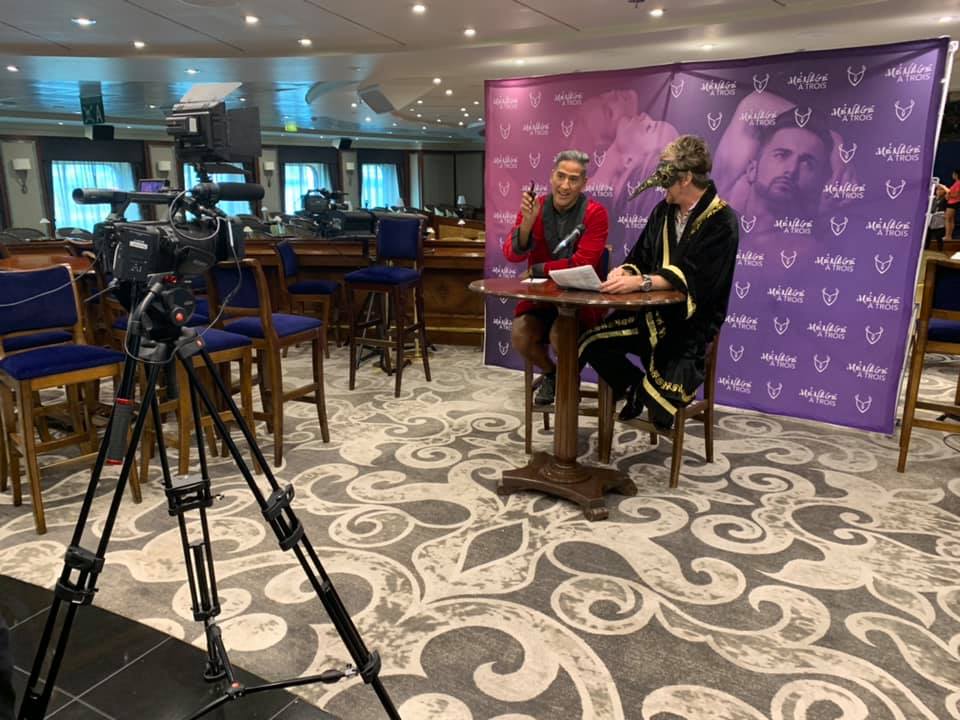 No onboard lifestyle cruise experience is complete without a playroom.
Desire Cruise Review Playroom
We took a look around midnight one evening. There were a few couples partaking in the pleasure, maybe we were too early for the crowd, or maybe like me the crowd prefers to play in their suites.

The atmosphere was sensual (soft music and aroma dispensers). There was a large 'puppy pile' set of mattresses together in the center of the room and lots of twin size mattresses around the room. I'd say it was okay to get the job done… and I understand bringing better mattresses onboard an to an international location poses a logistical issue. The playroom was much better than past Desire Cruises but still has some room for improvement.

While we didn't play in the playroom… We did experience an EPIC number of room and suite parties on this ship and did not make it back to the playroom.
The key to getting invited to the RIGHT suite parties is simply getting to know couples you have an attraction to. We found it very easy to really get to know SO many new people on this cruise. We mingled on the pool deck and made lots of new friends at dinners.
Desire Cruise Review Playroom – 3 out of 5 stars. It could use improvement.
Based on the track record of Desire Cruise management – our guess is this will be a 5 star review by the next Desire Cruise in May 2020.
I loved that this Desire Cruise had almost 2 full sea days. They were sort of 'hidden' in the itinerary. We had a full day at sea when we left St Tropez and then a half day as we sailed from Palma Mallorca to Ibiza. This was a time when we had a chance to have all the guests on deck and rocking. In my opinion Sea Days MAKE a lifestyle cruise. Everyone gets loose, lets their hair down and…. well you know.

So overall I would say the experience was 4.5 start. A massive improvement over the past 3 desire cruises. Desire Cruise review playroom is better and keeps improving. Actually all the cruises have been getting better and better each time.

Kudos to Desires Management team for listening to guest feedback and for making improvements on the fly as the cruise progressed.
This cruise really felt much more like 'Desire At Sea.'
Now on the the rest of the review
Desire Cruise Review: Overview and Entertainment
Desire Cruise Review: Dining
Desire Cruise Review: Itinerary and Season
Curious to join a future Desire Cruise?