Some things are more fun in number! And we think that traveling with 100 sexy sailors is one of them!
Here at TSC-Cruises, we specialize in full ship charters, so deciding to offer a group cruise on 'vanilla' sailing is a very rare occurrence. But this is Virgin and it is an Adults-Only Cruiseline and LLV throws one heck of a party!
'Screw it! Let's Do it!' – Taking this bit of advice from Virgin Voyages founder Richard Branson we decided to dive in!
We saw pictures of the LLV Crew onboard Virgin and they looked like part of the cast! So we think this is a perfect match!
Fire & Sunset Soirée
May 15 – 19 , 2024
Miami – Key West – Beach Club at Bimini
Greek Island Glow
September 1-8, 2024
Athens – Santorini – Rhodes – Bodrum – Mykonos – Athens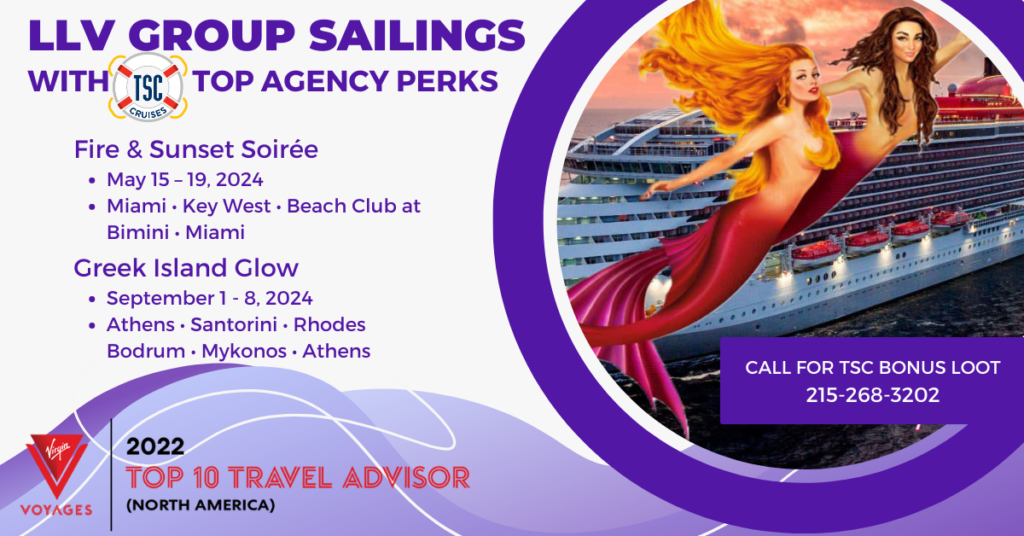 Why booking any Virgin Voyages Cruise is better with TSC
In 2022 we tipped the final results at #4. And there is reason for that. Simply put, we know our stuff!
Virgin Voyages has multiple sales, offers and promotions. We are ACES at combining all of the possible options to make sure you are optimizing your fun and vacation dollar. And we will probably offer you a thing or two that you won't find available online.
Start by checking out the rooms on our Virgin Link here: https://tinyurl.com/VVLynn
2. Next – do it the old-fashioned way and pick up the phone at 877-348-6570, to ask what promos we can add for you!
3. Sit back and smile waiting for your awesome Virgin Voyage experience
The Added LLV Appeal!
When you are choosing to travel on the LLV Group Dates, you will have a little upcharge but a lot of extra sexiness!
LLV Group Guests will have the Massive suite as hospitality playroom
Welcome reception with Hors D'Houevres & Cocktails
M&G during the week
LLV welcome bags with swag
Personal attention from LLV
There will be an extra cost of $100.00 per couple per night – we will connect you with LLV for this charge after your reservation is completed.
Read about Other Virgin Voyage Groups

Photos and Reviews for past group cruises on Virgin Voyages
Take a look at this exciting group on Scarlet Lady VV NYE Review


Virgin Voyages set out to make this a cruise for non-cruisers and to get rid of everything that people hate about cruising. Since we LOVE cruising we were curious to find out more!