Alaska Swingers Cruise – Facts at a Glance
June 17-24, 2018
461 Cabins
Inside Passage Itinerary: Vancouver – Sitka, Alaska – Cruising Glacier Bay – Juneau, Alaska  – Ketchikan, Alaska – Vancouver
Swinger Couples Only, Clothing Optional, Full Ship Charter
This cruise is good fit for: Newbies, Open Minded Adventurous Couples, Swingers, Kinksters
Average age 35-65
Guests Under 45 – approximately 15% or 146 passengers
To View Prices Click 'book now'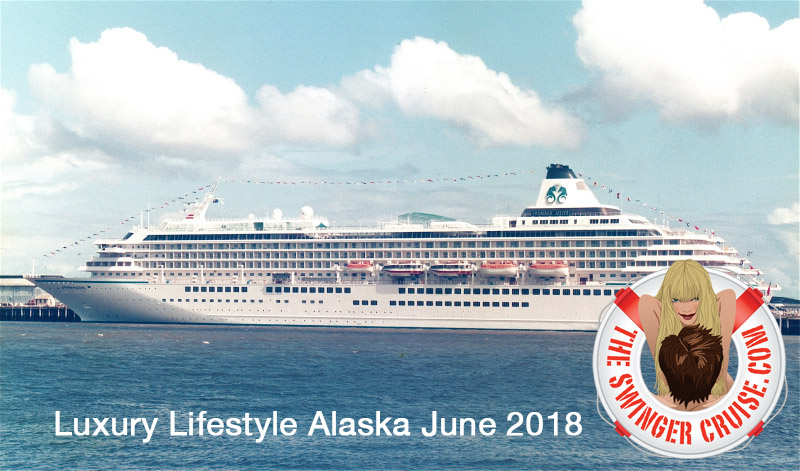 The Alaska Swingers Cruise Offers…
Glaciers, Dog Sleds and Nobu Restaurant at Sea
On this Alaska Swingers Cruise you will experience the best adventure excursions in Alaska by day and up scale lifestyle entertainment and luxury dining by night.  This is a quality once in a lifetime experience. Your voyage includes one seating at each specialty restaurant at no additional cost… Oh, and YES drinks are included too!

Alaska Swinger Cruise Itinerary
| Date | Port of Call | Arrival | Departure |
| --- | --- | --- | --- |
| Jun 17, Sunday | Vancouver, British Columbia, Canada | – | 05:00pm |
| Jun 18, Monday | Cruising the Inside Passage | – | – |
| Jun 19, Tuesday | Sitka, Alaska, USA | 12:00pm | 7:00pm |
| Jun 20, Wednesday | Cruising Glacier Bay | – | – |
| Jun 21, Thursday | Juneau, Alaska, USA | 8:00am | 7:00pm |
| Jun 22, Friday | Ketchikan, Alaska, USA | 1:30pm | 7:00pm |
| Jun 23, Saturday | Cruising the Inside Passage | – | – |
| Jun 24, Sunday | Vancouver, British Columbia, Canada | 6:00am | |
Swingers Cruise Theme Parties
The theme parties on this cruise are designed help you step into expressing your inner desires.  Let go, immerse yourself in the fantasy of it.  Guests who dress in theme report more social interaction and more fun.
You can go all out on a costume or simply echo the theme with an accessory.  Not in the mood? No problem it's all about doing your own thing with your partner and having a wonderful time.
Theme Nights for the Alaska Swinger Cruise:
Sunday – Oh, Canada! – Canadian pride, Mounties, Lumberjacks, and the Canadian flag with strategically placed Maple Leaves.. "So you party eh?"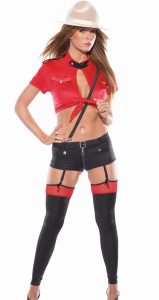 Monday – GI Joes & Army Hoes – Rise and salute! Give praise to our nation's protectors by wearing camo and protecting your "treasured land".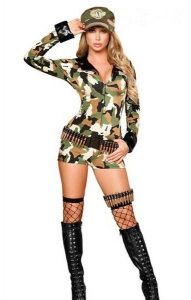 Tuesday – West World – Think Cowboy meets Science Fiction.  Some may even call this modern Steampunk style. Sexy saloon girls and Cowboys with a modern edge to them.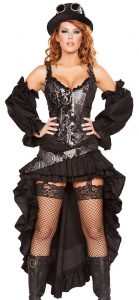 Wednesday – Under the Sea – Reach down to the deeps with your partner, dressing like Ariel or Poseidon, whatever floats your boat!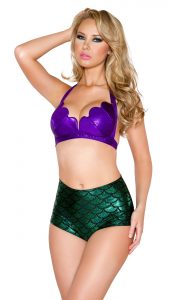 Thursday – Gold Rush – This would be one night where it wouldn't hurt to be called a 'gold digger'!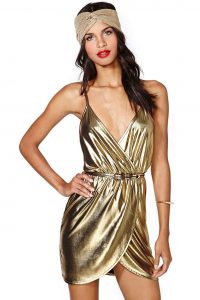 Friday – Prohibition Era – Think flapper and gangster outfits.  The roaring 20's was the time of Moonshine and Speakeasys.
Saturday – Glacier Party – Celebrate your final night by thinking ice queens, snow bunnies and kissing Eskimos. This will be in lieu of the white night on board.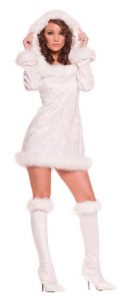 Alaska Swingers Cruise Dining & Accommodations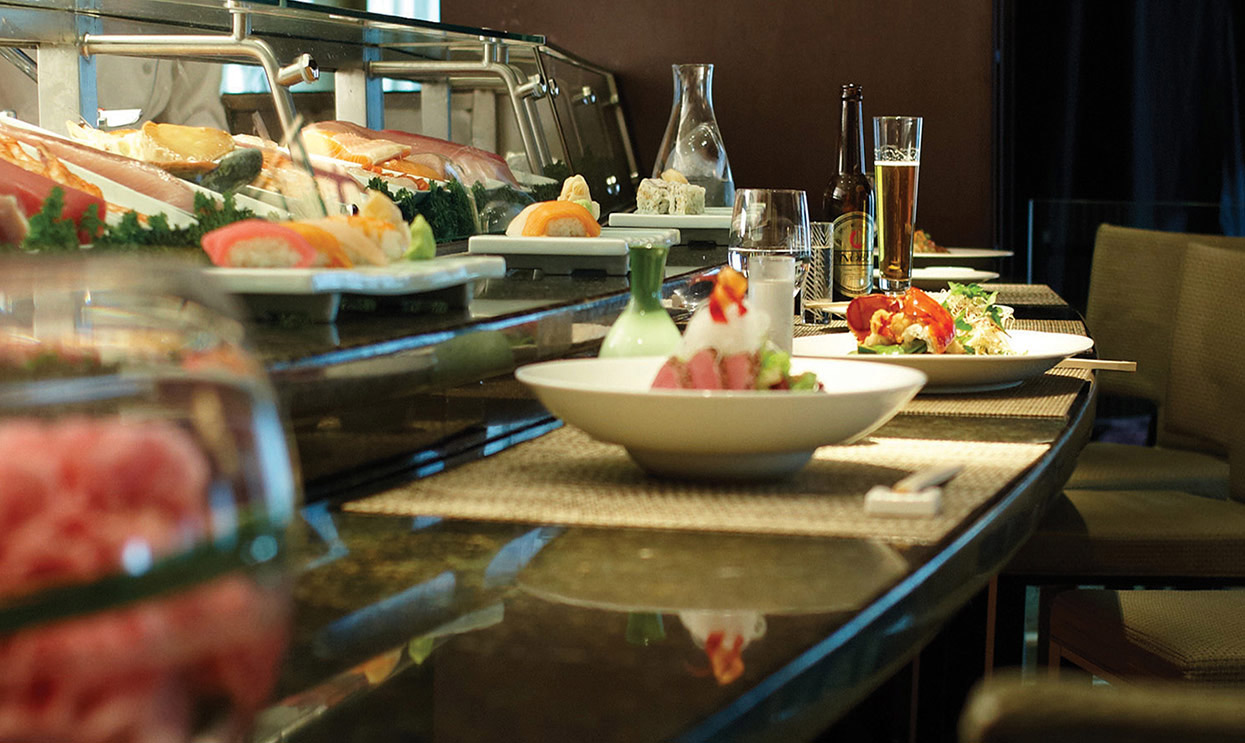 Umi Uma by Nobu – Specialty Restaurant
One of the things I was most excited about when I decided to purchase my Alaska Swingers Cruise was the specialty restaurant dining.
Umi Uma is the new name for Nobu's specialty restaurant serving his acclaimed Japanese-Peruvian cuisine, and a beautiful representation of Crystal's long-standing relationship with the famed Chef:
Umi uma is Japanese for seahorse, Crystal's iconic logo
The eclectic–and delectable–cuisine of world-renowned master chef Nobuyuki "Nobu— Matsuhisa is prepared by Nobu-trained chefs at Umi Uma by Nobu (formerly Silk Road and The Sushi Bar).
Prego – Specialty Restaurant
Prego, the popular specialty venue serving Northern Italian favorites, will introduce new menu enhancements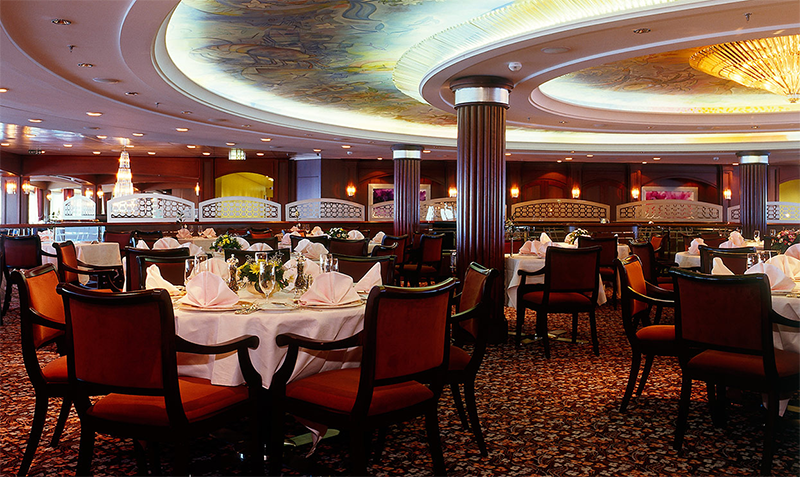 Crystal Dining Room becomes Waterside
WATERSIDE |
New Open Seating!
Formerly known as the Crystal Dining Room
An abundance of tables for two and four
Serving breakfast, lunch and dinner
Exceptional menus of Classic favorites and Modern specialties
No reservations required
A perfect venue for making new friends and sharing fabulous stories of the days adventures. Why it's also a perfect place to plan the rest of the nights adventures too.  After all it is an Alaska Swingers Cruise!
Silk
'Tastes' has been reinvented into a contemporary new specialty Asia restaurant, offering open-seating for breakfast and lunch with reservations recommended for dinner.
For breakfast and lunch, enjoy asian-fusion al fresco dining on deck, with a variety of authentic delicacies such as dumplings, porridge, and savory crepes for breakfast and classic asian favorites like dim sum, noodles and savory soups for lunch.
For dinner, enjoy a brand new dinner menu that will feature tantalizing family-style sharing plates sure to impress all foodies— be they food-adventurers or gourmet aficionados.
Chinese-inspired al fresco dining on deck
Authentic delicacies such as dumplings, porridge, and savory crepes for breakfast, and dim sum, noodles and soups for lunch
A dinner menu of tantalizing family-style sharing plates
Open-seating for breakfast and lunch; dinner reservations recommended
Marketplace
This is the buffet restaurant (formerly Lido Cafe) Enjoy a fresh and friendly venue for breakfast and lunch with an open-kitchen prepering made-to-order favorites including handmade pastas, made-to-order sandwiches, fresh salads and more.
Formerly known as the Lido Café
Fresh and friendly venue for breakfast and lunch
Open kitchen preparing made-to-order favorites
A fresh and friendly venue for breakfast and lunch, with an open kitchen preparing made-to-order favorites.
Open-seating, no reservations required
Churrascaria
For dinner, we "travel" to South America with a feast of succulent cuts of meat and ceviches as Marketplace transforms into a Brazilian steak house each evening. Savor a selection of mouth-watering tapas, sales and seafood brochettes too.  Or, sip caipirinhas as our skilled Crystal gauchos journey through the restaurant with tender grilled meats served the Brazilian "Crystal" way.
Formerly known as the Lido Café
Evening Brazilian steakhouse at Marketplace
Menu of succulent cuts, ceviches, tapas and more
Open-seating, no reservations required
Luxurious Oceanview Staterooms
This is the least expensive stateroom on the Alaska Swingers Cruise.  The rooms only get more impressive from here.
Alaska Swinger Cruise What's Included
This All-inclusive Alaska Swingers Cruise includes:
Complimentary fine wines and premium spirits throughout the ship.
Waters, soft drinks, specialty coffees and teas
Unlimited Wifi
Specialty Dining at no additional charge for your first reservation at Umi Uma by Nobu & Prego
Open Dining Restruants include: Market Place (buffet), Churrascaria Brazilian Steakhouse,  the newly renamed main dining room, Waterside, (Crystal Dining Room), and Silk an Asian inspired restaurant.
Gratuities for housekeeping, bar, dining and Penthouse butler staff.
Fine Dining
Up to eight evening dining venues
Complimentary select fine wines, champagne and premium spirits throughout the ship
Complimentary evening of specialty restaurant dining in Prego and at least once in Nobu Matsuhisa's Silk Road or The Sushi Bar (additional reservations or visits available for a modest fee.)Ϯ New: Crystal is adding a Brazilian Steak House Specialty Restaurant.
Open-bar service throughout the ship
Gratuities for housekeeping, bar and dining staff throughout the ship
Marketplace, a European-style sidewalk café, now with extended hours into the late evening
All non-alcoholic beverages including bottled water, specialty coffee drinks, soft drinks, fresh juices and Afternoon Tea service
Acclaimed Crystal Wine & Food Festival® cruises featuring famous chefs and wine authorities on select voyages
Early embarkation luncheon
Welcome champagne
24-hour room service
Afternoon Tea in elegant Palm Court
Innovative Modern Cuisine as well as Global Inspired specialty menus
Enrichment & Entertainment
Free Unlimited Wifi
Computer University@Sea® classes with software instruction
Technology Concierge "how to" tips on latest high-tech gadgets and apps
Digital USC School of Cinematic Arts Digital Filmmaking classes
Breakout new productions shows including Rocket Man!: a tribute to Elton John, the high-energy, rhythmic6/8 Café, plus piano bars and chic nightclubs
Magic Castle® at Sea offering intimate up-close performances and educational classes
Recent-release films in spacious surround-sound Hollywood Theatre
Dance lessons
Ambassador Hosts, cultured and well-traveled gentlemen, are available on every cruise to socialize and dance the night away
Art classes with Odyssey Art At Sea
Concierge services for personal arrangements ashore
Fitness
Gym with state-of-the art fitness equipment
Well-appointed separate men's and women's steam, saunas and whirlpools in the only Feng Shui-inspired spa at sea
Fitness classes including yoga, mat Pilates, "Tour de Spin" cycling, cutting-edge Kinesis™ systems and Tai Chi courses
Golf lessons with PGA instructors
Exclusive 360° (wraparound) teak Promenade Deck for uninterrupted walks, jogs and sweeping ocean views
Walk-on-Water® weighted vests and Nordic Pole walking equipment
Paddle tennis
Stateroom Services & Amenities
In-stateroom satellite TV and movie/DVD rentals
Twice daily housekeeping with nightly turndown service
Complimentary soft drinks and bottled water as well as complimentary select beer, wine and spirits upon request
Kimonos, Frette bathrobes, 100% Egyptian cotton linens, and a menu of pillow options
Self-service launderettes
Penthouse Services & Amenities
Personal butler service with gratuities included
Unpacking and packing upon request
Pressing and shoe shine
Afternoon tea service and nightly hors d'oeuvres
Stocked bar and afternoon canapés
Order "in" from specialty restaurants
Pricing, Policies and Insurance for the Alaska Swinger Cruise
The best pricing strategy is to book early. Prices are always released at the lowest rate and get higher closer to departure.
For up to date pricing please consult the online booking link.  
Alaska Swinger Cruise Prices
Penthouse Suite $7950 pp
Penthouse $7250 pp
Veranda Stateroom $4450 pp
Limited -Veranda Early Booking Rate $4250 pp
Ocean View $3950 pp
Limited – Ocean View Early Booking $3750 pp
Oceanview Partial Obstructed $3750 pp
Limited – Oceanview Partial Obstructed Early Booking $3550 pp
Port Charges, fees, taxes & prepaid gratuities are additional.
Oceanview & Verandah $425 per person
Suites $475 per person
Payments & Policy
Payment Options – Monthly Payments 
Book by October 1, 2016 and we can offer 16 monthly payments as an option.  Book after October 1, 2016 and we can still offer a monthly payment but adjusted by the number of months remaining until final payment is due.
Payment Options – Quarterly Payments

Deposit Due at the time of Booking
Feb 2, 2017  15%
June 6, 2017 30%
September 2, 2017 30%
December 2, 2017 Final Balance
Cancellation Policy
Cancellation prior to June 17, 2017 – Full refund less $125.00 p/p
Cancellation prior to September 17, 2017 – Full refund less $250.00 p/p
Cancellation prior to December 17, 2017 – Full refund less $500.00 p/p
Cancellation after December 17, 2017 – No refund.
Alaska Swinger Cruise Policies
LLV Cruises are Couples Only.  Couples are allowed to bring a third female to share their cabin if the cabin is equipped.  Single men are not allowed.
We HIGHLY recommend travel insurance for your Alaska Swingers Cruise
Travel Insurance
Yikes, travel insurance is not a fun topic but a lot of you have asked…
This is about what happens if you are paid, packed and ready to go… and there is a problem.
The biggest 2 reasons people take insurance are:
Trip Cancellation
Medical Expenses or Medical Evacuation
Full Ship charters are better than regular cruises in many ways, however the penalties and potential for a loss if you have to cancel is higher. Shortly after final payment most full ship charter cruises become non-refundable. That means if you have to cancel your trip not only do you have that disappointment of a cancelled vacation, but I have to tell you you don't get your money back.
Our most popular insurance is 'World Wide Trip Protector' and provides full coverage when purchased up to 21 days after your vacation purchase.
The best value just to make sure you have coverage is 'Trip Protector Lite Expanded.'
We recommend Travel Insured – Get a quote and buy insurance  
Note: this link opens a window for Travel Insured – if you have questions pleases phone our office for assistance.
Please consider purchasing Travel Insurance
Since everyone pretty much likes me right now and I'd like it to stay that way, please consider purchasing travel insurance. Or at least don't say I didn't warn you if there is a problem.
Other coverages that take the worry out of travel:
Trip Interruption – Return air only
Trip Delay & Missed Connection coverage
Baggage Loss or Delay
Cancel for Work Reasons Options available on select policies
We strongly recommend purchasing travel insurance for your upcoming cruise. There are hundreds of circumstances that could cause you to cancel your trip, return home early or force you to seek emergency medical treatment while traveling. Travel insurance offers coverage for unforeseen problems such as, an unexpected financial change or scheduling conflict, a cancelled flight or a serious illness. You even have the option where you can cancel for any reason. We recommend Travel Insured – Get a quote and buy insurance
Pre-Cruise Options
LLV has chosen an elegant Host Hotel for its pre-cruise location, the Vancouver Marriot Pinnacle Downtown Hotel. Experience the BEST of what Downtown Vancouver can offer.
1128 West Hastings Street Vancouver British Columbia V6E 4R5 Canada
Phone: +1-604-684-1128 • Toll-Free Reservation Center: 1-800-207-4150
Prices start at 329 CAD (Approximately $260 USD).
Elegance, convenience, and modern comfort await you here at the Vancouver Marriott Pinnacle Downtown Hotel. The hotel is ideally situated in the heart of the city center, just moments from all of the things that make Vancouver such a popular tourist destination – including Stanley Park, our Cruise Ship Terminal, and Rogers Arena.
Local Attractions:
•Stanley Park & Vancouver Aquarium
•Historic Gastown, Yaletown & Granville Island
•Robson Street Shopping
•Capilano Suspension Bridge
•Dr Sun Yat-Sen Classical Chinese Garden
•Fly Over Canada
•Grouse Mountain
•Rogers Arena
•Harbour Cruises
•HR Macmillan Space Centre
Why book the Alaska Swinger Cruise
This is a bucket list trip of a lifetime.
The Crystal Symphony is one of the most spacious and luxurious cruise ships at sea. A true 5 star luxury!
This is a full ship, couples only charter – this will be the best all around experience for a lifestyle couple to visit Alaska, ever!
Drinks & Specialty Restruants are included – this is an All Inclusive Cruise.
Experience the Summer Solstice in Alaska. The height of summer, June 21, is accompanied by a full 24 hours of daylight in Alaska's northernmost community of Barrow. Closer to the southern coast, Anchorage experiences a total of 19 hours of daylight during the summer solstice.
The ship is freshly completed a multi million dollar renovation.  *Watch the Video*
What Past Guests Have to Say…
The quality of the dining on Azamara is second to none!  Our favorite was the Chef Table Dinner.
We took full advantage of all the gourmet offerings and started a new tradition by turning the "afternoon tea" into a the kick of for our afternoon room party! We stocked up on sweet and savory provisions from the tea-trolly, got a few bottles of champagne and hosted quite the fete!
We loved the theme parties on our last cruise with SDC.
One thing that made it special was that everyone was dressed up beautifully.  We felt really special to be included in such an amazing group. There were so many possibilities.  Mrs says she never felt sexier.
It was so exciting to be part of such a vibrant group of people all dancing sexy and having fun.
The first time we booked we weren't sure if we would fit in. We are in our mid 30's and Lynn assured us that our desire for the finer things in life would be the key to fitting in with this group. She was right!
We expected couples age 45-65 and we were surprised how many young couples there were!  We loved every moment of that cruise and cannot wait to get on the SDC Caribbean Swinger Cruise!
Why You Should book with TSC
There are a number of reasons why you should book the Alaska Swingers Cruise with TheSwingerCruise.com agency.
Selection of the best cabins in all categories including in demand suites on the Alaska Swingers Cruise.
Easy payment plans that make getting into this exclusive product as easy as booking any other vacation.
TSC Expert Agents provide first hand experience.  We have been on the Crystal Symphony, enjoyed the cuisine an inspected all of the staterooms.  We even wrote a special video on how to pick the perfect balcony.
We have sailed on over 23 Swinger Cruises and will help you find the one that perfectly fits your style.
Our Signature 'Get Ready' program provides all the information you need before you board the ship so you can get the most out of your vacation.
We create VIP Pre-Crusie authentic emersion events.  Board the ship with a whole group of new friends.
'Must Read' Swinger Cruise Articles
We have been on over 23 full ship charters.  Here are a few articles we have written to answer your questions, calm any worries, and get you excited for the 'Best Fu@%ing Vacation!'
Are you curious to sail your relationship into uncharted waters? Would you like to experience the sexiest vacation at SEA? Tune is as Carol & David adventure with Miss Lynn, proprietrix of wildly successful travel company, TheSwingerCruise.com And we will find out...
Alaska Swinger Cruise on Crystal Symphony
June 17 – 24, 2018
Explore the beauty of the Alaska Glaciers and Inside Passage.
Join 461 beautiful couples from all over the world.
Imagine sailing in this sensual environment.
Explore the rustic ports of Alaska by day.
Enjoy erotic theme parties every night.