Infinity Bliss Cruise 2020 – Facts at a Glance
April 20-25, 2020
1119 Cabins
Miami, Nassau, Labadee + 2 Sexy Days at Sea
Swinger Couples Only, Clothing Optional, Full Ship Charter
This cruise is good fit for: Newbies, Open Minded Adventurous Couples, Swingers, Kinksters
Average age 35-65
Guests Under 45 – approximately 20% or 440 passengers
To View Prices Click 'book now'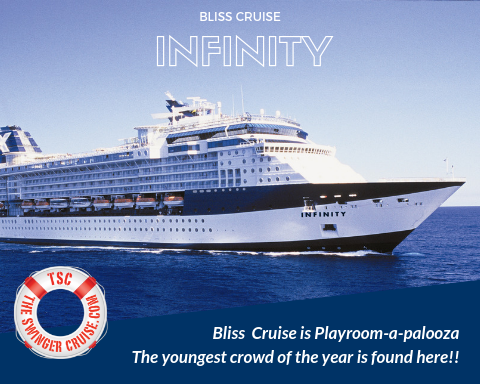 Cruise Cancellation Notice
Updated: March 24, 2020
It is with great sadness that we must announce that the APRIL 2020 BLISS CRUISE CHARTER WILL NOT SAIL. These are unprecedented times and we are all called to do our part so the nation can recover. Bliss Cruise and Celebrity Cruises have been closely monitoring the Covid-19 situation and have decided together that it is in the best interest of public safety to make this decision at this time. We want each of you to know that your health and safety are important to us and that we do not take lightly how tenuous and stressful the past few weeks have been on everyone. We want to thank you for the understanding you have shown throughout this process of determining the best course of action.
If you have not already taken advantage of our transfer option, a full credit of your payments from your April 2020 booking can still be transferred as payment on a future cruise. If you still have an active booking on the April cruise and do not wish to transfer, you may send a request to your travel agent for a refund. Please note that Bliss is working with Celebrity on a refund procedure as the funds are still held by the cruise line at this time. Once the refund procedure has been clarified, you will be notified. Please understand that it will take us some time to process everyone's request.
Bliss Cruise and Celebrity Cruises would love to have your continued support. Please understand that as we strive to address the needs of each and every client, we ask for your patience.
Stay safe and let's all get excited about the November 2020 CRUISE!!!
The Bliss Cruise Partners
UPDATE ON THE CORONAVIRUS AND THE APRIL BLISS CRUISE CHARTER
The following update is from Bliss Cruise Managment. March 16, 2020.
As new developments occur we will continue to update our valued clients. We know everyone is concerned about the Coronavirus as well as how it impacts our April charter. We, at Bliss Cruise, are concerned about your health and safety and are working with the cruise line to determine the best course of action.
At this time Celebrity is still planning to host the Bliss Cruise Charter and we are making final arrangements. However, for guests who would prefer to transfer to a future Bliss Cruise Charter, subject to the transfer fee, please contact your Travel Agent to make arrangements. *
Celebrity has implemented rigorous safety and security screening procedures while sailing during this advisory period to keep the ships clean and the crew healthy. During the boarding procedure, Celebrity will take your temperature. If you have a temperature over 100.4 degrees Celebrity will conduct a second screening and you may not be able to board the ship. Additionally, guests who have traveled from China, South Korea, Japan, Singapore or Italy within the previous 2 weeks may not be allowed to board.
Be good to yourself in these coming weeks to keep yourself strong and healthy. It is still recommended that the most important thing you can do is to practice frequent and thorough hand washing.
We will continue to diligently monitor the situation at hand and keep all of you updated with the most current information.
We appreciate you being part of our community. Thank you for your support as we continue to create incredible lifestyle cruises!!!
* All policies are subject to change as the situation develops.
Infinity Bliss Cruise 2020 Itinerary

Nassau, Bahamas:  Located on New Providence Island, Nassau has an attractive harbor, a colorful blend of old world and colonial architecture, and a busy port. The tropical climate and natural beauty of the Bahamas have made Nassau a popular tourist destination.
Average springtime temperatures reach the range of 75 to 83 degrees
Labadee, Haiti:  Located on the northern coast of Haiti within the arrondissement of Cap-Haïtien in the Nord department, Labadee is a private resort leased to Royal Caribbean Cruises Ltd. until 2050. Royal Caribbean has contributed the largest proportion of tourist revenue to Haiti since 1986, employing 300 locals, allowing another 200 to sell their wares on the premises for a fee. The resort is completely tourist-oriented, and is guarded by a private security force. The site is fenced off from the surrounding area, and passengers are not allowed to leave the property. Food available to tourists is brought from the cruise ships. A controlled group of Haitian merchants are given sole rights to sell their merchandise and establish their businesses in the resort.
Attractions include a Haitian flea market, beaches, watersports, a water-oriented playground, an alpine coaster, and the largest zip-line over water.
Infinity Bliss Cruise 2020 – Theme Nights
The theme parties on this cruise are designed to help you step into expressing your inner desires.  Let go, immerse yourself in the fantasy of it.  Guests who dress in theme report more social interaction and more fun.
You can go all out on a costume or simply echo the theme with an accessory.  Not in the mood? No problem it's all about doing your own thing with your partner and having a wonderful time.
Monday – Sports Jersey Night
Let the games begin! Show your sexy team spirit and find your "playful" teammates by wearing the sports jersey of your favorite team.
 Tuesday – Caligula's White Party
The Roman Emperor Caligula was known for throwing some crazy parties so wrap up in your best party toga and indulge in a night of debauchery. If you do not want to go full toga, simply dress in all white and enjoy the night.
 Wednesday – Glow Night
Dance under the stars and light up the night with all things glowing, blinking and flashing. Neon outfits, glow sticks, glow body paint, etc!
 Thursday – Halfway to Halloween
Ready for some freaky fun? Whether you're ghoulish or glam or just wear a mask, dress up and join us if you dare!! It's time to scare up some fun and enjoy a night of tricks, treats, costumes and cocktails.
 Friday – Bikinis vs. Lingerie
Our final night presents a fun and sexy challenge. Do you prefer a bikini or lingerie? Wear your favorite and party the night away.
Infinity Bliss Cruise 2020 – Dining, Playrooms & Accommodations
Dining Options Onboard The Celebrity Infinity Bliss Cruise
Trellis (Main Dining Room) Breakfast, Lunch, Dinner
Oceanview Cafe (buffet) Breakfast, Lunch, Dinner & Late Night
Tuscan Grille
Qsine
Pool Grill (Burger Bar) Lunch, Dinner
Aqua Spa Cafe
Cafe Il Bacio Gelateria
Sushi on 5
Luminae
Blu
Infinity Bliss Cruise 2020 Playrooms – Preliminary  Plan
When Bliss Cruise sailed on the sister ship the Summit, in 2017, there were plenty of playrooms.
There were TWO outdoor playrooms scheduled around the clock.  There was sexy under the sun and stars play 10 am-6 pm deck 12 forward and 6 pm-6 am deck 12 Aft.
Kinky Couples got to enjoy the Fantasy Room and the Fetish area which allowed you to play or be a voyeur. 
Expanded Fetish hours include more Day Play and advanced BDSM play.
A full one-third of the Solarium remained set up all the time, and the full solarium was a playroom at night. FUN!
Infinity Bliss Cruise 2020 – Accommodations
Stateroom 467 sq ft.
Veranda 85 sq ft
Total 552 sq ft
Stateroom 251 sq ft.
Veranda 57 sq ft
Total 308 sq ft
Stateroom 271 sq ft.
Veranda 242 sq ft
Total 513 sq ft
Stateroom 170 sq ft.
Veranda 38 sq ft
Total 208 sq ft
Stateroom 170 sq ft.
Stateroom 170 sq ft.
Infinity Bliss Cruise 2020 – What's Included in your Cruise Fare
ACCOMMODATIONS: Of course your stateroom or suite is included.
AWARD-WINNING CUISINE: Your meals are included in the Main Dining Room.  Here the menu changes nightly.  Meeting new friends and inviting them to dinner is one of our favorite ways to hook up on a Bliss Cruise.  Read more about how dinner can make or break your cruise here
Also included in your Infinity Bliss Cruise are meals at the Oceanview Cafe buffet, Spa Cafe, Mast Grill, and Seaside Grill, as well as room service.*
POOLS: Jacuzzis, outdoor pools, indoor adults-only Solarium.
FITNESS CENTRE & CLASSES: Ultra-modern facilities with the latest high tech equipment, offering a holistic range of instructor-led wellness classes.*
ENTERTAINMENT: On Infinity Bliss Cruise you will find a nightly theme party, adult lifestyle entertainment and a full schedule of sexy education.  There are also meet and greets scheduled for almost every interest.  In addition to that, there is also the ships regularly scheduled entertainment that includes everything from Broadway-style theatre to cutting-edge circus shows, comedy, magic, dance and live music – the best entertainment at sea.
TIP & GRATUITIES Onboard tips/gratuities have been included in your cruise fare.  This includes tips for your cabin steward and restaurant waiters.  A gratuity will be added to all onboard drink purchases.  The staff on a ship work hard for you to have a fabulous vacation.  If you feel like you are getting good service additional cash tips are always appreciated.
NOT INCLUDED IN YOUR CRUISE FARE:
Flights, hotels & transfers – Check out our Pre-Cruise Options for hotel & transfers.
Speciality dining
Shore excursions
Onboard drinks & dining packages
Laundry charges
Canyon Ranch Spa treatments & packages
Shopping Onboard
Telephone & internet charges
(if you haven't pre-paid, these they will be automatically added to your SeaPass account)
Travel insurance
*Complimentary dining at Main Dining Room, Oceanview Cafe, Spa Cafe, Mast Grill and Seaside Grill. A supplementary fee is payable at other dining venues. Room service charges apply from 11pm-6am. Charges apply to some fitness classes.
Infinity Bliss Cruise 2020 – Pricing, Policies, and Insurance
For Accurate Infinity Bliss Cruise pricing check the Book Now Button and begin a price quote.
For 3rd and 4th additional passengers:
$325 plus taxes and fees for Stateroms
$375 plus taxes and fees for Suites
Port Charges, Taxes, Gratuities and Fees:
$350 per person for Staterooms
$425 per person for Suites
Infinity Bliss Cruise 2020 – Payment Schedule
Deposit due at time of booking

November 1, 2018 – 1/3 of balance due

May 1, 2019 – 1/3 of balance due

September 1, 2019 – Final balance due
Monthly Payment Plans
Monthly payment plans are available. We aim to be as flexible as possible.
Please phone us at 877-348-6570 to create a custom payment plan.
Special Offers on Infinity Bliss Cruise 2020
Charter ship programs are different than regularly scheduled voyages.  This notice is letting you know that the regular offers and promotions from Royal Caribbean will not apply on a Bliss Cruise.  This includes captain club benefits and promotional offers and inclusions with suites.  Here is the official wording:
Any cabin purchased from Bliss Cruise is for the cabin ONLY. Any special pricing, promotions, offers, discounts of any type whatsoever offered on scheduled voyages by the cruise line for any reason is not part of the Bliss Cruise program and will not be honored, EXCEPT if Bliss Cruise elects to incorporate an offer into the Bliss Cruise program.
Infinity Bliss Cruise 2020 Cancellation & Penalties
Up to March 15, 2019 – $75.00 pp ($150 pp for Suites)
March 16 to July 15, 2019 – $150.00 pp ($300 pp for Suites)
July 16 to November 15, 2019 – $250.00 pp ($500.00 pp Suites)
After November 15, 2019 – No Refund
We recommend travel insurance.
Travel Insurance
Yikes, travel insurance is not a fun topic but a lot of you have asked…
This is what happens if you are paid, packed and ready to go… and there is a problem.
The biggest 2 reasons people take insurance are:
Trip Cancellation
Medical Expenses or Medical Evacuation
Full Ship charters are better than regular cruises in many ways, however, the penalties and potential for a loss if you have to cancel is higher. Shortly after final payment, most full ship charter cruises become non-refundable. That means if you have to cancel your trip not only do you have that disappointment of a canceled vacation, but I have to tell you that you don't get your money back.
Our most popular insurance is 'World Wide Trip Protector' and provides full coverage when purchased up to 21 days after your vacation purchase.
The best value just to make sure you have coverage is 'Trip Protector Lite Expanded.'
We recommend Travel Insured – Get a quote and buy insurance  
Note: this link opens a window for Travel Insured – if you have questions pleases phone our office for assistance.
Please consider purchasing Travel Insurance
Since everyone pretty much likes me right now and I'd like it to stay that way, please consider purchasing travel insurance. Or at least don't say I didn't warn you if there is a problem.
Other coverages that take the worry out of travel:
Trip Interruption – Return air only
Trip Delay & Missed Connection coverage
Baggage Loss or Delay
Cancel for Work Reasons Options available on select policies
We strongly recommend purchasing travel insurance for your upcoming cruise. There are hundreds of circumstances that could cause you to cancel your trip, return home early or force you to seek emergency medical treatment while traveling. Travel insurance offers coverage for unforeseen problems such as an unexpected financial change or scheduling conflict, a canceled flight or a serious illness. You even have the option where you can cancel for any reason. We recommend Travel Insured – Get a quote and buy insurance
Infinity Bliss Cruise 2020 – Terms & Conditions
The U.S. Department of Treasury's Office of Foreign Asset Control (OFAC) administers a variety of trade embargoes and economic sanctions programs that are applied to some countries. Currently, the most restrictive measures are imposed against the following Sanctioned Countries:
Cuba
Iran
Sudan
North Korea
Syria
U.S. law prohibits us from providing services and engaging in business transactions with individuals and entities located in or residents of these Sanctioned Countries. This prohibition also extends to doing business with Sanctioned Countries indirectly through third parties.
This means we cannot, either directly or indirectly through a third party market or sell cruise vacations, make bookings, reserve cruise tours or expeditions, and provide other travel-related services to individuals or entities located in or residents of these Sanctioned Countries.
Why book the Infinity Bliss Cruise 2020?
The Celebrity Infinity is considered the star of the Millennium Class ship. The ship has gone through a grand makeover in October 2015.
Amazing Outdoor Playroom! The Rooftop Terrace with video screen created the most amazing ambiance we have ever seen in an outdoor playroom.
The 5-night Infinity Bliss Cruise will have the youngest crowd any lifestyle cruise has experienced.
What Past Guests Have to Say…
We are foodies and cruising on Celebrity for Bliss Cruise gave us exactly what we were looking for: great dining and a party that lasts late at night.
When we went on a vanilla cruise, the whole ship seemed dead after 10 pm.
Bliss Cruise rocked until the weeeeee hours.  I think one night we were getting drinks at Martini bar until 4 am.  And the drinks are top shelf too! Jason & Linnette
Our two favorite things from the last cruise were the daytime pool parties and dancing. We made sure to hang out where ever the two sexy female DJ's were playing.
For fetish night Mia did the 'Black Tape Project' thing.  OMG nothing was ever sexier than my wife wearing only black tape and high heels.
Will we be back on Infinity Bliss Cruise?  Absolutely Carlos & Mia
The first time we booked we weren't sure if we would fit in. We are in our mid 30's and Lynn assured us that the 5 night Bliss Cruise was the one for us.  She was right!
We expected couples age 45-65 and we were surprised how many young couples there were!  The ship was ROCKING!
We loved every moment of that cruise and cannot wait to get on the Infinity Bliss Cruise! Mark & Vanessa
Why You Should book with TSC
TheSwingerCruise.com is the only agency with ALL the cruises.
TSC Expert Agents provide first-hand experience.  We have sailed on over 26 Swinger Cruises and will help you find the one that perfectly fits your style.
Our Signature 'Get Ready' program provides all the information you need before you board the ship so you can get the most out of your vacation.
We create VIP Pre-Cruise authentic emersion events.  Board the ship with a whole group of new friends.
'Must Read' Swinger Cruise Articles
We have been on over 23 full ship charters.  Here are a few articles we have written to answer your questions, calm any worries, and get you excited for the 'Best Fu@%ing Vacation!'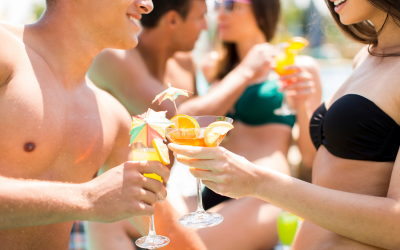 In the early days of TheSwingerCruise there was one cruise a year. You either went or you missed it. Those were the only two options. In the past 10 years several top cruising brands have emerged. The most popular Big Ship is Bliss Cruise. The secret to their...
Infinity Bliss Cruise  
April 20-25, 2020
Explore the beauty of the Caribbean on the Infinity Bliss Cruise from Miami, Florida.
Join 1119 beautiful couples from all over the world.
Imagine sailing in this sensual environment, meeting sexy young swingers and having the time of your life!
Explore the sultry Caribbean by day.
Enjoy erotic theme parties every night.