Bliss Mariner 2024 – Facts at a Glance
April 22 – 27, 2024
1,557 Cabins
Port Canaveral – Bahamas – Labadee + 3 Sexy Days at Sea
Swinger Couples Only, Clothing Optional, Full Ship Charter
This cruise is a good fit for: Newbies, Open Minded Adventurous Couples, Swingers, Kinksters
Average age 45-55
Guests Under 45 – approximately 20% or 620 passengers
To View Prices Click 'Book Now'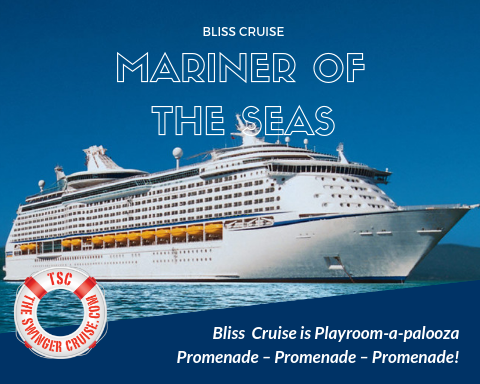 Bliss Mariner 2024 Cruise has 2 Great Ports + 3 Sexy Sea Days!!
On the Bliss Mariner 2024 Cruise, you will get a chance to visit the amazing natural beauty on the land and explore wild nights at sea.
What we know for certain is that the pool deck will be as sexy and fun. Bliss Mariner 2024 Cruise is 5 nights and everyone is coming to this cruise with a ready-to-go attitude.

Bliss Mariner 2024 Cruise – Theme Parties
Bliss designs their nightly theme parties onboard to help you step into expressing your inner desires and deviant.  They make it easy to let go, really immerse in the fantasy of the theme, and have fun with it.  Guests who dress in the theme report that they have more social interaction and more connections made.
You could choose to go all out on a costume or simply accent your outfit for the night with an accessory fitting the theme.  Not in the mood? No problem it's all about doing your own thing with your partner and having a wonderful time.
Don't think theme nights are worth it? Read our FAQ about Theme Nights [here]
** The themes for the Bliss Mariner 2024 Cruise have not been announced yet. Check back here closer to the sailing date for updated information**
Bliss Mariner 2024 Cruise – Dining, Playrooms & Accommodations
Dining Options Onboard The RCL Bliss Mariner 2024 Cruise
Main Dining Room – Breakfast, Lunch, Dinner
Windjammer Cafe (buffet) Breakfast, Lunch, Dinner & Late Night
Izumi – Asian inspired Dining
Pool Grill (Burger Bar) Lunch, Dinner
Chops Grille
Bliss Mariner 2024 Cruise Playroom – Preliminary  Plan
Bliss Cruise continuously provides the highest quality and quantity of playrooms.
Speaking of past cruises, when Bliss sailed on Summit there were TWO outdoor playrooms scheduled around the clock.  There was sexy under the sun and stars play 10 am – 6pm deck 12 forward and 6pm -6 am deck 12 Aft.
Kinky Couples got to enjoy the Fantasy Room and the Fetish area which allowed you to play or be a vouyer.
Expanded Fetish hours include more Day Play and advanced BDSM play.
A full one-third of the Solarium remained set up all the time, and the full solarium was a playroom at night. FUN!
Bliss Mariner 2024 Cruise – Accommodations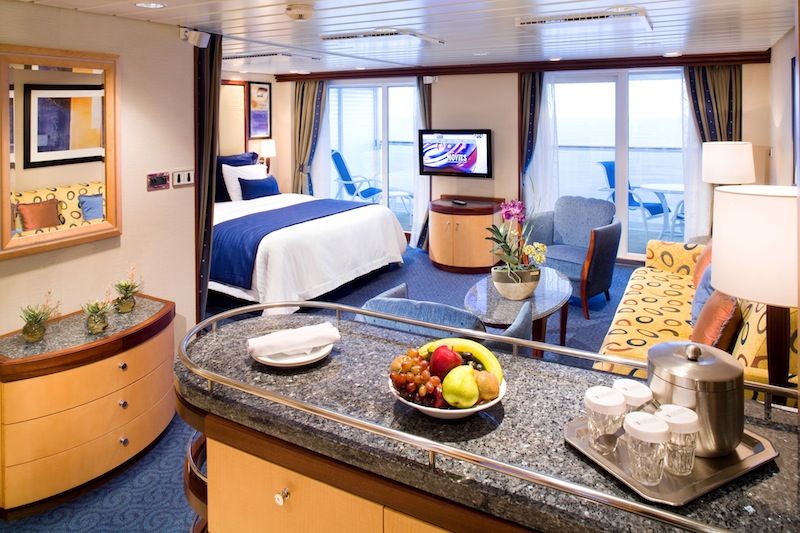 Mariner Bliss Cruise – Grand Suite
Stateroom 381 sq. ft.
Veranda 88 sq. ft.
Total 469 sq. ft.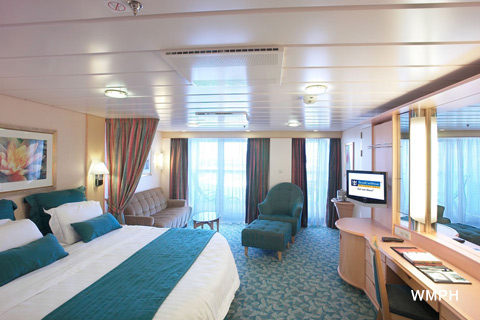 Mariner Bliss Cruise – Junior Suite
Stateroom 277 sq. ft.
Veranda 46 sq. ft
Total 323 sq. ft.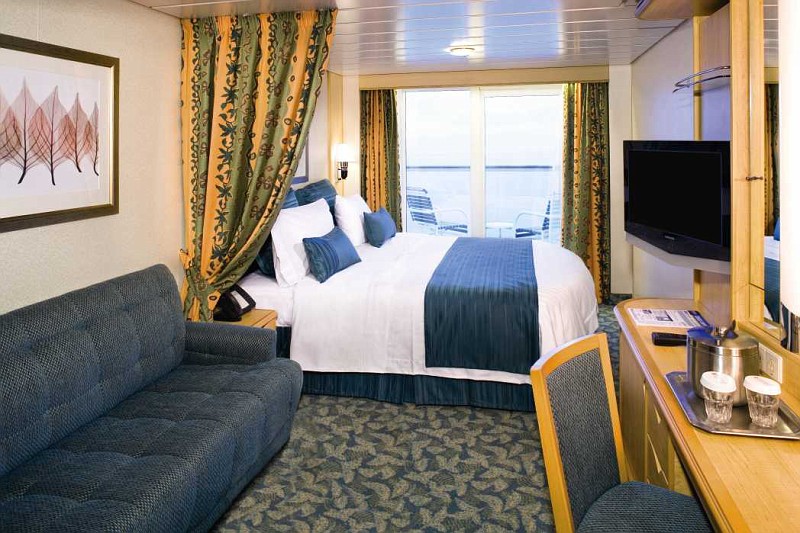 Mariner Bliss Cruise – Balcony Stateroom
Stateroom 198 sq. ft.
Veranda 46 sq. ft.
Total 244 sq. ft.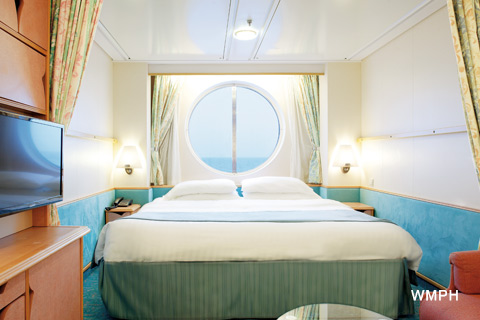 Mariner Bliss Cruise – Oceanview Stateroom
Stateroom 211 sq. ft.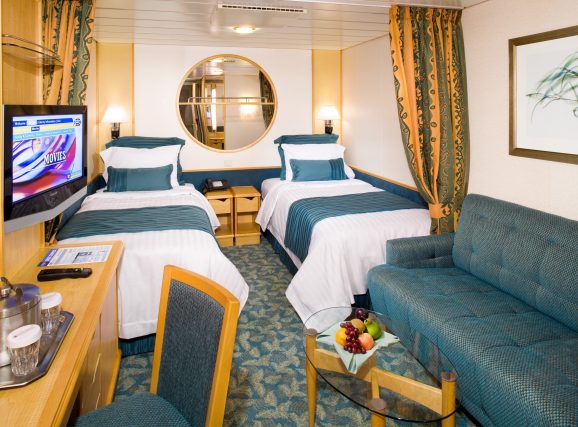 Mariner Bliss Cruise – Interior Stateroom
Stateroom 160 sq. ft.
Bliss Mariner 2024 Cruise – What's Included in your Cruise Fare
ACCOMMODATIONS: Of course, your stateroom or suite is included.
AWARD-WINNING CUISINE: Your meals are included in the Main Dining Room. Here, the menu changes nightly. Meeting new friends and inviting them to dinner is one of our favorite ways to hook up on a Bliss Cruise.
Also included in your Bliss Mariner 2024 Cruise are meals at the Windjammer Cafe buffet, as well as room service, and Johnny Rocket's .*
POOLS: Jacuzzis, outdoor pools
FITNESS CENTRE & CLASSES: Ultra-modern facilities with the latest high tech equipment, offering a holistic range of instructor-led wellness classes.*
ENTERTAINMENT: Mariner Bliss Mariner 2024 Cruise you will find a nightly theme party, adult lifestyle entertainment, and a full schedule of sexy education. There are also meet and greets scheduled for almost every interest. In addition to that, there is also the ship's regularly scheduled entertainment that includes everything from Broadway-style theatre to cutting-edge circus shows, comedy, magic, dance and live music – the best entertainment at sea.
TIP & GRATUITIES: Onboard tips/gratuities have been included in your cruise fare. This includes tips for your cabin steward and restaurant waiters. A gratuity will be added to all onboard drink purchases. The staff on a ship work hard for you to have a fabulous vacation. If you feel like you are getting good service additional cash tips are always appreciated.
NOT INCLUDED IN YOUR CRUISE FARE:
Flights, hotels & transfers
Specialty dining
Shore excursions
Onboard drinks & dining packages
Laundry charges
Spa treatments & packages
Shopping Onboard
Telephone & Internet charges
Travel insurance
*Complimentary dining at Main Dining Room, and Windjammer Cafe. A supplementary fee is payable at other dining venues. Room service charges apply from 11pm-6am. Charges apply to some fitness classes.
Bliss Mariner 2024 Cruise – Pricing, Policies, and Insurance
For the most up-to-date Bliss Mariner 2024 Cruise pricing, please use the Book Now Button and begin a price quote.
Port Charges, Taxes, Gratuities, and Fees for Bliss Mariner 2024 Cruise:
Bliss Mariner 2024 Cruise Payment Schedule:
Monthly Payment Plans on Bliss Mariner 2024 Cruise:
Monthly payment plans are available. We aim to be as flexible as possible.
Please phone us at 877-348-6570 to create a custom payment plan.
Special Offers on Bliss Mariner 2024 Cruise:
Charter ship programs are different than regularly scheduled voyages. This notice is letting you know that the regular offers and promotions from Royal Caribbean will not apply on a Bliss Cruise. This includes captain club benefits and promotional offers and inclusions with suites. Here is the official wording:
Any cabin purchased from Bliss Cruise is for the cabin ONLY. Any special pricing, promotions, offers, or discounts of any type whatsoever offered on scheduled voyages by the cruise line for any reason is not part of the Bliss Cruise program and will not be honored, EXCEPT if Bliss Cruise elects to incorporate an offer into the Bliss Cruise program.
Bliss Mariner 2024 Cruise Cancellation & Penalties:
* Cancellation policy dates remain the same regardless of your booking date.
We recommend travel insurance.
Travel Insurance
Yikes, travel insurance is not a fun topic but a lot of you have asked…
This is about what happens if you are paid, packed and ready to go… and there is a problem.
The biggest 2 reasons people take insurance are:
Trip Cancellation
Medical Expenses or Medical Evacuation
Full Ship charters are better than regular cruises in many ways, however the penalties and potential for a loss if you have to cancel is higher. Shortly after final payment most full ship charter cruises become non-refundable. That means if you have to cancel your trip not only do you have that disappointment of a canceled vacation, but I have to tell you that you don't get your money back.
Our most popular insurance is 'World Wide Trip Protector' and provides full coverage when purchased up to 21 days after your vacation purchase.
The best value just to make sure you have coverage is 'Trip Protector Lite Expanded.'
We recommend Travel Insured – Get a quote and buy insurance  
Note: this link opens a window for Travel Insured – if you have questions pleases phone our office for assistance.
Please consider purchasing Travel Insurance
Since everyone pretty much likes me right now and I'd like it to stay that way, please consider purchasing travel insurance. Or at least don't say I didn't warn you if there is a problem.
Other coverages that take the worry out of travel:
Trip Interruption – Return air only
Trip Delay & Missed Connection coverage
Baggage Loss or Delay
Cancel for Work Reasons Options available on select policies
We strongly recommend purchasing travel insurance for your upcoming cruise. There are hundreds of circumstances that could cause you to cancel your trip, return home early or force you to seek emergency medical treatment while traveling. Travel insurance offers coverage for unforeseen problems such as, an unexpected financial change or scheduling conflict, a canceled flight or a serious illness. You even have the option where you can cancel for any reason. We recommend Travel Insured – Get a quote and buy insurance
Bliss Mariner 2024 Cruise – Terms & Conditions
The U.S. Department of Treasury's Office of Foreign Asset Control (OFAC) administers a variety of trade embargoes and economic sanctions programs that are applied to some countries. Currently, the most restrictive measures are imposed against the following Sanctioned Countries:
Cuba
Iran
Sudan
North Korea
Syria
U.S. law prohibits us from providing services and engaging in business transactions with individuals and entities located in or residents of these Sanctioned Countries. This prohibition also extends to doing business with Sanctioned Countries indirectly through third parties.
This means we cannot, either directly or indirectly through a third party market or sell cruise vacations, make bookings, reserve cruise tours or expeditions, and provide other travel-related services to individuals or entities located in or residents of these Sanctioned Countries.
Bliss Mariner 2024 Cruise – Pre-Cruise Hotel
Our Group is staying at the Renaissance Orlando Airport Hotel 
While the group block has sold out – consider booking an individual room here:
https://www.marriott.com/en-us/hotels/mcora-renaissance-orlando-airport-hotel/overview/
5455 Forbes Pl, Orlando, FL 32812
Renaissance is also the location for the Bliss Official Meet & Greet the night before – tickets are available at the door:
Party time: Sunday, April 21, 2024 from 9:00pm to 12:00am
A great cruise starts with a relaxing and fantastic pre-cruise. We always recommend you come down at least one day early to take advantage of the time to meet your fellow cruisers or recharge your battery after a long travel experience.
A pre-cruise hotel block will be made available for our VIP clients as we come closer to the sail date.
**Check back soon for updated information**
Why book the Bliss Mariner 2024 Cruise?
On this cruise, we believe that most couples will agree that the ship is really the destination. There are several things we LOVE about the newly renovated Bliss Mariner Cruise!
Royal Caribbean's Mariner of the Seas has gone through a grand makeover in drydock in May of 2018.
3 words: Promenade – Promenade – Promenade!  Just like the independence Cruise, Mariner has a Promenade! This is a restaurant and shopping area that runs half the length of the ship.  Its the perfect place to mingle after dinner and before the night parties start!  Plus the promenade hosts parades & parties!
Bliss is Playroom-a-palooza! Get ready for some of the spectacular playrooms that Bliss has consistently delivered.
The sexy pool deck glows at night!  A perfect party venue!
What Past Guests Have to Say…
We are foodies and cruising on Bliss Cruise gave us exactly what we were looking for: great dining and a party that lasts late at night.
When we went on a vanilla cruise, the whole ship seemed dead after 10 pm.
Bliss Cruise rocked until the weeeeee hours.  I think one night we were getting drinks on the Promenade until 4 am.  And the drinks are top shelf too!
Our two favorite things from the last cruise were the daytime pool parties and dancing. We made sure to hang out where ever the two sexy female DJ's were playing.
For fetish night Mia did the 'Black Tape Project' thing.  OMG nothing was ever sexier than my wife wearing only black tape and high heels.
Will we be back on a Bliss Cruise?  Absolutely
The first time we booked we weren't sure if we would fit in. We are in our mid 30's and Lynn assured us that a Bliss Cruise was the best one for us.  She was right!
We expected couples age 45-65 and we were surprised how many young couples there were!  The ship was ROCKING!
We loved every moment of that cruise and cannot wait to get on the next Bliss Cruise!
Why You Should book with TSC
TheSwingerCruise.com is the only agency with ALL the cruises.
TSC Expert Agents provide first-hand experience.  We have sailed on over 40 Swinger Cruises and will help you find the one that perfectly fits your style.
Our Signature 'Get Ready' program provides all the information you need before you board the ship so you can get the most out of your vacation.
We create VIP Pre-Crusie authentic emersion events.  Board the ship with a whole group of new friends.
'Must Read' Swinger Cruise Articles
We have been on over 40 full ship charters.  Here are a few articles we have written to answer your questions, calm any worries, and get you excited for the 'Best Fu@%ing Vacation!'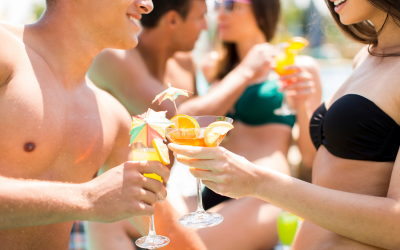 In the early days of TheSwingerCruise there was one cruise a year. You either went or you missed it. Those were the only two options. In the past 10 years several top cruising brands have emerged. The most popular Big Ship is Bliss Cruise. The secret to their...
Bliss Mariner 2024 Cruise  
April 22 – 27, 2024
Explore the beauty of the Caribbean on the Bliss Mariner 2024 Cruise from Cape Canaveral
Join over 1500 beautiful couples from all over the world.
Imagine sailing in this sensual environment, meeting sexy young swingers, and having the time of your life!
Explore the sultry Caribbean by day.
Enjoy erotic theme parties every night.