Bliss Reflection 2025 – Facts at a Glance
November 8 – 15, 2025
1523 Cabins
Ft Lauderdale – St Maarten – Antigua – 4 Bliss Sea Days

Full-Ship Charter, Couples-Only, Clothing-Optional
This cruise is good fit for: Newbies, Open Minded Adventurous Couples, Swingers

Average age 45-65

Guests Under 45 – approximately 20% or 600-700 passengers
Click 'Book Now' To View Current Pricing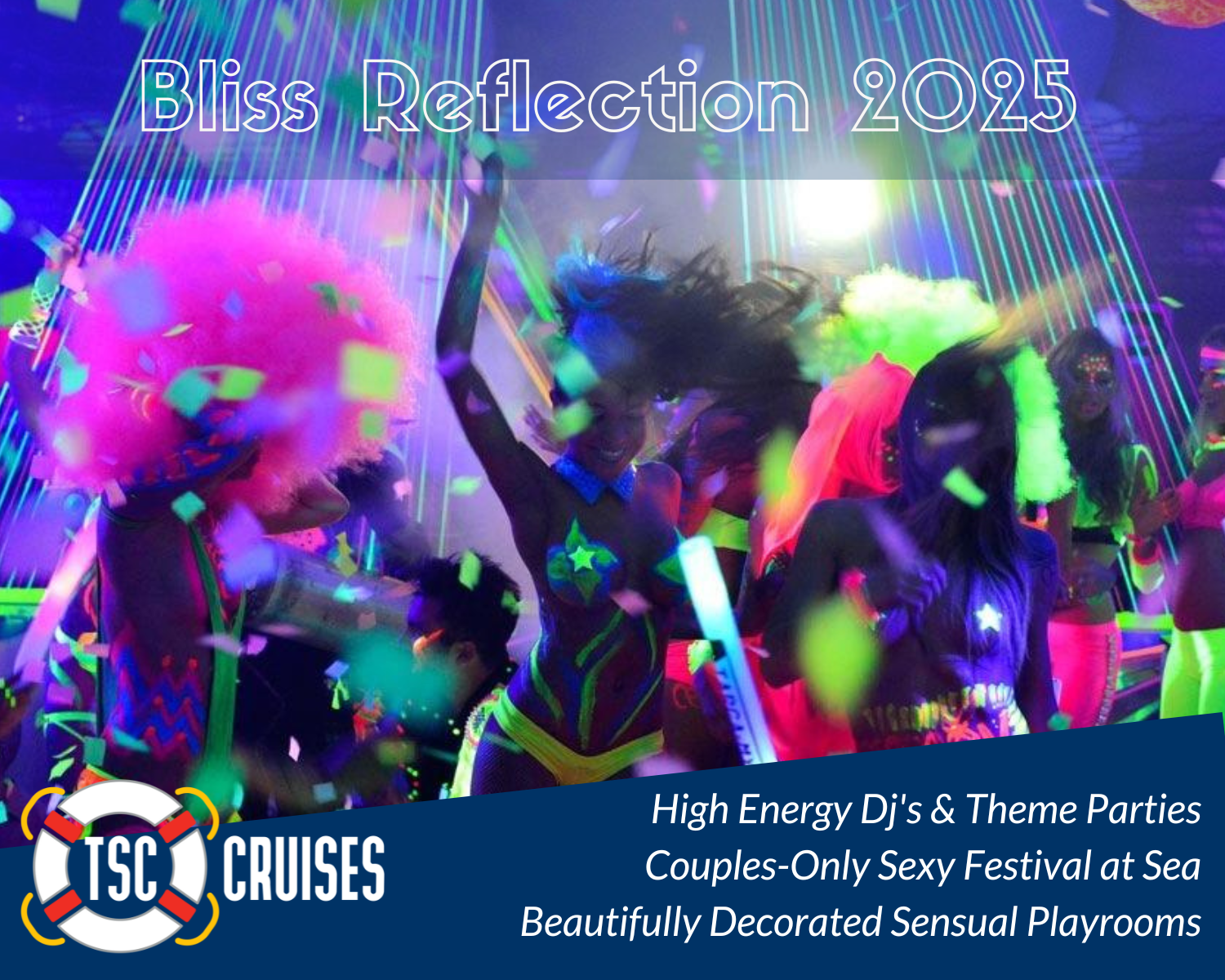 Bliss Reflection 2025 – Itinerary

Bliss

Reflection

2025 – What's Included
Bliss Cruise is a festival at sea! You Bliss Cruise includes a full program designed to get your mo-jo working all day and night.
Bliss Cruise Features:
Clothing Optional Pool Parties
Erotic Adult Entertainment in the Theater and around the ship
Nightly Theme Parties
The best playrooms at sea including; couples only playroom, Dungeon Fetish play space, Outdoor – under the stars play space and often several more.
Meet & Greets galore! If its a thing they host a meet and greet for it! Some Examples: Sexy Silvers, Under 40 Couples, Bi-Bi Couples, Kinky Couples, French Speaking Couples, Soft Swap Couples, Hall Pass Meet & greet & more!
Included with your cruise fare:
Meals at the main restaurant, the Oceanview Cafe & Grill buffet and a number of other casual venues
Theater shows and other entertainment
Access to the Lawn Cub
Most daily activities
Access to the fitness center and some classes
Daily Gratuities
We want to make sure you know that what is included in a full ship charter is different than a regular Cruise. Just an FYI for you good research types, the details & prices listed on the cruise line's website do not apply to this charter.
ACCOMMODATIONS: This, of course, means your Cabin or Suite is included.
AWARD-WINNING CUISINE: Dining in the ship's Main Dining Room, Opus Restaurant. Each night, different food options will be offered along with some meals available each night. Also included in your Bliss Cruise are meals at the Oceanview Cafe buffet, and AquaSpa Cafe, as well as room service.*
POOLS: The on-board pools, hot tubs and Solarium
FITNESS CENTER & CLASSES: Modern facilities with the latest equipment, offering a holistic range of instructor-led wellness classes.*
ENTERTAINMENT: On our Bliss Reflection Cruise you will find nightly theme parties, a daily, packed schedule of educational seminars on a variety of spicy topics. Meet & greets will fill your daily schedule for almost every interest, from modest to wild. Additionally, there will be the regularly scheduled entertainment provided by the ship, which could include anything from Broadway-style theater to circus shows, dance, magic, comedy and live music.
TIPS & GRATUITIES: Your cruise fare includes all tips/gratuities for the on-board staff, including tips for your cabin steward and restaurant waiters. There will be a tip added to all drinks purchased on-board, not through the drink package. Of course, if you feel like you are getting good service, additional cash tips are always appreciated for those staff working hard to give you a fabulous vacation.
NOT INCLUDED IN YOUR CRUISE FARE:
Travel to and from the port of departure, pre-cruise hotels & transfers
All Specialty dining – this is a per person or a la carte charge
Excursions while we are in port
Drink and Dining Packages
Any Laundry Services
Spa visits, treatments & packages
Shopping at the onboard stores and duty-free shops
Internet charges/packages while using the ship's WiFi or Internet Cafe
(if you haven't pre-paid, these they will be automatically added to your SeaPass account)
Travel Insurance which can be purchased from any third-party vendor of your choice – See our blog on Travel Insurance [Here]
*Complimentary dining at Main Dining Room, Oceanview Cafe, & AquaSpa Cafe. A Per person additional fee is payable at other dining venues. Room service charges apply during specified hours. Charges apply to some fitness classes.
Bliss
Reflection

2025 – Pricing

The best pricing strategy is to book your cabin as early as you can.

Prices are released at their lowest rates and get higher as we get closer to sailing.
Suites sell out almost immediately. Book Early!!!
For up to date pricing please consult the online booking link.
Bliss
Reflection

2025 – Policies

*Reservation Policy* Please read this document carefully, and follow the instructions found in the confirmation e-mail. In case you need to change, cancel or do not show-up, this reservation policy will apply.

– Initial deposit required for a guaranteed reservation
– Full payment must be received by May 2025.
– Credit Cards Accepted: Visa, MC & American Express
Bliss
Reflection

2025 – Balance Payment Calendar:
Deposit – due at time of booking
First Payment – Dec 1, 2023
Second Payment – Aug 1, 2024
Final Payment – May 1, 2025
Bliss
Reflection

2025 – Cancellation Policy:
On or Before May 16, 2024: $150.00 pp ($300.00 pp for Suites)
May 17, 2024 – Nov 12, 2024: $250.00 pp ($500.00 pp for Suites)
Nov 13, 2024 – May 11, 2025: $350.00 pp ($750.00 pp for Suites)
After May 11, 2025: NO REFUND
* Cancellation policy dates remain the same regardless of your booking date.
* Cancellations must be in writing by emailing your cancellation request.
Please note:
All guests must be checked-in and on board the ship no later than 60-minutes prior to the published sailing time or they will not be permitted to sail.
Bliss
Reflection

2025 – Transfer Policy/Fees:
Up to May 12, 2025: $125.00 pp ($250.00 pp for Suites)
May 12, 2025 – July 10, 2025: $250.00 pp (No Transfers for Suites)
After July 10, 2025: NO TRANSFERS
What is a TRANSFER?
For the fees listed above – Bliss will allow you to transfer your payments to a future Bliss Cruise. The fee must be paid at the time of the transfer, it is not taken from the balance you already paid. You can also choose to place the funds in a 'pending status' until you decide what Bliss Cruise is right for you.
Transfer Rules:
Transfer requests must be in writing by emailing your request to your travel agent.
Transferred funds are non-refundable if the new reservation is canceled.
Double name changes are not allowed on transfers.
Transfers are no longer valid after the sailing date of the original booked reservation.
As always, we recommend travel insurance.
Bliss
Reflection

2025 – Travel Insurance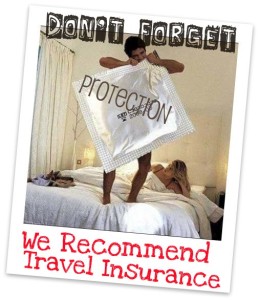 Welp, travel insurance is never a fun topic to talk about but a lot of you have asked…
We're talking about what happens if you are paid, packed and ready to go… and then there is a problem.
There are 2 big reasons people choose to take insurance:
Trip Cancellation
Medical Expenses or Medical Evacuation
Full Ship charters are better than regular cruises in many ways, however, the penalties and potential for a loss if you have to cancel is higher. Shortly after final payment, most full ship charter cruises become non-refundable. That means if you have to cancel your trip not only do you have that disappointment of a canceled vacation, but I have to tell you that you don't get your money back.
Our most popular insurance is 'World Wide Trip Protector' and provides full coverage when purchased up to 21 days after your vacation purchase.
The best value just to make sure you have coverage is 'Trip Protector Lite Expanded.'
We recommend Travel Insured – Get a quote and buy insurance
Note: this link opens a window for Travel Insured – if you have questions pleases phone our office for assistance.
Please, consider purchasing Travel Insurance
Since everyone pretty much likes me right now and I'd like it to stay that way, please consider purchasing travel insurance. Or at least don't say I didn't warn you if there is a problem.
Other coverage options that take the worry out of travel:
Trip Interruption – Return air only
Trip Delay & Missed Connection coverage
Baggage Loss or Delay
Cancel for Work Reasons Options available on select policies
We strongly recommend purchasing travel insurance for your upcoming cruise. There are hundreds of circumstances that could cause you to cancel your trip, return home early or force you to seek emergency medical treatment while traveling. Travel insurance offers coverage for unforeseen problems such as an unexpected financial change or scheduling conflict, a canceled flight or a serious illness. You even have the option where you can cancel for any reason. We recommend Travel Insured – Get a quote and buy insurance
Bliss

Reflection

2025 – What To Expect?
A high-energy, low-pressure, fun, and flirty atmosphere to meet thousands of new friends or explore passion with your partner
Bars and lounges with top-end, high-quality service and staff
Exceptional Cabins – Act fast the best ones sell quickly!
Bliss Brings The Entertainment – Party The Night Away…
As always, Bliss continually sets the bar high for lifestyle parties in the Caribbean. Customers from past cruises know their product and the stellar daytime parties and nightly themed dances that come with them. Party 'til you drop on the Bliss Cruise!
Deluxe Amenities – Live the Luxurious Life at Sea…
Bliss Explorer will be sailing on one of the industry-leading luxury cruise lines. Go big or go home on this sailing city at sea!
Breathtaking Dining Experience – Savor the sensual side to dining…
The Bliss Explorer Cruise will delight you with multiple delicious dining options. Included in your cruise fare are access to the Main Dining Room, and the buffet, Windjammer Cafe. On top of those selections you also have the choice of the many Specialty restaurants onboard. We encourage venturing outside the box and try as many as you can! On board there is so many other unique food options!
Have more questions? Check out our Cruise FAQ page! [Click Here]
Bliss

Reflection

2025 – Theme Nights
Customers use these designed theme nights to create an alternate persona of themselves to really cut loose and have a blast! They sink into the idea of being someone or something else for the night. Past guests say dressing in theme is half the fun, and always say it helps break the ice and report more social interaction and more connections made with new friends.
How much "theme" is necessary? Well that is up to you! Guests have ranged from an entire head-to-toe ensemble in some amazing outfits down to reflecting the night's theme with a piece or accessory on their outfit.
Not necessarily into dressing up? That's not a concern either. This trip is all about doing what says "I'm having a wonderful time." with you and your partner.
Bliss Reflection Theme Nights:
Coming Soon!
Need Inspiration? Read our [Theme Night FAQs]
Bliss

Reflection

2025 – Pre-Cruise Hotel and Meet & Greet
We like to think that the best cruises should always begin with a great pre-cruise!
When it comes to TheSwingerCruise.com, we take pleasure in giving our guests an experience set to the highest level. You'll have the chance to meet your fellow sailors, enjoy relaxation, and rest up from your trip before you start 'The Best F-ing Vacation!'
Details are still being worked out for this Pre-cruise. Once the plans are finalized, we will update this section with more information.
**As more information is made available, we will share the details about our pre-cruise details here**
Why should you book the Bliss Reflection 2025?
Bliss is known for its brand of sexy environment!
Aboard the adventurous Bliss Reflection 2025 Cruise, you will enjoy an environment that screams pure ecstasy at sea!
Clothing-optional Pool Area: As always, the pool deck will be clothing-optional for laughs and fun in the Caribbean Sun!
Bliss Signature Entertainment: Meet thousands of like-minded adults in an erotic playground for adventurers. Known for adding their twist to daily meet & greets, sexy seminars, laugh-out-loud live entertainment, and DJs to dance the night away.
Playrooms! Playrooms! Playrooms!: Bliss continues its style of fun and flirty at sea, always providing multiple play spaces throughout the ship! Get ready for some of the spectacular and well-handled playrooms that Bliss has consistently delivered.
What Past Guests Have to Say…
" This was our first Swinger Cruise and I can't tell you how much Miss Lynn's 'get ready' program helped us navigate the entire process.
I felt like we were fully prepared. like she held our hands the whole way.
The magic phrase she taught us at her Newbie seminar on board was a life saver and something we can use everywhere, not just on the ship.
We are so excited for our next cruise and to meet all our new friends again"
"I feel like Bliss Cruise had the perfect balance of sophistication and balls to the wall fun. The Celebrity ships are very classy and the added element of the Bliss sexiness made it the perfect cruise for us.
We felt like it was very easy to meet people and connect, whilst also giving us the space to connect as a couple
Some nights were quiet, intimate encounters and others we partied until the sun came up"
"We were expecting couples between 55-65 years old, which was fine, but we also were surprised by the good-sized group of younger folks in their 30s like us!
It was great to be around a large amount of people our age as well as those who weren't our age but acted like it! I hope we're just like that as we are now cruisers for life! Each moment was exciting physically and stimulating mentally and we can't wait for more! Our next cruise is going to feel like forever until we are back on our next Swinger Cruise with Lynn and team!"
Why You Should book with TSC
TheSwingerCruise.com is the only agency with ALL the cruises.
TSC Expert Agents provide first-hand experience. We have sailed on over 100 Swinger Cruises and will help you find the one that perfectly fits your style.
Our Signature 'Get Ready' program provides all the information you need before you board the ship so you can get the most out of your vacation.
For our European Adventures, we curate VIP Pre-Cruise authentic, emersion events. Board the ship with a whole group of new friends.

'Must Read' Swinger Cruise Articles
We have been on over 100 full ship charters. Here are a few articles we have written to answer your questions, calm any worries, and get you excited for the 'Best Fu@%ing Vacation!'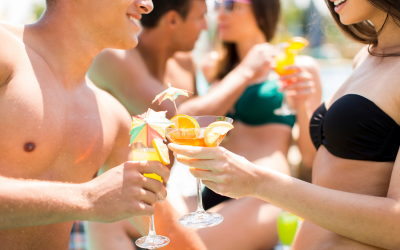 In the early days of TheSwingerCruise there was one cruise a year. You either went or you missed it. Those were the only two options. In the past 10 years several top cruising brands have emerged. The most popular Big Ship is Bliss Cruise. The secret to their...
Bliss Reflection 2025 Cruise
November 8 – 15, 2025
Tour Sexy Saint Maartin & Antigua
Fell the erotic Caribbean with over 1500 sexy couples from every corner of the world!
Imagine the clear turquoise waters and the sun on your skin.
Bliss Days bring you the best playrooms on the open seas and erotic theme parties every night.