Desire Cruise Rome Athens – Facts at a Glance
October 9-16, 2021
344 Cabins
Rome – Sorrento – Santorini – Ephesus, Turkey – Mykonos – Athens
Couples Only, Clothing Optional, Full Ship Charter
This cruise is good fit for: Newbies, Open Minded Adventurous Couples, Swingers
Premium Drink Package is Included
Average age 45-65
Guests Under 45 – approximately 15% or 50 passengers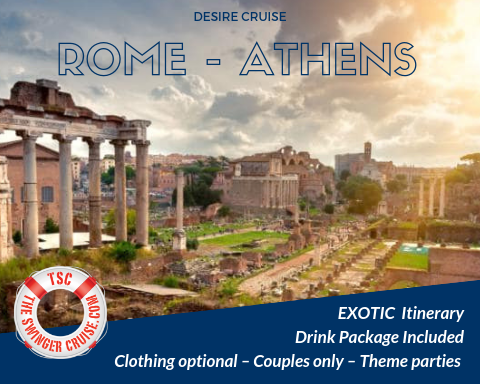 Desire Cruise Rome Athens – Itinerary
Desire Cruise Rome Athens – VIP Pre-Cruise Event
We believe that every fantastic cruise should always start with a fantastic pre-cruise! You can count on TheSwingerCruise.com to give our VIP clients an experience second-to-none! At our events you will have the chance to meet your fellow cruisers, sample the local culture and cuisine and of course rest up from your long travels before having 'The Best F*cking Vacation!'
We have not finalized any details for this event. Details are still being worked out. Once the Desire Cruise Rome Athens VIP Pre-cruise event is open for reservations, we will update this section.
Please check back later!
Desire Cruise Rome Athens – What To Expect?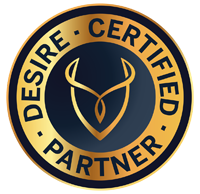 Alluring Entertainment – Feel your heartbeat race…
Desire is notorious for its seductive entertainment program, designed with couples in mind, with heart-pounding results. The Desire Cruise Rome Athens will be no different. The shows and dance groups that start off the nightly theme parties were spectacular.  It really adds that unique touch to the program. All of the Couples Workshops were of high quality as well.
Seductive Signature Spots – Live out your desires…
Desire Cruise Rome Athens will offer designated areas that echo the collection's main concept, like the signature playrooms and clothing-optional poolside area. Desire takes their reviews seriously, always improving to provide the best value for their product. So expect the playrooms to be improved upon, but we also find the secluded spots like the front spa jacuzzi deck as perfect escapes as well.
Quality Amenities – Enjoy the Lavish Life at Sea…
Desire Cruise Rome Athens will be sailing on one of the leading luxurious cruise lines.  Even though we aren't supposed to give the name of the ship online, trust us when we say it truly is our favorite.  Give us a call at the office and we can tell you all the reasons we LOVE sailing on this cruise line.
Breathtaking Dining Experience – Savor the sensual side to dining…
Desire Cruise Rome Athens promises to deliver six distinctive and savory dining options, including room service. We are fans of each and every one of the venues for different reasons.  The main dining room is always a great way to mix and mingle with other couples, the back deck of the Windows Cafe is definitely casual dining with some of the most scenic views to be found anywhere.  The specialty restaurants on this vessel are top-notch and the Chef Table is highly desirable.
Desire Cruise Rome Athens – Theme Nights
Use the nightly theme parties on this cruise to step into expressing your inner desires. Lose your inhibitions, and let the fantasy take hold.  When asked, our past guests who've dressed in the nightly theme have said they experienced more interaction and ice-breaking because of their outfits, and more fun.
You can choose to go all-out on a theme, or simply echo it with an accessory or two.  Don't feel up to it? Not a problem! This cruise is about doing your own thing with your partner, having fun and making memories however YOU decide.
Theme nights for the Desire Cruise Rome Athens
Night 1 – Welcome to Desire Cruises
Mix and mingle as our sensual first-ever Desire Rome-Athens Cruise begins its journey into exciting, erotic seas. Welcome aboard, our 8-day/7-night journey hast just begun and our cast and crew are ready to turn the Desire mood on!
Night 2 – Boogie Night
Throw on those bodacious platforms and practice your moves, Boogie Night is bringing on the sensual groove! Bring your partner and your dancing feet while our DJ spins the beats; it's time to get down with the boogie!
Night 3 – BDSM Night
Calling all sensual doms and saucy subs! Feel an uncontrollable desire as we take you to fulfill your deepest fantasies during a lusty evening full of latex and endless satisfaction. May the erotic games begin…
Night 4 – Midsummer Night's Dream
Tonight, heads will turn as you and your partner walk through the door. Ladies, this is the opportunity to take those gorgeous super-high heels of yours for a sensual catwalk!
Night 5 – Lust Boat
Dress to impress with an attire to inspire; Lust Boat is all about rocking the boat and creating desire! Full of glitz and glamour, this party will remind you what it feels like to be alive. Sparks will fly, join us to discover why.
Night 6 – Neon Garden
Create a sensual look using naughty neon to reflect your inner glow! Part of being creative is inventing, experiencing, and taking risks. Shake and shine, it's seduction time!
Night 7 – All White Sensual Ball
An aural and visual feast of glamour at high seas! With white as the signature icon of elegance, this ball is all about looking dazzling and shining away!
Curious to learn more? Read our [Theme Night FAQs]
Desire Cruise Rome Athens – Pricing
Since the Desire Cruise Rome Athens is still in the 'Pre-sale' stage, availability and pricing are not yet available. However, our tip for our clients is that the best pricing is availble early, namely once the cruise is launched which would be now. Prices will always be released at their lowest possible rate and get steadily higher the closer to sailing we get.
Suites sell out almost immediately.  Book Early – To Guarantee a Suite, be sure to fill out our [Pre-Sale Form]
Desire Cruise Rome Athens – Policies
*Reservation Policy* Please read this document carefully, and follow the instructions found in the confirmation e-mail. In case you need to change, cancel or do not show-up, this reservation policy will apply.
– Initial deposit for a guaranteed reservation will be required
– Credit Cards Accepted: Visa, MC & American Express
– All Charges will appear on your bank statement as: "OPERADORA DE YATES DE CANCUN SA DE CV"
Balance Payment Calendar:
**Once the initial payment calendar is available we will update this section**
Deposit – due at time of booking
Payment – 30% of balance
Payment – 30% of balance
Payment – Final balance
Desire Cruise Cancellation Policy
**Once the initial payment calendar is available we will update this section**
Important Notes: 
a) American Express: All American Express charges are reflected in Mexican pesos, based on the daily exchange rate. Be aware that if you pay with American Express, your card will be subject to a surcharge in Mexican pesos, according to the hotels current exchange rate, which is variable.
b) Please be advised that your bank might charge you a fee when using your credit cards (Master Card, Visa OR American Express) for international transactions.
c) On your bank statement the charges will appear as: "OPERADORA DE YATES DE CANCUN SA DE CV".
*Requirements* Due to new Government Regulations requiring cruise liners to submit final department manifests at least 60-minutes prior to sailing, guests are requested to complete their Online Check-in no later than 5-days prior to the cruise. Guests that have not completed their Online Check-in, will be required to complete this process at the pier, 2-hours prior to the published sailing time.
Please note: All guests must be checked-in and onboard the ship no later than 60-minutes prior to the published sailing time or they will not be permitted to sail.
*Credit Cards Safety* At www.originalcruises.com we want you to feel safe and secure booking your trip with us online. For this very reason, we use Secure Socket Layer (SSL) technology to encrypt your credit card and other important information while making your reservation. The process of encryption prevents unauthorized viewing of your information, as it is securely transmitted over the Internet. Once received, your credit card information will not be transmitted over the Internet again.
*Travel Documents* Your final travel documents will be e-mailed to you as soon as we receive FINAL payment. Please check your documents for accuracy immediately upon receipt. Call Original Cruises immediately if you have any questions. Original Cruises reserves the right to charge processing fees in the event of refunds, cancellations or additional services. Should a dispute occur, charge-backs will be reviewed on an individual basis. You will be charged/billed for all accumulated costs involved, taking into consideration our liabilities, policies & responsibilities.
*Disclaimer of Liability* Original Cruises is acting only as an agent for suppliers in selling travel related services, or in accepting reservations for services that are not directly supplied by Original Cruises (such as air & ground transportation, hotel accommodations, meals, tours, cruises, etc.).
Original Cruises, therefore, shall not be responsible for breach of contract or any intentional or careless actions or omissions on part of such suppliers, which result in any loss, damage, delay, injury or death to you or your travel companions or group members. Unless the term "guaranteed" is specifically stated in writing on your ticket, invoice or reservation itinerary, we do not guarantee any of such suppliers' rates, bookings, reservations, connections, scheduling or handling of personal effects.
Original Cruises shall not be responsible for any injuries, damages or losses suffered by any traveler in connection with terrorist activities, social or labor unrest, mechanical or construction failures or difficulties, diseases, local laws, climatic conditions, criminal acts or abnormal conditions or developments or any other actions, omissions or conditions outside the control of Original Cruises.
Travelers assume complete and full responsibility for, and hereby release Original Cruises, from any responsibility in: checking and verifying any and all Passports, Visas, vaccinations, or other entry requirements of each destination, and all safety or security conditions at such destinations, throughout the length of proposed travel.
For information concerning the possible dangers in international destinations, contact the Travel Advisory Section of the U.S. State Department.
For medical information, call the Public Health Service. By embarking upon his/her travel, the travelers voluntarily assume all risks involved in such travel, whether expected or unexpected.
Travelers are warned of such risks and are advised to obtain appropriate insurance coverage against them. Traveler`s retention of tickets, reservations or bookings after issuance shall constitute consent to the above, and an agreement on his/her part to convey the contents hereto to his/her travel companions or group members.
We recommend travel insurance
.
Desire Cruise Rome Athens – Travel Insurance
Travel insurance is never a fun topic to talk about but a lot of you have asked…
This is crucial in case what happens if you are paid, packed and ready to go… and then there is a problem.
The 2 biggest reasons people purchase Travel Insurance:
A need for Trip Cancellation, or…
Medical Expenses incurred during travel and/or Medical Evacuation if necessary
Full Ship charters are better than regular cruises in many ways, however, the penalties and potential for a loss if you have to cancel is higher. Shortly after final payment, most full ship charter cruises become non-refundable. That means if you have to cancel your trip not only do you have that disappointment of a canceled vacation, but I have to tell you that you don't get your money back.
Our most popular insurance is 'World Wide Trip Protector' and provides full coverage when purchased up to 21 days after your vacation purchase.
The best value just to make sure you have coverage is 'Trip Protector Lite Expanded.'
We recommend Travel Insured – Get a quote and buy insurance  
Note: this link opens a window for Travel Insured – if you have questions pleases phone our office for assistance.
Please, consider purchasing Travel Insurance
Since everyone pretty much likes me right now and I'd like it to stay that way, please consider purchasing travel insurance. Or at least don't say I didn't warn you if there is a problem.
Other coverage options that take the worry out of travel:
Trip Interruption – Return air only
Trip Delay & Missed Connection coverage
Baggage Loss or Delay
Cancel for Work Reasons Options available on select policies
We strongly recommend purchasing travel insurance for your upcoming cruise. There are hundreds of circumstances that could cause you to cancel your trip, return home early or force you to seek emergency medical treatment while traveling. Travel insurance offers coverage for unforeseen problems such as an unexpected financial change or scheduling conflict, a canceled flight or a serious illness. You even have the option where you can cancel for any reason. We recommend Travel Insured – Get a quote and buy insurance
Desire Cruise Rome Athens – What's Included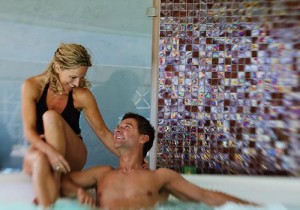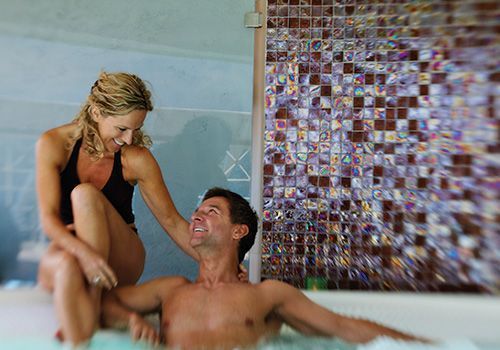 The Desire Rome Athens Cruise will be such a great value, especially when you see how much is included!  Meaning all of your meals at the dining areas and room service. (Except the 2 specialty restaurants on board, where you will have a slight per person up-charge.)
The nightly theme parties and shows are included. Expect enticing poolside parties and enterainment by day, seductive and fun theme parties by night and sensual playrooms to try the more steamy aspects of this sailing.
Your excursions and any treatments you use at the onboard Spa are not included, so you will want to include some extra spending cash in your budget for those services.
** Unique for this cruise – A Premium Beverage Package is included **
** Your beverage packages can be upgraded at the time of check-in on board, in Rome.
Desire Cruise Rome Athens – Premium Drink Package: 
Included with your purchase
Spirits: Absolut, Ketel One, Stolichnaya, Canadian Club, Crown Royal, Jameson, Johnnie Walker Red Label, Captain Morgan, Myers's Original Dark, Tanqueray, Bombay Sapphire, Disaronno Amaretto, Kahlúa, Southern Comfort, and more…
Beer: Boddingtons Pub Ale, Bohemia, Buckler, Carlsberg, Corona, Dos Equis, Grolsch, Guinness, Heineken, Leffe, Murphy's Irish Stout, Newcastle, O'Doul's, Peroni, Pilsner Urquell, Red Stripe, Smirnoff Ice, Stella Artois, Strongbow, Warsteiner
Desire Cruise Rome Athens – Ultimate Drink Package: 
Upgrade to this package for a per person cost to be announced
All items from the Premium package, plus:
Spirits: Level, Belvedere, Effen, Cîroc, Christiania, Grey Goose, Tanqueray No. Ten, Hendrick's, Zacapa 23, Chivas Regal, Glenfiddich, The Glenlivet, Don Julio Blanco, Courvoisier VS, Courvoisier VSOP, Jack Daniel's, Maker's Mark, Baker's, Woodford Reserve, Knob Creek, Highland Park Aged 12 Years, Johnnie Walker Black Label, The Balvenie, The Macallan Select Oak, Laphroaig, B&B, Baileys Irish Cream, Bénédictine, Chambord, Cointreau, Drambuie, Grand Marnier, and more…
Wine: Gabbiano Pinot Grigio, Beringer White Zinfandel, Trumpeter Cabernet Sauvignon, DeLoach Merlot, Callia Alta Malbec, Martini & Rossi Asti, Domaine Chandon Brut Classic, Seaglass Sauvignon Blanc, DeLoach Chardonnay
Nespresso: Ristretto, Lungo Leggero, Espresso Decaffeinato, Lungo Decaffeinato,Espresso Forte, Ristretto Origin India, Espresso Leggero, Lungo Forte
Water: Evian, Perrier, San Pellegrino
Carry on Wine: The policy for carrying on wine is usually quite relaxed.  As in, we have carried on wine above the usual rule of 2 bottles per cabin.  On past cruises We have also restocked in port and carried on bottles of liquor.
Amenities Included:
Select house wine served during lunch or dinner only
Soft drinks, Bottled water, Specialty coffees and teas
Receive personal guidance and make reservations with your Personal Concierge
For Suite Guests:
All standard amenities plus:
Top-of-the-line English butler service
Complimentary Internet minutes on Ship's WiFi
Complimentary  bag of laundry service per suite, all seven days
Dining in all of the specialty restaurants
In-suite tea service in the Afternoon
After doing your online check-in, the experienced cruiser will notice a few things missing from the online check-in system.
Not available online thru online check-in:  drink packages, lifestyle shore excursions, specialty dining packages, and bundles.   
We want to make sure you know that what is included in a full ship charter is different than a regular Cruise. Just an FYI for you good research types, the details & prices listed on the cruise line's website do not apply to this charter.
Why book the Desire Cruise Rome Athens?
The Desire Cruise Rome Athens will create their Sensual Signature Spots that the brand is renowned for:
You will find designated spaces that stay true to the Desire concept while sailing on board the lavish Desire Cruise. Total ecsta-SEA!
 
Always Popular, Clothing-optional Pool Area: Our pool area is clothing-optional for hot and steamy fun (permitted we are at sea). Desire Cruises continue its reign with an amplified & progressive pool-side experience.
Desire's Signature Playroom: Feel and see the erotic vibes vibrate through your eyes, ears and whole body, while mixing with a few hundred like-minded couples in an upscale and erotic playground for adults. If it feels right, take the leap and elevate your relationship to the next level, and live out your fantasies at sea, in Desire's Signature Playroom.
Private Jacuzzi Lounge: Enter the secluded, clothing-optional spa deck, with a salt water bath and powerful jets that massage your cares away as you soak up the view outside with other like-minded couples seeking to fulfill their fantasies. This private, intimate hotspot combines cool sophistication with steamy sensuality.
What Past Guests Have to Say…
After we booked, I wasn't sure if we were going to meet anyone who interested us. My husband and I are in our low- and mid-30s, but Lynn told us that because of our desire for the finer things that life has to offer, we would fit right in.
Boy, was she right!
We came in expecting everyone to be on the higher end of the 45 to 55-year-old average age, but we were definitely surprised with how many young couples we met and connected with.
Every moment was enticing, exciting and filled with new pleasures we only have dreamed of!
There's no way we can wait to book our next Swinger Cruise!
We always love the theme parties on a cruise with Desire.
Everyone is always dressed up and looking beautiful and handsome.  We feel really special to be around such an amazing crowd who we now call our friends. There were so many possibilities, we wished the party never stopped!  I've never felt more sexy.
We could not believe the amazing quality of the food offered on this ship! We were spoiled one night at the Chef's Table, but even the Main Dining Room was second-to-none!
We even stocked up on some snacks, and took advantage of the 'afternoon tea' trolly,and hosted quite a little sioree in our suite! That was definitely a highlight for me!
Why You Should book with TSC
TheSwingerCruise.com is the only agency with ALL the cruises.
TSC Expert Agents provide first hand experience.  We have sailed on over 23 Swinger Cruises and will help you find the one that perfectly fits your style.
Our Signature 'Get Ready' program provides all the information you need before you board the ship so you can get the most out of your vacation.
We create VIP Pre-Crusie authentic emersion events.  Board the ship with a whole group of new friends.
'Must Read' Swinger Cruise Articles
We have been on over 25 full ship charters.  Here are a few articles we have written to answer your questions, calm any worries, and get you excited for the 'Best Fu@%ing Vacation!'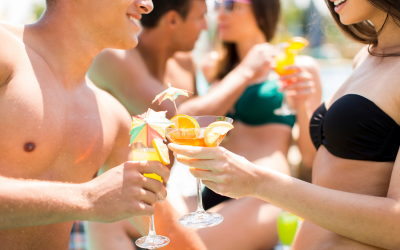 In the early days of TheSwingerCruise there was one cruise a year. You either went or you missed it. Those were the only two options. In the past 10 years several top cruising brands have emerged. The most popular Big Ship is Bliss Cruise. The secret to their...
Desire Cruise Rome Athens
October 9 – 16, 2021
Explore the exotic!
Join 344 beautiful couples from all over the world.
Imagine being at sea in this sensual environment.
Explore the beauty that these historic cities have to offer.
Party with erotic theme parties every night.