Galapagos with TheSwingerCruise – Facts at a Glance
July 27 – August 3, 2024
24 Sensual Couples
This includes Quito Ecuador, flight to Baltra Galapagos, then 14 fabulous island stops.
Experience this adventure with like minded couples
Playrooms & nudity are not planned for this cruise
Average age 35-65
Hosted by Miss Lynn – this will be her third voyage to the Galapagos.  Inside Experience with a VIP Pre-Cruise in Quito.
What to expect on Galapagos with The Swinger Cruise
This is a rare journey into one of the most pristine eco-environments on the planet.
This was one of the best cruises I have ever sailed.
Two or three times a day we indulged in the included excursions.
Zodiacs with certified naturalists guided us into what felt like the unexplored.  How active you wanted to be was completely up to you. For each stop there was a low, medium or high impact excursion. This cruise makes 14 stops during 7 days.
In between the hikes and zodiac rides there was snorkeling. Beginners went from the beach and the advanced snorkelers went from the zodiacs.
Everything was included even the wetsuits and gear.
This is not a full on swinger cruise. Over dinner we shared stories of our adventures.
Later in the evenings we danced in the cabaret, enjoyed the unlimited included cocktails or hot tubbed on the top deck.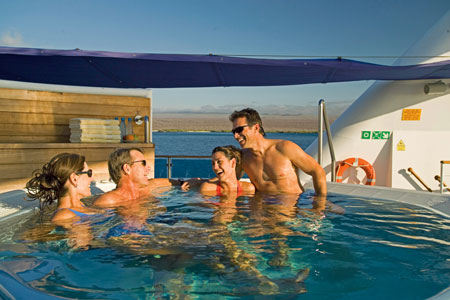 I danced with the blue footed boobies and
Snorkeled with penguins swimming past my head.
Some beaches were covered with sea lions.
One night I watched hammerhead sharks circling in the illuminated waters beneath the ship.
I even had a chance to meet the last of a species, the 100 year old tortoise known as Lonesome George at the Darwin Center. 
Galapagos with The Swinger Cruise 2024
Spectacular Southern Loop Itinerary
Sat
Baltra (Galapagos)
03:00 PM
Sat
North Seymour Island
03:30 PM
06:00 PM
Sun
South Plaza (Santa Cruz)
07:00 AM
11:30 AM
Sun
Sante Fe Island
03:00 PM
06:00 PM
Mon
Punta Pitt (San Cristobal)
07:00 AM
11:30 AM
Mon
Puerto Baquerizo (Cristobal)
03:00 PM
06:00 PM
Tue
Bahia Post Office (Floreana)
07:00 AM
11:30 AM
Tue
Cormorant Point (Floreana)
03:00 PM
06:00 PM
Wed
Elizabeth Bay (Isabella)
07:00 AM
11:30 AM
Wed
Moreno Point (Isabella)
03:00 PM
06:00 PM
Thu
Puerto Ayora (Santa Cruz)
07:00 AM
06:00 PM
Fri
Gardner Bay (Espanola)
07:00 AM
03:00 PM
Fri
Suarez Point (Espanola)
03:00 PM
06:00 PM
Sat
Baltra (Galapagos)
08:00 AM
Galapagos with The Swinger Cruise
One question that has come up from a number of guests interested in both the wildlife and the wild life:
"What do you mean by Not Full On Swinger Cruise? Will the only boobies I see be those birds?"
You, me and 48 sexy people on our own for entertainment?
Yes! Absolutely fun!
This cruise will not be staffed like a typical Swinger Cruise. With only 24 cabins, there simply isn't room for the dancers, shows and other lifestyle security staff or performers.
Playrooms? Nope. The action is happening in your cabin.  Consider getting a suite if you would like extra room to entertain.
Nudity? Not this either.
The official word is that we have to be respectful of the Ecuadorian Regulations. Last time on the ship it was the same thing. By the time we got onboard topless was approved on the sun deck by the hot-tub. But it might not be.
The group that has booked so far is a remarkably fun group of travelers. Average ages range early 40's thru mid 60's.
Everyone is onboard to have a great time, adventure with like minded couples and the 'extracurricular activities' are a lower priority. We are on board to see the spectauclar nature and pristine envoronment.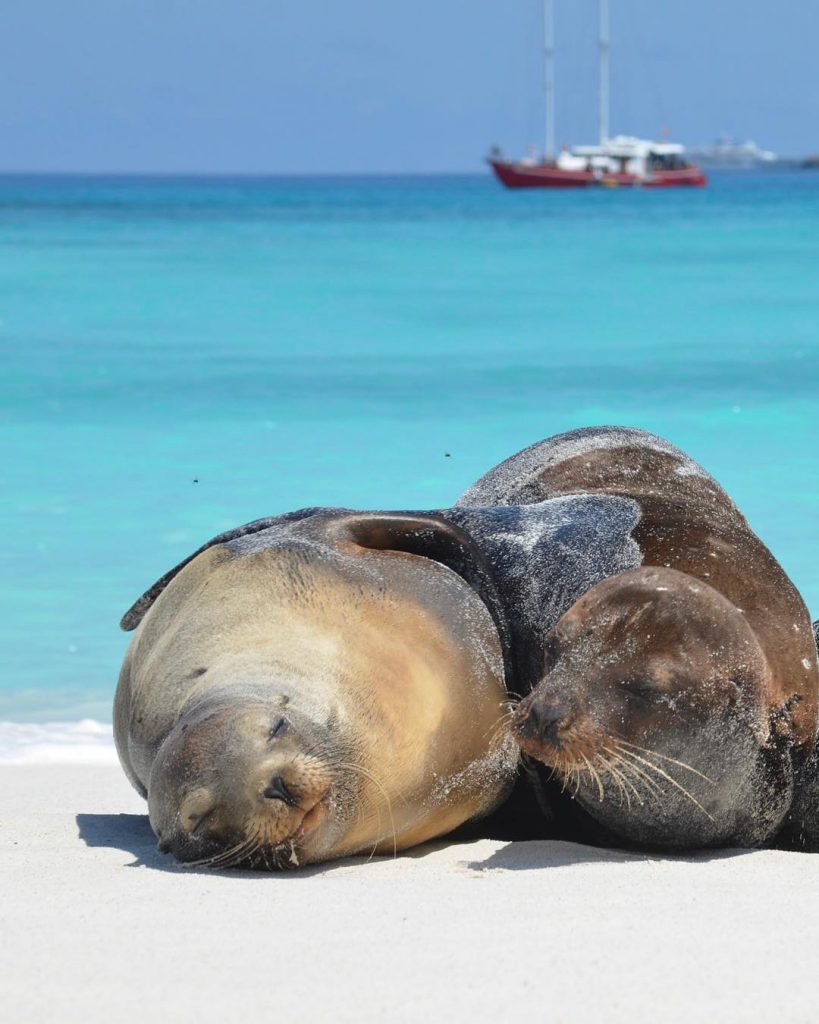 Galapagos with The Swinger Cruise: Ship Detail
Enjoy Casual, Open-Air Grilling and All-Inclusive Beverages
Darwin's Restaurant serves Breakfast, Lunch and Dinner.  From the robust Ecuadorian coffee to the fresh fare at every meal, almost everything on the menu was grown, raised or caught right here on these islands.  Celebrity takes all those incredible, fresh ingredients and prepare a daily feast full of local flare and flavor.  Every menu is crafted by our Michelin-starred chef, and every menu takes you a bit further into becoming one with this enchanting destination and unique culture.
The Beagle grill serves on the on the outer deck and features grilled favorites.
Galapagos with The Swinger Cruise – What's Included
What's Included:
Round trip Flight from Quito, Ecuador to Baltra, Galapagos
Cabin or Suite of your Choice
All Meals & Beverages including wine & premium alcohol
2 daily tours with certified naturalists guides.
Wi-Fi
Entrance fees for Galapagos National Park
Pricing, Policies and Insurance for Galapagos with The Swinger Cruise
Payments and Cancellation Policy
Prices & Payments: 
| | | | |
| --- | --- | --- | --- |
| Cabin | Type | Price P/P | Deposit |
| XP | Oceanview | $7,450.00 | $2,500.00 |
| XJ | Suite | $9,350.00 | $4,000.00 |
| XS | Suite | $11,250.00 | $5,000.00 |
| XR | Royal Suite | $12,850.00 | $5,000.00 |
| PS | Penthouse Suite | *$17,750.00 | *$7,500.00 |
Taxes & Fees are additional $750 per person and includes Round Trip Airfare from Quito-Baltra, Park Entrance Fees and Taxes and Port Fees.
CANCELLATION POLICY :
Until November 1, 2022 $500 per person for Cabins or $1000 per person in Suites
Until April 1, 2023:  $1250 per person in Cabins, $2500 per person in Suites
Until November 15, 2023: $2500 per person for Cabins, $5000 per person in Suites
After November 15, 2023: Full Penalty, No Refunds
NOTE: All credit card charges will appear from CENTURION SYSTEMS
Please ask us about cancellation insurance to protect your trip.
We recommend travel insurance.
Travel Insurance
Yikes, travel insurance is not a fun topic but a lot of you have asked…
This is about what happens if you are paid, packed and ready to go… and there is a problem.
The biggest 2 reasons people take insurance are:
Trip Cancellation
Medical Expenses or Medical Evacuation
Full Ship charters are better than regular cruises in many ways, however the penalties and potential for a loss if you have to cancel is higher. Shortly after final payment most full ship charter cruises become non-refundable. That means if you have to cancel your trip not only do you have that disappointment of a cancelled vacation, but I have to tell you you don't get your money back.
Our most popular insurance is 'World Wide Trip Protector' and provides full coverage when purchased up to 21 days after your vacation purchase.
The best value just to make sure you have coverage is 'Trip Protector Lite Expanded.'
We recommend Travel Insured – Get a quote and buy insurance  
Note: this link opens a window for Travel Insured – if you have questions pleases phone our office for assistance.
Please consider purchasing Travel Insurance
Since everyone pretty much likes me right now and I'd like it to stay that way, please consider purchasing travel insurance. Or at least don't say I didn't warn you if there is a problem.
Other coverages that take the worry out of travel:
Trip Interruption – Return air only
Trip Delay & Missed Connection coverage
Baggage Loss or Delay
Cancel for Work Reasons Options available on select policies
We strongly recommend purchasing travel insurance for your upcoming cruise. There are hundreds of circumstances that could cause you to cancel your trip, return home early or force you to seek emergency medical treatment while traveling. Travel insurance offers coverage for unforeseen problems such as, an unexpected financial change or scheduling conflict, a cancelled flight or a serious illness. You even have the option where you can cancel for any reason. We recommend Travel Insured – Get a quote and buy insurance
For starters the flight from Quito to Baltra has a weight restriction and closet space on the ship is limited.
Luggage Limit: 44 pounds per person  
We recommend a duffle bag instead of a hard side suitcase for ease of storage.
So unlike many swinger cruises you must travel light on this one.
Wondering what to pack for the Galapagos? We found a fabulous article about the practical stuff – We will be adding some tips for our specific charter too!
The climate on Galapagos is very mild throughout the whole year, averaging around 25 to 30 degrees Celsius. Remember: Galapagos is located right on the equator, so there are hardly any seasonal changes. That being said, you should approach packing for your vacations on Galapagos much like you were going on an expedition. Do skip all the finery and bring along things that make your exploration more comfortable and memorable.
From personal experiences I can absolutely recommend packing the following items for your Galapagos cruise:
Water Shoes or Sandals
Also the ground on Galapagos features plenty of sharp-edged lava rocks, so you will want to pack something more durable than flip flops.
 Comfortable walking/hiking shoes
You will be crossing lots of different terrain (sand, gravel, rocks) on most of the excursions. You won't do any actual hiking and mostly track along predefined pathways. So you probably won't need to pack anything with high ankle support (though it could help the less surefooted).
Swimwear
Galapagos is one of the best places to snorkel or dive on this planet, so do bring adequate swimwear. Focus on function (yes, I am talking to you, ladies!) and consider bringing a second pair. The water on Galapagos is considerably cold. You will also need a wetsuit these are provided by the ship. No need to pack a wetsuit for your Galapagos cruise, except your prefer to use your personal one.
Lightweight Fast Drying Pants
You will get wet on your excursions. The intense heat might have you sweating or you'll get soaked during the wet landings. Packing anything synthetic or cotton for your Galapagos cruise will be fine. Take along full-length hiking pants and some (two would be enough) shorts or skirt.
Safari or light weight t-shirts.
Bring along anything that is fast drying and breathable. No need to be stylish on a Galapagos cruise. You will sweat a lot. I like long safari shirts because you can easily roll up the sleeves, but t-shirts will be fine as well. Again, consider packing something long sleeved for sun protection, even though most of the time it will be more than hot enough to go short sleeved.
Light rain jacket
It never gets very cold on Galapagos. Sometimes there are heavy rains and it can get a bit cooler during the nighttime. A waterproof windbreaker or poncho is probably all you will need.
What to wear on the ship in the day
You will be spending some time (not too much in fact!) on deck. Galapagos cruises are very informal, so there really is no need to bring any thing formal. A sweater, a pair of jeans, maybe a shirt or two and some deck shoes is really all you need.
Sun Protection
Waterproof sunscreen (40 SPF or above)
Sunglasses with a security strap
Wide Brim Hat with a strap
Long sleeves and light weight long pants
Photo Gear
Face it photos are a huge part of this adventure.
Waterproof bag
Extra Batteries & memory cards
Underwater camera
https://www.annees-de-pelerinage.com/what-to-pack-for-a-galapagos-cruise/
Why book the Galapagos with the Swinger Cruise?
It's All Inclusive: Drinks, Meals, Guided Tours – Everything! Even wet suits and gear
Options: There are high, medium or low impact tours offered twice a day
Daily Snorkeling option in between the morning and afternoon tours
Blue Footed Boobies
What Past Guests Have to Say…
The quality the experience was second to none!  The Galapagos were my own private place to explore… as if I were the first one to set foot on these untouched shores.
We took full advantage of all of tours. Since the animals here don't fear humans, you can truly get up close and personal.
I got to see first hand creatures whose very existence forms the basis for one of the most famous scientific theories in history.
The first time we booked a lifestyle cruise we weren't sure if we would fit in.
We are in our mid 30's and Lynn assured us that our desire for the finer things in life would be the key to fitting in with this group. She was right!
We expected couples age 45-65 and we were surprised how active and young everyone seemed.  We loved every moment of that cruise and cannot wait to adventure to the Galapagos with the Swinger Cruise!
Going to Galapagos and Machu Picchu was at the top of our bucket list.
We couldn't think of a better way to do it than with a group of sexy lifestyle couples. It was so exciting to be part of such a vibrant group of people. The friendships we formed during this trip will last a lifetime.
We were especially impressed by the nightly lectures by certified naturalists from the Galapagos National Park (who are on board during your entire vacation)
Why You Should book with TSC
TheSwingerCruise.com is the only agency with ALL the cruises.
TSC Expert Agents provide first hand experience.  We have sailed on over 23 Swinger Cruises and will help you find the one that perfectly fits your style.
Our Signature 'Get Ready' program provides all the information you need before you board the ship so you can get the most out of your vacation.
We create VIP Pre-Crusie authentic emersion events.  Board the ship with a whole group of new friends.
'Must Read' Swinger Cruise Articles
We have been on over 23 full ship charters.  Here are a few articles we have written to answer your questions, calm any worries, and get you excited for the 'Best Fu@%ing Vacation!'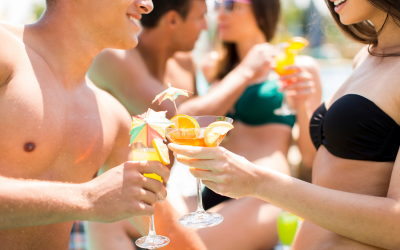 In the early days of TheSwingerCruise there was one cruise a year. You either went or you missed it. Those were the only two options. In the past 10 years several top cruising brands have emerged. The most popular Big Ship is Bliss Cruise. The secret to their...
Galapagos Xpedition with TheSwingerCruise
July 27 – August 3, 2024
Dance with the blue-footed boobies
Snorkeled with penguins just over your head
Some beaches are covered with sea lions.

Join 24 beautiful couples from all over the world.
Celebrate one of the most pristine eco-environments on earth!