Navigator Bliss Cruise – Facts at a Glance
November 8 – 15, 2019
3807 passengers
Itinerary Update 9/6/19: Changed port from Freeport to Fantastic Sea Day!
Miami, Tortola, St Thomas,

Freeport, Bahamas

 + Sexy Sea Days
Swinger Couples, Clothing Optional, Full Ship Charter
This cruise is good fit for: Newbies, Open Minded Adventurous Couples, Swingers
Average age 35-65
Guests Under 45 – approximately 15% or 465 passengers
To View Prices Click 'book now'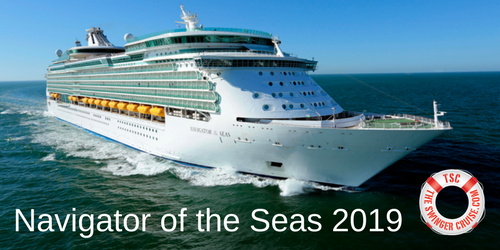 Navigator Bliss Cruise Itinerary

Navigator Bliss Cruise FAQ – November 2019
FAQ Reservation Numbers, Drink Packages, Bag Tags
Q. Where do I do my online check-in?
A. RoyalCaribbean.com under the 'Before You Board' section.
Q. What booking number do I use to complete online check-in?
A.  Your booking number will be emailed to you about 90 days before the cruise sails. We will also email instructions for online check-in.  If you don't think you have your Reservation Number please phone us.
And we agree, it's a little confusing.  You have 3 different numbers to choose from.  You have a booking/invoice number from TSC (that's not it.)   You got a booking/invoice number from Bliss Cruise on their automated invoice (that's not it.)  The number you need is the Royal Caribbean Reservation Number.
Q. Where are my cruise tickets?
A. We won't be mailing documents or tickets.  This is all online.  You use the information we are providing to go online at Royal Caribbean Cruises to check in and print your boarding pass.
Q. Where do I find information and book Tours and Drink Packages?
A. The key to unlocking all tours, dinner reservations, drink packages can be found on RoyalCaribbean.com. You will only be able to access that information after you complete your online check-in.
Q. What about drink packages?
A. After you complete online check-in you can also book the all-inclusive drink packages:  All dining and stateroom gratuities are included in your additional charges fees. This eliminates all of the envelope gratuities payments from past cruise experiences. Alcoholic beverages, soda, and coffee drinks are not included in the gratuities, therefore 18% will automatically be added to each of your individual bar tabs. Additional tips are always welcome for the crew members that go the extra mile for you, especially your bartenders and room stewards.
Q. How do I get Luggage Tags:
A. After doing your online check-in, you will be able to order pre-printed luggage tags. They are usually available up to one week prior to sailing.  You can order luggage tags online by logging into your online check-in account on RoyalCaribbean.com
Navigator Bliss Cruise
The theme parties on this cruise are designed to help you step into expressing your inner desires.  Let go, immerse yourself in the fantasy of it.  Guests who dress in theme report more social interaction and more fun.
You can go all out on a costume or simply echo the theme with an accessory.  Not in the mood? No problem it's all about doing your own thing with your partner and having a wonderful time. See why we think Theme Nights are a great way to break the ice and really have the best vacation on our [Theme Nights FAQ page]
Navigator Bliss Cruise Theme Nights:
Day 1, Friday – Lipstick & Lace
There's nothing more sensual than putting on some lipstick and wearing something sexy and lacey. The first night of Bliss Cruise makes it easy to slip your way into one of the playrooms
Day 2, Saturday – Circus, Circus
Do you love the idea of a three(some)-ringed circus of fun? Jump into the lion's den or juggle your next playdate. Be the ringmaster (or ring-mistress) of them all! Make this night The Greatest Show On Earth! (Even though, we're technically at sea!)
Day 3, Sunday – Kings & Queens (Formal Night)
Be the crown jewel of the night. Create a Royal Court or Horny Harem, your choice! Hopefully, you'll get to display your Royal Jewels… and remember "It's good to be da' King"
Day 4, Monday – Glow Night
A staple of every Bliss Cruise! Come light up the night on the pool deck with anything neon, or glowing. Get yourself painted in some blacklight body paint, or wear some light-up négligé (yes, we've seen it before).
Day 5, Tuesday – Nifty 50's
Join our American Bandstand-inspired sock hop party, with appearances by Marilyn, Elvis, and more. We're throwing back to the 1950s, so bring on the poodle skirts and get ready to Rock Around the Co…I mean, Clock!
Day 6, Wednesday – Black Tape / Fetish Night
Let your freak flag fly, tonight! Kink night is a great time to show your dark and seductive side, or for those intrigued by the thought of spanks, rope, or being led around in a panda-bear costume head, this night is yours to explore your kinkiest side!
Day 7, Thursday – Tropical Luau
Hopefully, tonight wasn't the only night you've gotten lei'd. It's our last night, and go out in your craziest Hawaiian shirt, or grass skirt. Don't be afraid to show off those pineapples!
Navigator Bliss Cruise Accommodations & Dining Information
Explore an array of venues (all without a cover charge) to suit your mood, tastes, and moves. Check out the parties, bars, restaurants and duty-free shopping on the Royal Promenade. Try salsa dancing at our Latin lounge, Boleros, or heat up the floor at our nightclub, featuring DJ mixmasters. Sit back and enjoy live acoustic tunes in the Centrum or bust out the show tunes at a Schooner Bar piano singalong.
For more than a decade, the chefs of Chops Grille have proudly presented quality, hand cut steaks at this hallmark Royal Caribbean restaurant. From the mouth-watering fresh pasta to the carefully braised meats and stews, you can tour all of Italy without ever leaving the ship at Giovanni's Table. If you are interested in more casual dining, check out the Windjammer Cafe, Johnny Rockets or Cafe Promenade.
During the day, soak up the sun at one of the multiple pools and whirlpools. The day spa and fitness center features state-of-the-art exercise equipment, sauna, spa treatment rooms and beauty salon. Looking for a challenge, visit the Sports Deck and see if you can make it to the top of the Rock Climbing Wall.
Navigator Bliss Cruise – What's Included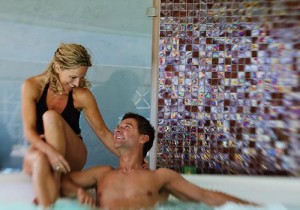 Cruises are a great value because so much is included.  That includes all of your meals at all the restaurants and room service. (except at the specialty restaurants where you will have a slight upcharge.)
Entertainment and theme parties are included.  There will be pool parties by day, theme parties every night and sexy playrooms for exploring the more erotic aspects of this cruise.
Classes and seminars are also included.  You can find when they are each day in your Daily Schedule left on your bed the night prior. Some classes may be offered on a first-come, first-serve basis, or a pay-to-enter class. All of this will be noted on your schedule.
Drinks are not included.  Consider getting the drink package if you want to be truly carefree and not have to put any thought into how much you are spending.
Tours off the ship and Spa treatments are the other things you will want to budget a bit of extra $ for.
Drinks are NOT included.
*All beverage packages can be purchased on board at the time of check-in, package prices do not increase once on the boat.
Classic Drink Package: 
Cost TBA – Prices for these packages are generally announced 3-4 months from sailing.
Premium Drink Package: 
Cost TBA – Prices for these packages are generally announced 3-4 months from sailing.
Pricing, Policies, and Insurance for the Navigator Bliss Cruise
Pricing
The best pricing strategy is to book early. Prices are always released at the lowest rate and get higher closer to departure.
Suites sell out almost immediately.  Book Early!
For up to date pricing please consult the online booking link.  
Additional Person Cabin Cost
Note: this does not count the PS & FS cabins
$375.00 per person for all Staterooms
$450.00 per person for all Suites
Navigator Bliss Cruise Policies:
Payment Schedule
Deposit: Due at the time of booking
Installment: Due on or before May 1, 2018
Installment: Due on or before November 1, 2018
Final Payment: Due on or before May 1, 2019
Looking for a custom payment plan? Contact our office to discuss monthly payment options.
Cancellation Policy/Fees
Up to November 1, 2018: $75.00 pp
Nov 2, 2018 – Feb 1, 2019: $150.00 pp ($500 pp for Suites)
Feb 2, 2019 – May 15, 2019: $250.00 pp ($750 pp for Suites)
After May 15, 2019: NO REFUND
* Cancellation policy dates remain the same regardless of your booking date.
* Cancellations must be in writing by emailing your cancellation request to Info@theswingercruise.com.
Travel Insurance
Yikes, travel insurance is not a fun topic but a lot of you have asked…
This is what happens if you are paid, packed and ready to go… and there is a problem.
The biggest 2 reasons people take insurance are:
Trip Cancellation
Medical Expenses or Medical Evacuation
Full Ship charters are better than regular cruises in many ways, however the penalties and potential for a loss if you have to cancel is higher. Shortly after final payment most full ship charter cruises become non-refundable. That means if you have to cancel your trip not only do you have that disappointment of a cancelled vacation, but I have to tell you you don't get your money back.
Our most popular insurance is 'World Wide Trip Protector' and provides full coverage when purchased up to 21 days after your vacation purchase.
The best value just to make sure you have coverage is 'Trip Protector Lite Expanded.'
We recommend Travel Insured – Get a quote and buy insurance  
Note: this link opens a window for Travel Insured – if you have questions pleases phone our office for assistance.
Please consider purchasing Travel Insurance
Since everyone pretty much likes me right now and I'd like it to stay that way, please consider purchasing travel insurance. Or at least don't say I didn't warn you if there is a problem.
Other coverages that take the worry out of travel:
Trip Interruption – Return air only
Trip Delay & Missed Connection coverage
Baggage Loss or Delay
Cancel for Work Reasons Options available on select policies
We strongly recommend purchasing travel insurance for your upcoming cruise. There are hundreds of circumstances that could cause you to cancel your trip, return home early or force you to seek emergency medical treatment while traveling. Travel insurance offers coverage for unforeseen problems such as, an unexpected financial change or scheduling conflict, a cancelled flight or a serious illness. You even have the option where you can cancel for any reason. We recommend Travel Insured – Get a quote and buy insurance
Terms & Conditions – Navigator Bliss Cruise
The U.S. Department of Treasury's Office of Foreign Asset Control (OFAC) administers a variety of trade embargoes and economic sanctions programs that are applied to some countries. Currently, the most restrictive measures are imposed against the following Sanctioned Countries:
Cuba
Iran
Sudan
North Korea
Syria
U.S. law prohibits us from providing services and engaging in business transactions with individuals and entities located in or residents of these Sanctioned Countries. This prohibition also extends to doing business with Sanctioned Countries indirectly through third parties.
This means we cannot, either directly or indirectly through a third party market or sell cruise vacations, make bookings, reserve cruise tours or expeditions, and provide other travel-related services to individuals or entities located in or residents of these Sanctioned Countries.
Navigator Bliss Cruise Pre-Cruise Hotel:
Hyatt Place
3549 Le Jeune Road, Miami, FL 33142
Prior to every Bliss Cruise, there is an official Pre-Cruise Meet & Greet at the host hotel.  You know that TheSwingerCruise.com is going to be there having the best time with you!
We will always recommend coming in at least one day prior to your vacation to avoid any unforeseen delays or lost baggage.
TheSwingerCruise has a block of hotel rooms at the Hyatt Place. Our rate of $159 per night includes a Daily Breakfast and Discounted Overnight Parking ($10/night). TheSwingerCruise will also be hosting a meet & greet the night before the cruise at this location
To book your room [Click Here]
Alternatively, you can also call your booking in by following these instructions:
Call 1.888.591.1234

The name of the event is "Bliss Cruise"

The GROUP CODE is "G-BLIC"

The dates available to book are November 6 & 7, 2019.

BOOK!
Why book the Navigator Bliss Cruise
Navigator Bliss Cruise has Created Sexy Signature Spots
Aboard this seductive Bliss Cruise, you will find exclusive, designated spaces that say 'pure ecstasy at sea!'
Clothing-optional Pool Area:  The pool is clothing-optional for hot and steamy fun.  The Bliss Cruise continues its infamous reign with an amplified & progressive poolside experience. Sexy pool parties by day, and by night, even sexier theme night parties!
Signature Playrooms:  You will feel the electrical currents pulsate through your body, as you mix & mingle with like-minded couples in a healthy, sophisticated, erotic playground for adventurers. Take your relationship to the next level, by living out your forbidden fantasies at sea, in the many Bliss Signature Playrooms.
Classes and Seminars: Learn new tips and tricks meant to enhance your already adventurous lifestyle.  Examples of classes that have been offered in the past include 'Swinging 101 for Newbies', 'BDSM 101',  or 'Erotic Hypnosis: An Amrita Experience'. Classes vary every cruise!
What Past Guests Have to Say…
My wife has always wanted to go topless when we travel.
On Bliss Cruise, we did just that!  We love the idea of getting naked in public.  We would go on the next cruise, Mariner Bliss Cruise for that reason alone!  Mrs. says she never felt sexier!
It was so exciting to feel like we were getting away with something!
We loved the theme parties on our last Bliss Cruise.
One thing that made it special was that everyone was dressed up beautifully.  We felt really special to be included in such an amazing group. There were so many possibilities.  Mrs says she never felt sexier.
It was so exciting to be part of such a vibrant group of people all dancing sexy and having fun.
The first time we booked we weren't sure if we would fit in. We are in our upper 30's and Lynn assured us that our desire for the finer things in life would be the key to fitting in with this group. She was right!
We expected couples age 45-65 and we were surprised how many young couples there were!  We loved every moment of that cruise and cannot wait to get on another Bliss Cruise!
Why You Should book with TSC
TheSwingerCruise.com is the only agency with ALL the cruises.
TSC Expert Agents provide first hand experience.  We have sailed on over 23 Swinger Cruises and will help you find the one that perfectly fits your style.
Our Signature 'Get Ready' program provides all the information you need before you board the ship so you can get the most out of your vacation.
We create VIP Pre-Crusie authentic emersion events.  Board the ship with a whole group of new friends.
'Must Read' Swinger Cruise Articles
We have been on over 23 full ship charters.  Here are a few articles we have written to answer your questions, calm any worries, and get you excited for the 'Best Fu@%ing Vacation!'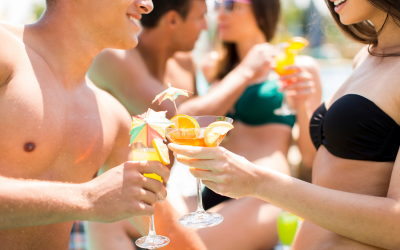 In the early days of TheSwingerCruise there was one cruise a year. You either went or you missed it. Those were the only two options. In the past 10 years several top cruising brands have emerged. The most popular Big Ship is Bliss Cruise. The secret to their...
Bliss Navigator Cruise,
Sailing November 8 – 15, 2019
Explore the beauty of the Caribbean on the Bliss Navigator of the Seas Cruise
Join beautiful couples from all over the world.
Imagine sailing in this sensual environment.
Explore the sultry Caribbean by day.
Enjoy erotic theme parties every night.