Rockstar Adventures – Facts at a Glance
July 16-23, 2022
57 Couples
Split – Pucisca – Korcula – Lastovo – Komiza – Stari Grad – Bol – Solta
Clothing Optional, Adults Only, Full Ship Charter
This cruise is good fit for: Newbies, Open Minded Adventurous Couples, Swingers
Average age 45-55
Rockstar Adventures: Boldly exploring beyond the boundaries of sexy travel!
To View Prices Click 'Book Now'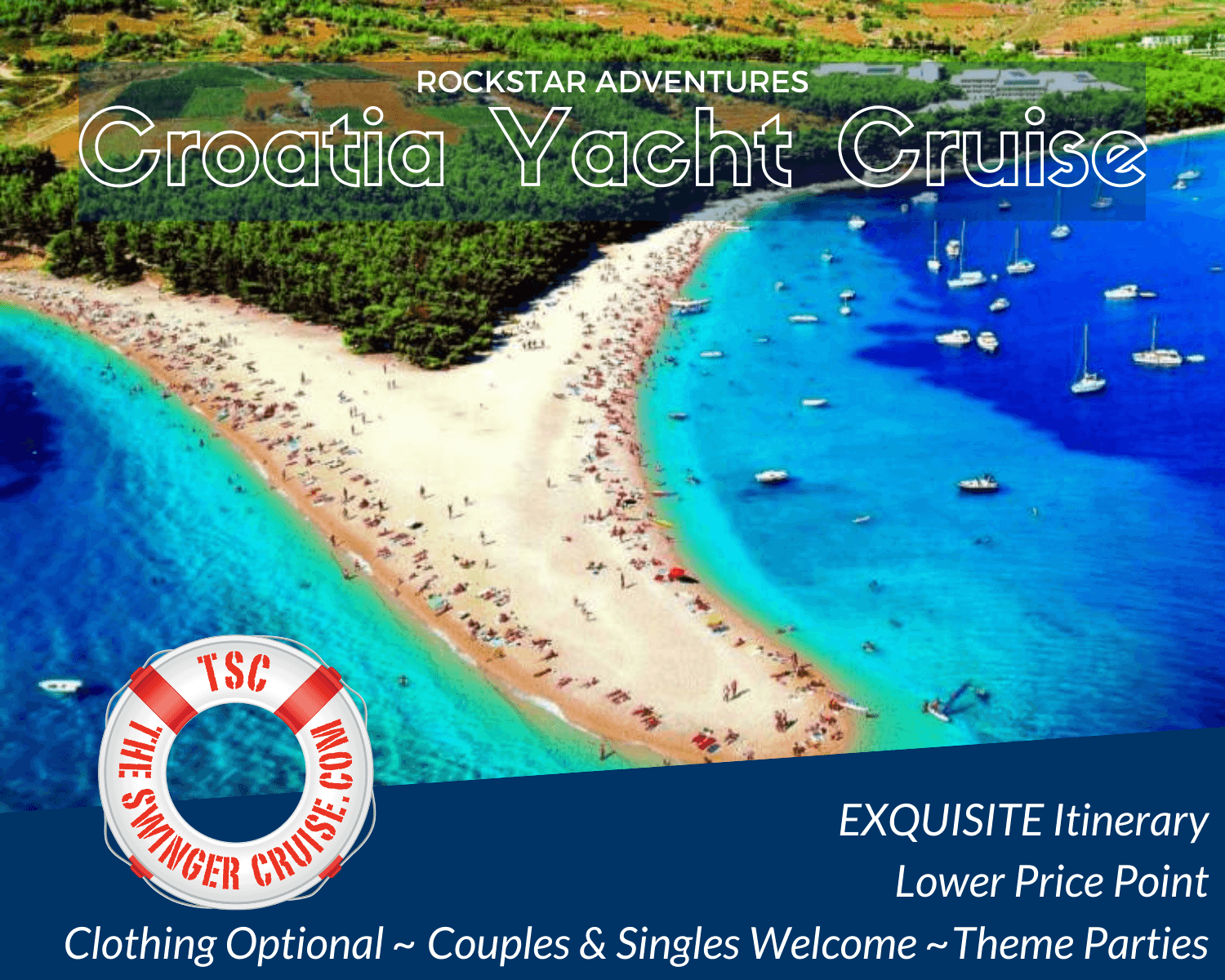 Rockstar Croatia Cruise – What's Included
8 days – 7 nights charter with crew
Accommodation for maximum number of passengers in two bedded cabins with private facilities
Air-conditioned cabins
Fully equipped cabins (Safe deposit box, hair dryer, LCD TV, cupboard & wardrobe cabinet)
Fuel for max 4 – 5 hours of sailing daily
Seven buffet breakfasts
Three course lunches daily + cheese and salad bar
Captain's dinner with aperitif and live entertainment
Welcome cocktail
Complimentary tea, coffee through the day
Complimentary water
Olive oil and wine tasting onboard
Daily fresh fruit and snacks
Room/cabin service possibility
Daily cabin upkeep and towel change
Midweek fresh bed linen
Slippers and bathrobe
Vanity set – body lotion, shampoo, hair lotion, shower cap etc…
Beach towels
Free wireless internet access (Wi-Fi)
Air-conditioned dining room with bar area and LCD TV
Lounging sundeck with deck-beds
Use of hot tub
Rear access platform for easy access to/from the sea
Porterage
Because a picture is worth a 1000 words we thought we would share some of our favorites…
Explore hidden beaches by day and coastal villages by night…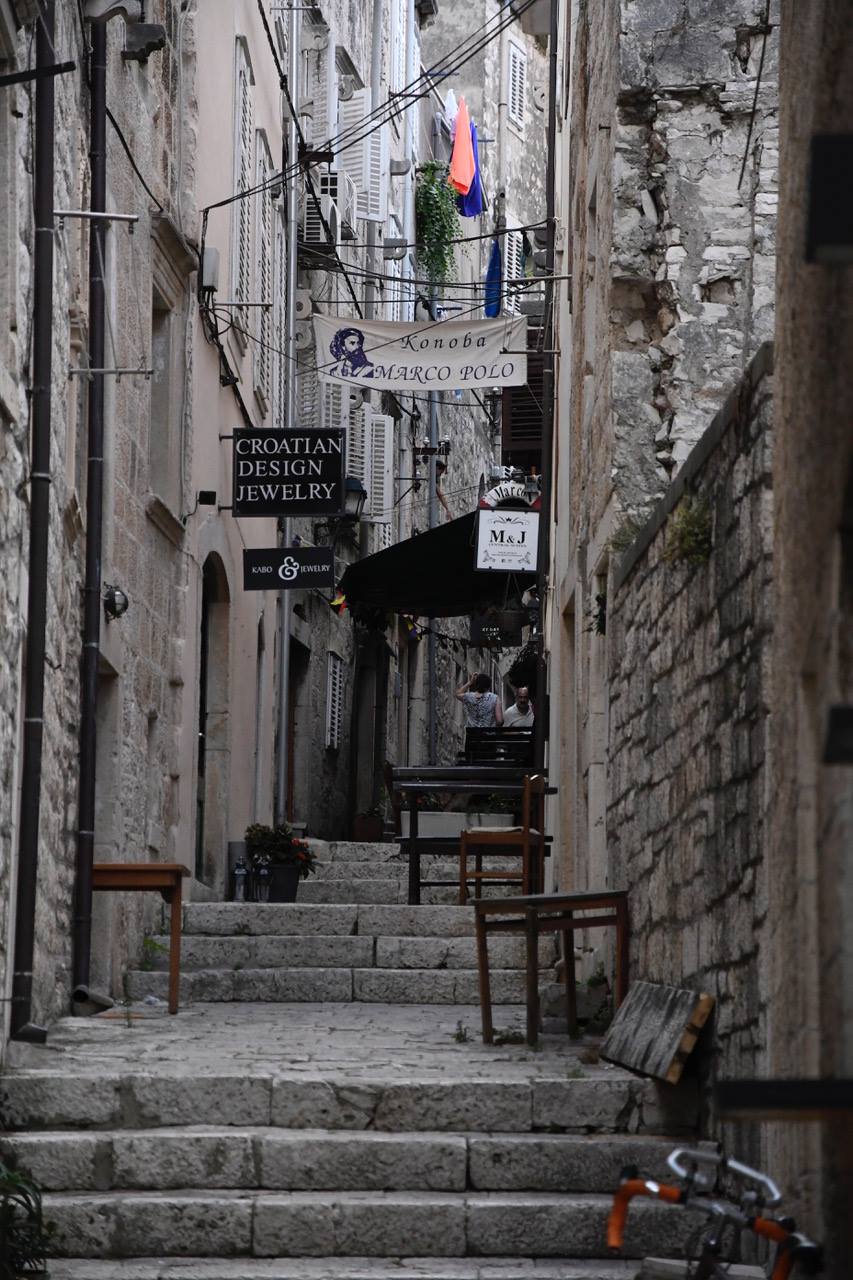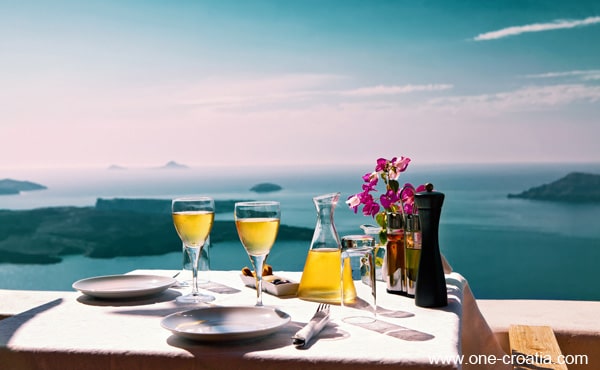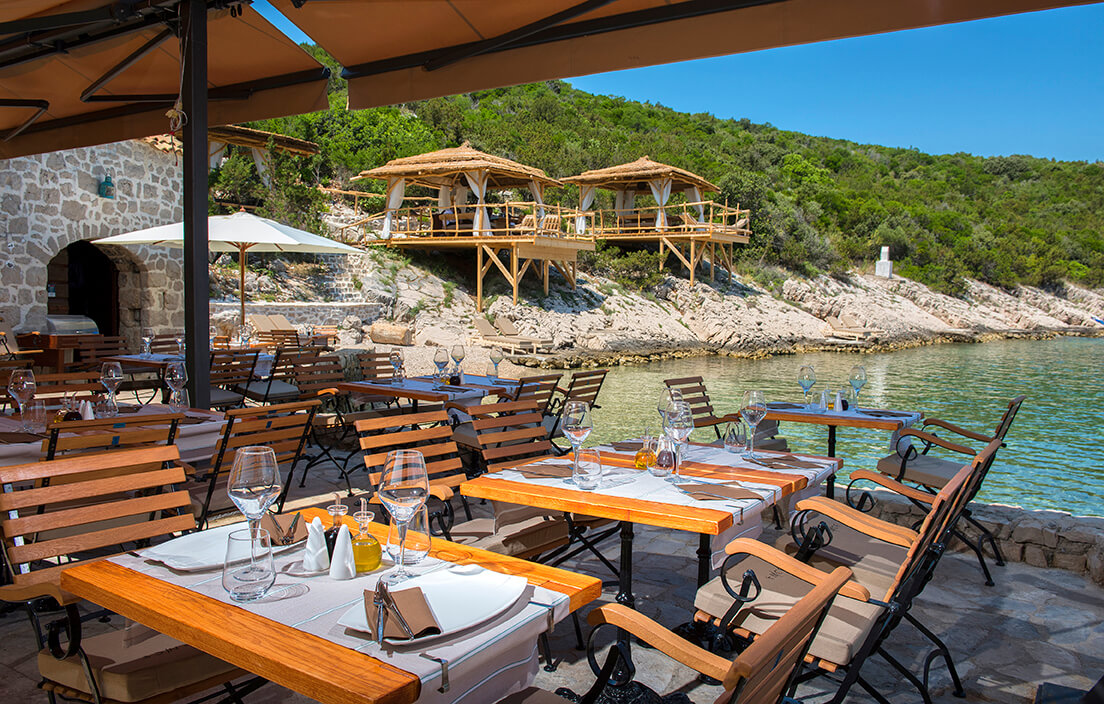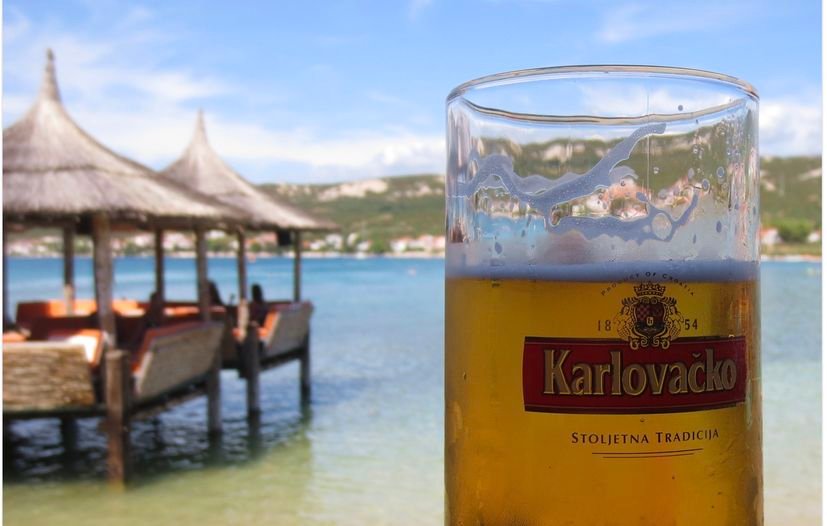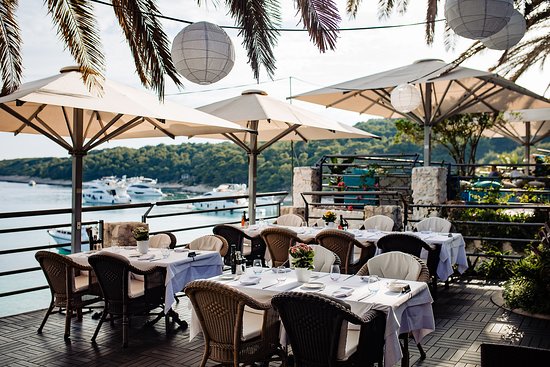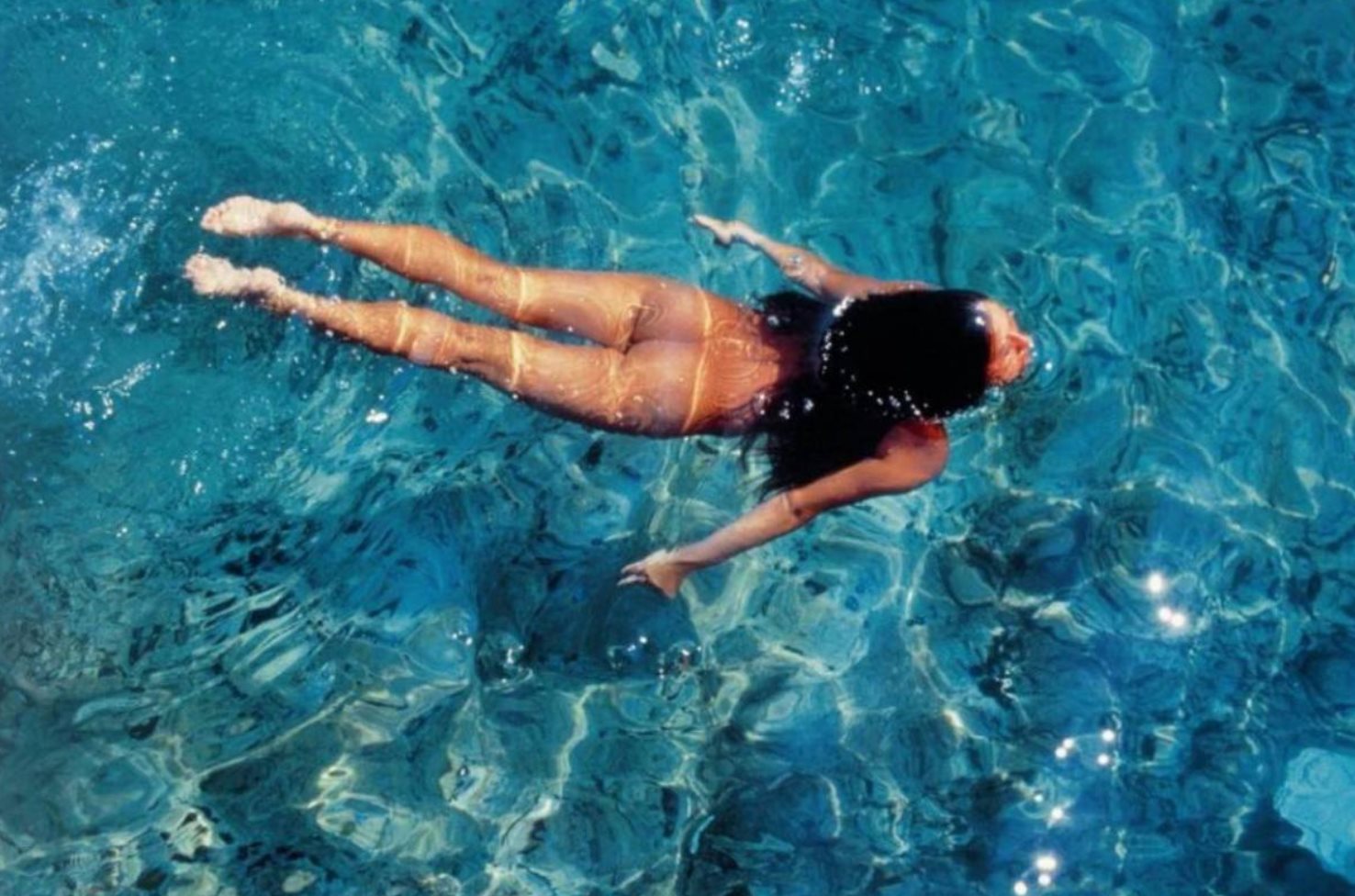 Rockstar Croatia Cruise – Ship Details
Rockstar has chartered three Yachts for this Adventure.  They are all built 2018 or later and similarly equipped. So you know the furnishings and quality of the vessel will be top-notch.
The Aurelia, Ave Maria and Adriatic Sun will host our playground for this adventure.
Adriatic Sun Photos: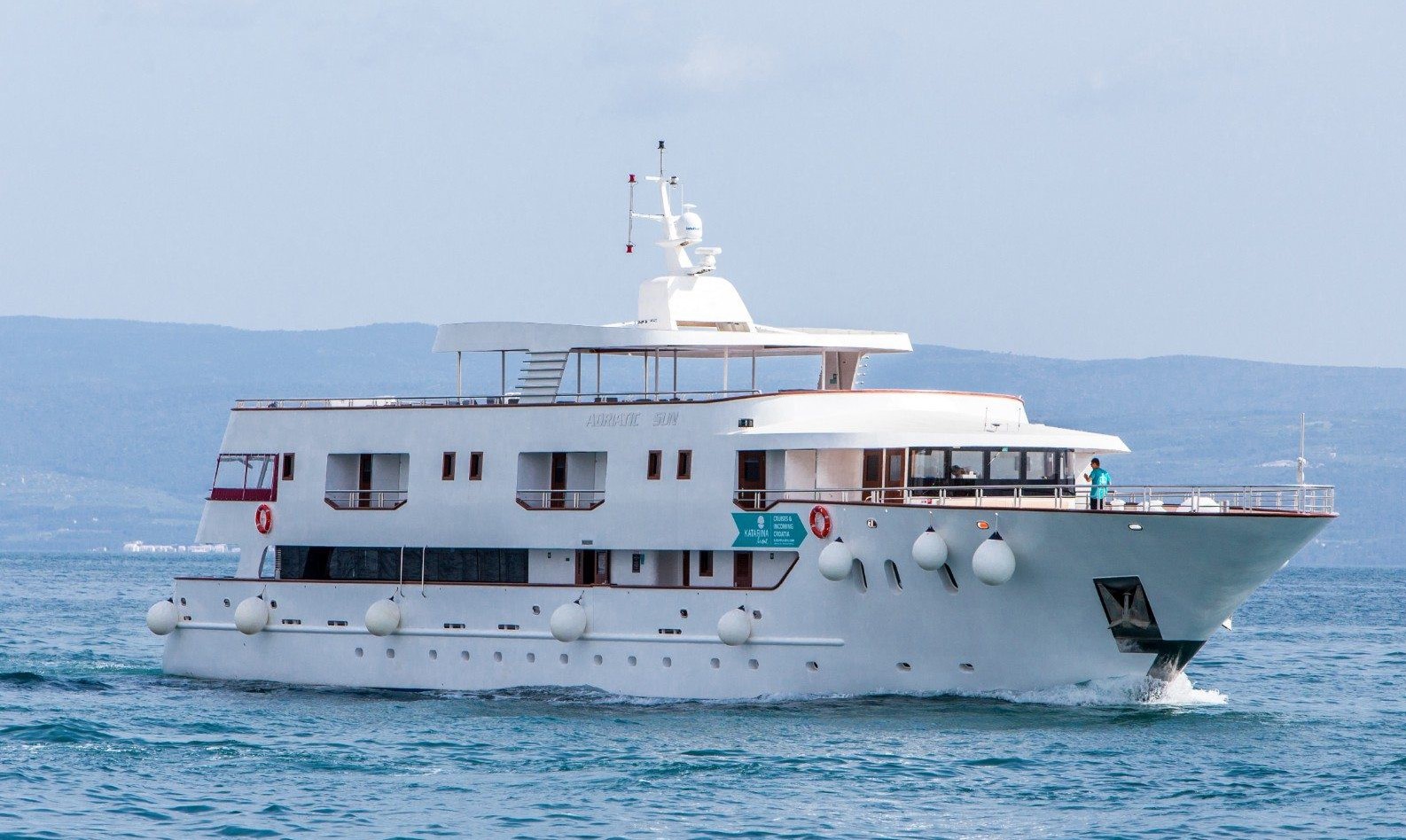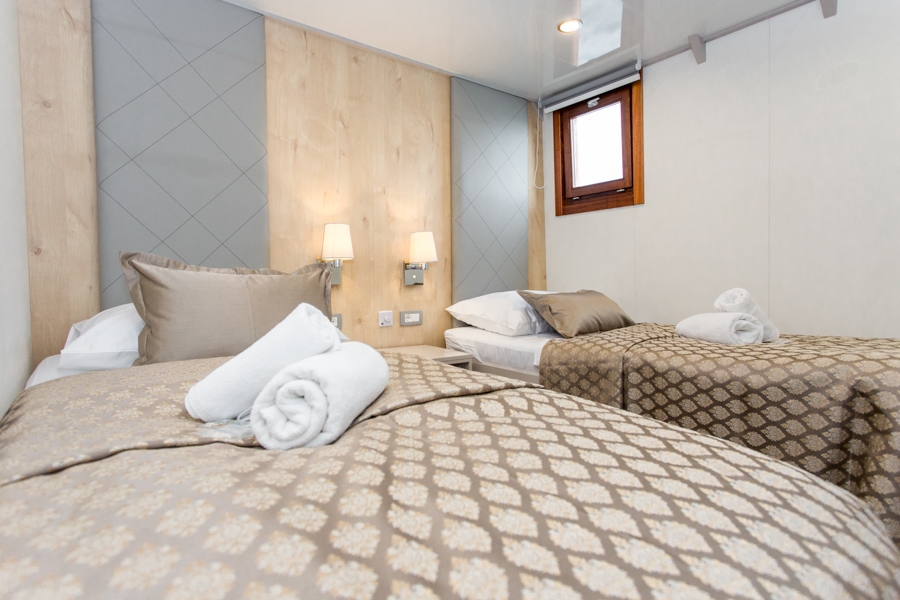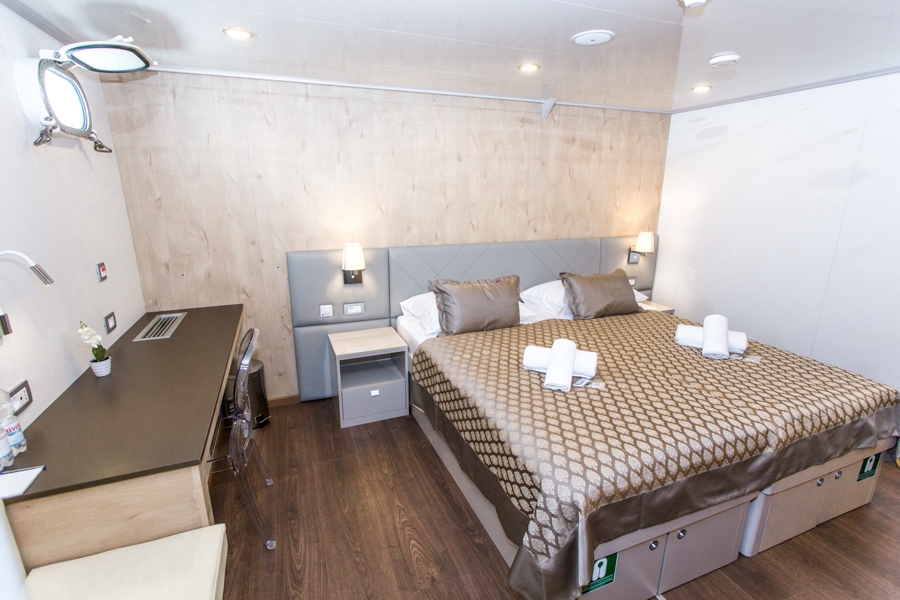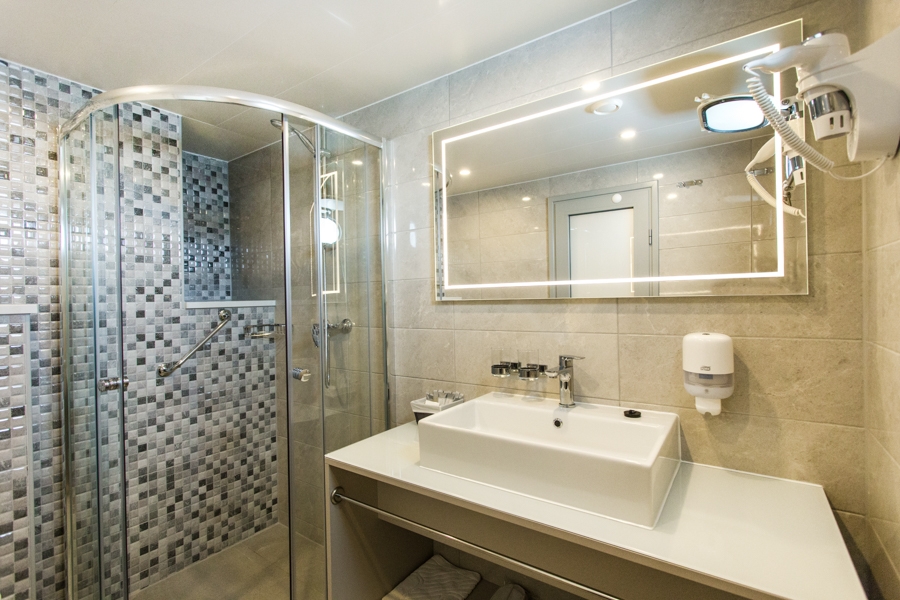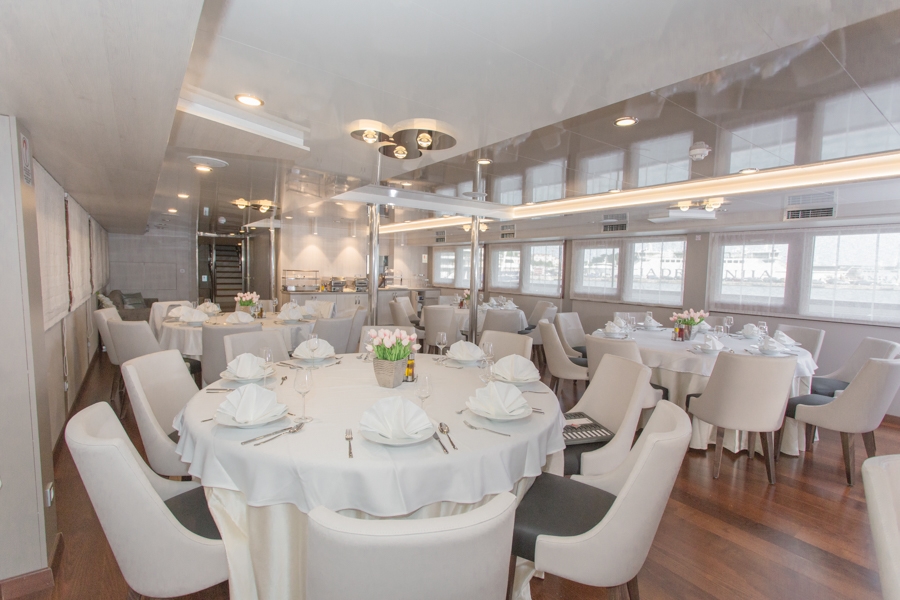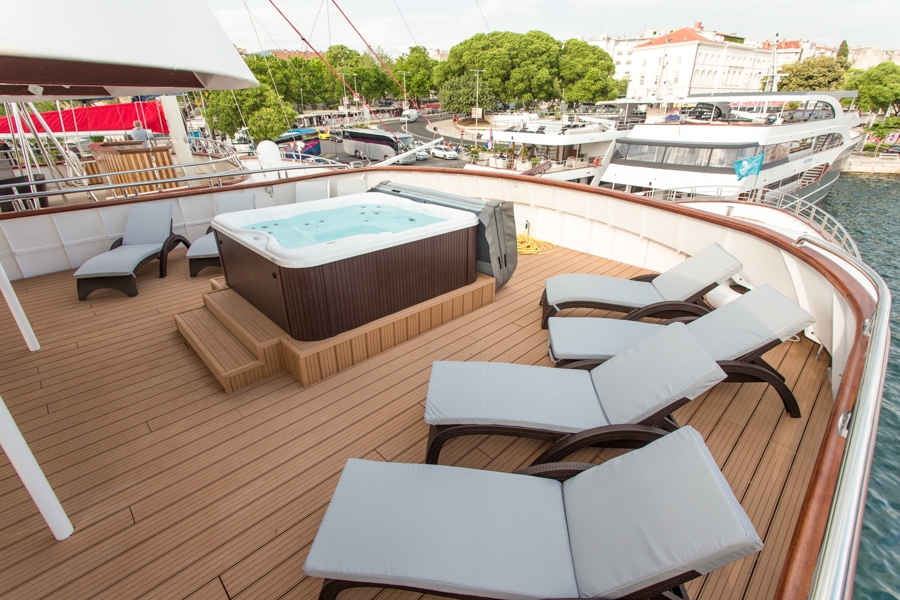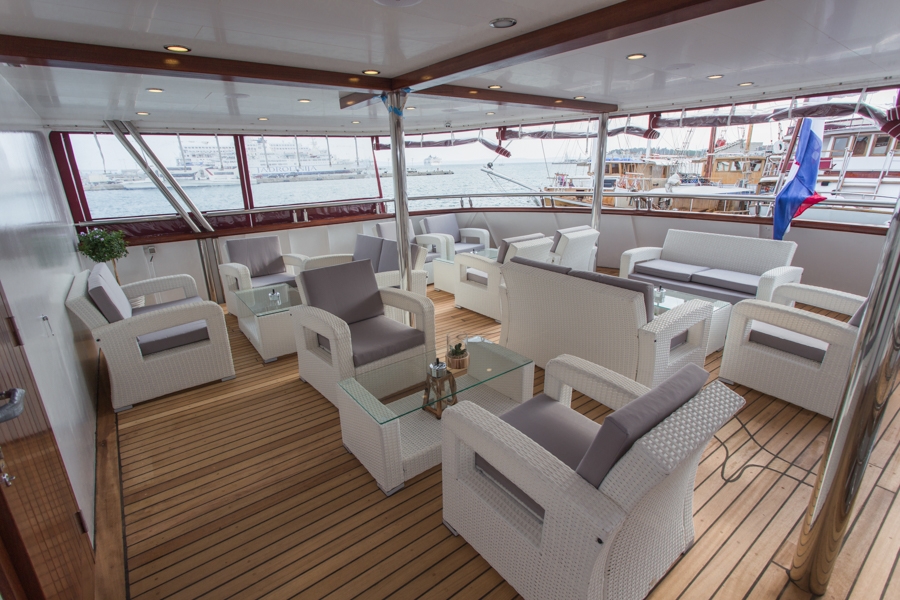 Ave Maria Photos: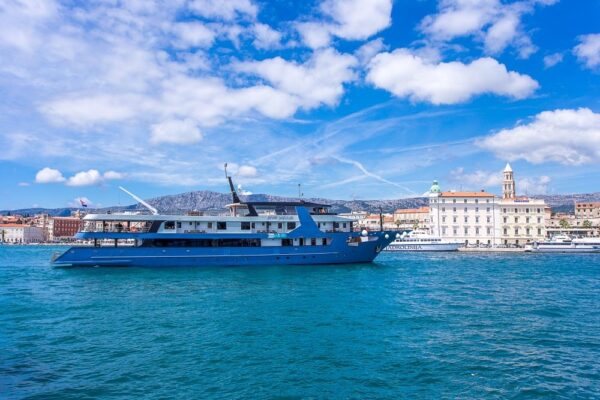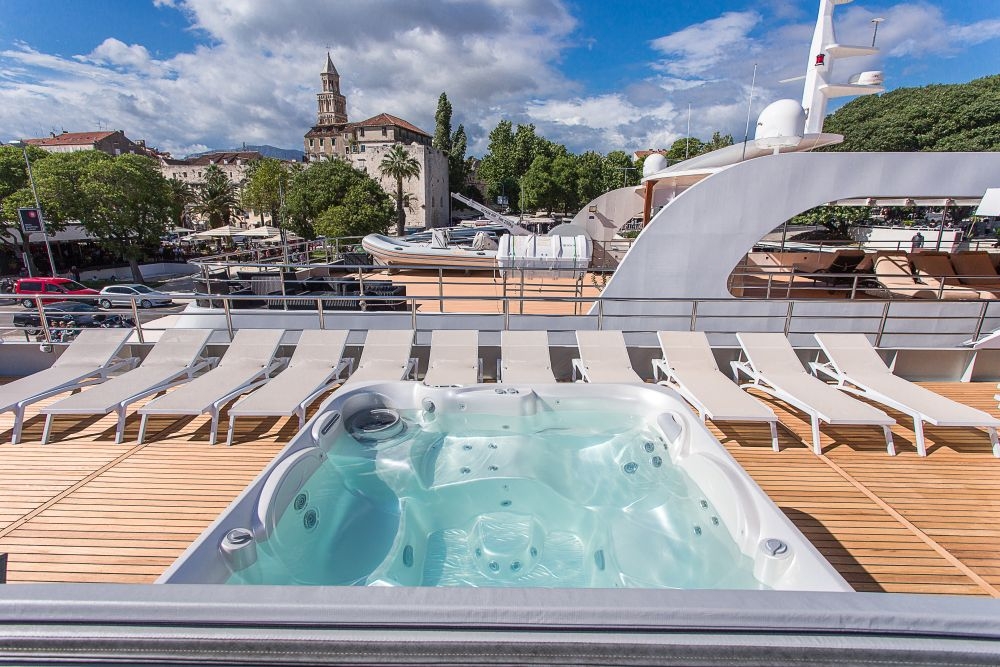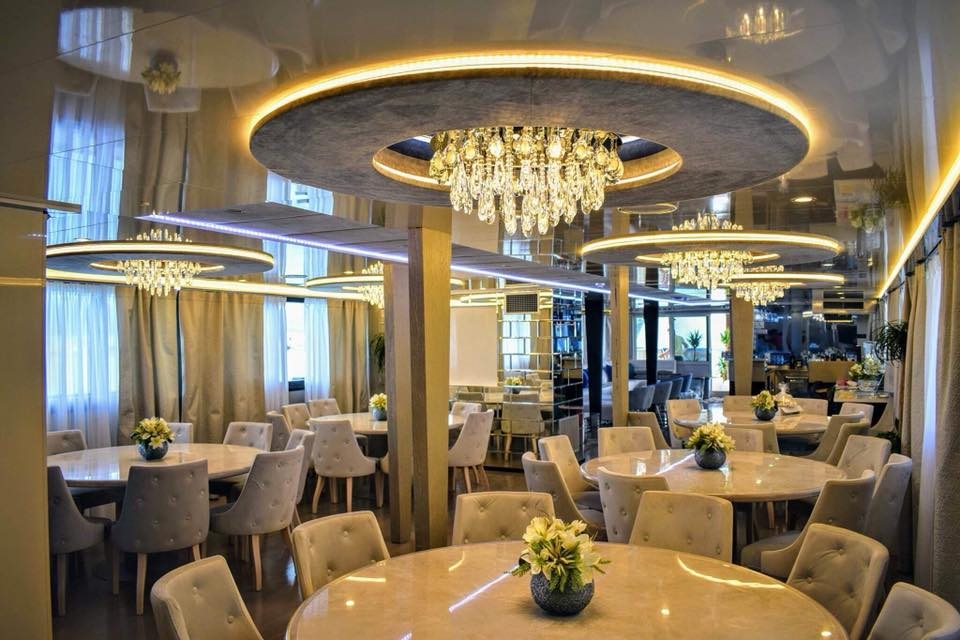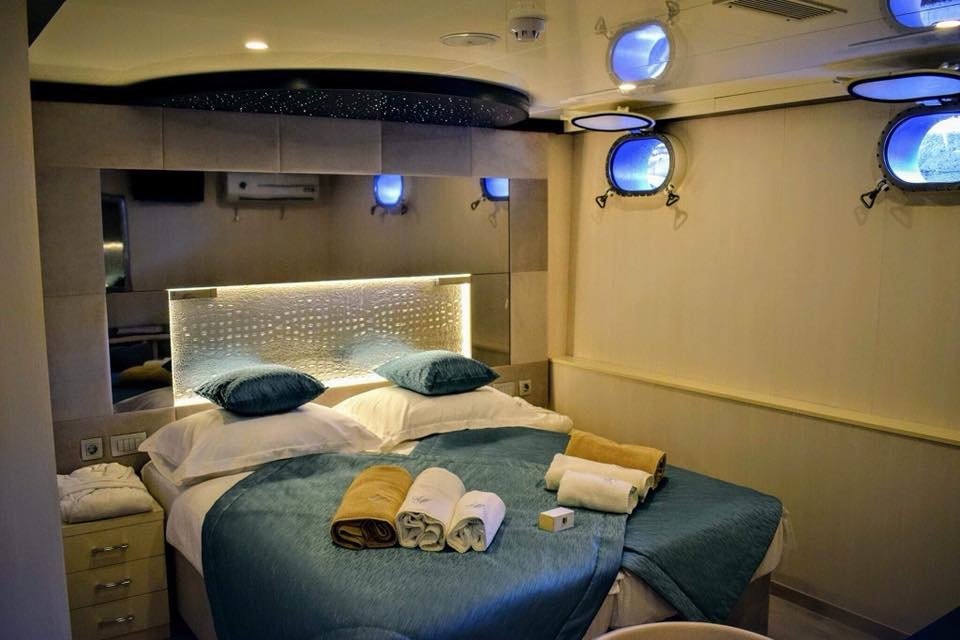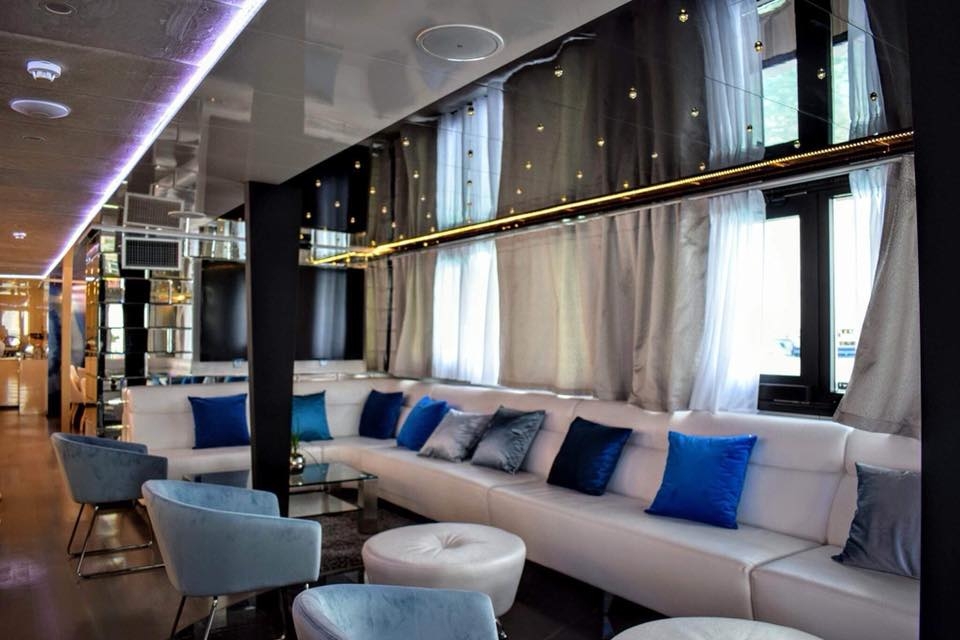 Aurelia Photos: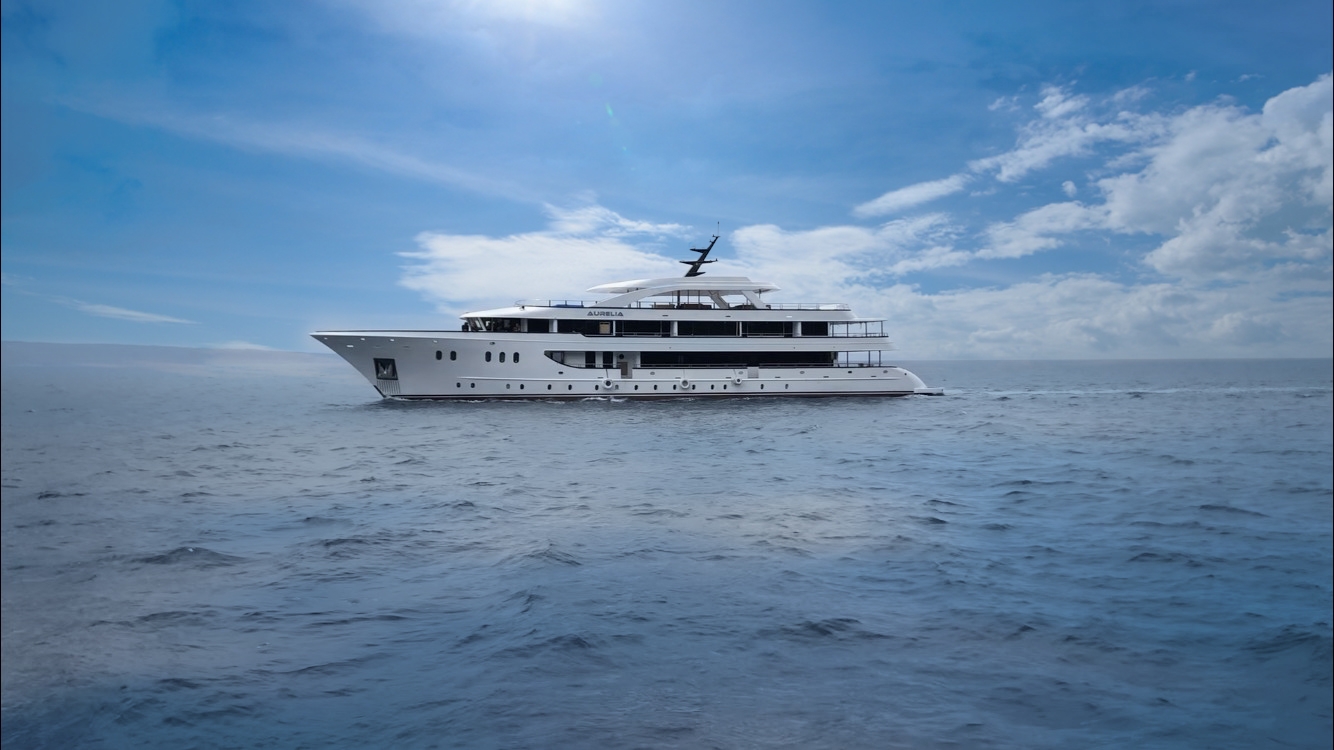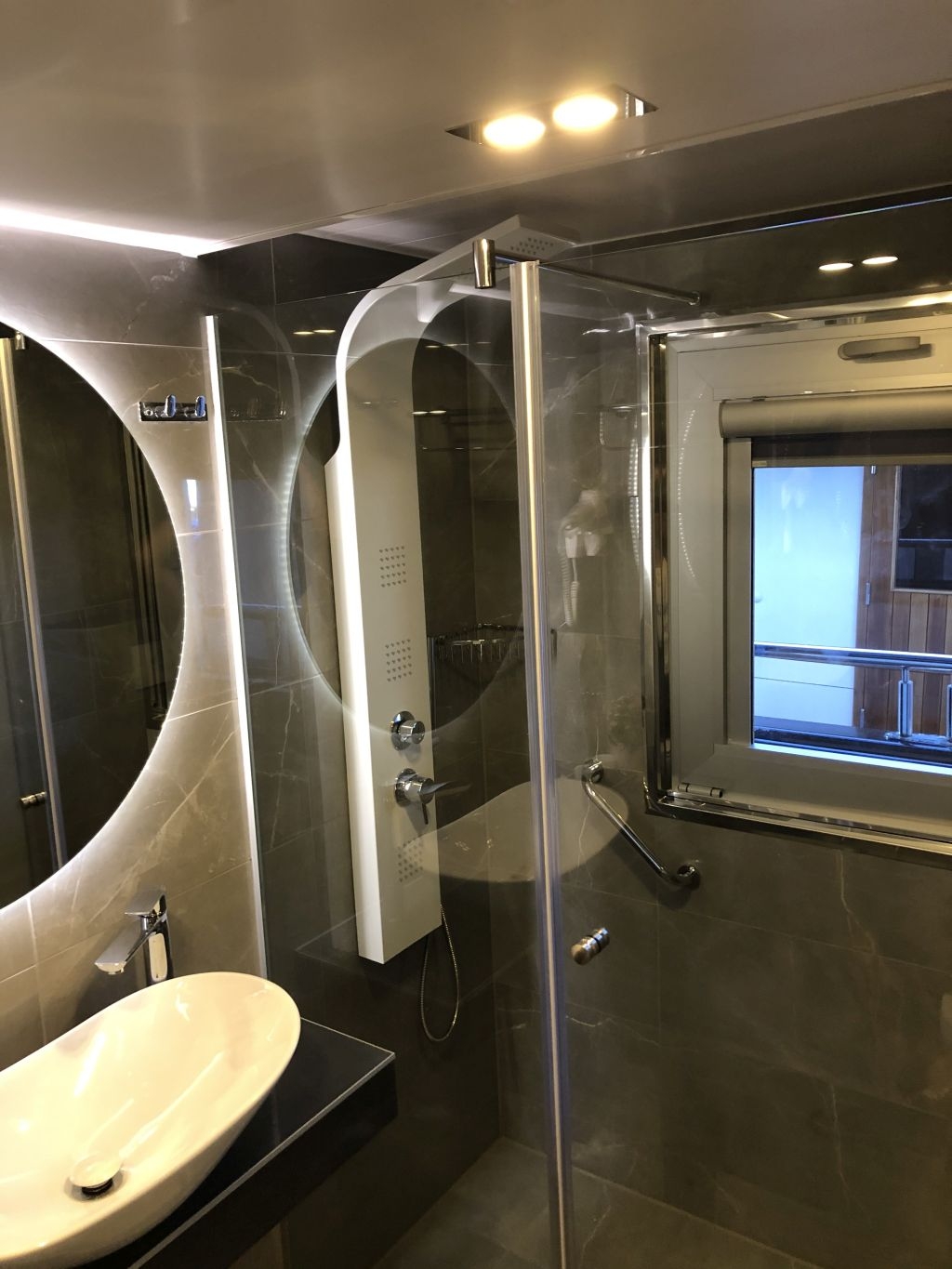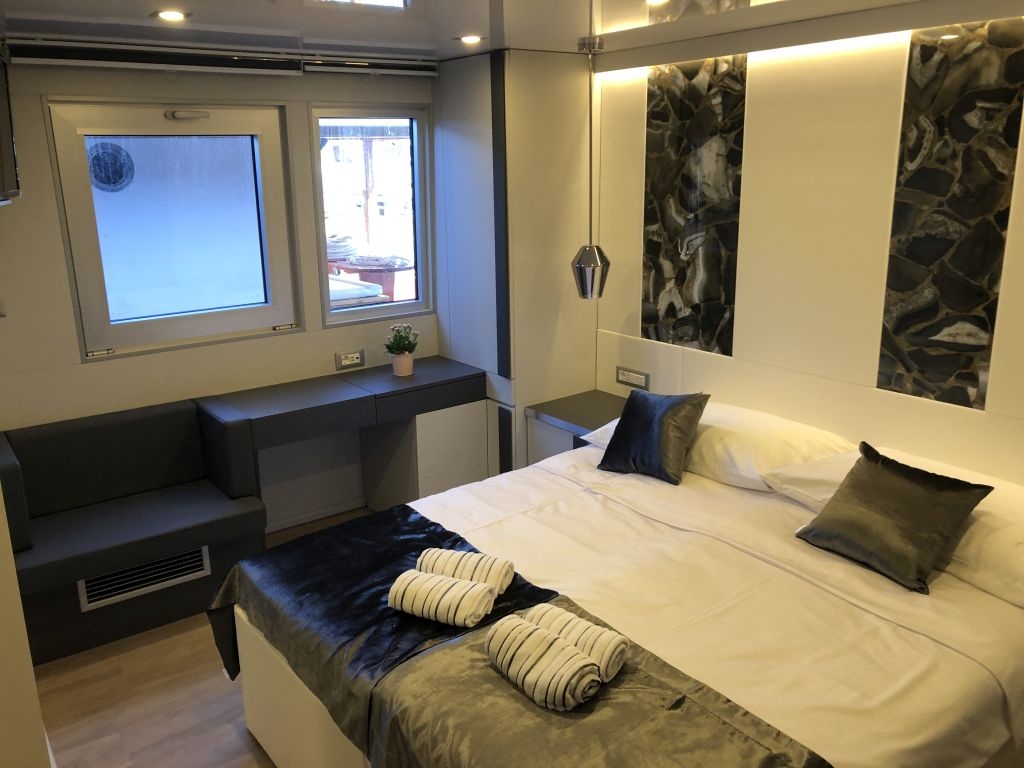 Rockstar Croatia Cruise – Itinerary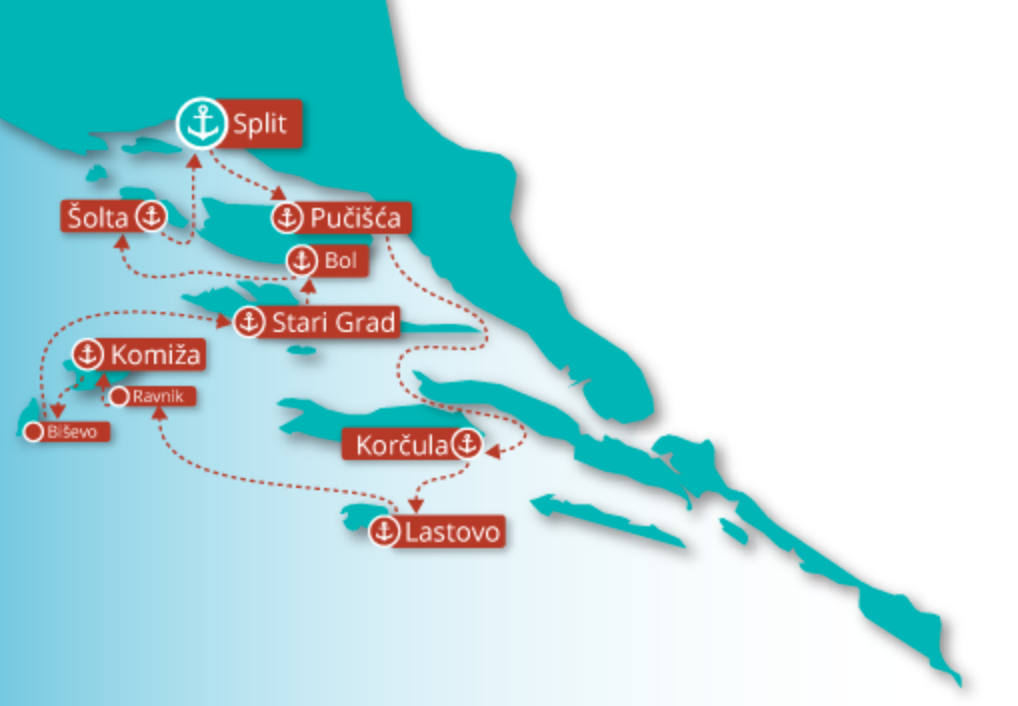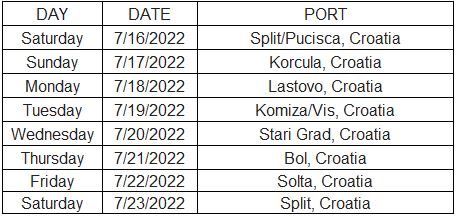 Day 1. SPLIT – PUČIŠĆA (L)
Departure from Split at 13:00h followed by lunch and a swimming break at Ruskamen naturist beach
situated 6 km from Omiš. Continue to Pučišća on Brač Island, a typical Mediterranean place, situated on
the northern side of the Island. This is the cradle of the world-famous Brač white stone. Possibility of visiting one of the few stone masonry workshops left in Europe. Enjoy the domestic food, wine, and famous olive oilof this coastal village. Overnight in the port of Pučišća.
This is a beach in Ruskame.   After that we head over to Brac – a bit of touring and shopping. This is origin of the where the famous white stone the White House was built from.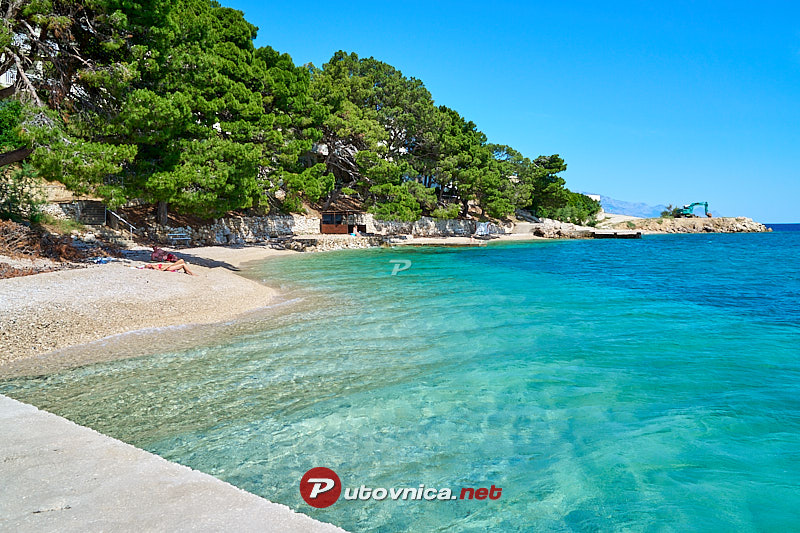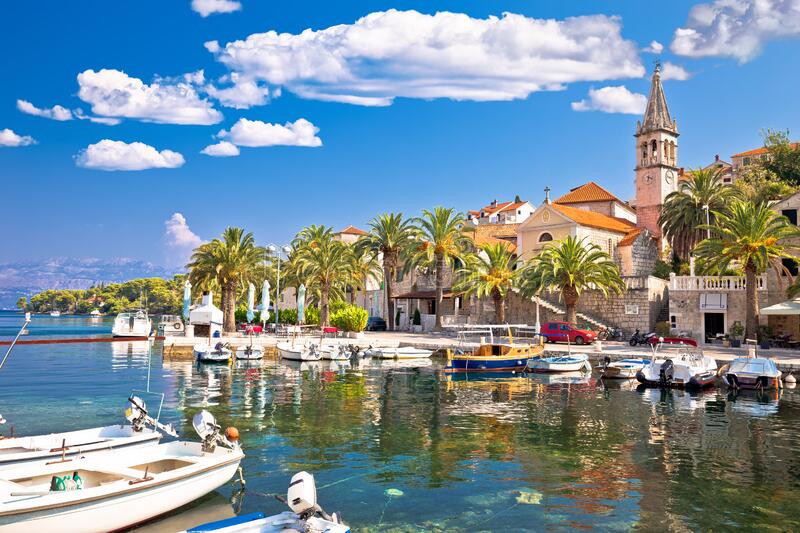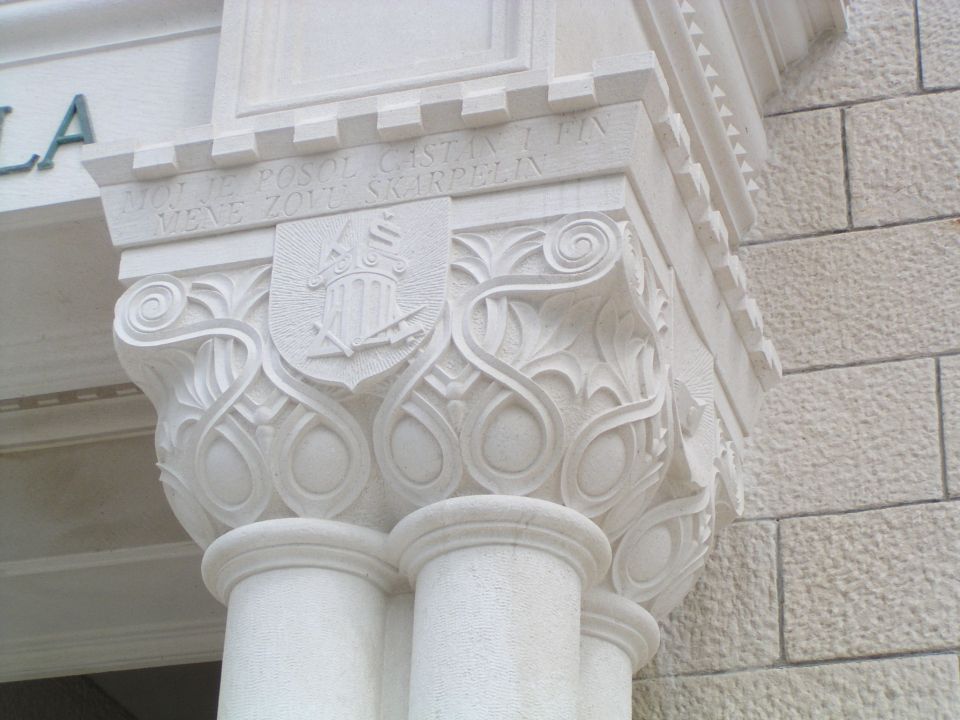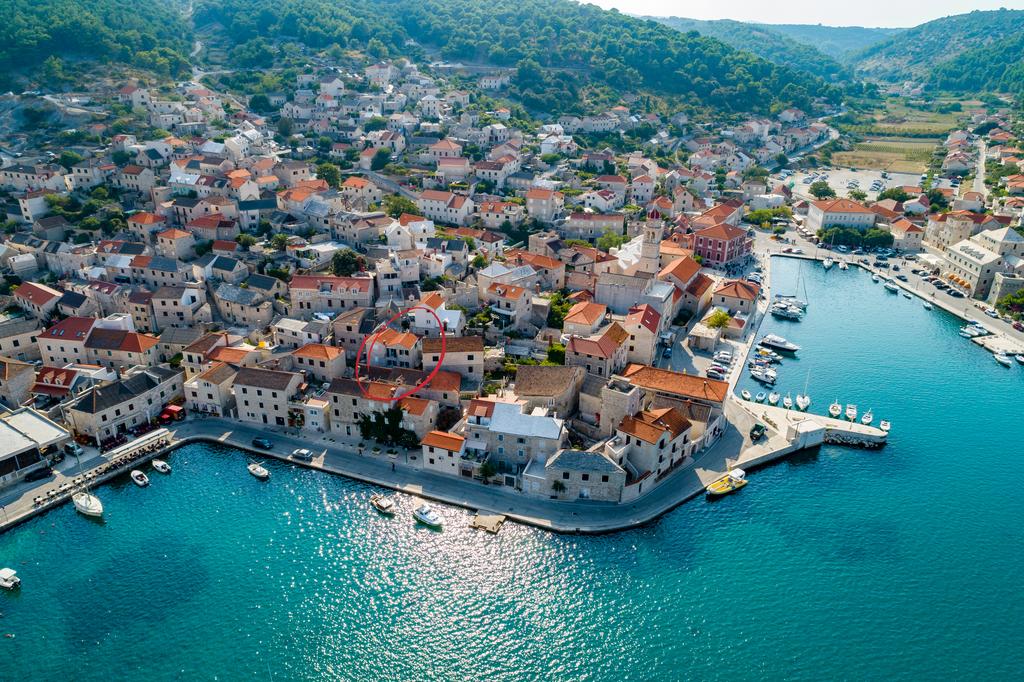 The White House is carved from stones originating in Brac Croatia. Night One, Pučišća!!!
We will explore food, wine, and famous olive oil… this coastal village will never be the same!
Day 2. PUČIŠĆA – KORČULA (B, L)
By the time you reach the deck in the morning, Pučišća will already be behind us. After the morning
swimming stop in the crystal blue sea near the Mlaska naturist camp, we cruise toward Korčula – the
birthplace of Marco Polo.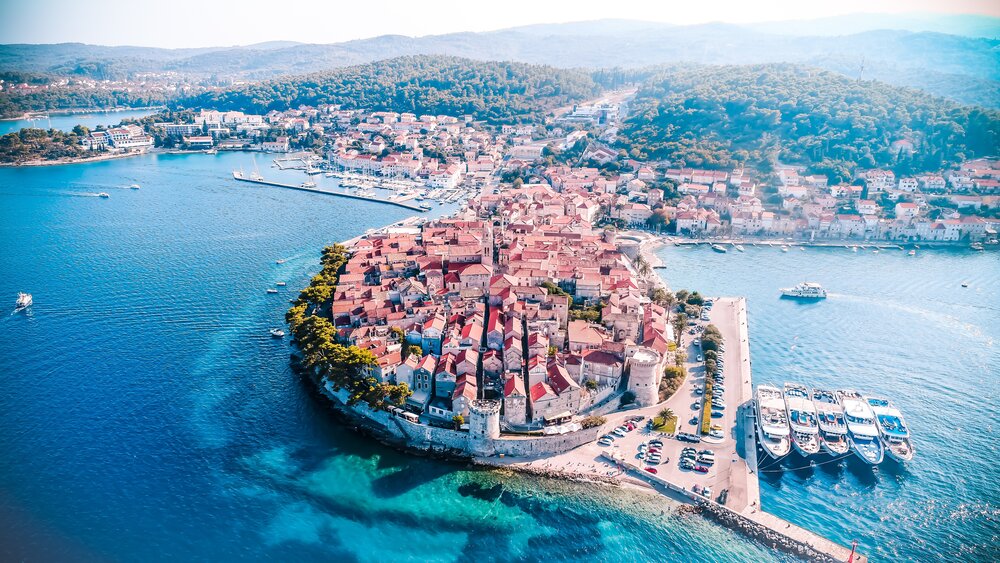 Lunch will be served either on the tip of the Pelješac peninsula (near Lovište) or
in the quiet bay of Kneža on Korčula island. Afternoon arrival in Korčula for guided sightseeing of this
exceptional town.
According to legend, Korčula was found by Trojan hero Anthenor in the 12th century B.C. This island has more legends, tales, and monuments than almost any other.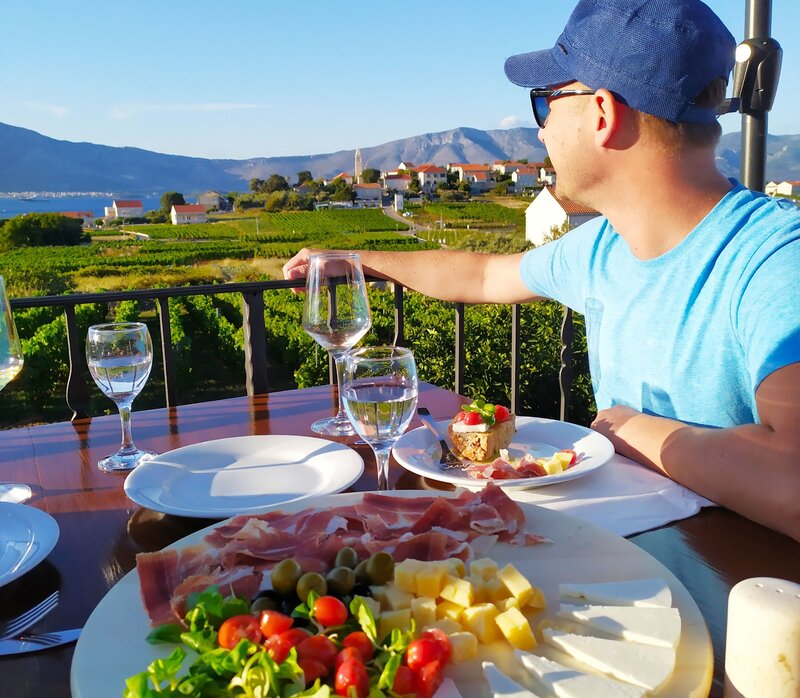 In the evening visit one of many sea-front restaurants or enjoy the stunning views of the mainland coast and mountains from the waterfront cafes and bars. Overnight in Korčula.
Day 3. KORČULA – LASTOVO (B,L,CD)
Before we leave, we suggest a short morning walk through the open market in Korčula where you can buy fresh fruit to enjoy during the day. Swimming stop at one of the naturist beaches on the tiny island of Badija.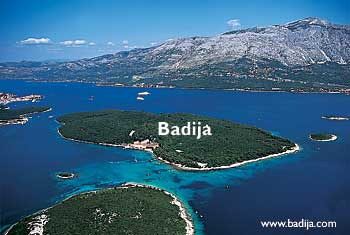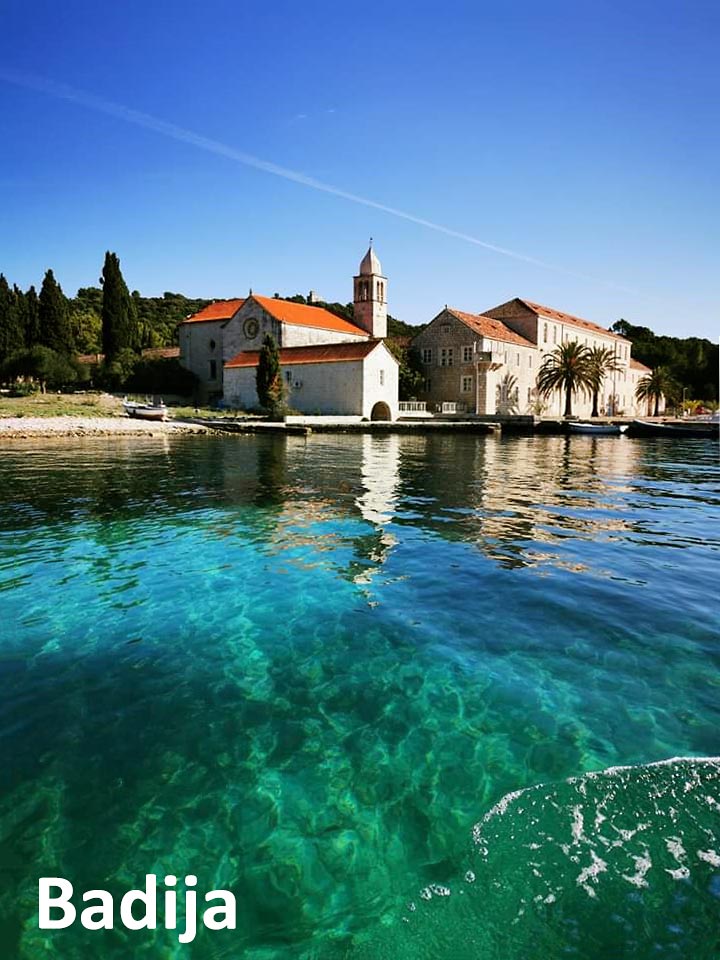 We continue our cruise towards Lastovo, the furthest inhabited island in Dalmatia, called the
Imperial Island. Once docked in Ubli port, there's an opportunity to visit the protected Nature Park or visit the biggest town on the island – Lastovo.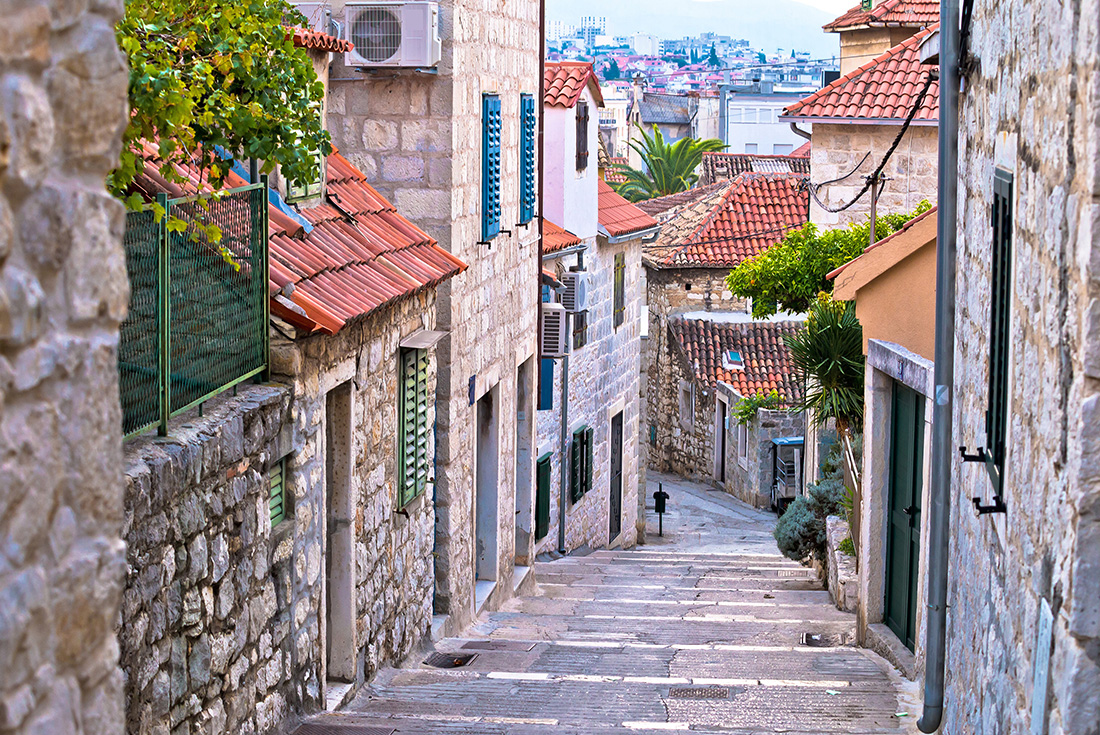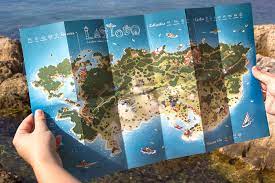 The island is surrounded by many smaller islands, with plenty of secluded bays suitable for snorkeling, but also known for many little churches and unusually shaped chimneys.
Captain's dinner party on board and overnight in Ubli.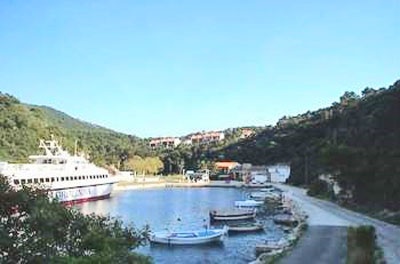 Day 4. LASTOVO – Ravnik (Green Cave) – KOMIŽA/VIS (B,L)
Early morning departure towards Vis Island, closed to tourists for many years because of its unique
geographical position. Vis was a strategic harbor for the navy and due to this isolation

Day 5. KOMIŽA – Biševo (Blue Cave) – STARI GRAD (B,L)
Earl morning, we cruise towards the little Biševo Island to visit the Blue cave, a magnificent natural
phenomenon. Weather conditions here are often variable and our visit will depend on this. The crew will
notify you. Entrance to the Blue Cave is to be paid on the spot (approx. EUR 14.- per person).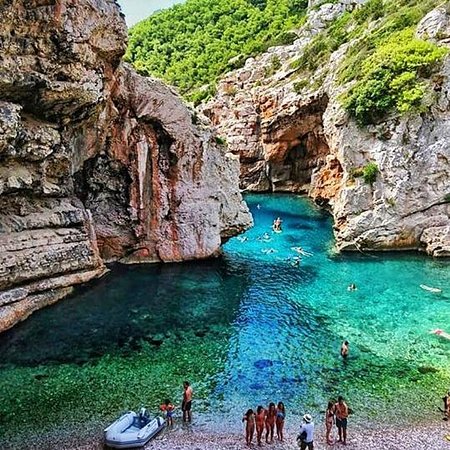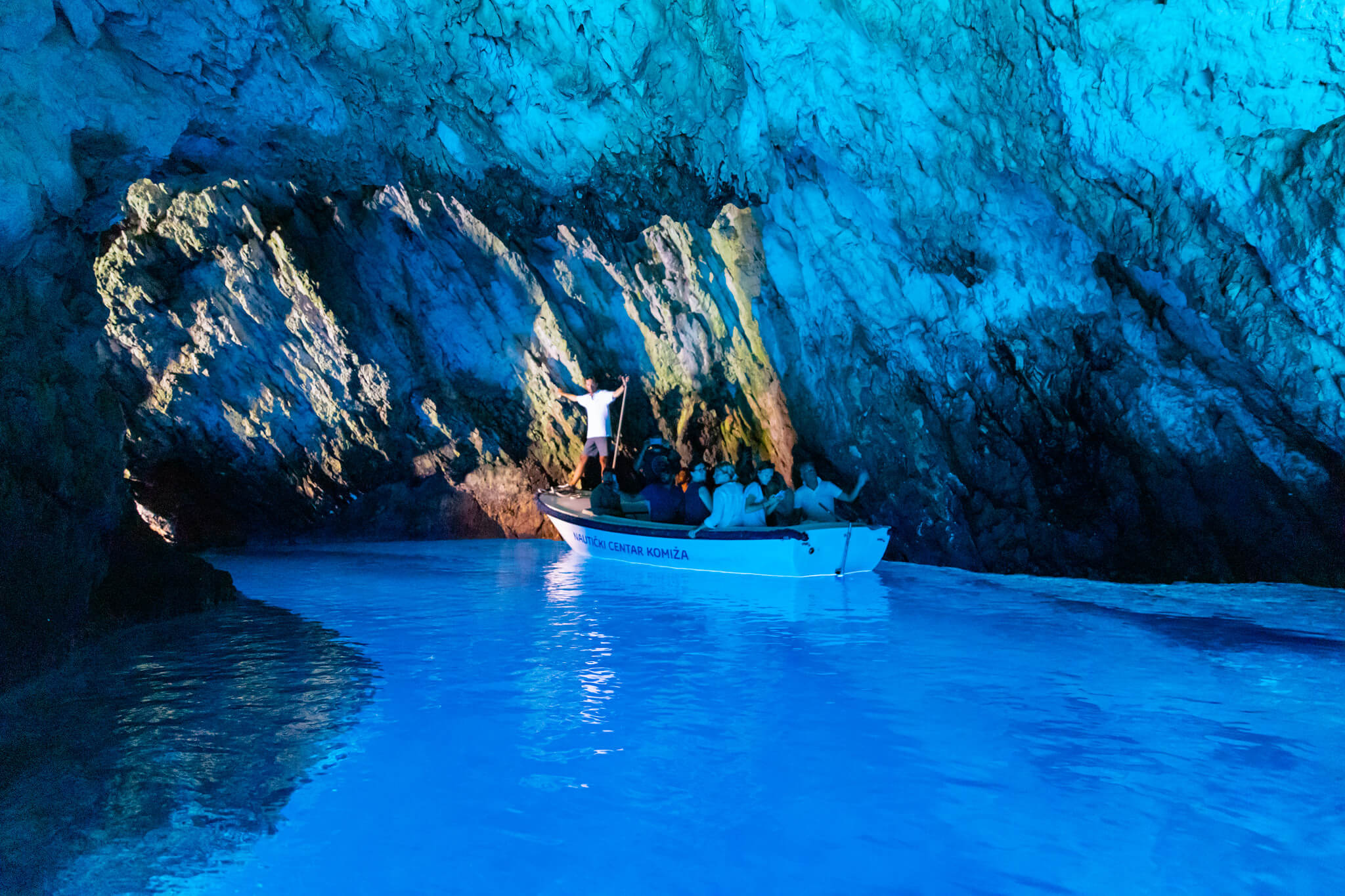 After a swimming break on one of the beaches on Jerolim Island, we continue towards Stari Grad on the Hvar Island, the sunniest Adriatic island. Guided tour of Stari Grad.  The famous Stari Grad Field is the oldest in Croatia and the best-preserved example of the ancient Greek system of
agriculture. It is a part of world heritage protected by UNESCO. Overnight in Stari Grad.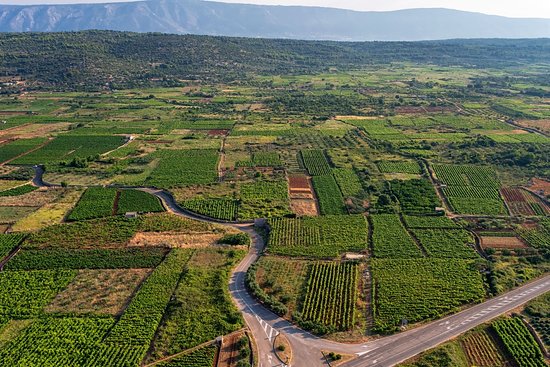 Day 6. STARI GRAD – BOL (B,L)
Breakfast followed by a short swimming stop near the naturist camp Nudist in Vrboska. During lunch, we
cruise towards beautiful Brač island and the famous town of Bol. Swimming is planned at the most famous beach in Dalmatia – Zlatni Rat (the Golden Horn) – its shingle promontory shifts from side to side, changing shape, according to the direction of wind and waves. Bol is a typical fishermen's town now a popular tourist destination yet still unspoiled. Here we have the opportunity to enjoy excellent fresh fish, local wines, and other delicacies of this unique island. Hike or rent a scooter to go up high to Vidova Gora for a spectacular view of Bol and its surroundings. Overnight in Bol.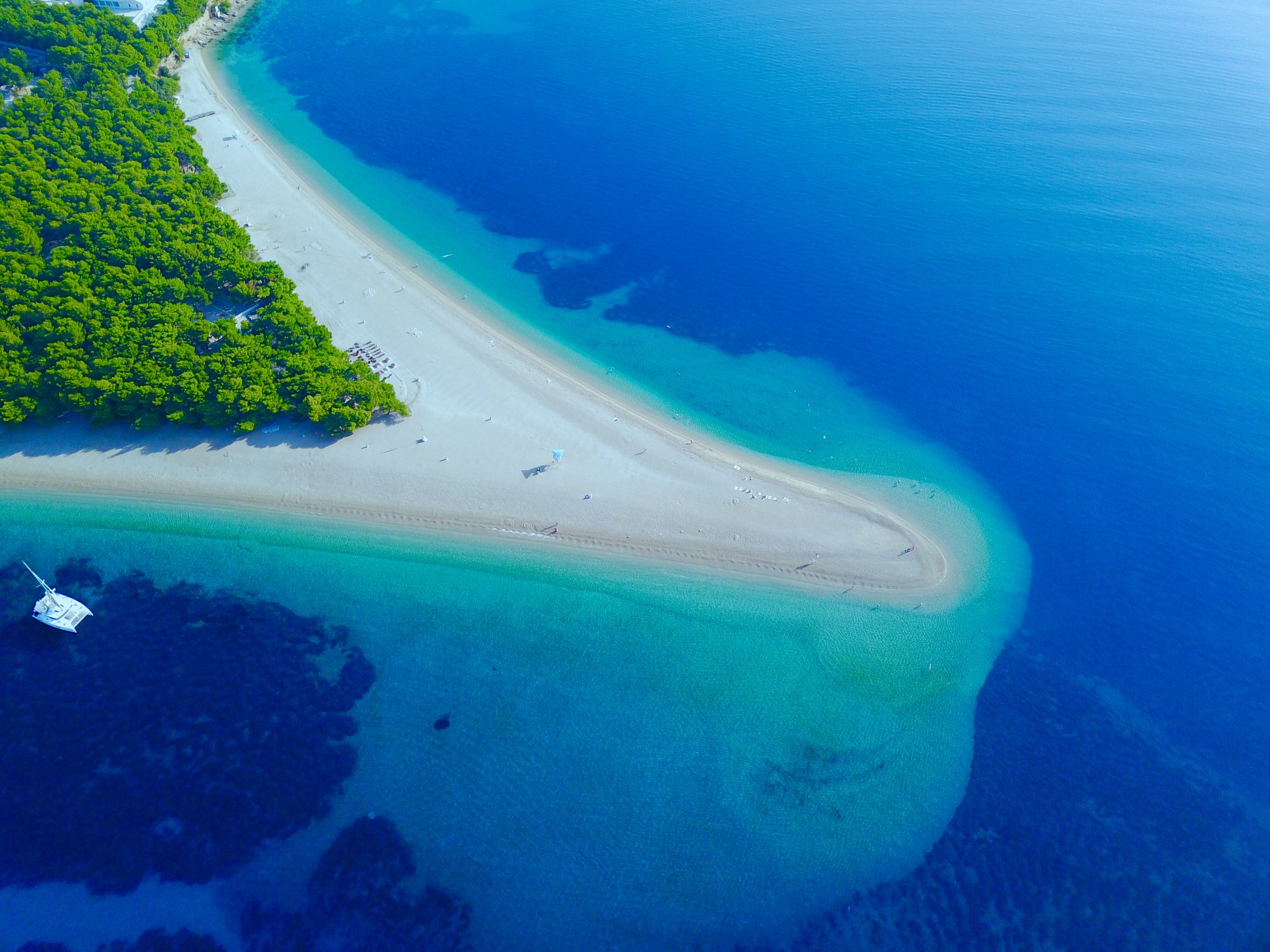 Day 7. BOL – ŠOLTA (B,L,D)
Our last day is spent relaxing and swimming in various tranquil bays of Brač Island. We continue towards
Šolta Island with a swimming stop in Livka cove and lunch on board. Late afternoon arrival in Stomorska – a town that has everything a modern tourist needs but without losing its small fishing village charm. This place immediately wins over everybody with its rustic charm and the hospitality of the locals.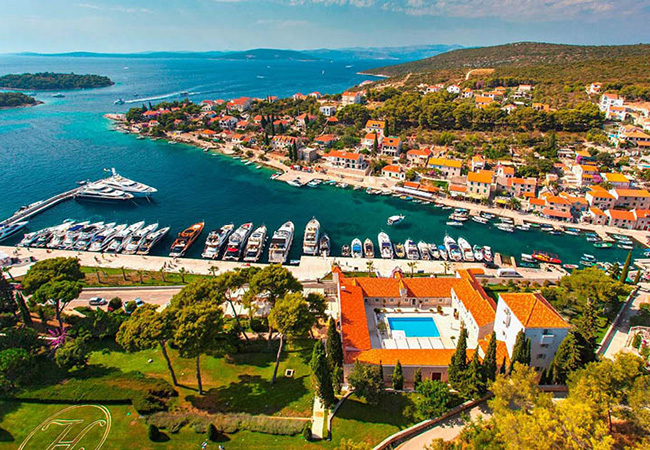 Enjoy evening BBQ party on board. Overnight in Šolta.
Day 8. ŠOLTA -SPLIT (B)
Early morning departure towards Split followed by check out.
Rockstar Croatia Cruise – Frequently Asked Questions
What will the schedule be like? The beauty is that we have chartered the yachts and they are available to our every desire.  By day we will explore the coves and beaches of Croatia.  By night we will port in harbors to explore the cuisine and culture.  Because we own all three vessels for the week, guests can mix and mingle on all three of our yachts.
Is this a full ship charter swinger cruise? NO, this is not a Swinger Cruise, however, we will be chartering multiple luxury yachts for just our passengers and other like-minded passengers. It's a new option we are excited to offer to our clients who are looking to try exotic new destinations that larger cruise ships may not be able to access, and without the heavy price tag.
Are there playrooms etc? Nope, since it is not a Swinger cruise there will be no playrooms.
How about nudity? Yes! Imagine skinny dipping on remote beaches or sunbathing in the mediterranean sun. Clothing-optional is permitted on the sun deck, while swimming and on private beaches (but never required) However, nudity is not allowed in port or in the dining area.
Will there be other fun couples on board? The Rockstar Adventure team got its start as a large group of friends who consistently met up at the Hedo Resort in Jamaica. They have since started to branch out and travel the world together. So yes, there will be MANY fun couples, some in the lifestyle, some not, but ALL ready to party and have a spectacular time.
Is it All-Inclusive? No, but it is MOSTLY inclusive.
What IS included? Breakfast and Lunch on board, 2 group dinners are included but expect to be able to enjoy the amazing cuisine in port.  You can choose to dine with new friends as a group or set off for some romantic couple time.  Complimentary WiFi, 'Bon Voyage' cocktail reception, and walking tours in each port with local guides.
How about fun, sexy Theme nights? Yes! The organizers have created some fun, exciting themes for our guests to partake in. Completely voluntary. To see what they are, check out the "Themes" tab above.
Is this for singles as well as couples? Yes! The Rockstar crowd welcomes singles aboard to party with them. Limited spaces available, so please contact us ASAP if you are interested.
Rockstar Croatia Cruise – Theme Parties
The theme parties on this cruise are designed to help you step into expressing your inner desires.  Let go, immerse yourself in the fantasy of it.  Guests who dress in theme report more social interaction and more fun.
You can go all out on a costume or simply echo the theme with an accessory.  Not in the mood? No problem it's all about doing your own thing with your partner and having a wonderful time.
** The themes for this trip have not been announced yet. As soon as they have been announced we will update this page with the information **
In the meantime, read our [Theme Night FAQs]
Rockstar Croatia Cruise – Pricing, Policies and Insurance
Porthole Cabin – $5596 ttl/2
Upper Deck Balcony Cabin (2 twin beds) – $6796 ttl/2
Upper Deck Balcony Cabin – [SOLD OUT] $6796 ttl/2
** There is also an obligatory Croatian visitor's tax that must be paid upon arrival by each passenger – $40 EUR per person **
Rockstar Croatia Cruise – Payment Schedule
$1000 deposit – Due at time of booking (Plus additional balance payments depending when reservation is made)
Balance Payment 2 – November 1, 2021
Balance Payment 3 – January 15, 2022
Final Balance Payment – March 31, 2022
** Pay by Venmo, ACH transfer or eCheck and deduct $200 per cabin (Deposit can be made by credit card). **
** Pay in full at time of deposit and deduct $400 per cabin (must be ACH transfer, Venmo or Check). **
Payment Schedule:
Deposit – $1000 due at time of booking
Payment 2 – November 1, 2021
Payment 3 – January 15, 2022
Final Payment – March 31, 2022
** Pay by Venmo, ACH transfer or eCheck and save $200 (Deposit can be made by credit card).
** Pay in full at time of deposit and save $400 (must be ACH transfer, Venmo or eCheck).
** If you are going to pay via Venmo, send your payment to @Rockstar-Adventures. The last 4 digits of the phone # are 1173.
** Charges will appear on your credit card statement as Partners of Travel d/b/a Preferred Travel Partners.
Cancellation Policy:
Cancellation until Jan 1, 2022 – $250 per person
Cancellation after Jan 1, 2022 – Non-refundable
Rockstar Croatia Cruise – Cancellation policy
Cancel until January 1, 2022 – $250 per person penalty
After January 1, 2022 – No Refund
** We highly recommend travel insurance **
Sample Porthole Cabins: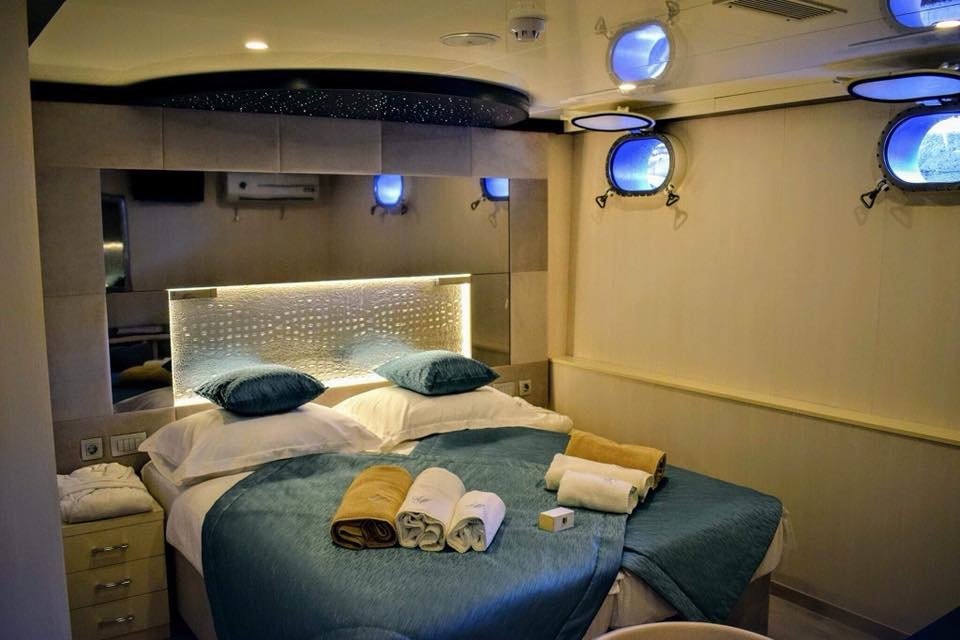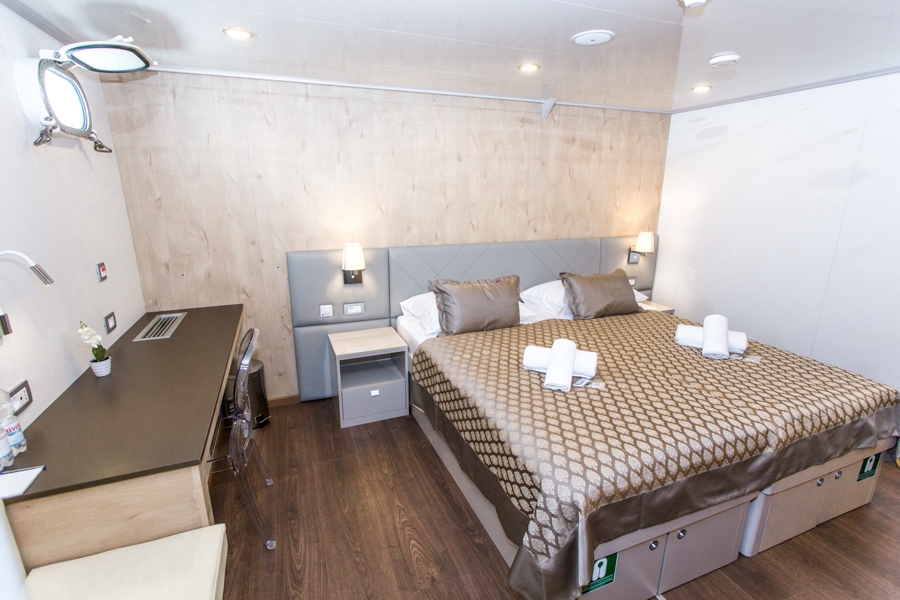 Balcony Cabin with 2 twin beds: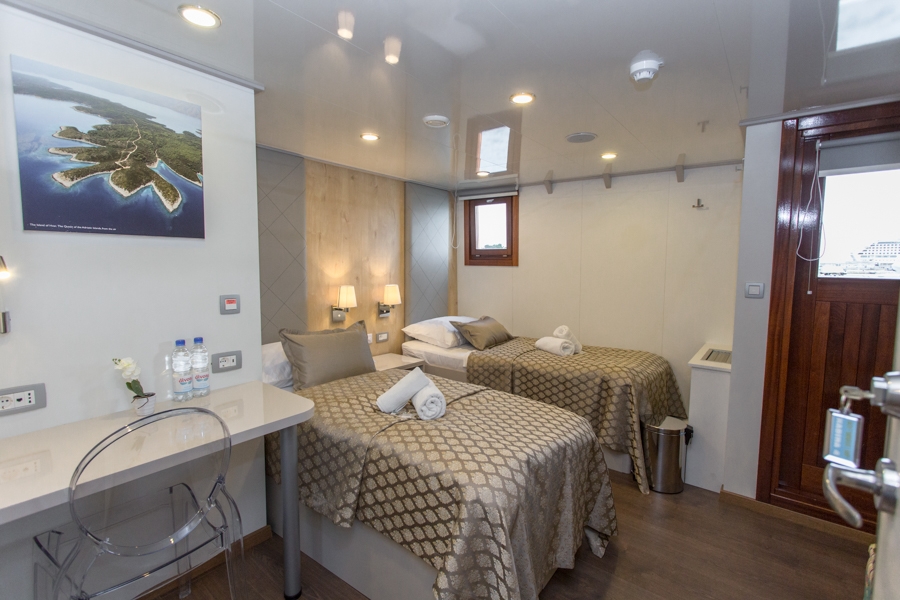 Travel Insurance

Yikes, travel insurance is not a fun topic but a lot of you have asked…
This is about what happens if you are paid, packed and ready to go… and there is a problem.
The biggest 2 reasons people take insurance are:
Trip Cancellation
Medical Expenses or Medical Evacuation
Full Ship charters are better than regular cruises in many ways, however the penalties and potential for a loss if you have to cancel is higher. Shortly after final payment most full ship charter cruises become non-refundable. That means if you have to cancel your trip not only do you have that disappointment of a cancelled vacation, but I have to tell you you don't get your money back.
Our most popular insurance is 'World Wide Trip Protector' and provides full coverage when purchased up to 21 days after your vacation purchase.
The best value just to make sure you have coverage is 'Trip Protector Lite Expanded.'
We recommend Travel Insured – Get a quote and buy insurance  
Note: this link opens a window for Travel Insured – if you have questions pleases phone our office for assistance.
Please consider purchasing Travel Insurance
Since everyone pretty much likes me right now and I'd like it to stay that way, please consider purchasing travel insurance. Or at least don't say I didn't warn you if there is a problem.
Other coverages that take the worry out of travel:
Trip Interruption – Return air only
Trip Delay & Missed Connection coverage
Baggage Loss or Delay
Cancel for Work Reasons Options available on select policies
We strongly recommend purchasing travel insurance for your upcoming cruise. There are hundreds of circumstances that could cause you to cancel your trip, return home early or force you to seek emergency medical treatment while traveling. Travel insurance offers coverage for unforeseen problems such as, an unexpected financial change or scheduling conflict, a cancelled flight or a serious illness. You even have the option where you can cancel for any reason. We recommend Travel Insured – Get a quote and buy insurance
Why book the Rockstar Croatia Cruise?
An atmosphere of fun, flirty, and party!

Explore the stunning Croatian coastline in a Sexy environment without breaking the bank!

Unimaginable sights by day, turned-up party atmosphere at night culminating in lifelong friendships and experiences to last throughout a lifetime!
"Rockstar Adventures is a group of like-minded adults with the goal to see the world in a fun, vibrant group environment. Sharing common interests and an open-mind. Our members contribute to a healthy, drama-free, and high-energy vacation that enhances new experiences thus creating lifelong memories and friendships."
  – Rockstar Adventures Mission Statement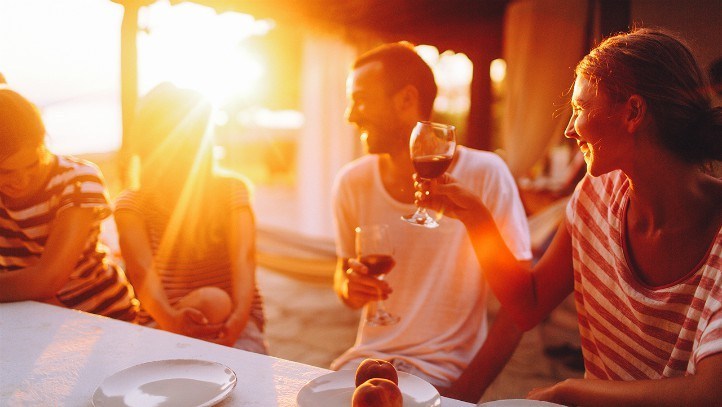 What Guests Have to Say About Traveling with Rockstars…
We were nervous booking with this new group of friends. We felt like we would be seen as "outsiders", since many knew each other and some had been friends for years, but I can say that they welcomed us with open arms!
Yeah, they all met at Hedo, but there were so many different people with all kinds of backgrounds!
Lynn also made sure we broke the ice with the Virtual Meet & Greet before our trip. So we felt like we already had some friends going into it. 10/10 would book a Rockstar Adventure again!
Rockstar really thinks of everything when they're curating their trips. They want something high-quality, and memorable, but they also don't want to break the bank.
We were scheduled to go on the last River Cruise with Rockstar before it was canceled, but they made it so affordable to party with like-minded friends AND see parts of Europe we never thought we would see.
I can't wait for the next trip they plan!
The Rockstars really know how to party! I attended the Savannah event a few months ago and WOW!
I didn't think we were gonna get our flirt on and have THAT much fun!!! It was the perfect trip to get us back to travel after staying home in 2020. My cheeks hurt from laughing and smiling the whole time. And not to mention all the cuties I met!
Hopefully we can make the Croatia event work in our schedule.
Why You Should book with TSC
TheSwingerCruise.com is the only agency with ALL the cruises.
TSC Expert Agents provide first-hand experience.  We have sailed on over 33 Cruises and will help you find the one that perfectly fits your style.
Our Signature 'Get Ready' program provides all the information you need before you board the ship so you can get the most out of your vacation.
Rockstar Croatia Cruise
July 16-23, 2022
This will truly be a "not-to-be-missed" party!
Join this select circle of friends on a voyage through some of the most beautiful scenery Europe has to offer.
No, it's not a swinger cruise, but an energy-packed, fun, flirty and exciting environment we know you will LOVE!

Explore stellar destinations along the beautiful Croatian Coastline.