VIP Rome Post-Cruise – Facts at a Glance
May 5, 2018
This event is custom planned with a 2 night or longer option.
Small group
Post Cruise event for those booked on the Desire Barcelona-Rome Cruise
Couples Only
$960 total for 2 includes transportation, meals, tours & group social events.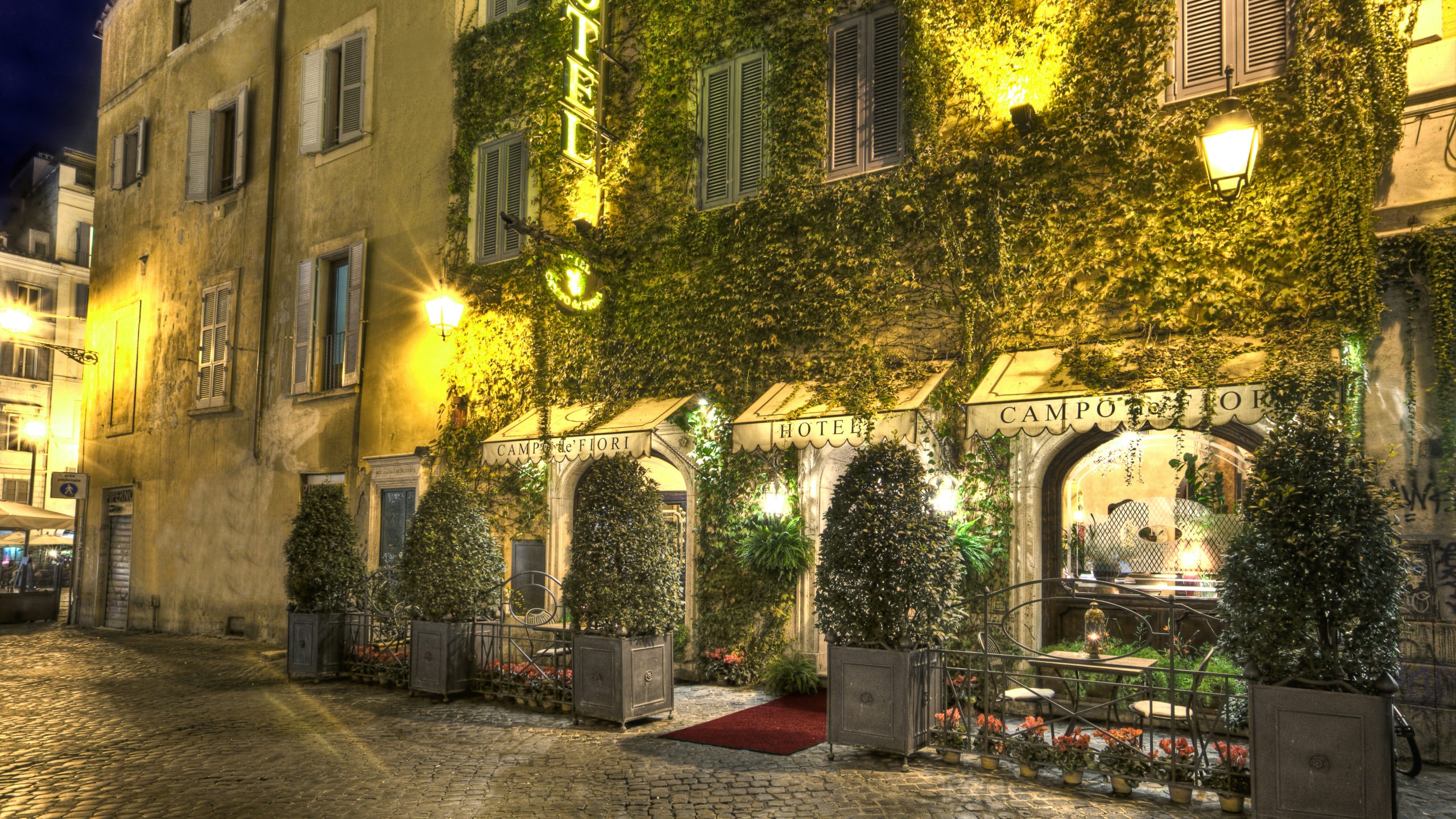 The Perfect Hotel in the Heart of Rome
Don't just go sight seeing… Live the Experience!
Accommodations in a Luxury Boutique Hotel Campo de' Fiori. The art to truly experiencing a destination is in selecting the perfect location. This location is perfect! Our delightful boutique 4 star hotel is located in the heart of Rome and situated on the Piazza Campo de' Fiori.
Just steps from the hotel you will find yourself in a typical Roman atmosphere in the Piazza Campo de' Fiori, a lively picturesque morning market with fresh fruit and vegetables.  It is pretty much the only open air market left in the center of Rome (except for the one in Trastevere). As the sun goes down the piazza turns into a magical living room where people meet for a carefree appetizer, cocktail or wine, and to taste the many Roman specialties in the numerous restaurants or trattorias.
From our hotel you can walk to all of the marvelous monuments of the center of Rome such as: Piazza Navona, Pantheon, Piazza Venezia, Colosseum, Roman Forum, Trevi Fountain, Spanish Steps, Castel Sant'Angelo and the Vatican City.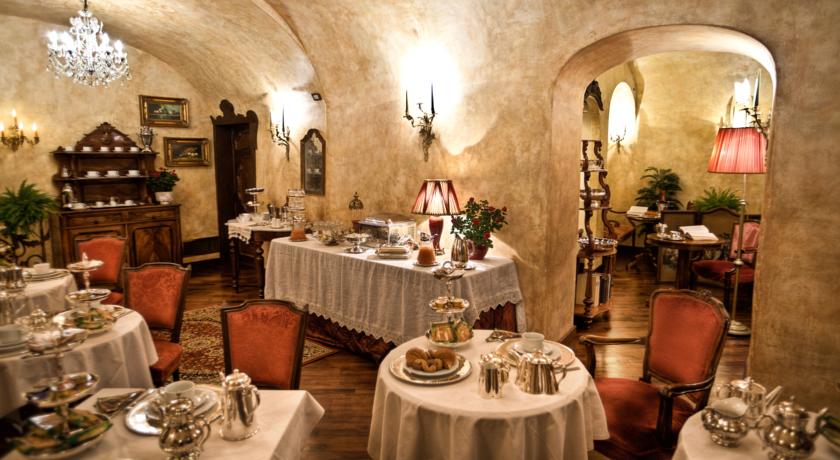 Roman Dining Experiences
Culinary Experiences Designed to Awaken your Sensuality and Sense of Seduction 
Daily Breakfast:  Awaken to a fabulous breakfast served in the hotels library. You will find an abundant buffet consisting of sweets and salts, freshly baked bread, soft croissant, a café with creamy cappuccino, caffè espresso, delicious chocolate, a vast selection of teas, and everything you could desire.
Seductive Roman Dining experiences
Welcome Dinner – 3 course gourmet dinner at a local trattoria. Delicious and authentic. A real taste of Rome.
A spectacular roof top venue!
Relax with an aperitif and enjoy a 360° panoramic view of the Eternal City.
Roof Top Wine Tasting meet and greet! – Welcome to our post cruise event with the help of our wine broker.  He is sourcing in some of the finest vintages in Italy for your oenophilic seduction and drinking pleasure.
Roof Top Farewell Party
Roof Top Late Night –  An informal way to enjoy the most beautiful living room in Rome. This is a lovely way to end your evening in conversation with some of the other couples exploring the best that Rome has to offer.  This is not a scheduled event, but a really great option.
Segways thru the Ancient City & Concierge tour service
We have included our one very favorite not to be missed tour.  Segways thru the Ancient City!  This will be the perfect fun easy and low key way to see the highlights of Rome while we wait for our rooms to be ready at our host hotel.  Perfect!
At the end of a cruise its a bit difficult to predict the exact experience and energy level of the group.  Our solution? Offer custom concierge service so you can do as much or as little as you like.  Consider our recommendations for the best tours at the Vatican, Colosseum or Galleria Borghese.
First Class Transportation
Group Transportation to the cruise from Civitavecchia to Campo de' Fiori. The port is approximately an hour and a half from our hotel in the heart of Rome.
Private Car transfer from hotel to Rome Fiumicino (FCO) Airport.
The Itinerary
Day 1: Saturday, May 5, 2018  – Welcome to Rome
Group Transportation to the cruise from Civitavecchia to Campo de' Fiori. The port is approximately an hour and a half from our hotel in the heart of Rome.
12:00 noon Segway Tour of Ancient City
7:00 pm Welcome to Rome – Rooftop Wine Tasting Meet & Greet
8:00 pm Group Dinner at local trattoria includes gourmet 3 course dinner, wine & gratuity.
Informal Roof top after party.
Day 2: Sunday, May 6, 2018 Explore the Eternal City
Wander our beautiful neighborhood and explore the fresh market in the Piazza Campo de' Fiore, stroll thru the Pantheon and Piazza Navona or sleep in and enjoy a leisurely breakfast.
Day to explore.  You can choose to wander on your own or book a custom tour with our VIP Concierge.  Our personal favorites include we recommend adding the Colosseum or Galleria Borghese.
7:00 – 8:30 pm Roof Top Meet & Greet – farewell gathering
Explore sensual Rome: On Your Own. Dinner with new friends or something for just you and your partner.
Day 3: Monday, May 7, 2018 Farewell!
Start the morning off with some sight-seeing or sleep in and enjoy a leisurely breakfast.
If you want to tour the Vatican we recommend adding the Early Entry Sistine Chapel and Vatican tour 7:00 am – Noon. Our concierge can add this tour to the package for you.
Departures – Private Car transfer from hotel to Rome Fiumicino (FCO) Airport.
If you are extending your stay – Optional Tours thru Concierge
This Itinerary can be customized for two or more nights.

 
What's included
After January 1, 2018 this is an event only package. $960 total for 2 includes:

All Transportation:
Group transfer from Cruise to host Hotel
Private Car transfer from Host hotel to Rome Fiumicino (FCO) Airport.
Segway tour thru Ancient City
2 Roof Top Parties:
Welcome Roof Top Wine Tasting Meet & Greet
Farewell Event
Group Dinner
Welcome Group Dinner at a local trattoria.
Accommodations are NOT INCLUDED IN THE $960 EVENT PRICE.  Please use this link to make individual reservations at a luxury boutique hotel in Campo de' Fiori – 2 or more nights option Click To Reserve your Hotel Accommodations.
The Rooms & Rates

As of January 1, 2018 We are cuttingly offering an event only package $960 total for two.
Accommodations are additional and can be made directly with the the Hotel Campo Di Fiori.
http://www.hotelcampodefiori.com/en/
 Payments:
Due to the nature of this tour all payments are non-refundable.  Travel Insurance is highly recommended.
We recommend travel insurance.
Travel Insurance
Yikes, travel insurance is not a fun topic but a lot of you have asked…
This is about what happens if you are paid, packed and ready to go… and there is a problem.
The biggest 2 reasons people take insurance are:
Trip Cancellation
Medical Expenses or Medical Evacuation
Full Ship charters are better than regular cruises in many ways, however the penalties and potential for a loss if you have to cancel is higher. Shortly after final payment most full ship charter cruises become non-refundable. That means if you have to cancel your trip not only do you have that disappointment of a cancelled vacation, but I have to tell you you don't get your money back.
Our most popular insurance is 'World Wide Trip Protector' and provides full coverage when purchased up to 21 days after your vacation purchase.
The best value just to make sure you have coverage is 'Trip Protector Lite Expanded.'
We recommend Travel Insured – Get a quote and buy insurance  
Note: this link opens a window for Travel Insured – if you have questions pleases phone our office for assistance.
Please consider purchasing Travel Insurance
Since everyone pretty much likes me right now and I'd like it to stay that way, please consider purchasing travel insurance. Or at least don't say I didn't warn you if there is a problem.
Other coverages that take the worry out of travel:
Trip Interruption – Return air only
Trip Delay & Missed Connection coverage
Baggage Loss or Delay
Cancel for Work Reasons Options available on select policies
We strongly recommend purchasing travel insurance for your upcoming cruise. There are hundreds of circumstances that could cause you to cancel your trip, return home early or force you to seek emergency medical treatment while traveling. Travel insurance offers coverage for unforeseen problems such as, an unexpected financial change or scheduling conflict, a cancelled flight or a serious illness. You even have the option where you can cancel for any reason. We recommend Travel Insured – Get a quote and buy insurance
What Past Guests Have to Say…
On the Baltic Pre-Cruise we saw a side of the city we would not have experienced otherwise.
We were right in the middle of all the sites other people had to take tours to see.  It was fabulous to explore and wander the streets around our hotel since we were right in the heart of it all.
Lynn and her team go above and beyond to make this experience special.
All the details were covered and they really did set up experiences that made the event special.  We got to know new friends before we boarded the ship.
This pre-cruise event made our cruise the best one so far.
It was our first trip to Europe, and we knew we had to arrive at least one day before the cruise.
Getting in 3 nights prior was key.  We had a chance to get over the jet lag & relax.
Lynn handled all the details and it was so nice not to have to think in such a new and busy destination.
'Must Read' Swinger Cruise Articles
We have been on over 23 full ship charters.  Here are a few articles we have written to answer your questions, calm any worries, and get you excited for the 'Best Fu@%ing Vacation!'
In the early days of TheSwingerCruise there was one cruise a year. You either went or you missed it. Those were the only two options. In the past 10 years several top cruising brands have emerged. The most popular Big Ship is Bliss Cruise. The secret to their...
read more
Rome VIP Post Cruise Event 
May 5-8, 2018
Explore the beauty of Rome with us after the Desire Barcelona – Rome Cruise
Make new friendships that will last .
This exclusive event is limited to 25 couples
Imagine exploring the sensual side of Rome.
Explore the historic sites by day.
Enjoy the best scenic rooftop and a glass of wine by night.