[rev_slider FricFeb14]
Friction Desire 2015
Friction continues its amazing erotic group trip to DESIRE in Mexico!
February 21 – 28, 2015
Always THE sexiest people attending from all over from all of our locations!
Great Champagne Beach parties & Private Passion suite night parties just for those who book with us!
Special Welcome Champagne Passion Suite Party for our guests with Lisa & Eddy on Sunday Night February 22.
As most of you already know, Friction is "HOT PARTIES, FOR HOT PEOPLE" and this trip will be no exception!  All the Hotties from all of our cities and beyond.  We have a national audience and draw from all over the US.
Please join us for not only a Sexy, attractive crowd, but the coolest and passionate group around, with no hang ups or attitudes.  Just Sexy fun.
Always sexy friends to hang with in the jacuzzi late afternoon with or late night at the disco, by the pool or at the beach or just go off alone if you choose! Its all there for you anyway you want it on this trip!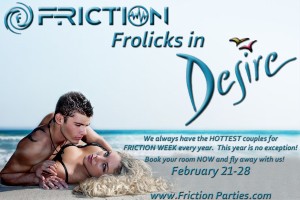 We will announce all private meets & champagne Friction parties as it gets closer for all who book thru our group
CATEGORY & RATES
Standard $586 per night – Sold Out
Deluxe Garden view $644 per night
Ocean view $714 per night – arrive 2/22
Jaccuzzi Suite  Sold Out
Junior Suite Ocean – Sold Out
Passion Suite Sold Out

[formcraft id='1′]text[/formcraft]
DEPOSIT & PAYMENTS:
A deposit equal to the cost of one night is due at the time of booking. Final payment will be automatically charged 75 days before travel.
CANCELLATION POLICY:
Bookings are subject to the policy of Desire Resort.
Cancellations Policy: Cancellation 31 days or more will incur in a $80.00 US processing fee – Cancellations from 30 to 1 days prior of arrival date, 2 nights will be charged as a penalty – NO SHOWS: A Penalty of total stay will be applicable for No Shows – EARLY CHECK OUTS: Unused nights are non refundable.
Want help picking the best week? Or finding an available week?
Call US! 877-348-6570
We think that Desire is the best resort in Mexico for couples interested in the swinger lifestyle. Desire Resort calls itself a 'lifestyle' resort and you can count on finding other sexy open-minded couples there. Guests are not required to be swingers or involved with a swinging lifestyle, but we recommend that they at least have an open mind when vacationing at Desire in the Riviera Maya, Mexico. Here you will find nude beaches, nude pools, sexy atmosphere and a playroom where public sex is allowed.